<! MP3 04/01/10 > <! update 07/18/09 > <! outside 00/00/00 > <! pix 00/00/00 >
---
Hi, there... This page is part of the Slipcue guide to various African-American gospel artists, and is part of a much larger music review website. This "guide" is not meant to be comprehensive or authoritative, just a quick look at a few records I've heard recently, as well as some old favorites. Comments or corrections are invited... and recommendations are always welcome!
This page covers compilation albums.
---
American Gospel - A-Z | Compilations | Country & Bluegrass Gospel
---
Various Artists "BLACK SECULAR VOCAL GROUPS -- v.1: 1923-1929" (Document, 1997)



A super-cool set of primordial group vocals recordings, from the dawn of the recording industry. The "secular" designation is a little misleading; some of these groups also recorded gospel material, though mostly they did peppy good-time blues and jazz songs, with an interesting jubilee vocal twist. All things considered, the sound quality on the remastering of these rare 78s is pretty good (and definitely much better than the quality of the original Document LPs of the '80s), and the collection is packed with gems that'll perk your ears up. There are plenty of blues tunes from the beer halls and bordellos, and songs that later wound up in the repertoires of early R&B and rock bands. One song that blew me away was the Monarch Jazz/Jubilee Quartet's "What's The Matter Now": I had a tape of it years and years ago, probably from someone's radio show on KPFA-FM, and I used to have a blast singing along with the growling, groovy voices. Nice to stumble across a great old song like that again... This disc isn't just a historical curio; the music itself is a lot of fun.
Various Artists "BLACK SECULAR VOCAL GROUPS -- v.2: 1931-1939" (Document, 1997)


Various Artists "BLACK SECULAR VOCAL GROUPS -- v.3" (Document, 1998)


Various Artists "GET RIGHT WITH GOD" (Heritage, 1988)


Absolutely stunning African-American gospel music, mostly recorded in the early 1950s. This CD condenses two LPs by the same name which were put out in the 1980s... Killer material from the days when black gospel and R&B were stylistically only as far away as a Saturday night. Highly recommended!
Various Artists "GLAD I FOUND THE LORD - CHICAGO GOSPEL 1937-1957" (Heritage, 1992)

Various Artists "GOD'S MIGHTY HAND - GOSPEL EVANGELISTS" (Heritage, 1992)


Similar to HT-CD 01 ("GET RIGHT WITH GOD"), but a bit more raucous... Raucous as in "rockin.'" Some serious howlin' and testifying, and gnarly guitar work on several tracks. Raw, compelling gospel music from the late 1940s and early '50s. In a word: WOW.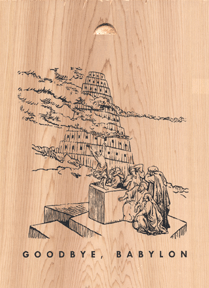 Various Artists "GOODBYE BABYLON" (Dust To Digital, 2003)


A stunning 6-CD box set that mines the deep reservoir of religious material recorded from 1902-1960, with five discs devoted to music and one to old-school sermons (which were also popular on 78rpm recordings). This archival set was compiled and designed by the folks who brought us such lauded reissues as the Charlie Patton box set and the remastered Harry Smith collection; the scholarship and thoughtfulness that went into it is impressive; the music is even better. The discs are organized by themes -- "Sinners," "Salvation," etc. -- and follow a narrative arc, leading ultimately to redemption and Heaven. If the

Various Artists "THE HALF AIN'T NEVER BEEN TOLD v.1" (Shanachie/Yazoo, 1999)



Old time religious expressions as simple as reverence, rapture and humility have become so foreign to our society -- replaced by stock market investments, est seminars and intolerant rightwing fundamentalism -- that these ancient hick recordings have all the vibrant, jangling other-ness about them as the best "world music" records. Rural America itself has given way to cable TV and the home shopping network, so a world filled with fire, brimstone and the blood of the lamb really does sound like something from far, far away. As with other Yazoo compilations, this is powerfully programmed, with strong, striking selections, and is chock full of ultra-rare material. And, sadly, it's also a little sketchier on discographical material than maybe some of us would like. But still, if you like the passion and feeling of old-time gospel music (even if you don't go for the whole Jesus thing...) this is an astounding collection. Features both white hillbillies and African American artists -- and the black stuff ranges outside of the usual blues and shouting gospel styles into several delightfully atypical stringband tracks. Highly recommended!
Various Artists "THE HALF AIN'T NEVER BEEN TOLD v. 2" (Shanachie/Yazoo, 1999)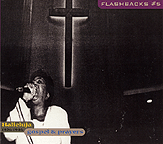 Various Artists "HALLELUJA: GOSPEL AND PRAYERS 1926-1946" (Trikont, 2000)


A nice sampling of American gospel music, seen through European eyes on the German Trikont label. A well-programmed set with a wide variety of styles and plenty of rousing songs... The sound quality is a little grey on some tracks, but it's still a mighty fine collection.
Various Artists "JESUS PUT A SONG IN MY SOUL" (Heritage, 1992)

Various Artists "MAN THAT'S GROOVY - EARLY VOCAL GROUPS: 1935-1944" (Flyright, 1996)


Fun, rambunctious radio transcriptions of African-American vocal groups such as the Inkspots, Delta Rhythm Boys, Spirits of Rhythm, and the Golden Gate Quartet. Lots of hits and novelty tunes, as well as between-song stage patter. Makes your jaw drop once you realize this was all done live on the air. Unfortunately, this is one of the harder Interstate discs to find, and is probably out of print.
Various Artists "NEW ORLEANS GOSPEL QUARTETS: 1947-56" (Heritage, 1993)


Hardcore Southern gospel, with a somewhat mournful tone, overall. Might not be for everyone, but it's still got some fascinating material. This collection of rare postwar oldies was compiled by Lynn Abbott.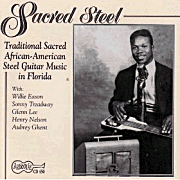 Various Artists "SACRED STEEL: TRADITIONAL SACRED AFRICAN-AMERICAN STEEL GUITAR MUSIC IN FLORIDA" (Arhoolie, 1997)



When the Arhoolie Records label released the first "Sacred Steel" collection in 1997, they uncovered one of the few last untapped sources of regional music in America, an enclave of Southern churches built around an exhuberant musical style where the congregants sang ecstatically while a steel guitar wildly improvised, driving them all to greater heights. The album was a big success for Arhoolie and had since spawned several follow-up albums. Artists on htis first set include Willie Eason, Aubrey Ghent, Glenn Lee and Sonny Treadway, many of whom have since released albums of their own.

Various Artists "SHOUT SISTER SHOUT: A TRIBUTE TO SISTER ROSETTA THARPE" (Southland, 1994)



The list of contributors can't be faulted: bluesy-rootsy gals ranging from Marcia Ball, Rory Block and Maria Muldaur to Bonnie Raitt, Joan Osborne and Victoria Williams on the poppier end of the spectrum. There are also some pleasant surprises, such as folk movement doyenne Odetta and '70s cult fave Phoebe Snow, who both hadn't done much for many a moon. The trouble is, the disc doesn't really hold together that well -- the performances are of variable energy levels and veer wildly from style to style. Plus, who can actually hold a candle to Tharpe herself? This lesson is brought home by a song (and video clip) of Tharpe singing "Down By The Riverside," and she naturally blows the roof off the place. Her old singing partner Marie Knight also shows us young'uns how this ought to be done. The thought behind this tribute is nice, but I wasn't all that wowed by the record itself.
Various Artists "SPREADING THE WORD: EARLY GOSPEL RECORDINGS" (JSP, 2004)



A superb 4-CD collection of early, primordial gospel recordings, including the complete recordings of pianist Arizona Dranes, as well as dozens of her contemporaries from the 1920s and '30s. Lots of spooky, intense, heartfelt material, representing some of the finest religious music of the early recording era. In stark and remarkable contrast to the fire-and-brimstone shouters, there are the delicate, almost effete and wispy songs from George Washington Phillips (an album's worth of which are included here). Much like the Carter Family, in their quieter moments, Phillips has a gentleness about him which underscores the power of his emotions; it's really quite sweet. And then there's plenty of shouting and preaching as well -- great stuff!
---


More gospel reviews... A-Z

---



Gospel Music Index
Hillbilly Gospel



---
Copyright 1998-2009 Slipcue.Com. All Rights Reserved.
Unauthorized use, reproduction or translation is prohibited.
---
<! cd=11/15/04; updated 07/09 >