<! MP3 12/14/09, 01/20/11, 10/22/12 > <! update 00/00/00 > <! pix 12/14/09 > <! icons 01/20/11 >

---
---
Batucada and Carnaval Recordings
---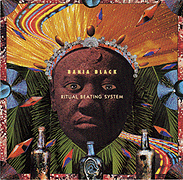 Bahia Black "Ritual Beating System" (Island/Axiom, 1992)


An ambitious and stunningly realized album, bringing together the percussive talents of the Olodum collective, Carlinhos Brown and several North American jazz and funk artists such as Herbie Hancock, Bernie Worrell, Wayne Shorter, and Henry Threadgill. This marks one of the high points of Bill Laswell's career as a multi-directional producer, creating a blend of funk, jazz, avant-jazz, art-rock and Afro-Brazilian pop that is actually more successful than most Brazilian fusion projects. Challenging, but also highly listenable.
Daniel S. Carvalho "Brazilian Rhythms For Dancers, Vol. 1" (Self-released, 2004)



Four prime tracks of instrumental batucada drumming...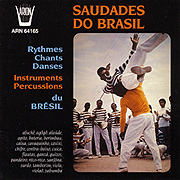 Amaro Da Souza & Haraldo De Oliveira "Saudades Do Brasil" (Arion, 1975)



A fabulous album! Half scholarly, ethno-musicological exposition, half butt-shakin' block party, this is a fab collection of instrumental tracks that run the gamut Brazilian dance styles, from thumping bass-heavy batucadas and slinky capoeira to sambas and proto-sambas like the maxixe, baiao and choro. Although true to the rhythms, Da Sousa's ensemble leans heavily towards the melody, which is just fine by me... The CD reissue features a half dozen or so extra tracks, separate from the original recordings with Da Souza's ensemble... they're a little less engaging, but certainly don't detract from the charm and vitality of the album. I love this disc!

Ney De Castro "Percussions Brasiliennes" (Le Chant Du Monde)


If you're the kind of person who gritted your teeth during all those interminable drum solos in '70s rock music, then you may wish to steer clear of this album. Although De Castro includes native agogo and reco-reco percussion, the bass-heavy surdo is notably absent, and plain old snare drums dominate this album. Some riffs are way cool. but the record bogs down in stylistic repetition, and a continuous sublimnal flirtation with jazz drumming style. Close, but not quite.
Guilherme Franco "Capoeira: Legendary Music of Brazil" (Lyrichord, 1998)



A cool instrumental album featuring the eerie and hypnotic sounds of Brazil's unique martial arts form, capoeira dancing. Franco, a solid percussionist with a strong jazz pedigree (who also spent a couple of years in Jorge Ben's band), is the inventor of the double berimbau, which is the main lead instrument on this album. Perhaps a bit more boing boing boing-ing than the average bear is looking for, but nonetheless this is a compelling album, and well worth checking out. Excellent percussion, and a very traditional (non-fusion) sound throughout. Recommended.
Grupo Bahia Capoeira "A Forca De Zumbi" (RDS, 2000)


Grupo Batuque "Samba De Rua" (FarOut, 1997)


A funk- and rock-flavored percussion album recorded (in the studio) during Rio's 1997 Carnaval. Features the eminent Wilson Das Neves and a slew of younger players. Not my cup of tea, but if you're into percussion per se this might be a real turn-on.

Edinho Marundele & Onias Comenda "Eu, Bahia" (Philips/Fontana, 1972) (LP)


An interesting album of berimbau and Orixa-related percussion by two players I've never heard of before. Each artist takes one side of the LP -- Marundele (whose real name was apparently Edson Emerete de Sant'Anna) is the drummer, and his side is dynamic and intense, running through rhythms from Angola and their Brazilian permutations. Similarly, berimbau master Onias Camardelli plays capoeira music from Angola and Bahia, as well as improvisations of his own creation. Some of it is spooky and haunting, some of it seems kind of static and same-y. I don't think the average fan of Brazilian pop would get much out of this, but for cultural scholars and capoeira students, this album would be a goldmine.

Mestre Caicara "Academia De Capoeira De Angola Sao Jorge Dos Irmaos Unidos Do Mestre Caicara" (EMI-Copacabana, 1973)


Stark-sounding capoeira of the "Angola" school, which is slower and less flashy than "regional" capoeira. This band was led by Antonio Carlos Moraes, aka Mestre Caicara, a Recife native who delved into the African roots of Brazilian capoeira, and was one of the first artists to record the Angola style. The rhythm is a slow, heavy beat, spanked out on a tambourine, with the berimbau leading the melody and pushing the movement. The vocals are also slow and deliberate, but also passionate and intense. Recommended, particularly for students of the art...
Mestre Marcal "A Incrivel Bateria Do Mestre Marcal" (Polydor, 1987) (LP)


(Produced by Durival Ferreira)
A groovy collection of samba enredo Carnaval percussion, culled from various parade albums from the '70s and '80s. Drummer Nilton Defino Marcal, who died in 1994, apparently worked with several different samba schools, including Portela and Mangueira, with invariably great results. This disc should make batucada fans quite happy. The CD version includes liner notes that explain the role of all the various instruments in the bateria. Nice stuff.
Mestre Marcal "Samba Enredo De Todos Os Tempos" (Velas, 1994)


Mestre Marcal "Serie Aplauso" (BMG-Brasil, 1997)


Mocidade Independente De Padre Miguel "Bateria Nota 10" (Top Tape, 1975)


Originally an outgrowth of a popular soccer team, this samba escola became one of the most popular and successful Carnaval bands, starting in the late 1950s, and continuing on through the present day. Tracks by the band frequently appear on compliation albums of batucada percussion, and their own albums pop up from time to time. The band's signature instrumentation and breakneck pacing seldom vary, so they may best be taken in small doses.


<! SEVERAL VOLUMES, AT LEAST FOUR 01/11: is this the right GIF? >

Mocidade Independente De Padre Miguel "Batucada - Percussions Du Bresil" (Iris Musique, 1990)


As with other albums by this popular escola, this features plenty of high-power, infectious percussion, delivered at an unvaried breakneck clatter. Again, there's not a lot of stylistic breadth here, but the performances are pretty stunning. The escola's website has more information, including their ongoing Carnaval plans.
Mocidade Independente De Padre Miguel "Batucada Brasileira" (Iris Musique, 2002)


This time around, the Iris label has put together a full 2-CD set, expanding on the album listed above, and apparently all drawn from records of the late 1970s. Again, not a lot of stylistic variation, but top-flight, rapid-fire percussion from a world class outfit.
Mocidade Independente De Padre Miguel "Fantastica Batucada - Percussions Du Bresil" (Iris Musique, 2005)



More of the same -- great batucada percussion, repackaged once again. But still great stuff.

Tony Mola "Bragada" (Blue Jackel)



In the 1990s, Bahia-born drummer Tony Mola was a pioneer of the Brazilian pop-samba-Caribbean fusion known as axe music. This album is a strong, poppy blend of forro and axe pop, smoothly incorporating galloping, clattering Afro-Brasilian percussion as well as Caribbean-flavored soca arrangements. The drumming may be a little too muted in the mix, but still this is a pleasant, listenable album, with warm lead and bright chorus vocals.

Tony Mola & Bragada "Quebra Mola" (Blue Jackel, 1998)



A sharp, punchy mix of forro, soca-tinged pop, and rapid-fire bloco afro style percussion. The album starts on a sour note (bad rock guitars), and about half the tracks on here don't do much for me. The other half are irresistible, though, with infectious melodies and seductive rhythm. Recommended.

Tony Mola "Samba + Samba" (Blue Jackel, 2006)



Sweet, understated samba with soft, compelling, bossa-influenced vocals, a gentle croon set to willowy mandolins and insistent, yet muted, Afro-Brazilian drumming. This time around Mola has altogether dropped the pop/axe elements of his earlier albums, presenting an elegant, mature work that harkens back to the 1970s-era pagode style... Very pretty and very listenable. Recommended!

Moleque De Rua "Moleque De Rua" (Sony Brasil, 1992)


There are a couple of good tunes on this intriguing but awkward mix of samba and slick rock-pop. The gimmick is that this band features several poor street kids, straight from the Sao Paulo favelas, banging away on percussive instruments made from tin cans, trash can lids and other scrap metal. THAT sounds interesting, but the pop music draped around it is too pervasive, and you never get to hear the kids get sloppy and mean.


<! 130 x 130 >

Moleque De Rua "Pimenta Malagueta" (2002)





Moleque De Rua "Final Feliz" (2007)

Olodum - See artist discography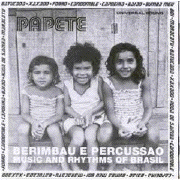 Papete "Berimbau E Percussao" (Discos Marcus Pereira)


Interesting album... The forro flavored opening track is a little too manic, and some tracks are a little spacy, there's also some sly percussion and rhythmic action throughout the disc. In particular, this has some of the most creative and effective berimbau playing that I've ever heard... worth tracking down if you're looking for something off the beaten track.

Raizes Do Pelo "Raizes Do Pelo" (Paralelo, 1988)


Cool stuff... Like Ile Aye and Olodum, Raizes Do Pelo specialize in the seductive, loping rhythms of the Bahian Afro-Brasilian percussion style. Nice album, filled with familiar tunes from the late '80s scene.

Raizes Do Pelo "Samba Bahiana" (Interra, 1995)


A fine set of Afro-Brasilian percussion, reprising many of the most popular themes in the style... At first listen, the mix here may seem too muted and soft -- where is the thunder? -- but if you give this disc a few good listens, it'll really grow on you. The softer approach really lets some of the complexities and amazing cross-rhythms come through. This disc may now be hard to find, but it's certainly worth looking for... Recommended!

Dom Um Romao "Hotmosphere" (Fantasy/Prestige, 1976)


A wide-ranging, though very '70s-ed out jazz album, which highlights this veteran drummer at his best. The album opens with an impressive pair of batucada tunes that should get your attention. Things get more stereotypically jazzy from there, but even with the rambling fusion and post-bop meanders, this is a pretty strong album. Even old grumps like myself who don't have much use for '70s style jazz should recognize that this album is towards the top of the heap for the style. Romao is also notable as one of the all-too-rare Braz-jazzers who hang onto their Brazilianness, despite working up in the States. Guest musicians include pianist Dom Salvador, who was known for his role in the Black Rio soul scene. Worth checking out.

Dom Um Romao "Rhythm Traveller" (Mr. Bongo, 1998)



Impressive recent recordings from this Braz-jazz oldtimer. Drummer Romao, who worked with Sergio Mendes in the '60s, and Weather Report in the '70s, has a lot of jazz cred behind him, and draws on it liberally. The highlights for me are the batucada and percussive workouts, but folks with a light jazz sweet tooth may like the breezier stuff as well. Very retro, but not bad for an old geezer.

Fernando Sanjines & Samba Do Coracao "Heartbeat Of The Jaguar" (Coracao Records, 1999)


Samba do Coracao is one of San Francisco, California's best samba schools, and this album features plenty of dynamic, idiosyncratically original compositions by master drummer Sanjines, as well as sharp precision playing by both large and small ensembles. There are several tracks with unusual meters and stop-and-start rhythms; although their live performances are stunning, this album captures the power of their playing with surprising immediacy. Although San Fran had several samba schools in the 1970s and '80s, most never recorded their work, so this is a nice document of a scene which has been going strong for a while now. Well worth checking out!

Michael Spiro & Mark Lamson "Bata Ketu" (Bembe, 1996)



A skillful, melodic intertwining of Afro-Cuban and Afro-Brazilian Yoruba percussion, featuring guest vocals by Bobi Cespedes, of the Bay Area ensemble, Conjunto Cespedes. The project is slanted towards the Cuban side, but the group introduces Brazilian elements (berimbau, proto-samba percussive meters) with such subtlety that it is often surprising to realize that the transition or synthesis has been made. I am not usually that into percussion-based albums, but this one is a real treat. Recommended!

Various Artists "BATUCADA - THE SOUND OF THE FAVELAS" (Mr. Bongo, 1996)



An killer collection of hardcore batucada-style percussion tracks, featuring masters of the style such as Padre Miguel, Dom Um Romeu and Jadir de Castro. Some shift away from the straight samba-school drumming into jazzier terrain: it's all good. And very, very intense. Highly recommended.

Various Artists "CAPOEIRA MATA UM: THE RHYTHM OF BAHIA/THE SOUND OF THE WORLD" (Tropical Music, 2001)



A strikingly varied set of songs based on the beat and boing-boing-boing of Bahia's homegrown martial arts form, capoeira. This is a much richer and more melodic set than most capoeira albums, which tend to stick to the rhythms and can get a little repetitious. Here, by contrast, artists from throughout the world modernize and play around with this distinctive sound -- there's fairly traditional material, mixed in with funk, samba, techno and pop stylizations... there's even one improbable free jazz track! This album is both challenging and a lulling delight to hear... Recommended!

Various Artists "ESCOLAS DE SAMBA" (RCA, 2002)


A great 2-CD collection of various Carnaval themes by the various escolas that dominate the parades from year to year. These are studio recordings, mainly drawn from the '80s and '90s, and are on the slick, poppy side, but still quite nice. Featured performers include Neguinho Da Beija-Flor, Jamelao, Quinho, Dede Da Portela, Dominguinhos Do Estacio and Sergio Do Porto. RCA has really been on a roll with all these "100 Anos" releases, and this is certainly one worth picking up if you want to check out the non-MPB end of the modern scene.


<! B0000648OT? >

Various Artists "FOCUS: O ESSENCIAL DE ESCOLAS DE SAMBA" (BMG, 1999)


A nice collection of recent Carnaval themes, including some by stars such as Martinho da Vila, who helped shape the modern sound of the escolas. These are all themes of recent vintage, from 1980-99, but that's hardly a liability. The sound quality is great, the melodies are rich... Sure, the rhythm gets a bit repetitive if you listen to the whole album all at once, but taken in small doses, this is pretty fab. A recommended record from a neglected style.
---



Other Brazilian Styles
Main Brazil Index


---