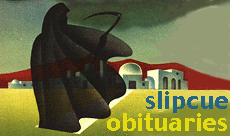 ---

Jack Nitzsche, Musician and Oscar-Winning Songwriter, Dies at 63
By Jon Pareles, courtesy of The New York Times
---
August 31, 2000 - Jack Nitzsche, an Oscar-winning songwriter, keyboardist and arranger who worked with musicians like Phil Spector, the Rolling Stones, Neil Young and Miles Davis, died on Friday in Hollywood. He was 63 and lived in Los Angeles.
The cause of death was cardiac arrest brought on by a recurring bronchial infection, said his son, Jack Nitzsche Jr.
Mr. Nitzsche made a career as a prized collaborator, drawing on idioms as old as the blues and as new as electronic music. He wrote songs with Buffy Sainte-Marie, who was his wife during the 1980's ("Up Where We Belong," which won an Academy Award as Best Song, from "An Officer and a Gentleman"), and with Sonny Bono ("Needles and Pins," a 1964 hit for the Searchers). He played piano with Neil Young and the Rolling Stones; he arranged full orchestras or skeletal, atmospheric handfuls of instruments as film soundtracks or as accompaniments for rock songs.
Bernard Alfred Nitzsche was born in Chicago in 1937, and grew up on a farm near Newaygo, Mich. He hoped to become a jazz saxophonist and moved to Los Angeles in 1955, but dropped out of music school. Mr. Bono, who was an artists-and-repertory executive at Specialty Records, hired him as a copyist. Mr. Nitzsche then worked for Capitol Records, where he met the singer Gracia Ann May, who became his first wife.
Mr. Nitzsche became Phil Spector's arranger in 1962, creating the thunderous orchestrations of the Wall of Sound for hits that included the Crystals' "He's a Rebel," "Da Doo Ron Ron" and "Then He Kissed Me"; the Ronettes' "Be My Baby" and "Baby I Love You"; and Ike and Tina Turner's "River Deep, Mountain High."
During the 1960's he was also a session keyboardist and arranger for the Rolling Stones, working on their albums from 1964 to 1974, including Let It Bleed and Sticky Fingers. He began a long association with Neil Young when he orchestrated "Expecting to Fly" for the Buffalo Springfield in 1967. He played piano on Mr. Young's albums Tonight's the Night and Time Fades Away and wrote arrangements for Mr. Young's 1972 album, "Harvest," and his 1992 album, "Harvest Moon." He also worked with Randy Newman, Marianne Faithfull, the Neville Brothers, Jackie DeShannon and the Monkees, among many others.

Under his own name he recorded an instrumental hit, "The Lonely Surfer," in 1963, and released an album of orchestral pieces, St. Giles Cripplegate, in 1973. In the late 1970's Mr. Nitzsche turned to new wave rock, producing Graham Parker's Squeezing Out Sparks and albums by Mink DeVille. Most recently, he produced recordings by the Louisiana rocker C. C. Adcock, which remain unreleased. (The The Lonely Surfer album has recently been reissued on the Collector's Choice label.)
But Mr. Nitzsche was most widely recognized for his film scores. His 1975 score for One Flew Over the Cuckoo's Nest was nominated for an Academy Award, as was his score for An Officer and a Gentleman in 1982, the year "Up Where We Belong" won as best song.
His first film music was for the 1964 rock and soul documentary, The T.A.M.I. Show, and he went on to write scores for more than 30 films, including "Performance" (1970), "Greaser's Palace" (1972), "The Exorcist" (1972), "Heart Beat" (1980), "Cutter's Way" (1981), "Personal Best" (1982), "Starman" (1984), "The Razor's Edge (1984), "The Jewel of the Nile" (1985), "9 1/2 Weeks" (1986), "Stand by Me" (1986), "Revenge" (1990) and "The Crossing Guard" (1995). His score for "The Hot Spot," a 1990 film by Dennis Hopper, brought together John Lee Hooker, Taj Mahal and Miles Davis.
Mr. Nitzsche had a persistent drug problem and was known, at times, for volatile behavior. In 1979 he was sentenced to three years' probation for breaking and entering following a domestic dispute with his girlfriend at the time, the actress Carrie Snodgress. In the late 1990's, The Los Angeles Times reported, his arrest was shown on the television series "Cops" after he waved a gun at someone who had stolen his hat.
He is survived by his son.
---

Roger Vadim, Director Who Propelled Bardot to Stardom, Dies at 72
By Alan Riding, courtesy of The New York Times
---
February 12, 2000 - BERLIN -- Roger Vadim, the French film director who turned Brigitte Bardot into an overnight star and potent sex symbol in his first movie, "And God Created Woman," died Friday in a Paris hospital. He was 72.

Friends said he had died of cancer.

During a 40-year career in which he directed some 25 movies, Vadim never became an art house favorite. But his 1956 debut earned him a permanent place in postwar French cinema because of Bardot's daring performance as a young married woman in search of sexual freedom and the protests over the film's explicit sensuality.

One scene in which Bardot danced barefoot on a table like a wild Carmen is often cited as a breakthrough in what was considered permissible to show on screen. "There was really nothing shocking in what Brigitte did," the director said three decades later. "What was provocative was her natural sensuality."

Many of Vadim's subsequent films were also erotic, but he remained in the limelight as much because of his amorous ties to a succession of beautiful young actresses whose careers he promoted and whose lives he temporarily shared, among them Annette Stroyberg, Catherine Deneuve and Jane Fonda as well as Bardot. Angie Dickinson, Jeanne Moreau and Susan Sarandon also appeared in his films.

Among his best-known films are 'No Sun in Venice" (1958) with Francoise Arnoul and an original score by the Modern Jazz Quartet; "Les Liaisons Dangereuses" (1961) starring Stroyberg; "Blood and Roses" (1960) with Stroyberg; "Vice and Virtue" (1962) with Deneuve; and "Barbarella" (1968) with Fonda. In 1972 he made "Don Juan 73," in which a woman ( Bardot) played the famous seducer. His last feature film, in 1988, was a remake of "And God Created Woman" starring Rebecca DeMornay.

President Jacques Chirac of France said Friday of Vadim: "Apart from an original and important body of work, which sometimes rocked minds, he was more than anyone else, the filmmaker of life, of passion for life, of liberty. He hatched new talents and knew how to create myths, aided by some of the greatest actresses of the past few decades."

Born in Paris on Jan. 26, 1928, Roger Vladimir Plemiannikov first aspired to become an actor, entering drama school alongside Marcel Marceau. He then tried his hand as a journalist before working as an assistant director on several movies. At the age of 21, he met Bardot, a schoolgirl of striking beauty who was six years his junior. In 1952 when he was 24 and Bardot was 18, they married.

Bardot had appeared in several small films when Vadim directed her in And God Created Woman, in which she played a young woman who marries to escape life in an orphanage only to fall for her husband's younger brother, played by Jean-Louis Trintignant. "I wanted to show a normal young girl whose only difference was that she behaved in the way a boy might, without any sense of guilt on a moral or sexual level," Vadim once said.

After his marriage to Bardot fell apart in 1957, he married Stroyberg, with whom he had his first child, Nathalie. After that marriage failed, Vadim lived with Deneuve, with whom he had a son, Christian, now also an actor. In 1967 the director married Fonda, for whom he made the avant-garde science-fiction movie "Barbarella." They had a daughter, Vanessa. Vadim's fourth marriage, to Catherine Schneider, came eight years later; they had a daughter, Vania. In 1990 he married the actress Marie-Christine Barrault, who survives him along with his four children.

In the 1990s Vadim dedicated himself principally to made-for-television mini-series. He also wrote a book of memoirs, "D'une Etoile a l'Autre," or "From One Star to the Next," in which he recounted his playboy life and his marriages and spoke of his difficulty remaining faithful to his partners.

It is perhaps as much for his gossip-magazine lifestyle as his discovery of Bardot that he may be remembered.

"Because of the laziness of this otherwise intelligent director, Vadim's life's work creates an impression of superficiality, if not actual mediocrity," a French cinema dictionary noted. But, it added, his talent in discovering women stars cannot be denied.



---

Jeffrey Willick, 40; Studied Structure of Universe
Courtesy of The Associated Press

---
June 20, 2000 - Dr. Jeffrey Willick, a Stanford University physics professor who studied the structure of the universe, was killed on Sunday when a car crashed into the Englewood, N.J., coffee shop where he was sitting. He was 40 and lived in Palo Alto, California.
An assistant professor who specialized in astronomy, Dr. Willick described his work as focusing on the "big questions facing contemporary cosmology."
Those big questions, he wrote on a university Web site, included, "Is the universe flat? Is there a nonzero cosmological constant? Did structure in the contemporary universe emerge from the very nearly uniform primordial distribution of matter solely via the process of gravitational instability? What is the nature of the 'dark matter' believed to constitute 90 percent of the total mass of the universe?"
Dr. Willick was the son of Martin S. Willick of Teaneck, N.J., a psychiatrist and lecturer at Columbia University.
He got his bachelor's degree in chemistry and physics in 1981 from Harvard University, his master's in physics at the University of California at Berkeley in 1983, and his doctorate in physics at Berkeley in 1991.
He taught physics at Dwight Englewood High School in Englewood in the early 1980's, and at Berkeley from 1984 to 1985. He was a research assistant at Berkeley from 1985 to 1991 and did postdoctoral work at the Carnegie Observatories from 1991 to 1995. In 1995 he became an assistant professor at Stanford.
In addition to his father, his survivors include his wife and two sons.
---
Here's the next set of groovy obits for your reading pleasure...
Werner Klemperer, akaCol. Klink, Dies at 80

John Worsley, A Real-Life Col. Hogan

James Carr, Soul Singer, Dies at 58

---
Links
---
There are several obit enthusiast sites out there, and each has its own unique take on obituary journalism. Here are some recommended sites you may enjoy as well.
---