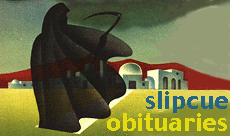 ---

Chief Justice Rose Bird, California Judge Who Stood By Her Principles, Dies at 63
By Todd S. Purdum, courtesy of The New York Times
---
December 6, 1999 - LOS ANGELES -- Rose Bird, who became the first woman on California's Supreme Court and whose resolute opposition to the death penalty later led voters to remove her as chief justice, died of complications from breast cancer on Saturday at a hospital near her home in Palo Alto. She was 63.
Almost from the moment she was appointed to head the state's highest court by Gov. Jerry Brown in 1977, Bird, a pioneering liberal lawyer who had never been a judge, became one of the most controversial figures in California politics. She led a liberal majority that strengthened environmental laws and consumer rights. But in 1986, voters angry at her opposition to the death penalty removed her and two other Brown-appointed justices by refusing to extend their terms. They were the first such removals in California history.
Bird, who came of professional age at a time when major law firms still resisted hiring women, held a succession of path-breaking jobs. She was the first woman hired by the Santa Clara County public defender's office in Northern California, and she became the first woman to hold a cabinet-level post in state government when Brown named her his secretary of agriculture in 1975. Many of her detractors were forced to acknowledge her administrative skills, while even her admirers among judges and lawyers conceded the brittleness that made her a lighting rod for criticism.
Judge Stephen Reinhardt of the 9th U.S. Circuit Court of Appeals, who had known her for years, said Bird had "a total passion for, and commitment to, justice."
"In some ways, she was just too good to be a judge," he said. "As I said, she had a total passion and commitment, and that's not always the best way to function and get along in this world, in a political environment. From the day she got to the Supreme Court, she never really had a chance."
After the death penalty was reinstated in California in the late 1970s, Bird never upheld a death sentence, voting to vacate such sentences 61 times. She survived repeated efforts to recall her, but was ousted after Gov. George Deukmejian, a Republican, led an aggressive campaign against her.
To this day, Bird's name remains a kind of reflexive shorthand in California for "soft-on-crime liberal." In last year's election, the unsuccessful Republican candidate for governor, state Attorney General Dan Lungren, sought to tar his Democratic opponent, Lt. Gov. Gray Davis, by association, because Davis had been Brown's chief of staff at the time of Bird's appointment.
"I appreciate that some people within our state are impatient, impatient to see executions," Bird said after her removal. "I don't think anybody in this state will sit easy if, in fact, this becomes a court that ensures nothing but executions to appease the overweening and insatiable attitude of ambitious politicians."
After her ouster as judge in 1986, Bird, who never married, retreated into semi-seclusion. She cared for her aged mother in Palo Alto and surfaced occasionally as a television commentator or a public speaker, but dropped even some old friends and associates. She had battled breast cancer intermittently since 1976. Her mother died in 1991, and she is survived by two brothers, Philip, of Hawaii, and Jack, of Arizona.
Today, in part because of long-running arguments over capital punishment, California has the largest death row in the nation, with more than 500 inmates sentenced to die. But virtually the entire state political establishment, Democratic as well as Republican, now favors the death penalty, and the pace of executions is widely expected to increase.
Rose Elizabeth Bird was born on Nov. 2, 1936, in Tucson, Ariz., the youngest of three children whose parents ran a chicken farm. Her parents separated in 1941 and her father died soon after. Bird's widowed mother, Anne, moved the family to New York, her home state.
Young Rose was a standout scholar in high school, earning a scholarship to Long Island University, where she majored in English in preparation for a career in journalism. She later enrolled as a graduate student in political science at the University of California at Berkeley, but an internship in the state Legislature in Sacramento persuaded her to switch to law school, because lawyers seemed to have the most influence on public policy.
After working as a public defender and teaching a seminar in criminal defense at Stanford University's law school, Bird became a volunteer in Brown's 1974 campaign for governor, serving as his frequent chauffeur on his trips to her area and later as a trusted adviser on his transition team. On taking office, Brown broke precedent by naming Bird secretary of agriculture, a post traditionally held by a grower.
Bird emphasized consumer protection and worker health and safety, moving to ban the use of a short-handled hoe that forced farm laborers to spend hours stooped in the fields. She also drafted a landmark farm labor bill guaranteeing workers' rights to hold secret-ballot union elections and shepherded it through the legislature.
The controversy she generated in the agriculture post was nothing compared to the criticism that greeted her nomination as chief justice in 1977. Police groups and politicians around the state opposed her on the grounds that she would favor defendants, and Cardinal Roger M. Mahony of Los Angeles, then a bishop and head of the state Agricultural Relations Board, questioned her "emotional stability" and her "vindictive approach to dealing with all persons under her authority."
Just a year later, conservatives outraged by her decisions on school busing, taxes and other issues began a campaign to remove her. Under California law, supreme court justices appointed by the governor must be approved by the electorate in the next gubernatorial election, and periodically thereafter. She survived the opposition that year. But on the morning of election day, The Los Angeles Times published an article, citing anonymous sources, suggesting that the Supreme Court had deliberately delayed issuing a split decision overturning a law mandating prison sentences for those convicted of using a gun in certain crimes, so as not to hurt Bird's chances at the polls.
That led to public hearings by the state Commission on Judicial Performance, which portrayed the court as riven by personal conflicts and political infighting. No formal charges of misconduct were brought against any justice, but the controversy generated by the investigation lingered on.
"If you have never experienced life under a microscope, you need to understand that those who live a public life are no longer seen as real persons -- human beings," Bird wrote in a 1996 newspaper column. "Rather, they are objects to be examined, manipulated, ridiculed and sometimes even hated."
---

William Ringel Is Dead at 97; a Zesty Figure on the Bench
By Robert D. McFadden, courtesy of The New York Times
---
June 1, 1999 - William E. Ringel, who ruled Andy Warhol's "Blue Movie" obscene, lectured civil rights protesters on the evils of anarchy and sent a parade of slumlords, thieves and vagrants to jail in 25 years as a judge in Criminal Court and other lower courts in New York, died on Thursday at his apartment in Manhattan. He was 97.
The German-born jurist was the United States Army's chief counterintelligence officer in Austria and Italy during World War II, helped organize the food-and-fuel relief effort for his native Vienna after the war, and later was active in German-American affairs. He helped found New York's Steuben Day Parade, celebrating German-American culture, and was its grand marshal for many years.
On the bench, his rulings set no major precedents and he did not preside over the big murder or corruption cases of his day. But from 1940 until his retirement in 1971 -- with time out for service in two wars -- Judge Ringel was a familiar and zesty figure in the workaday world of jurisprudence in Manhattan.
He sat in Criminal Court, Special Sessions Court, Traffic Court, Probation Court, Homeless Men's Court, Magistrates Court, Auto Accident Court and other courts of unlofty jurisdiction, often presiding over simple bail hearings or arraignments, or judging the misdemeanors of gamblers, loan sharks, brawlers, drunks, pickpockets, prostitutes, stowaways and other malefactors.
His cases often made headlines, however, as in 1969 when he was part of a three-judge panel that called Warhol's "Blue Movie" obscene. The judges, after viewing the film, said that its graphic sex was portrayed "with no redeeming social value."
In the social-political upheavals of the 1960's, protesters charged with disorderly conduct often faced Judge Ringel, who typically handed them stern lectures and suspended sentences. "You cannot decide what laws to obey and what laws to disobey," he told seven clergymen, a seminarian and a social worker arrested in a 1963 protest against racial discrimination. "If you don't like a law, the remedy is to go to the Legislature." But he let them go.
Eccentricity seemed indigenous to his courtroom. Not long after his 1940 appointment by Mayor Fiorello H. La Guardia, for example, Magistrate Ringel fined himself $2 for a parking violation. "Guilty as charged," he announced, pulling his black robe aside to dig out two $1 bills for the court clerk.
Amid the anguished cries of a half-dozen devotees of monkeys as house pets, he ruled in 1949 that five monkeys were "wild beasts" that could not be kept in a midtown apartment, but he suspended a workhouse term against their sobbing owner when he agreed to place them in a zoo.
And when 43 men in a bewildering array of costumes appeared before him in 1962, he dismissed charges of "masquerading to conceal identity," a form of disorderly conduct, on the ground that they had been seized in a raid at the National Variety Artists Annual Ball, a real masquerade.
William Edmund Ringel was born in Vienna on Dec. 17, 1901, and as an infant was brought to New York by his parents and raised in Yorkville, a section of Manhattan where German was as common as English. He graduated from City College in 1923, became a city schoolteacher and attended night courses at New York University to earn his law degree in 1929.
He practiced law for 11 years before being named to the bench. His judicial career spanned 31 years, but was interrupted twice -- for four years during and just after World War II, and for two years in the Korean conflict. He retired with the rank of lieutenant colonel.
While his courts were frequently reorganized and renamed, Judge Ringel became a courthouse regular, reappointed by Mayors William O'Dwyer, Robert F. Wagner and John V. Lindsay.
Judge Ringel taught law at the New York Police Academy, and was the author of numerous articles on the law and several textbooks, including "Searches and Seizures, Arrests and Confessions," (Clark Boardman Callaghan, 1972, 1981). He was also active in veterans and German-American organizations and helped found the Steuben Day Parade in 1958 and was its grand marshal for 14 years.
After his retirement from the bench, Judge Ringel was a hearing officer for the New York State retirement system, and also worked for the state as an arbitrator/mediator and a judicial hearing officer.
His wife, the former Irma Marie Saxl, whom he married in 1926, died in 1989. He is survived by his daughter, Barbara Simner Mendenhall, of Saratoga, Calif.; two sisters, Claire Rifkin, of Yonkers, and Nettie Fishman, of Long Beach, N.Y.; two grandchildren, and two great-grandchildren.
---

Ruth Werner, 93, Colorful and Daring Soviet Spy
By David Binder, couresy of The New York Times

---
July 23, 2000 - Ruth Werner, a colorful and successful Soviet spy whose exploits included radioing invaluable atomic bomb data to Moscow in the middle of World War II, died on July 7 in Berlin. She was 93.
In her 20 years as an intelligence operative in China, Poland, Switzerland and England, she had a number of close calls. But she always managed to extricate herself from the predicament -- unlike Klaus Fuchs, the agent who fed her the British atomic bomb secrets, who was imprisoned in Britain for nine and a half years, or Richard Sorge, the master spy who recruited her, who was executed in Japan in 1941.
Her espionage work was entwined with her romantic life, which included an affair with one of her spy chiefs; later she married a British Communist to become a British citizen and only later came to love him. She told some but not all of her story in a 1974 autobiography, still observing the iron rules of conspiracy by never mentioning Fuchs, who was still alive.
Werner was known by the code name Sonja, which was given to her by Sorge in 1933. Ruth Werner was her pen name. All of her various identities had their roots in a prosperous Jewish household in Berlin, where she was born Ursula Ruth Kuczynski, one of six children of Robert Rene and Berta Kuczynski. Her father was a distinguished economist.
Werner was drawn early to the communist movement and became a member of the German Communist Party at 19. She was immediately fired by the publishing house where she worked. Soon afterward she met and married Rolf Hamburger, an architect.
She started writing for the party newspaper, Rote Fahne. In 1930, having been told by the party that she would be contacted in Shanghai, she moved with her husband to China. They began a pleasant bourgeois life, but she was waiting impatiently for the promised contact. It took four months and friendship with Agnes Smedley, an American leftist journalist, who introduced her to Sorge. Sorge, then 35, had been the Shanghai agent of the Soviet army's intelligence service for a year. The service was known by its Russian initials, GRU.
Sorge asked whether she was ready to face danger. She nodded and agreed to make room available for his clandestine meetings with Chinese Communists, the chief interest of Moscow.
Werner joined the ring without her husband's knowledge, stored weapons and hid a Chinese comrade who was on the run. Two years later, when Sorge left Shanghai for Moscow, he recommended her to the GRU.
Though her marriage was deteriorating, she and her husband had had a son, Michael, while in Shanghai. When the GRU asked her to go to Moscow for training, she left the boy with in-laws in Czechoslovakia.
In the GRU school she learned Morse code, Russian and how to build radio transmitters and receivers. In February 1934 she was sent to turbulent Manchuria, which had been seized from China by the Japanese. Her boss was Ernst, a former sailor, with whom she became romantically involved.
"Our transmitter was the link between the partisans and the Soviet Union," she wrote. She sent coded messages twice a week, and bought and transported chemicals for explosives for the Chinese Communist partisans.
In 1935, Moscow, fearing the two spies were about to be exposed, ordered Werner and Ernst to flee China. She accepted an assignment in Poland, this time with her husband, although she was pregnant with Ernst's child. Her daughter, Janina, was born in April 1936.
In late 1938 she was sent to Switzerland to set up a new spy ring, again with her husband, but he soon left for the Far East. In February 1939 she met Len Beurton, an English Communist who had fought in Spain with the international brigades. For him, he once wrote, it was "love at first sight; she had a very good figure."
In 1940, the GRU authorized a marriage of convenience by which Werner became British, but the love came to be mutual -- the marriage lasted until his death three years ago.
Werner had already begun clandestine transmissions from a radio set she had built in her rented house near Oxford when, in 1941, she met Fuchs, who was working at the British atomic research facility nearby.
The two spies would bicycle into the countryside for their meetings, and Fuchs would hand over written materials that, Werner once told an interviewer, were "like hieroglyphics."
Norman Moss, author of "Klaus Fuchs: The Man Who Stole the Atomic Bomb" 1987), said that Vyacheslav Molotov, Stalin's chief aide, set up the Soviet atomic bomb project in 1942 as a result of the information transmitted by Fuchs and Werner, and that the information saved the Soviet researchers a great deal of time. The Soviets detonated their first atomic bomb in 1949.
Werner was also running other agents, including a Royal Air Force officer, a specialist in submarine radar and even her brother and father. She was once told that the chief of GRU had said, "If we had five Sonjas in England, the war would end sooner."
In the early 1950s she and her family -- another son, Peter, had been born in 1943 -- left England for East Berlin. Her only connection with the GRU after that was in 1969, when she was invited to a ceremony to receive her second Red Banner, the highest Soviet military decoration.
She turned to writing, producing some short stories; a biography of Olga Benario, a German Communist who was gassed by the Nazis in 1942; and her autobiography.
She is survived by her three children, five grandchildren and three sisters.
---
And here's the next set of more groovy obits...
Jack Nitzsche, The Man Behind The Wall Of Sound

Roger Vadim, The Director Who Made Brigitte Bardot Big Stuff

Dr. Jeffrey Willick, Expert In The Workings Of The Universe, Killed By Freak Accident at Age 40

---
Links
---
There are several obit enthusiast sites out there, and each has its own unique take on obituary journalism. Here are some recommended sites you may enjoy as well.
---