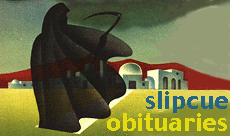 ---

Writer Alice Adams Dies In Her Sleep
By Larry D. Hatfield, courtesy of The San Francisco Examiner
---
June 20, 1999 - Alice Adams, whose novels and short stories about strong women and life in San Francisco made her one of the Bay Area's most celebrated writers, is dead. Ms. Adams, who was released from a hospital earlier in the week after being treated for heart problems, died in her sleep Thursday at her Alta Plaza Park home. She was 72.
"As a writer, she was considered one of the masters of the short story," said fellow writer and longtime friend Millicent Dillon. "Most of her work was about people in San Francisco. She had a really remarkable ability to write about the surface of society and then get down to the level of how they felt."
The last of Ms. Adams' 10 novels and five short story collections was published last year. "This Last Lovely City" was another work about San Francisco.
Born in Fredericksburg, VA, and reared in Chapel Hill, N.C., Ms. Adams' father was a University of North Carolina language teacher and her mother was a frustrated writer. She was graduated from high school at 15 and from Radcliffe College at 19.
She married college sweetheart Mark Linethal and they spent a year in Paris before moving to San Francisco in 1948. They were divorced in 1958.
Ms. Adams published her first short story for The New Yorker in 1969 and became one of the magazine's most distinctive voices.
"No one wrote better about the tangled relations of men and women or about the enduring romance of friendship," said her New Yorker editor, Fran Kiernan. "She was a great romantic, with the highest expectations of life. As a writer, she was unfailingly wise."
Although Ms. Adams claimed she inherited the reticence of her Southern female characters, legendary editor William Abrahams said of her, after meeting her in the 1950s, that "she was not going to pretend she wasn't the bright woman she is. The stereotype of women being mildly stupid in order to get ahead in the world simply never touched her. And that didn't always make her especially loved... I'm tempted to say that Alice was a kind of feminist before her time."
Former Examiner writer Joan Smith said Ms. Adams hated the 1950s "when she was a single mother and struggling at a time when one was not supposed to be either of those things, and loved the wonderfully freeing 1960s, when it was suddenly fine to be politically progressive and a woman who could be defined, at least theoretically, by her work and ideas and not simply by her relationships with men."
She was "mimicked to death," said Abrahams, who edited many of her works for the O. Henry collections. "I don't know anyone who quite writes the kinds of stories she does, though heaven knows they've tried. Very sharp-eyed, and sharp-tongued, even. She has a special take on life out here, which is curious because it is, after all, her adopted home."
Her 1975 novel, "Families and Survivors," about a woman who moves to The City from the South, established her as a front-rank writer. "Superior Women," a 1984 story tracing the lives of five Radcliffe women, was a best-seller.
"Southern Exposure," her ninth and considered by many her best novel, was a return-to-roots masterpiece set in the South.
She won the prestigious O. Henry Special Award for Continuing Achievement in 1982.
Ms. Adams had a wry view of the lives of independent women, and of life itself, and could be at once funny and trenchant in describing both during salons at her beautiful Victorian on Alta Plaza.
On the difficulty of writing as one gets older, she said, "Some smart person once said that what happens is your critical standards rise, and your talent does not necessarily increase in a commensurate way."
Hers did.
Ms. Adams is survived by her son, Peter, of San Francisco.
---

Randolph Bullock, Curator of Armor Exhibit, Dies at 96
By William H. Honan, courtesy of The New York Times
---
June 7, 1999 - Randolph Bullock, a curator emeritus of arms and armor at the Metropolitan Museum of Art who helped build its collection into one of the world's finest, died on May 28 at a hospital in Oceanside, N.Y. He was 96 and lived in Wickford, R.I.
Perhaps Bullock's most important contribution in his 40 years at the Metropolitan was the design of the arms and armor installation that opened in its J.P. Morgan Wing in 1956. Previously arms and armor had been shifted around the museum.
The armor installation was redesigned in 1991 but remains in the Morgan wing and retains such glories as the group of four equestrian knights in shining armor who appear to have sighted the enemy, leveled their lances and are preparing to thunder down the field.
Bullock supervised the installation of the four knights in the 1920s and their popularity eventually led to his appointment as curator of the department in 1964.
As a curator, Bullock was frequently involved in acquisitions. One of the most extraordinary of these was the museum's long effort to acquire the fowling piece of Louis XIII of France. That legendary long gun was then owned by William G. Renwick, a reclusive gun collector who kept his prizes hidden from sight in his home in Tucson, Ariz.
The Louis XIII hunting weapon is not only considered the most elegant 17th-century long gun in existence, but it is also one of only three flintlocks known to have been made in the workshop of Pierre and Marin Le Bourgeoys of Lisieux, the gunsmiths who invented the flintlock ignition mechanism.
Bullock was one of three Metropolitan curators beginning in the 1920s who tried to acquire the weapon, which they called "the most beautiful gun in the world," before it could be snatched away by the Smithsonian Institution, another museum or a private collector.
Several times it appeared that Renwick had been wooed and won, but he always backed off at the last minute. Then, after his death in 1972, his collection came up for auction at Sotheby's in London. Bullock pounced, and an agent for the Metropolitan bid $300,000 and gained the prize.
Randolph Bullock was born in Newport, R.I. He was a direct descendant of the Goddard family of Newport, whose members were renowned furniture and cabinet makers. He attended the Rhode Island School of Design in Providence, graduating in 1924.
Two years later he was employed by the Metropolitan Museum as an illustrator. His job was to make measured drawings of objects in the arms and armor collection. These drawings could show cutaway views and depict, for example, how a man's head would fit into a helmet.
In the early 1930s Bullock supervised Works Progress Administration artists assigned to similar work at the museum. In 1937 he was named assistant curator of the arms and armor department, specializing in Asian objects.
During World War II he served in the Army Air Corps and interpreted aerial reconnaissance photographs. His first task when he returned to the Metropolitan was to supervise the resettlement of the collections in the museum removed for safekeeping during the war.
Bullock is survived by a daughter, Barbara Stern of Oceanside, and three grandchildren.
He could trace his professional lineage back to Ludwig Klein, the armorer to Napoleon III. Klein had fashioned the breastplate and backplate that the emperor wore in 1870 when he marched against the Prussians. As it turned out, Napoleon III was defeated, a result more of Alfred Nobel's newly devised dynamite shells than any defect in his armor.
When Klein died, his armorer's tools were inherited by an apprentice, Daniel Tachaux, who became the Metropolitan's first full-time armorer. Tachaux, who died in the 1920s, trained Bullock and also willed his royal armorer's tools to the museum.
The tools were an important asset to Bullock in combating the acrid air of New York City. Stephen Grancsay, the curator who succeeded Bullock, used the Tachaux collection of picks, hammers, stakes and anvils to create the helmet, or "tin pot," worn by U.S. soldiers in World War II.
---

Americo Paredes, 83, Founder of 1960's Chicano Studies Movement
By Joe Holley, courtesy of The New York Times

---
May 7, 1999 - Americo Paredes, a writer, folklorist and one of the founders of the Chicano studies movement in the 1960's, died on Wednesday at Specialty Hospital in Austin, Tex. He was 83.
At the time of his death Mr. Paredes was professor emeritus of English and anthropology at the University of Texas at Austin.
His best-known book, "With His Pistol in His Hand: A Border Ballad and Its Hero," is considered by folklore scholars to be a groundbreaking work in folklore and Chicano studies.
Mr. Paredes was born in 1915, in Brownsville, Tex., to a family with roots deep in what he called the Lower Border, that area of Texas along the Rio Grande from the two Laredos to the river's mouth at the Gulf of Mexico.
Bounded by desert and the sea, this isolated cluster of towns and villages along the river had been the heart of the old Spanish province of Nuevo Santander, colonized in 1749 by Jose De Escandon. Mr. Paredes's family on his father's side came to the area in 1580; his mother's family arrived in the mid-19th century.
Mr. Paredes insisted that a distinctive culture evolved where "the two cultures mingled and clashed," and he devoted his scholarly life to exploring the folklore and culture of the area. His work, the folklorist Richard Bauman has written, vindicates the premise "that a deep, detailed, nuanced understanding of the local will illuminate and inspire a more global vision."
He started writing poetry as a teen-ager and some of his poems were published in La Prensa, a widely read Spanish-language newspaper published in San Antonio. During the Depression years he worked as a reporter for The Brownsville Herald. With his first wife, Chelo Silva, a well-known singer in Mexico and South Texas, he also was part of a group that performed traditional music for parties and gatherings in the Rio Grande Valley.
Mr. Paredes and Miss Silva were divorced in the 1930's.
Even as a reporter, Mr. Paredes wrote poetry and essays about Chicano culture.
He also wrote a novel, "George Washington Gomez," but the book remained in manuscript form until 1990, when it was published by Arte Publico Press in Houston.
Mr. Paredes enlisted in the Army in 1941, and worked in the Pacific theater as a correspondent for Stars and Stripes.
After the war, he stayed in the Far East for five years, covering Japanese war crimes trials for Stars and Stripes and later doing public relations work for the American Red Cross in Japan.
In Tokyo, in 1948, he married Amelia Nagamine, daughter of an Argentine diplomat.
He returned to Texas in 1950 and enrolled at the University of Texas at Austin.
The first Mexican-American ever to receive a Ph.D. at the University of Texas, he taught at the university from 1958 until his retirement in 1984.
"With His Pistol in His Hand," his doctoral dissertation, is both a scholarly investigation into the evolution of a popular ballad about a Mexican-American fugitive named Gregorio Cortes and a revisionist retelling of the 1901 incident that inspired the ballad.
It would not have been published, Mr. Paredes told The Texas Observer, without the aid of two influential scholars at the university, Robert Stephenson and Stith Thompson, who became Mr. Paredes's champions on a campus that had never been particularly welcoming to Mexican-American students or scholars.
The book was published in 1958 and for nearly a decade after its publication remained something of an underground classic. That began to change in the 1960's, when Chicano activists at Berkeley and other California institutions discovered it. They recognized its significance as an alternative telling of American history and sociology.
Today, "With His Pistol in His Hand" is in its ninth printing.
Mr. Paredes, who was co-founder and first director of the University of Texas Mexican American Studies program as well as a founder of the Center for Intercultural Studies of Folklore and Ethnomusicology, published numerous articles, essays, books and poetry during his nearly 30-year career at the University of Texas.
He published five books after his retirement.
In addition to "With His Pistol in His Hand" and the novel "George Washington Gomez," Mr. Paredes's books include "Folktales of Mexico" (1970), "A Texas-Mexican Cancionero" (1976), "Between Two Worlds," a book of poems (1991), "Uncle Remus con Chile" (1992), "Folklore and Culture on the Texas-Mexican Border" (1993) and "The Hammon and the Beans and Other Stories" (1994).
Mr. Paredes won a Guggenheim Fellowship in 1962 and received the Charles Frankel Prize from the National Endowment for the Humanities in 1989.
In 1991, he was awarded the Aguila Azteca (Aztec Eagle) medal, the highest honor given a foreigner by the Mexican Government.
He is survived by his wife; three sons, Americo, Alan and Vicente; and a daughter, Julia.
---
And here's the next set of more groovy obits...
Chief Justice Rose Bird, California Judge Who Stood By Her Principles

William Ringel, Judge Who Ruled Warhol's Art Obscene, Is Dead at 97

Ruth Werner, Russian Spy and Commie Hottie, Dies at 93

---
Links
---
There are several obit enthusiast sites out there, and each has its own unique take on obituary journalism. Here are some recommended sites you may enjoy as well.
---