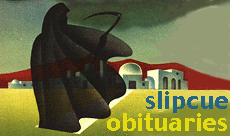 ---

Frank Spencer, Anthropologist Who Studied Piltdown Hoax, Dies at 58
By Michael T. Kaufman, courtesy of The New York Times
---
June 3, 1999 - NEW YORK -- Frank Spencer, an anthropologist who rummaged through the bones of controversy to theorize about the identity of the mastermind behind the Piltdown Man hoax of 1912, died on Sunday. He was 58 and lived in Bayside, Queens.
The cause was cancer, said Queens College, where Spencer had been a professor and chairman of the anthropology department.
It was in 1990 that Spencer, a specialist in the history of physical anthropology, weighed in with his hypothesis about who was responsible for planting a skull and bones in a gravel pit near the English village of Piltdown and setting a false trail, which for some 40 years diverted scientists seeking the timetable of man's origins.
Though some had long doubted the evidence found at Piltdown, the fraud was not fully exposed until 1953, when the skull and a lower jaw, originally represented as coming from the same ancient individual, were found to be from two contemporary creatures of different species. The skull was that of a modern man and the jaw that of a modern orangutan with its teeth filed down.
As the plot was bared, suspicion fell on Charles Dawson, who had found the bones and brought them to the attention of scientific authorities at the British Museum and who had died in 1916. But as a country lawyer and an amateur geologist, Dawson seemed to lack the knowledge and the access to the bones needed to fabricate evidence of a "missing link" between ape and man.
There was no lack of possible accomplices and over the years many figures, mostly scientists, were mentioned as suspects. These included Dr. Pierre Teilhard de Chardin, the famed paleontologist and a Jesuit priest who hunted for fossils with Dawson in Piltdown and who after the exposure of the hoax was said to have commented cryptically, "I know who did the Piltdown hoax, and it was not Charles Dawson."
Another famous figure who came under scrutiny as a possible confederate of Dawson was Sir Arthur Conan Doyle, the creator of Sherlock Holmes. The accusations linking him to the plot were all circumstantial: he lived not far from the site of the discoveries, knew Dawson and was fascinated by fossils.
But Spencer's research took him in another direction, focusing his attention on a hitherto unsuspected anatomist named Sir Arthur Keith, who in 1912 had been a rising star of the British scientific establishment.
Keith was then the conservator of the Hunterian Museum of the Royal College of Surgeons. He died in 1955, two years after the Piltdown Man was shown to have been concocted.
Though Spencer was born in Chatham, not far from Piltdown, the debunking of the Piltdown claim, when he was 11 years old, made no memorable impression on him. However, when in 1976 he was writing his doctoral dissertation at the University of Michigan about a physical anthropologist named Ales Hrdlicka, the doctoral student noted that his subject had once written to Keith questioning the find, only to be snubbed. He wondered why.
Through years of investigation, which he documented in Piltdown, a Scientific Forgery, published by Oxford University Press in 1990, Spencer established that before Dawson publicized his finds, Keith was aggressively propounding his view that the first human beings evolved earlier than had been supposed and that the first manifestation of their development was the enlarged brain.
The evidence of a Piltdown Man fulfilled Keith's hypothesis of a missing link with a modern-sized brain and a simian jaw, which he claimed was a more legitimate and direct ancestor of man than the European Neanderthals and the Java Man found just before the turn of the century.
By Spencer's reckoning, Keith was the scientist with the most to gain from the Piltdown discovery. As Spencer wrote, the hoax had been "a deliberate use of fraud to alter the entire course of paleontology."
Meanwhile, in Australia, Dr. Ian Langham, a historian, had independently reached similar conclusions about Keith, and when Langham died in 1984, his research became available to Spencer. Elaborating on Langham's findings, Spencer was able to establish that Dawson and Keith held secret meetings dating back to a year before the supposed discovery.
As Spencer reconstructed the plot, Keith provided technical expertise and possibly the bones, which were stained to look prehistoric. Dawson then planted them in the gravel pit where he then led others, including Teilhard, on fossil hunts.
"I'm pretty convinced that this is the definitive solution," Spencer said in an interview when his book appeared. "We don't have the smoking gun. But I think the interpretation we've made is a reasonable one and in harmony with the facts."
Spencer, the editor of The History of Physical Anthropology and the author of several monographs and many articles, had originally been trained as a medical microbiologist and worked in British and Canadian hospitals before switching fields.
He is survived by his wife, Elena, and his mother, Doris, of Rochester, England.
---

Frances Godowsky, 92, Last of the Gershwin Siblings
By Robert McG. Thomas, Jr., courtesy of The New York Times
---
January 20, 1999 - NEW YORK -- Frances Godowsky, a prolific painter and sometime singer better known as George and Ira's little sister, Frankie Gershwin, died on Monday at her home in Manhattan. She was 92 and the last of the Gershwin siblings.
In a family where talent abounded, Mrs. Godowsky and her slightly older brother, Arthur, inherited their share of the Gershwin genes, but when one older brother is one of the century's most acclaimed composers and another is among its most lionized lyricists, it is hard to measure up.
Not that Mrs. Godowsky didn't have her moments. An accomplished dancer who toured at 11 in a children's musical, "Daintyland," she never let George and Ira forget that when they were grateful for $15 paychecks from Tin Pan Alley, she was the family's first big breadwinner -- never mind that most of her $40 weekly salary went to pay expenses.
Born on the Lower East Side of Manhattan on Dec. 26, 1906, 10 years to the day after her oldest brother, Ira, Mrs. Godowsky had a peripatetic childhood as her father, Morris, a man with an eclectic personnel file, repeatedly moved the family to be near his latest job. (Ira once calculated that between 1900 and 1917 the family lived in 28 apartments, 25 in Manhattan and three in Brooklyn.)
Although she sang in a couple of Broadway shows in the late 1920s, by the time the family moved into the house on West 103d Street made famous in the 1945 biographical movie, "Rhapsody in Blue," Mrs. Godowsky seemed resigned to tailoring her career to her older brothers'.
Frequently summoned to George's lair on the fifth floor, she was often the first to sing Gershwin songs that would later be Broadway hits, and when George was in rehearsal for "Lady Be Good," brother and sister would try out steps he had learned from the show's star, Fred Astaire.
Although her husky voice was small by stage standards of the day, George, who loved her interpretations of his sometimes complicated music, particularly the way she kept the rhythm going, made her his personal chanteuse, and the two entertained at countless flapper-era parties in New York and elsewhere.
In time, Mrs. Godowsky was glad enough to accept the benefits of being his beloved little sister.
In one episode in early 1928, Mrs. Godowsky, who was dating a boring doctor at the time, begged George to let her tag along on a European trip he and Ira were planning.
By the time she returned six months later, Mrs. Godowsky had so wowed Cole Porter at a party Elsa Maxwell gave in Paris that he designed a show for her at the storied nightclub Les Ambassadeurs, where she sang Gershwin tunes with George as her accompanist.
The limited engagement drew her a flood of professional offers, but George insisted she return with the rest of the party.
By then she had fallen in love with one of George's poker cronies, Leopold Godowsky Jr., the son of the celebrated Austrian pianist.
They married in 1930 and settled in Rochester, N.Y., where Godowsky helped invent Kodachrome, the acclaimed slide film.
Mrs. Godowsky, who had been her brother George's tryout singer, played a similar role for her husband, posing in bright red beret and bottle-green dress as a photographic test subject.
Soon after George's death in 1937, the couple moved to Westport, Conn., where Mrs. Godowsky, who had begun sculpturing in Rochester, hit her own artistic stride. She took up painting and turned out hundreds of well-received oils and acrylics.
The success of her painting helped soften the blow when the movie "Rhapsody in Blue" came out in 1945 and excised her and Arthur from the Gershwin family. Arthur died in 1981.
Although painting remained her main artistic outlet, in her later years Mrs. Godowsky re-emerged as a singer. Her 1975 album, "Frances Sings for George and Ira," won wide acclaim, and after a granddaughter suggested she get vocal training, she began a long-deferred professional career, singing Gershwin tunes at the Lambs Club and elsewhere until two years ago.
Mrs. Godowsky, whose husband and brother Ira both died in 1983, is survived by a son, Leopold III, of Manhattan; three daughters, Alexis Gershwin, of Beverly Hills, Calif.; Georgia Keidan, of Chappaqua, N.Y.; and Nadia Natali, of Ojai, Calif.; and eight grandchildren.
---

Fred Kelly, 83, a Dancer in a Shadow, Dies
By Douglas Martin, courtesy of The New York Times

---
March 17, 2000 - Fred Kelly, a producer, director, choreographer and dance instructor who taught his brother Gene to tap-dance -- not to mention polishing young John Travolta's early moves -- died of cancer on Wednesday in Tucson. He was 83.
Mr. Kelly, who appeared on Broadway and in movies and was one of the first directors and performers in the new medium of television, had a major advantage and a major disadvantage. Both were named Gene Kelly, a legend of dance and his older brother. Gene, to put it mildly, cast a big shadow.
Gene's earthy, graceful masculinity was the perfect counterpoint to Fred Astaire's studied elegance in lavish Hollywood musicals. Fred Kelly's style and personal presence were remarkably similar to his brother's, and the effect was exhilarating the one time they danced together in a movie, the "I Love to Go Swimmin' With Wimmen" scene in the 1954 film "Deep in My Heart."
But Fred resisted Gene's entreaties to follow him to Hollywood, preferring the stage, whether on Broadway or in a high school auditorium, and family life in suburban Closter, N.J., where he could be active in groups like the Knights of Columbus and serve on the First Aid Squad.
"Everybody knew who Gene was, but everybody knew Fred," Michael Kelly, Fred's son, said.
The two brothers were always close, with Gene often calling Fred to consult on a dance problem. But Fred never tired of teasing Gene about the special screening of "An American in Paris" in London in 1951, by command of Her Majesty, Queen Elizabeth II. The queen jumped the receiving line and rushed up to Gene, the film's star.
"Oh, Mr. Kelly, is it true you are the brother of Fred Kelly?" she asked breathlessly.
It turned out that Fred, as an Army sergeant assigned to a traveling dance unit, had given Princesses Elizabeth and Margaret ballroom dancing lessons. At their insistence, he also sneaked in some cancan instruction. When the princesses later performed in costumes deemed too revealing, Mr. Kelly was almost busted to private.
The story suggests the level of celebrity with which Mr. Kelly was comfortable, as well as his record of accomplishment. He had been referred to the royal family by Gen. Dwight D. Eisenhower, who considered taking tap-dance lessons from him. Then the general decided painting would be a better recreational activity, in part because it would be easier to disguise the fact that he was taking time off from running the war to relax.
No matter. Mr. Kelly's dance shoes hung on the Wall of Fame at Manhattan's Roseland Ballroom, which gave him credit for introducing the cha-cha to America and popularizing the mambo here. His imprint as a young instructor in Pittsburgh, and in his later life in New Jersey, is still visible in the rhythms of thousands, including Mr. Travolta, who studied at Mr. Kelly's dance studio in Oradell, N.J., as a child. The studio operated for 25 years.
Fredric N. Kelly was born in Pittsburgh on June 29, 1916, the youngest of five children: Joan, the oldest, James, Eugene, Louise and Fred. His father, James Patrick Kelly, was a sales executive with the Columbia Phonograph Company. According to Fred's reminiscences, his father, as the personal representative of Thomas Edison, sent hundreds of rail cars to the Midwest with the first phonographs and records to reach that part of the country.
His mother, Harriet, performed as a hobby with a local stock company and insisted that all her children take music and dance lessons. Fred began performing at the age of 4.
"I played Baby New Year," he said. "When everybody started hollering and throwing confetti, I thought it was for me."
The children began performing around 1921 as the Five Dancing Kellys, and they filled in in Pittsburgh for the Seven Little Foys, the popular dancing children of the vaudevillian Eddie Foy, when the Foys were trapped in Ohio by a snowstorm.
In a signature routine, each Kelly child said a letter of the family name. "I remember the orchestra cracked up, laughing even at rehearsals," Fred recalled. "My big sister had the K, my brother James had the E, Gene had the L, my other sister had the other L and then I came in with the Y whenever I felt like it. It wasn't at all with the music; I just took a big breath and yelled Y."
Not only was Fred perceived as the family "cutie pie," but he was also the family's natural tap dancer. By the time he was 8 he was earning as much as $50 a month as a performer, good money even for an adult in 1924. It was Fred who taught Gene tap so Gene could earn extra money for college.
When a dance school where the Kelly children were enrolled failed, their mother scraped together money to pay its bills and took it over. Soon Gene and Fred were the main teachers, pushing hundreds of students through 20-minute assembly-line lessons. Shirley Temple's popularity fueled the business.
In addition to performing in Pittsburgh, Fred performed every summer from the 8th through 12th grades on a showboat that played Mississippi and Ohio River ports from Pittsburgh to New Orleans. Corny comedy was a specialty.
"Can't you see I'm singing?" asked the male singer when Fred started to hammer a nail into a plank.
"That's all right, it won't bother me," Fred replied.
Fred graduated from the University of Pittsburgh, where he became the first member of the family to appear in films, as the panther mascot to Pitt's football team. He then joined Gene in New York. When Gene had to give up his part in the Theater Guild's production of "The Time of Your Life" to take the title role in the Broadway stage production of "Pal Joey," he recommended that Fred replace him.
With the permission of the play's author, William Saroyan, Fred increased his character's dance scenes to 11 from 6. His performance earned three Donaldson Awards, precursors of the Tony. One was presented by Helen Hayes, one by Charlie Chaplin and one by Antoinette Perry, for whom the Tony was named.
During World War II he performed in Irving Berlin's "This Is the Army," which began on Broadway with a cast of 300 American servicemen and toured the world. When the show played Washington, President Franklin D. Roosevelt invited the whole company to dinner at the White House.
Fred ended up staying late into the evening to talk with the president and his wife, Eleanor, according to a biography prepared by Andy McGowan for the Lamb's Club, a theatrical club in which Fred was active. When the show played the Mariana Islands in the Pacific, Fred joined other entertainers standing at attention as the Enola Gay took off to drop an atomic bomb on Japan, Mr. McGowan wrote.
Fred Kelly married Dorothy Greenwalt during rehearsals for the Broadway opening of the Army show. He took her around the corner and introduced her to the company of "Best Foot Forward." The writers, Hugh Martin and Ralph Blaine, quizzed her on how the couple met.
"I just adored the boy next door," she said, explaining that they were neighbors on Kensington Street in Pittsburgh.
The conversation was immortalized in the Martin and Blaine song "The Boy Next Door," which Judy Garland sang in "Meet Me in St. Louis." The lyrics include their actual addresses, 7514 and 7520 Kensington Street, but each has the other's in the song, for the purposes of rhyme.
The woman everyone called Dottie died in 1995, a year before Gene. In addition to his son, Michael, of Valencia, Calif., Mr. Kelly is survived by two sisters, Harriet Joan Radvansky of Pittsburgh and Louise Bailey of Dothan, Ala.; a daughter, Colleen Beaman of Tucson; and eight grandchildren.
After the war Mr. Kelly was hired by NBC to direct television shows, including The Steve Allen Show and The Colgate Comedy Hour. He choreographed and directed the Ice Capades for three years and choreographed at the Latin Quarter nightclub for star acts.
While still working for the Latin Quarter, he choreographed a show for a competing club, Havana Madrid. Working with the great Latin band leader Tito Puente, or so the very plausible story goes, he put together a Latin number based on the Lindy, except that the dancers moved sideways. They threw in a cry for the orchestra: "cha cha cha!"
Thus, it is said, on Aug. 2, 1948, the cha-cha was introduced to America. But its prophet was identified as Frederico Calais (allegedly Gaelic for Kelly), to disguise Mr. Kelly's moonlighting. Years later, as Mr. McGowan tells it, the Smithsonian Institution called Mr. Kelly asking for help in finding Mr. Calais to record the achievement properly.
---
And here's the next set of more groovy obits...
Alice Adams, Bay Area Author, Dies At 72

Randolph Bullock, New York Armor Expert, Dies at 96

Americo Paredes, 83, Pioneering Chicano Scholar

---
Links
---
There are several obit enthusiast sites out there, and each has its own unique take on obituary journalism. Here are some recommended sites you may enjoy as well.
---