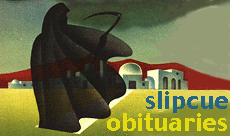 ---

Rosko, Radio DJ Who Broke Barriers, Dies at 73
By Jon Pareles, courtesy of The New York Times
---
August 6, 2000 - William Roscoe Mercer, known for decades to New York radio listeners simply as Rosko, died on Tuesday. He was 73 and lived in New York.

The cause was cancer, according to his daughter Valerie J. Mercer.

Mercer was the first black news announcer on WINS in New York and, as Rosko, the first black disc jockey on KBLA in Los Angeles. He went on to become a pioneer of free-form FM radio in New York City. On WOR-FM in 1966 and on WNEW-FM from 1967 to 1970, his calm, husky voice with its hint of Southern drawl and his wide-ranging programming made him an authoritative companion amid the musical ferment of the late 1960s.

He delved into rock, soul, folk and jazz; he read poetry and conversed with his unseen listeners in almost fatherly monologues. In one set during the late 1960s, he recited antiwar poetry by Yevgeny Yevtushenko to the Mormon Tabernacle Choir singing the Lord's Prayer, then played Richie Havens' antiwar song "Handsome Johnny" as a lead-in to a news report about bombing in Vietnam.

Mercer was born on May 25, 1927, in New York City and attended a Catholic boarding school in Pennsylvania as a charity student. His first jobs were as a government clerk and then a men's room attendant at the Latin Casino in Cherry Hill, N.J. He began his radio career as a jazz disc jockey at WHAT in Chester, Pa., moved to WDAS in Philadelphia, and then to WBLS in New York, playing jazz in live broadcasts from Palm Cafe in Manhattan. He played rhythm and blues on WNJR in Secaucus, N.J., in the late 1950s, but after refusing to cross a picket line at the station during an effort to create a union for disc jockeys, he was blacklisted for six months.

He became the first black announcer for WINS, and was then hired as a disc jockey by KDIA in Oakland, Calif. Radio station KGFJ in Los Angeles sought to hire him away, leading to a precedent-setting lawsuit that changed the way disc-jockey contracts were written. For a time in the early 1960s, Rosko was heard live on KGFJ and on tape in Oakland six nights a week; he spent the seventh in Oakland, live on KDIA. Then he was hired by KBLA, playing rock and rhythm and blues at a formerly all-white station.

He returned to New York to work at WBLS. In 1966, the Federal Communications Commission required radio stations to broadcast separate content on AM and FM stations, and rock music beyond the Top 40 rushed to fill the new air time. The disc jockeys Murray the K and Scott Muni, along with Rosko, moved to WOR-FM to introduce a new style, with disc jockeys freely choosing the music and speaking conversationally to listeners.

But in October 1967, WOR-FM decided to change to a restrictive format. On his last show, without warning the station's management, Rosko spoke for five minutes about why he was resigning, saying, "When are we going to learn that controlling something does not take it out of the minds of people?" and declaring, "In no way can I feel that I can continue my radio career by being dishonest with you." He added that he would rather return to being a men's room attendant.

But within the month, he was hired for an evening shift by WNEW-FM, which picked up WOR-FM's format; soon afterward, WNEW-FM also hired Muni. Rosko stayed at WNEW until 1970, then moved to France for five years; there, he worked for the Voice of America. He returned to the United States and was heard during the 1980s on the dance-music station WKTU in New York; he also did voice-over work for commercials. Most recently, his voice was heard in announcements for CBS Sports. In 1992, when he learned he had cancer, he refused chemotherapy, turning instead to alternative medicine.

He is survived by his wife, Joanna; five children from three previous marriages, Valerie, William, David, Scott and Melissa Mercer; a sister, Bernice Reid; and two grandchildren.



---

David Mellinkoff, 85,; Enemy of Legalese
By Douglas Martin, courtesy of The New York Times

---
January 16, 2000 - David Mellinkoff, a lawyer, professor and writer who waged fierce and clever battle against lawyerly language, "contagious verbosity" in his phrase, died in Los Angeles on Dec. 31. He was 85.
Mr. Mellinkoff waged his war in books, articles and lectures, attacking what he called "the junk antiques" of the legal vocabulary, those streams of "forthwiths," "heretofores" and "whereases" that tumble endlessly through lawyers' writings. Sometimes called the dean of legal writing specialists, he began his campaign for clarity and brevity with his 1963 book, still his most influential, "Language of the Law" (Aspen Publishers).
Bryan Garner, a Dallas lawyer who heads a company that teaches lawyers to write more clearly and who edited the most recent edition of Black's Law Dictionary, said "Language of the Law" proved that "the argument that legalese is more precise is poppycock." Although the attack on gobbledygook dates at least to the English utilitarian philosopher Jeremy Bentham, Mr. Garner said Mr. Mellinkoff's influence was profound because he made the case for plainer language in a style lawyers appreciate: with lots of footnotes and case citations.
In a review of Mr. Mellinkoff's Dictionary of American Legal Usage (West Publishing Company, 1992), Arthur Gilbert, a California judge, wrote: "He cross-references words and expressions, enabling you to see how they relate to each other and how they are different from one another. He compares and contrasts ordinary and legal usage so that you can use a legal term with precision."
Mr. Mellinkoff's work provided ammunition for a mounting movement in the 1970's and 1980's to simplify insurance policies and other consumer documents, to streamline state and federal legislation and to add writing instruction to law school curriculums.
"Serious reform did not begin until 1963 when David Mellinkoff published his scholarly and influential book," John M. Lindsey, a Temple University law professor, wrote in 1990.
But progress can be devilishly fitful. When New York State passed a law in 1981 requiring that consumer agreements be written in "a clear and coherent manner using words with common and everyday meanings," Mr. Mellinkoff smelled legalese. "Common and everyday are redundant," he said.
His views on words were piercing. "Actual," he wrote, is "a good luck charm to ward off disbelief." Absolutes rarely are. "Hereby" is superfluous, and "saith" a worthless anachronism. "Chilling effect"? "Unless applied to a dry, white wine, chill is pejorative, with some chills worse than others," he wrote.
Mr. Mellinkoff, whose father was a businessman, was born in McKeesport, Pa. The family soon moved to Beverly Hills, where his father owned a chain of shoe stores and he completed high school. He graduated from Stanford and Harvard Law School. He developed a lucrative Beverly Hills law practice; one of his clients was Mae West.
During World War II, he served as an Army captain in the field artillery in Dutch New Guinea.
The University of California at Los Angeles invited him to teach part time after his 1963 book. The next semester, he accepted the university's invitation to stay on as a full professor. He had begun writing about legal verbiage years earlier, including a 1953 article in the Stanford Law Review titled "How to Make Contracts Illegible."
His wife of 50 years, Ruth, said his life and work were infused with pointed humor. She cited his losing battle to keep U.C.L.A.'s law school from following other law schools in changing the name of its degree to doctor in law. In a long and stinging letter, dated March 1, 1967, he wrote, "When the theater manager asks 'Is there a doctor in the house?' must he specify that the dying man doesn't want a lawyer?' "
Other survivors are a son, David, of Pacific Palisades, Cal.; a brother, Dr. Sherman M. Mellinkoff of Los Angeles; a sister, Ruth Watt, of Palo Alto; and two grandchildren.
Mr. Mellinkoff's ultimate prescription for legalese was as simple as it was unlikely. He once wrote, "The most effective way of shortening law language is for judges and lawyers to stop writing."
---

Harold S. Fawcett, 82, Navy Photographer
By William Honan, courtesy of The New York Times
---
June 8, 1999 - Harold S. Fawcett, a Navy photographer who captured memorable scenes of the Japanese attack at Pearl Harbor on Dec. 7, 1941, died on Saturday at a hospital in Grafton, W. Va. He was 82 and lived in Bridgeport, W. Va.
The cause was cancer, said his wife, Norma Webb Fawcett.
Some of Fawcett's photographs of mighty American warships exploding, burning and rolling belly up were considered too disturbing to be made public soon after the outbreak of World War II. These images began to be published on the first anniversary of the attack in Life magazine and in many American newspapers.
"Officials in Washington at first tried to minimize the damage at Pearl Harbor," said Paul Stillwell, director of the history division of the United States Naval Institute and author of "Air Raid: Pearl Harbor!" (Naval Institute Press, 1981). "A year later they thought the American people could accept setbacks."
After joining the Navy and serving on the USS Utah and the USS Argonne, Fawcett attended the Navy School of Photography in Pensacola, Fla., in 1939.
The next year his aviation squadron was moved to Pearl Harbor. Fawcett was at the Navy yard waiting in line for breakfast when the Japanese planes attacked. "When I realized what was happening," he said, "I grabbed my camera and started shooting pictures."
One of his most widely reproduced photographs showed the wreckage of the destroyers Downes and Cassin in dry dock in front of the battleship Pennsylvania, flagship of the Pacific Fleet, which was burning from a bomb hit.
Fawcett suffered a minor injury to his knee in the attack, which killed more than 2,000 American sailors.
He later became a decorated pilot. Based on Bikini in the South Pacific after the war, he photographed the detonation of two hydrogen bombs.
After 19 years in the Navy he retired as a chief petty officer. He then joined Sears, Roebuck and Co.
In addition to his wife, Fawcett is survived by two daughters, Helen Fawcett of Santee, Calif., and Anne Hoover of Grants Pass, Ore.; a stepson, Gregory Goodwin of Bridgeport; a brother, James, a sister, Anna Boyles, and a stepsister, Rosalie McGee, all of Grafton, and six grandchildren.
---
And here's the next set of more groovy obits...
Frank Spencer, Anthropologist Who Studied Piltdown Hoax, Dies at 58

Frances Godowsky, 92, Last of the Gershwin Siblings

Fred Kelly, 83, Taught Gene How To Dance

---
Links
---
There are several obit enthusiast sites out there, and each has its own unique take on obituary journalism. Here are some recommended sites you may enjoy as well.
---