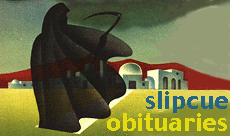 ---

William Lawley, 78, Won Medal of Honor
By Richard Goldstein, courtesy of The New York Times
---
June 1, 1999 - Col. William Lawley Jr., who won the Medal of Honor in World War II for flying a crippled bomber with wounded crewmen safely back to England despite his multiple wounds, died on Sunday at a hospital in Montgomery, Alabama, his hometown. He was 78.
The cause was complications of pneumonia, his family said.
On the morning of Feb. 20, 1944, the Allies began Big Week, the war's most extensive bombing of Germany's aircraft industry. Among the more than 1,700 planes taking off from England that day was Cabin in the Sky, a B-17 Flying Fortress bomber piloted by Lawley, then a lieutenant in the 305th Bomb Group of the Army Air Forces.
Lawley was assigned to attack a plant at Leipzig assembling Messerschmitt fighter planes, but a malfunction prevented release of his bombs. As he left the target area, flying at 28,000 feet, 20 German fighters attacked his four-engine plane, which was being flown in combat for the first time.
The shells killed the co-pilot, wounded the other eight crewmen, left Lawley with deep cuts on his face, neck and hands, set an engine ablaze, damaged a wing and sent the bomber into an almost vertical dive.
Lawley forced the co-pilot's body off the control column, fought for control of the plane while bleeding severely and leveled off at 12,000 feet. Fearing that his plane would explode, he rang a bell signaling his crewmen to bail out, but was told that two of them were wounded so badly that they could not use their parachutes.
He lost the help of his flight engineer, who bailed out, but Lawley decided to try to reach England. Although almost five hours of flying over enemy-held territory were ahead of him, he saw no other way to save the badly wounded crewmen.
After extinguishing the engine fire, Lawley avoided German fighters by flying in the clouds. Harry Mason, his bombardier, tied the co-pilot's body to his seat back with a parka to keep the already-damaged instrument panel clear, then stood between the two cockpit seats and helped Lawley with the controls.
Having refused first aid, Lawley collapsed from loss of blood and exposure over occupied France. After being revived by Mason, he was finally able to release his bombs, lightening the load and saving fuel, as the plane approached the English Channel.
But as the English coast loomed, with one engine already having burned, a second engine ran out of gasoline and then a third engine caught fire. Lawley was left with only one working engine.
"He was looking for an open pasture," Ralph Braswell, one of the plane's two waist gunners, recalled Monday from his home in Bremen, Ga. "All of a sudden, there was a Canadian fighter field. He flashed the emergency signal and we went right in."
All the wounded crewmen survived a crash landing at Redhill, a small fighter strip south of London. The flight engineer who had parachuted out was captured, but also survived the war.
The following August, Lawley received the Medal of Honor.
William Robert Lawley Jr., a native of Leeds, Ala., entered flight training in 1942 and went overseas the next year. He was on his 10th bombing mission when attacked by the German fighters, then flew four more missions before being sent back to the United States for a tour promoting the sale of war bonds. He served in the Air Force until 1972, then retired as a colonel.
Lawley is survived by his wife, Amy; a son, William III, of Dallas; two daughters, Susan Decker of Sudbury, Mass., and Anne Sheftic of Dadeville, Ala; a brother, J.D. Lawley of Moody, Ala., and five grandchildren.
After the war, Lawley kept in touch with the crewmen he saved. Braswell, the gunner that February day in 1944, visited him recently.
"He had arthritis," Braswell remembered, "but after I shook his hands, I said, 'They're beautiful. They saved my life."'
---

Rick Fields, 57, Poet and Expert on Buddhism
By Nick Ravo, courtesy of The New York Times
---
June 11, 1999 - Rick Fields, a journalist, poet and leading authority on Buddhism's history and development in the United States, died on Sunday at his home in Fairfax, California. He was 57.

The cause was lung cancer, said Helen Tworkov, a longtime friend and the editor in chief of Tricycle: The Buddhist Review, a magazine that Field helped found in 1991 and that he had worked for as a contributing editor.

Fields wrote several books, the best known of which is "How the Swans Came to the Lake: A Narrative History of Buddhism in America" (Shambhala, 1981).

The book traces Buddhism's origins in the United States from Chinese railroad workers and American transcendentalists like Henry David Thoreau in the mid-19th century, to Japanese immigrants on the West Coast at the turn of the century, to the writer Alan Watts and Beat poets like Allen Ginsberg in the 1950's, to the mass popularity of Zen Buddhism and the introduction of Tibetan Buddhism in the 1960's and 70's.

In a revised edition of "How the Swans Came to the Lake" that was published by Shambhala in 1991, an additional chapter details the fast growth of and broadening interest in Buddhism in the 80's and early 90's.

"Rick Fields was one of our foremost interpreters of Buddhism for Americans," said Robert A. F. Thurman, professor of Indo-Tibetan Studies at Columbia University and the nation's pre-eminent scholar on Tibetan Buddhism.

Fields started his journalism career at the Whole Earth Catalog in 1969. In recent years, he was editor of Yoga Journal and a contributing editor of New Age Journal. He had previously founded the Loka Journal and was editor in chief of the Vajradhatu Sun, which later became the Shambhala Sun. He was also a teacher for several years at the Naropa Institute's Jack Kerouac School of Disembodied Poetics in Boulder, Colo.

His other books include "Code of the Warrior" (HarperCollins, 1991), "The Awakened Warrior" (Tarcher, 1994), "Chop Wood, Carry Water" (Tarcher, 1984), "The Turquoise Bee-Love: Poems of the Sixth Dalai Lama" with Brian Cutillo (HarperCollins, 1994) and "Instructions to the Cook; A Zen Master's Lessons in Living a Life That Matters," with Bernard Glassman (Bell Tower, 1996).

Born Frederick Douglas Fields in Queens, he was a track star at Andrew Jackson High School and attended Harvard University. He was expelled from the university in 1964, his wife, Marcia, said, after an illicit off-campus liaison with a Radcliffe College student.

"The dean told him he was a danger to Western civilization," Mrs. Fields said.

After college, Fields, who was raised as an atheist, drifted to New York and became friendly with Ginsberg and the poet Gary Snyder. Shortly afterward, he moved to California and became part of the Zen centers in San Francisco and later in Los Angeles.

In the early 70's, he developed an interest in Tibetan Buddhism. Since 1973, he had been a student of Chogyam Trungpa Rinpoche and other teachers in the Kagyu and Nyingma traditions of Tibetan Buddhism.

In addition to his wife, he is survived by his parents, Al and Reva Fields, of Keene, N.H., and his sisters, Laura Jawitz of Madison, N.H., and Joanna Bogin of New Hartford, Conn.

Fields's most recent book, published in 1997 by Crooked Cloud Projects, consists of poetry dealing with his cancer. He spent much of his final five years grappling with the subject from a Buddhist perspective.

"I don't have a life-threatening disease," he said in an interview with Ms. Tworkov in Tricycle in 1997. "My life is threatening my disease, in that it is keeping the disease from taking over. I have a disease-threatening life."

---

Rick Danko, 56, Guy With A Funny Voice and A Band
By Neil Strauss, courtesy of The New York Times

---
December 12, 1999 - Rick Danko, a singer and bass player in The Band, revered as one of the most important rock acts of the 1960s and '70s for its work with Bob Dylan and its first albums as a group, died Dec. 10 at his home in Marbletown, N.Y. He was 56.
The cause was unknown, said Dr. Walter Dobushak, the Ulster County medical examiner. He said an autopsy was planned.
Danko, who was born in Ontario, left high school at 14 to pursue a career in rock 'n' roll.
His break came when he was hired three years later by Ronnie Hawkins, a rockabilly pioneer with a ferocious stage show, to replace the bassist in his backing band, the Hawks.
Danko met Levon Helm, the senior member of the Hawks and, like Hawkins, a native of Arkansas, along with three Canadian musicians, Garth Hudson, Robbie Robertson and Richard Manuel.
They left Hawkins in 1963 to tour on their own, mining the roots of American music under group names like Levon and the Hawks, the Crackers and the Canadian Squires.
After performing on recording sessions for the blues guitarist and singer John Hammond Jr., the group was introduced to Bob Dylan by Hammond, whose father had signed Dylan to his first recording contract.
In 1965 and 1966, the Band toured with Dylan as he was making his transition from acoustic folk to electric music, enduring boos and catcalls from folk purists who disapproved of Dylan's emerging style.
After Dylan was injured in a motorcycle accident, they spent seven months making music with him in the house known as "Big Pink," which Danko and two other Band members had rented near Woodstock, N.Y.
Some of the 100-plus songs they recorded there became part of one of rock music's most legendary bootlegs, known as "Great White Wonder" for its plain packaging. The material, in modified form, was officially released years later on Columbia as "The Basement Tapes."
After these recordings, the Band emerged with its first two albums, "Music From Big Pink" and "The Band," which rank among rock's seminal recordings. The Band reached into the heart of American music and came out with ready-made classics like "The Weight" and "Up on Cripple Creek."
The group reunited with Dylan in the mid-1970s, documenting its tours with the live album Before the Flood" before breaking up in 1976 with a blowout Thanksgiving concert at the Winterland Ballroom in San Francisco. In addition to performances by Dylan, Eric Clapton, Neil Young, Joni Mitchell and Van Morrison, the concert featured a reunion with Hawkins. The concert was documented in a film by Martin Scorsese, "The Last Waltz," and a three-record set.
While a member of the Band, Danko appeared on albums by Todd Rundgren ("Runt"), Neil Young ("On the Beach") and Clapton ("No Reason to Cry"). After leaving, he recorded a series of solo albums, the first of which was "Rick Danko."
The Band, which was inducted into the Rock 'n' Roll Hall of Fame five years ago, has had several reunions. During a tour in 1986, Manuel hanged himself during a stop in Florida. In 1997, Danko was arrested for receiving a package of heroin mailed to him in Japan. He was convicted and received a two-and-a-half-year suspended sentence.
This year, Danko appeared on albums by the Indigo Girls and Mark Fromm. He also released his first solo album in 10 years, "Live on Breeze Hill," profits from which were donated to Greenpeace. He had been on tour this month, and was at home resting and conducting interviews to promote the new album.
---
And here's the next set of more groovy obits...
Rosko, Radio DJ Who Broke Barriers, Dies at 73

David Mellinkoff, 85, Plain-Speaking Lawyer

Harold S. Fawcett, 82, Photographed bombing of Pearl Harbor

---
Links
---
There are several obit enthusiast sites out there, and each has its own unique take on obituary journalism. Here are some recommended sites you may enjoy as well.
---