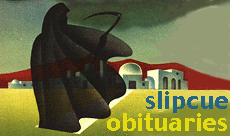 ---

Rolf Landauer, Pioneer in Computer Theory, Dies at 72
By George Johnson, courtesy of The New York Times
---
April 30, 1999 - Rolf W. Landauer, who helped solidify the slippery concept of information and bring it firmly into the mainstream of physics, died on Tuesday at his home in Briarcliff Manor, N.Y. He was 72.
He died of brain cancer, his family said.
"Information is inevitably physical," the kindly but irascible Dr. Landauer often admonished colleagues. The ones and zeroes coursing through a computer may seem abstract and ethereal, but, he told researchers at every turn, information is rooted in the real world, and must be understood by applying the no-nonsense laws of physics.
"Rolf Landauer did more than anyone else to establish the physics of information processing as a serious subject for scientific inquiry," said Dr. Charles Bennett, his colleague at IBM's Thomas J. Watson Research Center in Yorktown Heights, N.Y.
A German-Jewish immigrant who came to the United States as an exile from Hitler's Germany, Rolf William Landauer graduated from Stuyvesant High School in New York and from Harvard University with a degree in physics. He was a pioneer in the attempt to plumb the limits of computers. In a universe ruled by the laws of quantum mechanics and relativity, how fast and powerful can these machines conceivably be?
Engineers concern themselves with practical limitations of squeezing more and more circuitry onto tiny chips. Dr. Landauer was interested in theoretical limits: given that technology will improve indefinitely, how soon will it run into the insuperable barriers set by nature?
Until Dr. Landauer's landmark work in the early 1960's, it was widely believed that processing a single bit of information, each 1 or 0 of binary code, inevitably consumed some energy, placing a fundamental constraint on computer power. Dr. Landauer showed, to many people's surprise, that this was not true. As computer technology becomes ever more efficient, calculations can be done with less energy per computation.
But there is still a cost. At some point, the bits must be flushed from the computer's memory so that the machine can be reset for another computation. It is then, when the information is erased, Dr. Landauer demonstrated, that a certain irreducible amount of energy is lost. This result, now called Landauer's principle, has been described as "the thermodynamic cost of forgetting."
While he initially assumed that all computers are saddled by this loss from erasure, Dr. Bennett soon convinced him that it was conceivable to design a reversible computer that would circumvent Landauer's principle and operate with unprecedented efficiency. When such a computer completed its task, one would essentially run it backward, returning it to its initial state without discarding information.
Though reversible computing has remained mostly theoretical, some of the concepts are being used to make more energy-efficient laptops.
"Rolf was an old IBM type who did things on the straight and narrow," Dr. Bennett recalled. "I was a scruffy hippie. He endured that. Many people don't like their scientific ideas overthrown. But he was very interested and eager to discover what this all led to."
From his perch as an IBM fellow in Yorktown Heights, Dr. Landauer became a kind of critic in residence, firing off acerbic but friendly E-mail missives when he felt a colleague or a journalist was overselling a new theory or not being vigilant enough in weeding sense from nonsense. "Landauer had a good nose for ideas sexy enough to become fashionable but too grand and simple to be useful," Dr. Bennett said.
In recent years, Dr. Landauer was especially skeptical of the new field of quantum computation, in which scientists are trying to harness the behavior of subatomic particles to make extremely powerful computers.
These devices appear to work on paper, but Dr. Landauer doubted that they would ever operate in the real world.
Current developments in the field won his grudging respect, but he urged his colleagues to accompany their papers with the following disclaimer: "This scheme, like all other schemes for quantum computation, relies on speculative technology, does not in its current form take into account all possible sources of noise, unreliability and manufacturing error, and probably will not work."
Last fall, Seth Lloyd, a professor of mechanical engineering at the Massachusetts Institute of Technology, was with Dr. Landauer at a conference on quantum computing in Helsinki, Finland. During his talk on the potential of the new technology, Dr. Lloyd projected a slide bearing that disclaimer. The audience, recognizing it as vintage Landauer, laughed appreciatively."I haven't put it in all my papers," Dr. Lloyd said, "but I use it in most of my talks. By requiring that people be honest, he's done the field a great service."
Dr. Landauer is survived by his wife, the former Muriel Jussim; a daughter, Karen Walsh of Dublin; two sons, Carl of Oakland, Calif., and Thomas of Columbus, Ohio, and three grandchildren.
---

Rupert Lonsdale, British Warship Captain, Dies at 93
By Richard Goldstein, courtesy of The New York Times
---
May 31, 1999 - Commander Rupert Lonsdale, who became the only British captain to surrender a warship on the high seas during World War II when he gave up his crippled submarine to save the lives of its 59 crewmen, died April 25 in Bournemouth, England. He was 93.
In the early morning of May 4, 1940, Lonsdale took his submarine, the Seal, into the Kattegat, the strait between Denmark and Sweden, and placed 50 mines in German shipping lanes. While the submarine remained submerged that evening, a German mine exploded, flooding much of the boat and sending it to the bottom, a depth of 100 feet.
Lonsdale oversaw two efforts to free the Seal, which was mired in mud at an angle, but each attempt failed. With oxygen supplies and battery power dwindling, the skipper called upon the crew to recite the Lord's Prayer. Soon afterward the sailors applied maximum power again, and this time the submarine popped loose, resurfacing 23 hours after it dived.
"Our faith was answered in a way that to many of us seemed miraculous," Lonsdale said later.
But when first light arrived at 2:30 a.m. on May 5, an hour after the submarine had been refloated, it was spotted by German aircraft, which bombed it and riddled it with machine-gun fire.
The Seal's steering was inoperable, it had lost the ability to dive, its sailors were exhausted and ill from their prolonged period under high pressure, its guns jammed, it was on the verge of sinking and it lacked explosives for scuttling.
Lonsdale's officers implored him to surrender.
"Have the wardroom tablecloth passed to me, please," he ordered. The captain fashioned a white flag and attached it to the conning tower. When a German seaplane put down nearby, he swam to it upon orders of its pilot and was taken captive.
It was his 35th birthday.
Lonsdale was flown to a German naval base, followed by his crewmen, who were taken there aboard the trawler that towed their submarine. The sailors had smashed the Seal's top-secret equipment before surrendering, but the Germans were later able to improve their torpedoes by adapting the superior British detonating devices -- called contact pistols -- from the Seal's torpedoes.
The Seal was refitted as a U-boat at the German naval yard in Kiel, but it never proved seaworthy enough to hunt British submarines and languished as a training vessel. It was later sunk in an Allied bombing raid at Kiel.
Apart from two coastal craft that the Germans later captured and several vessels at foreign bases abandoned by the British, the Seal was the only British warship to fall into enemy hands during World War II.
Lonsdale and his crewmen remained prisoners for the duration of the war, the skipper awaiting an inevitable court-martial for surrendering his boat.
"This man's modesty was such that he had not begun to realize that there was even the slightest possibility of his being considered not a coward, but a hero," C.E.T. Warren and James Benson wrote in "Will Not We Fear" (William Sloan Associates, 1962), an account of the Seal's surrender.
Lonsdale might have felt different had he known that after he informed submarine headquarters of his plight upon resurfacing, it had radioed back that "safety of personnel should be your first consideration" after destruction of highly sensitive equipment. That message had never been heard by the Seal because its receiving apparatus was disabled.
In April 1946, Lonsdale was tried at a court-martial in Portsmouth, England, on charges that he had not attacked enemy aircraft and had failed to assure the sinking of the Seal when it appeared she might fall into enemy hands.
"This act is one I have ever afterwards deeply regretted, but at the time it seemed the only thing to do," the skipper told the court of five naval captains in recounting his surrender.
They heard testimony recalling Lonsdale's bravery and devotion to his men, and after 45 minutes of deliberation, the president of the panel returned the skipper's sword to him. Lonsdale had been acquitted with honor. His former crewmen crowded around and shook his hand.
Rupert Philip Lonsdale was born in Dublin, Ireland, and joined the British Navy as a teen-age cadet. After serving aboard a cruiser and a battleship, he entered the submarine service in 1927. He retired from the Navy a few months after the court-martial and began a second career in the clergy. After studying at Ridley Hall theological college in Cambridge, he became a priest in the Church of England in 1949. He retired as a canon emeritus.
He is survived by his wife, Ethne Irwin, and a son, John.
Long before the court-martial that cleared him, Lonsdale's courage had been recognized by his superiors. Four days after he surrendered, his fate not yet known to British authorities, he was formally cited for his previous submarine patrols under hazardous conditions off the Norwegian coast.
The Royal Navy hailed him "for daring, endurance and resource against the enemy."
---

Jim Copp, 85, a Producer of Humorous Children's Music
By William H. Honan, courtesy of The New York Times

---
April 26, 1999 - Jim Copp, a creator of children's records with loony tunes, literate lyrics, occasional dark themes and wacky characters like the Dog That Went to Yale, died at Midway Hospital in Los Angeles on April 7. He was 85.
Between 1958 and 1971, Copp and his partner, Ed Brown, composed, performed and recorded on their label, Playhouse Records, sketches for nine albums with titles like "East of Flumdiddle," "Gumdrop Follies" and "Thimble Corner."
The lyrics for "The Dog That Went to Yale" capture their flair for the nonsensical:
When I was eleven and Linda was five
We owned the most talented doggy alive.
Though the tricks that he mastered were cause for acclaim
He also possessed a remarkable name.
A remarkable name, you say.
What was the name?
Harrison Garrison Bobblety Bee
Cornelius Aurelius Rover McGee
Daniel, Nathaniel Houligan Flea
Horowitz Huntington Climber McTree
Snooper O'Flaherty Jumper Kerplop
Huntington Harrington Thaddeus Hop
Hopperdee Hoppidy Archibald Bane.

By contrast, "Kate Higgins," on the album "Agnes Mouthwash and Friends," was darker:
Kate Higgins, I regret to state
Grew mutinous one night at eight
And stamped her foot
And screamed and cried
And punched her father in the side.

Kate winds up hiding in the phonograph and emerges after her parents have given up looking for her and gone to bed. She then stuffs herself with rhubarb pie, jelly beans and chocolate cake only to wake up the next morning "wishing she were dead."
After a reviewer for The New Yorker called the recordings "deliciously fresh and funny" in 1958, Playhouse Records began appearing in upscale stores and soon developed a loyal following. More accolades ensued. Time magazine pronounced the records "fresh, clever and inventive" and The Atlantic said they were "funny, sophisticated, uncondescending."
Musically, the records were a potpourri of extraordinary sounds from instruments like pump organs, kazoos, autoharps and bongo drums, all played by Copp. Working without current audio technology, Copp went to great lengths to create a lush soundtrack. To create the crackling sound of a fire, he built one in his shower and recorded the noise. To create the crashing sound of a falling chandelier, he smashed a barrel of glasses. In the story "Miss Goggins and the Gorilla," a classroom filled with children was required to sing off-key. Copp achieved that effect by dubbing his voice 24 times. On another occasion, he dubbed his voice 90 times to create the roar of a crowd.
Copp was the main creative force behind the albums, while Brown played some of the characters, designed the album covers, handled the marketing and contributed clever puns.
The albums disappeared from stores in the 1980's after Brown died and Copp did not want to go on recording without his collaborator. But the albums found a new audience in the 1990's after their reissue in CD and cassette formats by Playhouse Records (http://www.members.aol.com/playhytone).
Copp was born in Los Angeles in 1913, the son of a lawyer. He studied at Stanford and Harvard universities before developing a nightclub act called "James Copp 3d and His Thing." During World War II, he served in an intelligence unit. Returning to Los Angeles after the war, he wrote a society column for The Los Angeles Times. In 1958, he met Brown, and they produced an album a year for the next decade.
Copp left no immediate survivors.
---
And here's the next set of more groovy obits...
Col. William Robert Lawley Jr. - Came In On A Wing And A Prayer

Rick Fields, Buddhist Poet

Rick Danko, Singer With The Band

---
Links
---
There are several obit enthusiast sites out there, and each has its own unique take on obituary journalism. Here are some recommended sites you may enjoy as well.
---