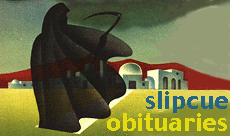 ---

Frank Pape, Celebrated Chicago Police Detective, Dies at 91
By Douglas Martin, courtesy of The New York Times
---
March 12, 2000 - Frank Pape, a Chicago police detective who fought more than a dozen gun battles and survived without a scratch while sending nine suspects to their graves, died March 5 at his home in Park Ridge, Ill. He was 91.

In his 39 years on the force, beginning in the era of fedoras, tommy guns and gin mills, Mr. Pape won, indeed often seemed to strive for, a reputation as the toughest cop in Chicago. He fruitlessly staked out Baby Face Nelson as a new recruit, sent 300 men to prison and 5 to the electric chair and bragged that he never used his gun to fire warning shots, only to kill. For two decades, Mr. Pape headed the department's robbery detail, its elite unit. There were 49 articles about him in detective magazines, and his stories provided grist for the 1950's television series "M Squad." "I never started a fight in my life, but I'm not going to take any lip from a hoodlum," he told Coronet magazine in 1949. "I represent the city of Chicago and Chicago stopped taking orders from gangsters a long time ago." Though he came to feel that the police were handcuffed by judicial and political supervisors, Mr. Pape's own actions were partly responsible for a famous judicial crackdown on freewheeling tactics by police officers. In 1958, without an arrest or search warrant, Mr. Pape entered the apartment of a suspect, prompting a legal case that reached the Supreme Court and resulted in his paying an $8,000 fine. The effect of the case, Monroe v. Pape, was to permit the federal government to bring civil rights actions against police officers in local cases. Charles Adamson, who wrote "The Toughest Cop in America," a biography of Mr. Pape to be published this summer by Dilettante Press, likened the restraining effect on police to the Miranda decision, which protects suspects by requiring that officers warn them of their rights against self-incrimination when they are arrested. When Time reported on that case, Mr. Pape filed a $350,000 libel suit against the magazine. This case, too, went all the way to the Supreme Court, which ruled against Mr. Pape. Time had based its article on a previously published report by the United States Commission on Civil Rights and did not make it clear that the report recounted accusations of racism and abuse on Mr. Pape's part, rather than established facts. However, the Court eventually ruled that the misreading of an ambiguous document did not amount to the "actual malice" necessary to prove libel of Mr. Pape, a public official. In legal terms, when a public official is involved, actual malice involves knowledge that the published information was false or in reckless disregard of the truth. Mr. Pape was born in the Bucktown section of Chicago in 1909. His father died when he was a toddler, and he became the man of the house early in life, taking care of his mother and sister. He dropped out of high school after two years to become a sheet-metal worker. He joined the police department in 1933, two years after Al Capone had been sentenced to prison for tax evasion.He was so slight that he stuffed himself with bananas and gallons of water to make the force's 150-pound minimum weight. But Chicago remained a place of larger-than-life cops and robbers. Those were the days when policeman would set a trap for a suspected police killer, cut him down in a hail of bullets and pose for newspaper pictures afterward. Mr. Pape established an identity by never carrying his gun in a holster: he kept it in his front pants pocket, which his wife had strengthened by sewing in a canvas lining. He relied on shrewd intuition. Mr. Adamson tells of the sunny Sunday afternoon when Mr. Pape noticed a car approaching, with two men and a woman inside. "There's something dirty about that car," he said, as he whipped his own car around to stop the vehicle. The three emerged blasting, but Mr. Pape and his partner won the gun battle. It turned out that one of the men had killed a police officer. On at least two other occasions, Mr. Pape used the same maneuver, Mr. Adamson said. John Haberkorn, a retired police commander, insisted that Mr. Pape chose his targets carefully. "He never went after the good guys," Mr. Haberkorn said. "He went after the bums and hoodlums." In a 1994 interview with The Chicago Tribune, Mr. Pape told of spotting Jackie Cerrone, a top mobster, walking down Washington Street in the early 1960's. "He had on a gray herringbone coat with a velvet collar and a gray hat, very snappy," Mr. Pape said. "He was walking toward me, and he was with a guy who had stopped to look into a shop window. I walked up to him and said to him, 'As long as I'm commander of this district, you're not welcome here. And take that bum with you.' " The "bum" was another mobster, Tony (Big Tuna) Accardo. "They both left like I told 'em to," Mr. Pape said. When he heard that Mr. Cerrone was plotting to kill him when he got out of prison for murder, Mr. Pape recalled, he visited him. "I know how to stop you murderers," he said. "What we should do is take a shotgun and blow you guys' heads off and leave you on your front lawns, ring the doorbell and let your families find you. That'll stop you." Mr. Pape had a softer side. "The toughest guy in Chicago sings tenor," said a 1949 article in Coronet magazine. "He also dresses like a college student and frets because his children read Dick Tracy." His son Jerry, who lives in Big Sky, Montana, said Mr. Pape found jobs for unemployed neighbors and helped buy bicycles for their children. He had a pilot's license and would take children for airplane rides. He invited his men to big parties at his cottage in Duck Lake, Ill. In addition to his son, he is survived by his wife, Kitty, and his daughter, Judy Clark, of Park Ridge. Jerry Pape said his father had never fired a shot until one of his partners died in his arms. He told of being a small boy and having his father came home late at night and wake him. "I just killed a guy, and I want you to know one thing about me," Mr. Pape told his son. "Everybody I shot and killed deserved it. I slept like a baby after every one."

---

John Morgan, Etiquette Maven for the British, Is Dead at 41
By Douglas Martin, courtesy of The New York Times
---
July 16, 2000 - John Morgan, a dashingly dapper dandy who took it upon himself to dictate to the proper English about proper manners, down to the correct attire for impressing a former wife's rich young boyfriend, fell to his death on July 10 from the window of his third-floor London apartment. He was 41.
Mr. Morgan wrote a weekly etiquette column for The Times of London, was style editor of the British edition of GQ magazine and in 1996 wrote "Debrett's New Guide to Etiquette and Manners," published by Headline, which was a best seller in England. Two months ago, when a collection of his columns, "The Times Book of Modern Manners," was published by HarperCollins, the publication was celebrated at a glittering party at the Royal Opera House.
His influence was suggested by the fact that the Conservative Party leader, William Hague, accepted his unsolicited advice to stop wearing baseball caps.
Mr. Morgan never shrank from taking controversial stands, like his stalwart opposition to the public breast-feeding of infants.
"Thoughtful hosts offer lactating visitors a quiet room where they can feed away from the general throng," he wrote.
Mr. Morgan's range of knowledge extended from proper dress for a royal garden party (pants suits are frowned upon) to sartorial recommendations for a sexual fetish party. "Come on, loosen up," he urged a nervous correspondent.
Mr. Morgan knew the proper way to eat a banana. "The best technique involves first laying the banana horizontally across your fruit plate, cutting off each end and then slicing the skin lengthways," he wrote. Pomegranates? These, he said, are best devoured privately, if at all.
Mr. Morgan's personal sense of high style was reflected by the 300 monogrammed shirts, 90 pairs of handmade shoes and 60 Savile Row suits found in his small apartment. He packed his shirts for weekend visits in tissue paper and transported his shoes in a special wicker basket. He cashed his checks at the luxury hotel Claridge's.
News reports in London said the police did not suspect foul play in his death. His body was found on the sidewalk outside his home in Albany Court near Piccadilly. His death was attributed to severe head injuries.
An article in The Guardian quoted some of his friends as saying he may have been experiencing financial difficulties. Some said he had suffered occasional bouts of depression, treated with antidepressants. He never married and lived alone.
Anthony John Morgan was born on May 28, 1959, in Sunderland, England, and moved to Perth, Scotland, when he was very young. His father, Basil, worked as a manager for Royal Dutch Shell in Perth. He, his mother, Annie, and a brother survive him. All live in Scotland.
Though his cultivated accent bespoke Eton or Harrow, his educational background actually included the Cheltenham Art School, where he supplemented his income by playing the piano in a local restaurant. He then moved to London, where he worked as an assistant to Percy Savage, a prominent public relations executive.
He worked for The Guardian newspaper, on the fashion beat, then joined GQ, Condé Nast's new magazine, in 1988. He became style editor with responsibility for a section of the magazine.
"He was incredibly courteous," Dylan Jones, the current editor of GQ told The Guardian "He was a great charmer, very thoughtful, very kind and funny. He was the best dressed man I ever met."
Mr. Morgan wrote the Times column for three years, and editors said he received great amounts of mail. But not all his notices were favorable. An article by Matthew Engel in The Guardian last month chided Mr. Morgan for an inclination "to be prescriptive and proscriptive." In particular, the recommendation that birth announcements weigh precisely 335 grams struck Mr. Engel as excessively persnickety.
But Mr. Morgan liked to have the last word. He wrote in his new book that death is becoming more stylish as the population ages, and included a chapter titled "Death Duties."
He advised, "Every effort should be made to do things well and this includes the dress of mourners."
---

Senor Wences, Ventriloquist Who Was a TV Regular, 103
By Richard Severo, courtesy of The New York Times

---
April 21, 1999 - NEW YORK -- Wenceslao Moreno, who started his career as an unsuccessful bullfighter in Spain and then became Senor Wences, a gifted ventriloquist who was able to transform his thumb and forefinger into a convincing dummy that endeared itself to millions of American television viewers in the 1950s and '60s, died Tuesday, his 103rd birthday, at his home in Manhattan.
He and his wife, Natalie, had lived on Manhattan's West Side for more than 60 years. They also lived in Salamanca, Spain, Wences' hometown.
In a career that lasted more than eight decades, Wences repeatedly proved himself a stellar part of the tradition that included Edgar Bergen, Paul Winchell and other popular ventriloquists who delighted audiences from the 1920s well into the television age.
What set Wences apart from everyone else was that his main character was not carved out of wood, as were Bergen's Charlie McCarthy and Winchell's Jerry Mahoney. Johnny, Wences' dummy, was simply formed by his right hand. He painted lips on his thumb, draped a ridiculous orange wig across his fist, stuck eyes on the side of his hand, just below the wig, and let the hint of a body dangle below. As soon as he began his act, this unlikely creation came to life as Johnny, a lovable, impertinent little boy, not unlike the boy Wences had been.
It was shortly after the turn of the century in Spain that Wenceslao Moreno found that he could imitate others and throw his voice. In school, when one of his classmates was absent, he would answer for him, and the teacher would mark the missing student present.
In those days, he had a friend named Paulo who lived next door. The friend's mother would appear at an upstairs window and call for her boy to come home.
"No, Mama," a voice sounding like Paulo would say. "I refuse to come into the house." When the mother demanded that her son obey, the voice would continue in defiance: "Mama, you attend to your own business, and I will attend to mine."
Poor Paulo got the dickens on several occasions, until it was discovered that he had not been the culprit.
Other times Wences successfully imitated the voice of the mailman, telling the tenants of his apartment house that the mail was there and ready for distribution. (There were no mailboxes.) All of the tenants would dutifully come down the stairs and assemble at the front door, only to find that no mailman was there. In one instance, an angry tenant dumped a pail of water on the real mailman's head to teach him not to trifle with the residents of that building.
The little sprite of a voice and impish personality emerged to a widespread audience decades later, in the United States in 1948, when Wences made his television debut and introduced Johnny to virtually the nation's entire television audience, which assembled on Tuesday nights to watch Milton Berle's variety hour. Shortly thereafter he made the first of 48 appearances on EdSullivan's show. Neither Sullivan nor his audience ever tired of Wences.
Wences' Johnny was not a rake or a wise guy, like Charlie McCarthy. He was a disembodied insurrectionist whose single-minded purpose was to nettle Wences in little ways, as small boys are wont to do. And so, if Wences announced to his audience that a certain trick was going to be "very difficult," Johnny's little voice would insist that it was "easy." If Wences gave Johnny a dirty look, Johnny would add, "Difficult for you, easy for me."
In the conversations that ensued, Johnny would seem to be a completely separate being from Wences, quite capable of saying anything. There were no jokes, per se. Just snippets of silly but strangely eloquent conversation. And the exchanges were always polite, gentle; segments ended with kisses between Johnny and Wences.
Johnny was not the only star Wences developed. The other was Pedro, a talking head in a covered box. Pedro was grouchy, imperious, raspy. He almost did not become part of the act. Originally, Pedro had a body that was crushed in a train wreck near Chicago. Wences, salvaging the head, put it in a box. At first, those who booked the act resisted; they did not think people would relate to a head in a box. Wences prevailed and Pedro proved almost as big a hit as Johnny.
Whatever happened in the act, whatever pandemonium there might be, Wences would always open the box and say to Pedro, "You all right?" Pedro would always respond, "S'all right," to which Wences would say, "Very good." If Wences presumed too much and opened the box when Pedro preferred privacy, Pedro would demand, "Shut the door!"
When Pedro and Johnny were simultaneously in action, it seemed a wonder that Wences could get through his shows in full control. He had a palpable Spanish accent and there were times when some found it difficult to understand him. The laughs came just the same; his timing and the gentleness of his message were such that he transcended the bounds of language.
Wences, who was also a formidable juggler, started out as a young torero in local bull rings near Salamanca. After several bulls got the best of him, he turned to ventriloquism and juggling. By the 1920s his renown in both fields was such that he was in demand in Europe and Latin America. He first came to New York in 1935, where he appeared at the Club Chico in Greenwich Village.
But it was not until he got on television that he became truly famous. In addition to his appearances on the Berle and Sullivan shows, Wences also appeared with Jack Paar, Steve Allen, Perry Como and Jack Benny. He was seen in a specialty act in the 1947 movie "Mother Wore Tights," starring Betty Grable and Dan Dailey. In 1963 he toured with Danny Kaye's International Revue.
In 1996, Wences received the Lifetime Achievement Award from the National Comedy Hall of Fame for his devotion "to entertaining generations of audiences and bringing countless hours of joy and happiness to millions throughout the world." He was also honored by New York City, which erected a blue street sign alongside the Ed Sullivan Theater designating a block of West 54th Street from Eighth Avenue to Broadway as Senor Wences Way.
He remained vigorous well past his prime and was still working in 1986, when he toured with Mickey Rooney and Ann Miller in "Sugar Babies." His wife, who is his only survivor, said he got that job because she was able to convince the producers that he was a mere 75 years old, 15 years younger than he really was.
---
And here's the next set of more groovy obits...
Rolf Landauer, Pioneer in Computer Theory, Dies at 72

Rupert Lonsdale, Naval Captain Who Gave Up The Ship

Jim Copp - Inventive Children's Songwriter

---
Links
---
There are several obit enthusiast sites out there, and each has its own unique take on obituary journalism. Here are some recommended sites you may enjoy as well.
---