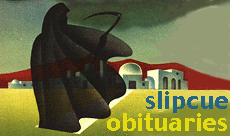 ---
Welcome back! Here are some of the older obituary listings... including some of my favorites!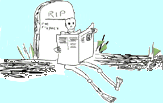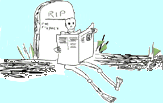 ---
Film Director Alan Pakula Dies
Iron Eyes Cody, Actor In Anti-Littering Commercial
Mario Zacchini, Human Cannonball, Dies at 87
---
Lili St. Cyr, Burlesque Dancer, 80
Chorale Leader Robert Shaw
Charles Luckman, Architect Who Designed Penn Station's Replacement, Dies at 89
---
Jerry Quarry -- He WAS a contender
Virginia Verrill, Unseen Voice of Hollywood's Singing Stars, 82
Blues Legend Charles Brown
---
Orlandus Wilson, Bass Vocalist for the Golden Gate Quartet
Pillsbury Doughboy Dead at 71
John Goldwater, Creator of Archie and Pals, Dies at 83
---
Jaki Byard, a Jazz Musician and Teacher, 76
Thomas Banyacya, 89, Who Told of Hopi Prophecy
Gershon Legman, Anthologist of Erotic Humor, Dies at 81
---
Del Close, Comedian, Donates Skull To Theatre
Ann Corio, Burlesque Performer and Historian
Lee Falk, 87, Creator of Comics Like 'Mandrake' and 'Phantom'
---
Lowell Fulson, West Coast Blues Pioneer
Dusty Springfield, Soul Singer
Sidney Gottlieb, 80, Dies; Gave LSD to the CIA
---
They saved Goethe's brain!!
Willard R. Espy, 88, Scholar and Practitioner of Wordplay
Look -- up in the sky!! It's Superman!
---
Shel Silverstein - From Playboy cartoonist to children's author
Brownie Mary - marijuana activist
Cao Huoxing - Communist Songwriter
---
Kyriacos Demetriou, An Old-Fashioned Barber, Dies at 80
Helen A. Mayer - Dumbo's Creator, Dies at 91
Dr. Jule Eisenbud - parapsychologist
---
John Broome - creator of the Green Lantern
Porter Heaps - popularized the Hammond organ
Bessie Cohen, Survivor of 1911 Sweatshop Fire, Dies
---
Jesse Stone - songwriter, producer, and pioneer of rock and R&B
Saul Steinberg - highbrow cartoonist
Tibor Kalman - graphic design iconoclast
---
Red Norvo - swing jazz musician
James V. Blevins - the Popcorn King
Rory Calhoun - cowboy actor
---
Joel Price - brought the electric bass to country music
William Hunter McCrea, 94, Expert on Sun's Composition
Irving "Fishbones" Stevens, 88, Ex-Hobo, Author, Inventor of Fly Dope
---
W-I-L-L-L-L-L-M-A-A-A-A-A!!
Sam Shaw -- film producer and photographer of Marilyn Monroe
Arthur Schawlow, 77, invented the laser
---
Ray Forrest, 83 - America's first nationwide TV personality
Morey Bernstein, infamous '50s hypnotist and author
Al Hirt - so, like, who knew he was cool, after all?
---
Lyndon Lyon -- world-class African violet breeder
James Blades -- "V For Victory" percussionist
Waldo Semon, who patented bubblegum
---
Links
---
There are several obit enthusiast sites out there, and each has its own unique take on obituary journalism. Here are some recommended sites you may enjoy as well.
---