! MP3 00/00/00 > <! update 00/00/00 > <! outside 00/00/00 > <! pix 00/00/00 >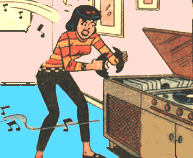 ---
TOPPERMOST OF THE POPPERMOST
Joe Sixpack Looks at
Some Reasonably New Music
---
Well, here are a few more rock & pop reviews for y'all... I've decided to quit whining about how out of touch I am with the whole rock scene (lucky you!) and also to add reviews of jazz and pop vocals releases here... Just because I can. So... here goes... here are a few new things that have caught my ear in recent days...
This month: Devendra Banhardt, Francoiz Breut, Death Cab For Cutie, Bill Evans, Gary Higgins, Billie Holiday, Kingsbury Manx, Henry Mancini, Nous Non Plus, Pale Sunday, Various Artists "GENTLEMEN DE PARIS"...
---
Some Pop & Rock: Winter, 2005/2006
---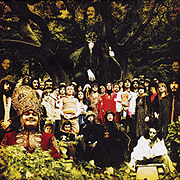 Devendra Banhardt "Cripple Crow" (XL, 2005)


I bought into the hype and picked this disc up, found it intriguing but not something I'd honestly find myself returning to often for home use... But I totally get why Banhardt is so popular these days. He pays homage to the kooky psychedelic folkies of years gone by -- Biff Rose, Donovan, Tiny Tim, Syd Barrett, maybe a hint of Dino Valenti, Jackson Frank and innumerable fey British folkies -- occasionally beefing up those old acousto-meanderings with a few choice garage-ish guitar riffs, and he sings oddball lyrics about wombs and having babies, and numerous other idiosyncratic topics. If I was still doing freeform radio, this disc would be a real blessing, as you could use it as a transition between any number of artists or styles, including fellow weirdos such as The Bevis Frond, Television Personalities or Robyn Hitchcock. That, of course, is if you consider the album on a song-by-song basis... Listening it from end to end is a bit more of a chore, though... Banhardt is precious in the extreme, and while most of this disc is quite listenable, a lot of it meanders and devolves into mere random muttering, with uber-tweaky musical accompaniment. It's certainly a nice alternative to the testosterone-and-ad agency fueled corporate rock of the day, but it's not totally the nice, mellow space-out record I was looking for.
Francoiz Breut "Une Saison Volee" (WEA/Tribu, 2005)


The third record from this French cult favorite... Uber-cool and all over the map stylistically, generally speaking this has a harder sound than her earlier albums, and a more mainstream pop-rock feel. A bit of Bjork in there, as well, perhaps? Anyway, this is a listenable, pleasant record, but it doesn't have as much of the mystical, spooky vibe as her earlier albums... Worth checking out, although some fans might be disappointed.
Death Cab For Cutie "Plans" (Atlantic/Barsuk, 2005)


Fun album... very listenable! I know, some people got all bent out of shape about this being on a major label, blah blah blah, but hey, who cares, really? Grow up. I mean, yeah, if these people heard this very same album come out strictly as an indie, they'd probably cherish it forever as a soulful masterpiece... As it is, I personally think it's very pretty-sounding and nice to listen to. It is a little funny, though, that for some reason so many indie-popsters are suddenly starting to sound like The Alan Parsons Project (the same was true of the new Pernice Brothers album...), but again, don't get me wrong: I don't necessarily mean that as a slam, it's just kind of funny. Especially if you're geezerly enough to remember when Alan Parsons was a commercial radio mainstay... Anyway, this is a nice record. I've been popping it into various sound boxes for the last couple of months, whenever I wanted to take a little contemporary indie-spinach break (hey, it's good for you!), and it still hasn't let me down. Worth checking out!
Bill Evans "The Complete Village Vanguard Recordings: 1961" (Fantasy, 2005)


One of the finest jazz combos of the 1960s only just barely made it into the decade... But what a legacy it left behind! Pianist Bill Evans, an up-an-coming bandleader, led a trio that also included drummer Paul Motian and bassist Scott LaFaro, captured here in a stunning series of shows at the legendary Village Vanguard. The performances were made intimate both because of Evans' light, elegaic compositional style and because of the tiny audience sizes -- at some of the matinee shows they played for only a handful of people. Despite the poor turnout, the trio played with remarkable emotional depth, making some of the loveliest, purest melodic jazz ever put to wax. These shows were drawn on to produce a couple of classic albums in the 'Sixties, Sunday At The Village Vanguard and the flawless Waltz For Debby, which many consider Evans' masterpiece... This 3-CD set expands on the original albums, and restores the performances to their full glory, a monumental yet luxurious set that will invite you to listen again and again... This is the kind of album you can listen to for years on end and never tire of... If you're familiar with Waltz For Debby and have long wished for more music just like it, well... here ya go. Bassist LaFaro died little more that a week after these recordings were made, so this really is the Evans trio at its peak, never to be bested, nor forgotten. Highly recommended!

Gary Higgins "Red Hash" (Drag City, 1973/2005)


Another well-hyped record that I had to check out... and it was totally worth it! This "lost gem" from 1973 is a real find, a hippie era relic that amply demonstrates the wildly eclectic, bizarraloid folk-pop tendencies of the post-Woodstock rock scene. The hushed, moody, introspective opening track is amazing: it sounds so modern and contemporary -- like an Elliott Smith outtake -- that I actually had to pause and wonder if this disc was a hoax. However, when the clompy boogie-rock and dumbass lyrics of "Down On The Farm" rolled around (a song that apparently indicates the narrator's willingness to have sex with a barnyard bull...) I knew it had to be the real deal. You had to be really, really stoned to put something that dopey and twisted on your album... Then there are some glammy funk riffs borrowed directly from Marc Bolan & T-Rex that place this album squarely in its time. Higgins was an interesting also-ran from a much maligned, little understood musical era that was marked by extensive experimentation, and while there are some goofy moments and a few tunes that fall flat, for the most part this is a fine testament to a guy who played several popular styles quite well, and also mananged to create music of his own that had a distinctive, original sound, and that seemed to anticipate the oblique style of the "lo-fi" indie scene that would come decades later. Definitely worth checking out!
Billie Holiday "The Ultimate Collection" (DVD) (Universal/Hip-O, 2005)


Although by and large this is not prime material for Lady Day -- most of it's from the late 1950s when Holiday had pretty much imploded, as had her career -- you still can't complain much about any chance to see her in action. The video portion opens with one of her earliest on-camera appearances, in a short Duke Ellington talkie, and then moves onto some fine singing parts she had in the 1947 film New Orleans, a fun movie that featured Holiday prominently. A pity they didn't also see fit to include some of her acting as well -- she had a real, speaking role in the film -- but I guess that's what movie rentals are for. Most of the disc is taken up with appearances on network TV shows, including one that staged an extended tribute to Holiday's career and the long shadow she cast on the world of jazz vocals. It was a nice gesture to make, considering how badly things were going for her the last few years of her life, although Holiday didn't let the little things get her down. Although her voice seems diminished, she is still regal and elegant, and casts a knowing look at the camera as she twists a romantic phrase just so, teasing her listeners with a reserved, yet wicked, version of "Please Don't Talk About Me." The old gal still had it, even when she was in freefall. One of the things that's most fascinating about this disc is seeing the programs themselves, realizing that they actually had jazz shows on network TV, with super-serious, never-crack-a-smile, I'm-an-intellectual, hipster hosts there doing their level best to explain jazz for the squares out there in Middle America and to make it seem safe and legit. Also, geez -- check out the talent backing Holiday up: Roy Eldridge, Coleman Hawkins, Gerry Mulligan, Ben Webster and Lester Young? Not bad. The disc also includes audio-only tracks of both music and lengthy interview segments with various jazz luminaries. This might be a collectors-only kinda release, but if you're the right collector, you might be pretty psyched to pick it up.

The Kills "No Wow" (RCA, 2005)


Aw, Christ, I'm just too old for this crap. This was one of the big "buzz bands" of '05, and when I heard one super-cool Jesus&MaryChain-ish track of their placed at the end of some weird French film, I thought, oh yeah, I should check these guys out! So I picked this disc up, and was promptly bored to tears, and greatly disappointed to find that that song was not included on here... (Probably on some wanky EP-only release...) Anyway, this is kind of a slicker, modernized rehash of Gothy/punky themes that I'd heard plenty of in the '80s... These folks do it with a stronger melodic flair than the bands that came before them, but I still felt like maybe I should just be digging out some old Ut album or something, if I wanted something all grating and archly sardonic and all. As it was, I simply couldn't give a rat's ass about this record. I'm too old and just not that interested in this particular set of cool-school games. Sorry.

Kingsbury Manx "The Fast Rise And Fall Of The South" (Yep Roc, 2005)


Quite nice, stylistically diverse and easy on the ears... There's a lot of dreamy piano and keyboard work on here, as well as a persistant (and not unpleasant) echo of the Kinks, particularly in the vocals... As is the case with many modern indie bands, the lyrics are oblique and inscrutable, and mainly serve to not get in the way of the melodies... Which is fine, since the melodies are alluring and delicate, if a bit downbeat. This disc didn't strike me quite as much as their earlier albums, but there's a calm confidence, an air of experience that's comforting, nonetheless. If you're looking for some nice space-out indiepop, then this disc might fit the bill.
Henry Mancini "Midnight, Moonlight & Magic: The Very Best Of Henry Mancini" (BMG Heritage, 2004)


There comes a time in a man's life when he just needs to have a copy of "Baby Elephant Walk," not to mention "Moon River" and the "Peter Gunn" theme. So, I went out and picked up this new best-of package, which has those super-groovy tunes, as well as "The Pink Panther Theme" and a bunch of other goodies. The good songs are great, but overall this disc was unsatisfying, largely because of the preponderance of vocal tunes (all of which I find totally lame, compared to the winsome catchiness of Mancini's instrumental work...) Some of these choices are just natural consequences of collecting the man's works, while some selections are regretable errors, such as the decision to include the vocal version of the "Charade" theme, rather than the instrumental version, which is a lot more fun... Still, now I've got the doot-doot-doodle-doodle of "Baby Elephant Walk" traipsing about on my stereo... and that makes me quite happy. A good collection, although I suspect other albums might have made me happier.
Nous Non Plus "...Nous Non Plus" (Aeronaut, 2005)


An outstanding album by this spoofy spinoff of New York's faux-French frogpop band, Les Sans Culottes (which imploded among "creative differences" in 2004...) Unlike the various Sans Culottes albums, this disc seems like less of a one-note joke, displaying instead greater musical depth and variety, ranging from breathy, Francoise Hardy-esque ballads to nervy '77-style punk, jittery technobleepery ala StereoTotal, steamy Roxy Music-ish synthpop and New Wave, dreamy modern indie stuff... all done with great aplomb. The French-language lyrics remain blithe, silly and self-mocking, but the musical chameleon act is quite impressive. This is a darn good record; definitely worth checking out... If you liked Les Sans Culottes, then this disc will blow your mind.
Pale Sunday "Summertime...?" (Matinee, 2005)


Dreamy, jangly indie-pop from this Sao Paulo-based band... Singing mostly in English (with the exception of one song, titled "1978"), these guys flawlessly emulate their models, namely the mopey, wistful '80s British twee-poppers of the Sarah label variety, and numerous lo-fi janglecore bands from the USA... They have the sound down to a "T", though if you know what to listen for, you can pick out their cute Brazilian accents and doubtless find it quite charming. Personally, I wish they'd sung more numbers in Portuguese, 'cuz I like that sort of thing from "foreign" bands, but it's still cool to find such a competent indie band coming out of Brazil... There are precious few, as far as I can tell... If you like cute, introspective guitar-pop bands with mopey, solipsistic lyrics -- indeed, any other bands on the Matinee label -- then check these guys out. They know what they're doing.
Various Artists "GENTLEMEN DE PARIS" (FGL/Anthology, 2004)


The gender-balanced companion to the FEMMES DE PARIS series, this electrifying disc features seventeen sizzling examples of the finest rare rock records late '60s France had to offer... Several things recommend this record, foremost being the high quality of the music -- this record is great from start to finish. There's also the welcome obscurity of the artists involved -- other than one track by Antoine and one with Serge Gainsbourg, it's packed with unknowns such as Les Lionceaux, Les Anges, Les Gypsies, 5 Gentlemen, et. al. who all kick out the jams... who knew!? Finally, there's the preponderance of Mod-styled ampheti-rock.. Most of these tracks come from 1964-66, when the Kinks were ascendant in the UK, and their influence is keenly felt, as is that of the Small Faces and the Yardbirds. There are also some flambuoyant, grandiose psychedelic freakouts, but it's the tighter, jangly fast songs that stand out. This set catches the French rock scene just before the more florid, orchestral work of Gainsbourg and his clique held sway -- it's one of the rare glorious moments when the French really rocked... and it's a lot of fun! Highly recommended.
---
Recent rock reviews index
---



Indiepop Indiedex
Recent Pop Archives





---