! MP3 00/00/00 > <! update 00/00/00 > <! outside 00/00/00 > <! pix 00/00/00 >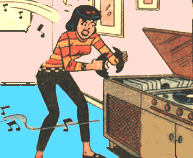 ---
TOPPERMOST OF THE POPPERMOST
Joe Sixpack Looks at
Some Reasonably New Music
---
Egad, I am so incredibly out of touch from pretty much all rock music these days... A few new records still float my way, and friends and magazines steer me towards some good tunes from time to time... But for the most part, whenever I go to the record stores searching for old country vinyl and world music, and my eyes fall on the new rock records, I get a little queasy and sad. Oh... god... I'm old!!!! Nonetheless... I have had a few discs come my way that I think merit a little cyber-ink and celebration... So... here goes...
This month: Keren Ann, Belle & Sebastian, Sonny Bono, Carla Bruni, Coralie Clement, Jason Colette, The Flatmates, The Orange Peels, The Pages, Teenage Fanclub, Toy Love...
---
Some Pop & Rock: Summer, 2005
---
Keren Ann "Nolita" (Blue Note, 2005)


This is the fourth album by Israeli-born French songstress Keren Ann, and continues her along the path of Americanizing her sound. I suppose since she's getting North American release on the Blue Note imprint, disparaging comparisons to Norah Jones are in order, and I guess I would agree that the heavy emphasis on slow, melancholy, down-tempo material is a step in that direction, although comparisions to John Cale, the Velvet Underground and Marble Index-era Nico are probably in order as well. As with Ann's earlier albums, the perfectly constructed, tightly layered production mix gives this album a somewhat mechanistic feel, like watching an old sci-fi movie and noticing all the wires and models that were used for the special effects. It doesn't feel even remotely natural or off-the-cuff, but even with the trying-too-hardedness of it all, Ann's work has a certain appeal. Folks looking for new world music to groove out on, or just some sort of alternative to the perky blandness of American pop will probably find Keren Ann's work a breath of fresh air, although I must admit, the slow, monochromatic pacing of this particular disc may make it less appealing to newcomers than some of her other albums. Still, it's certainly worth checking out.
Belle & Sebastian "Push Barman To Open Old Wounds'" (Matador, 2005)


Scotland's fabled Belle & Sebastian have always had a charming loyalty to the 1980s-style cult of the collector-nerd catnip known as non-album singles and EPs... Over the years, they've issued a slew of one-off sets that have made loyalists and completists do a bit of legwork to keep up... Well, if you were missing anything, or just didn't have the space on your shelves for all that artsy, attractively packaged plastic, the search is finally over, with this generously programmed 2-CD set that gathers together seven of their EPs, Dog On Wheels, Lazy Line Painter Jane, 3... 6... 9... Seconds Of Light, This Is Just A Modern Rock Song, Legal Man, Belle & Sebastian Sing Jonathan David, and I'm Waking Up To Us... Depending on your point of view, this collection is either manna from heaven, or it just takes the fun out of everything by making it too easy to find the obscure stuff... I guess I lean on the pro-accessibility side; plus, it's nice to have it all in such a slim, space-saving format. This doesn't hang together as an "album," and most of the original EPs were kind of spotty anyway, but it's still lovely stuff, easy on the ears while vexing to the heart. Plus, dude... this is a total bargain! Snap it up!!

Sonny Bono "Inner Vision" (Collector's Choice, 1967/2005)


What an utterly weird, lame, yet oddly compelling record. Sonny Bono's only solo album, made when his partnership with Cher was beginning to take off, is an appallingly bad faux-psychedelic outing, on a par with the equally goofy West Coast Pop Art Experimental Band albums... This is one of those so-bad-it's-great kind of records, but not simply in a tone-deaf Mrs. Miller-ish kind of way -- this really, sincerely is a great document of its times, and the vacuuity and narcissism that some greeted them. The album opens with "I Just Sit There," a rambling, self-indulgent, stream-of-consciousness, super-stoner assessment of the state of the world, and closes with "Pammie's On A Bummer," a blunt, harsh, clunky character sketch of a teen prostitute who does ever-harder drugs to help herself keep from "flipping" over the bad life she's chosen. Most reviewers see the "anti-drug" message of "Pammie" as proof that Bono was just playing around at the psychedelic form, and wasn't doing drugs himself... I'd say he was probably high as a kite around this period and all too willing to get loaded and laid under the cover of the "counterculture," as fine an example of a frat-boy stoner as ever there was, and that "Pammie" was just a dumb exploitation song, one that didn't reflect any deep-seated beliefs or political convictions. So Bono wound up being a Republican conservative in the U.S. Senate...? So what? Was he the first G.O.P. loadie to get elected to high office? I doubt it. Anyway, whether he meant it or not, and whether or not this album was actually an immensely clever social satire, taking pokes at the vacuuity of psychedelic art, and whether or not Sonny Bono was straight or stoned, the fact remains it is an amusing artifact of the 'Sixties drug culture. It's not great music, by any means, and it's not as enjoyably kitschy as Mike Curb's anti-acid album (for example), but it is pretty ripe and ridiculous. Worth checking out, if you're into goofy novelty stuff.
Carla Bruni "Quel Qu'un Ma' Dit'" (V2/BMG, 2005)


Laid-back cool and acoustic-based minimalism is the watchword on this fine set of whispery, alluring French indiepop tunes. The arrangements are pretty simple -- pretty-sounding acoustic guitar with the occasional addition of simple but not unpleasant slide work -- and the bluk of the attraction lies in Bruni's vocals, a mix of too-cool hush, and deft, dancing verbal playfulness. The music is nice, and her complex toungetwisters are just icing on the cake. Forget the comparisons to the incomparable Francoise Hardy -- they're just pointless and unimaginative -- but feel free to enjoy Bruni's music in its own right. You'll be quite pleased; this one's a gem.
Coralie Clement "Bye Bye Beaute" (Nettwerk, 2005)


A great record; one of the best French pop albums of recent vintage. Indie-popster Coralie Clement -- a protege of her brother, up-and-coming pop producer Benjamin Biolay -- really cuts loose here and sinks her teeth into some electrifying rock riffs, big, fun beats and catchy pop hooks... She sings with passion and conviction, and more energy and presence than many modern rockers these days seem able to muster. Although this is a slick, compact studio production, it feels like a real rock record in a way that many of today's factory-made, multitrack monstrosities do not. The pacing of the disc, and the subtle, dynamic shifts from song to song are also quite nice; this is a record that plays like a real, live cohesive piece of work, and not a few extra tunes draped around a catchy hit or two... Congratulations to Clement for recording such a majestic, magnetic and flat-out sexy album. Highly recommended!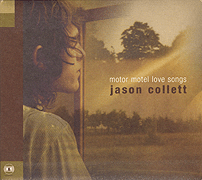 Jason Collett "Motor Motel Love Songs'" (Arts & Crafts, 2003)


Nice stuff from an erstwhile member of Broken Social Scene... Mellow, spacy, doleful and diverse... A nice record to have on in the background to space out on... Recommended!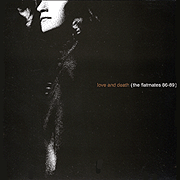 The Flatmates "Love And Death -- The Flatmates: '86-89" (Subway, 1990/Claire Records, 2005)
The Flatmates "Potpourri -- Hits, Mixes & Demos: '85-'89" (Cherry Red, 2005)


Hey, finally!! There's a Flatmates collection out on CD that's easily available to the public... Now I don't have to digitize my 12"s after all!! Subway Records, along with the more successful Creation label, was one of the more influential sources of British indiepop in the late 1980s, and Bristol, England's fab, fissile Flatmates was one of their coolest bands. With a simple, direct, melody-driven approach, the Flatmates bowled over their microscopic but immeasurably loyal fan base, with jangly, riff-heavy power-pop that had a nice, fat sound... equal parts girl group and Ramones, with LOTS of groovy guitars. In keeping with my old radio station's long tradition of venerating gals who can't quite sing that well (X-Ray Spex, Kleenex, Rachael Sweet, PJ Harvey...) I became an instant convert, playing their songs on so many shows it's a little bit embarassing to admit. Twee? Perhaps... but they also rocked! There's a Flatmates cult out there that will be in ecstasy over this long-overdue reissue disc, and newbies should check 'em out, too... The band's old, original records are impossibly hard to find, so this reissue of the Love And Death collection is a real score, an undiluted blast of pure pop fun. Listening back to it, I'm amazed by how well it all holds up, and how many songs still give me a jolt of headbanging adrenalin. For me, this is a must-have album. Then, for diehard fans, there's also the new odds'n'ends Potpourri retrospective, which has few more rough spots, but also adds a few nice notes to this band's modest legacy. Both albums are nice looks back at a playful band who were a real missing link in the whole pre-Oasis Britpop panorama. Highly recommended! (For more info, see guitarist Martin Whitehead's band memoir on Tweenet. Love And Death can be purchased directly through the Claire Records website... )
The Orange Peels "Circling The Sun" (Parasol, 2005)


When I first heard South San Franciscan Allan Clapp's debut album, One Hundred Percent Chance Of Rain, what charmed me was its naifish, intentional clumsiness, it's lo-fier than lo-fi exuberance and its lack of pretension... He was just some guy having a lot of fun doing this crazy thing called making a record. When he formed his "real" band, The Orange Peels, Clapp got more serious about it, and tightened up his sound, sculpting bright pop hooks and working on "real" songs with his bandmates... This time around, on the third 'Peels album, things are a little too tight for me... The songs feel somewhat rigid and almost brittle, and while Clapp & Co. demonstrate a mastery of a wide range of indiepop styles and motifs, the songs are difficult to focus on, the melodic hooks and life-affirming lyrics seem sunk into an ornate lattice of carefully-defined, sometimes confining power-pop riffs... Still, I think many fans will be pleased by this disc, though I found it hard to get into. It's a high level of craftsmanship, but I miss the old sense of carefree abandon.

The Pages "Creatures Of The Earth" (Unsound Records, 2004)
I like this record. These Brooklynites start off with an edgy garage-pop jangle reminiscent of all those great old Kinks albums, but swiftly shift into a country-tinged, psychedelic boogie that sounds for all the world like all those great old Moby Grape albums... The songs are about poor little old broken hearts and, in keeping with the not-too-stuffiness of the subject matter, these guys sound like they had a lot of fun making this record, which is one of the reasons it's fun to listen to... The songs start to lose their clarity and focus towards the end of the album, but overall this is quite a nice little rock record. Worth checking out! (See www.unsoundrecords.com for more info. )

Teenage Fanclub "Man Made" (Merge, 2005)


It seems appropriate that this brisk, brash new TFC album should come out on the Merge label... The aggressive, rugged tempo of the album -- particularly its second half -- seems of a piece with the work of the label's premier band, Superchunk. Personally, I've never been fond of that particular brand of explosive-emotive rock, and I miss the mellow melodicism of the last few TFC records... Still, it's good to see the Fannies branching out -- you always gotta try something new, right? -- although I suppose one could also make the argument that this is a return in some ways to the relatively unsubtle krang and clang of their first album, Catholic Education. I guess this is an album that will have to "grow on" me, although my first impressions have been a little offputting. The opening songs have enough of their patented pop-narcotic feel to tide me over, though, particularly "It's All In My Mind," which may be the album's highlight. I suppose if I want to hear more mellow, harmony-drenched stuff, I can always pull out Howdy! and Songs From Northern Britain... It's so hard to let the children grow up, though...!!
Toy Love "Cuts" (Flying Nun, 2005)


One of the legendary albums of New Zealand's odd, unpredictable "kiwipop" scene has finally found the light of day in the digital era... Before Chris Knox and Alec Bathgate founded the bizarro band, Tall Dwarfs, they fronted Toy Love, a punky group that was supposed to become New Zealand's answer to The Saints. They signed to a major label, and had begun a tour of Australia and the UK when the whole deal imploded and they were sent packing back to Dunedin... Their lone album, issued in 1980, was lost to the sands of time and as kiwipop became better defined and better known outside of NZ, the disc took on a Holy Grail status, forever drifting in the tide of corporate limbo. Well, here ya go: here's a 2-CD set that collects all the tracks off the original LP, along with several singles issued on other, smaller labels, and a ton of demo tracks and kitchen-table lo-fi stuff that dates back to the Toy Love years. The lyrics are more youthful and abrupt, and much of the music is more overtly punky than Knox & Bathgate's later work, but what's amazing is how much they sounded like themselves, even back in their angry young men days, how weird the lyrics were and how twisted the music sounded. It's not unlike Robyn Hitchcock's old band, The Soft Boys, a kooky riff on rock and punk, with surrealistic and self-referential lyrics galore. It's also very, very noisy, and might be a little hard to get into at first. But for fans of Tall Dwarfs, or anyone who appreciates the truly weirdo, oddball artists of the world, this'll be a set you'll want to check out. One technical note: the material from the Toy Love record comes courtesy of a label executive who surreptitiously dubbed a copy of the master before moving on to another job (...yay! you rock, dude!) so Knox & Co. took the opportunity to remaster the tracks and add in some of the low end that the LP lacked (one of many disagreements with the label, I'm sure...) Anyway, it sounds fine, but if you're super-picky and persnicketty about stuff like that, you might want to know that the original version sounded a lot tinnier than this... So I guess the vinyl copy will still remain an elusive prize!
---
Recent rock reviews index
---



Indiepop Indiedex
Recent Pop Archives





---