! MP3 00/00/00 > <! update 00/00/00 > <! outside 00/00/00 > <! pix 00/00/00 >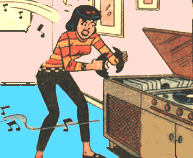 ---
TOPPERMOST OF THE POPPERMOST
Joe Sixpack Looks at
Some Reasonably New Music
---
Well, there's been a lot of water under the bridge sing my last set of reviews was posted in February... They keep making rock and pop records, and I keep getting confronted with how incredibly out of touch I am... It all goes by so fast!
Reviewed on this page: Julie Delpy, Holly Golightly, A Hawk And A Hacksaw, Ron Sexsmith, Effie Smith...
---
My Latest Pop Conquests: January, 2005
---
Julie Delpy "Julie Delpy" (2003)


I heard a few tracks from this album in the film, Before Sunset and I knew I had to track a copy down... Actress Julie Delpy croons to her own compositions, with just a hint of Claudine Longet and Phoebe Bouffe in there around the margins... Online opinions about this album seem split between folks who love it, and those who loathe it, with French listeners, interestingly enough, leading the charge against the album. Grudingly, I have to admit this really isn't all that good. The acoustic opening tracks, "My Dear Friend" and "Mr. Unhappy," are a nice slice of naifish, English-language twee, but as the guitars get grungier and the songs more convoluted, the album becomes a bit of a grind. Delpy has a voice as delicate as her irony-laden sense of humor, and each needs the proper setting to work its magic... Unfortunately, this disc doesn't always deliver, and on many of the tracks, she leaves herself dangling in the wind, willing to dive into the deep end and take a chance, but bellyflopping more often than not. There's a nice version of "Waltz For A Night," the song she sings at the end of Before Sunset, and though this electro-ed version isn't as moving as the film's acoustic version, it's still a highpoint in the album, and a welcome respite from the more grinding, tortured moments on other songs. Fans will want to check this album out -- some will love it, others will not; I found it pretty disappointing. Wish she'd sung in French more often, as well.

Holly Golightly "Down Gina's At 3" (Sympathy For The Record Industry, 2003)


Holly's up to her same old tricks on this stripped-down live set which includes a lot of Holly's "hits" and a few well-chosen covers... Drummer Bruce Brand is there, naturally, along with bassist Jack Lawrence from the Greenhornes, and some celeb guest stars turning up for the encore songs (which end with a cover of the Sonics' "Shot Down..." Now you're talking!!) This set didn't blow me away as much as some of her other records, but it's pretty good garage rock nonetheless, with an informality and relaxed feel that's kind of a nice change of pace. Worth checking out, for sure.
A Hawk And A Hacksaw "Darkness At Noon" (Leaf, 2005)


An odd, engaging, avant-klezprov album from indie-rocker Jeremy Barnes (a veteran of bands such as Neutral Milk Hotel and Bablicon)... Although the record is mostly Barnes's work, he has collaborators from the avant-jazz, rock and klezmer community on board, and while the album has obvious Jewish roots, it stretches into Arabic and Balkan motifs, as well as a sheen of manic noisepop as well... The eclectic, frantic feel of some of the Neutral Milk Hotel albums is funnelled here into a tighter form, and while this record pushes the boundaries of the klezmer genre, it is also surprisingly strong compositional aspects, while simultaneously feeling freer and less staid than much of the contemporary klezmer that it branches off from... There's also a sense of fun and abandon, as well as a moody, whimsical side that's kind of cool as well. If you like the newer, experimental klezmer of groups such as Hasidic New Wave, but find their orientation towards the free jazz of Ornette Coleman et al., to be a bit taxing, this multi-layered, sometimes spacy sonic odessey might be more to your liking. Definitely worth checking out!
Ron Sexsmith "Retriever" (Nettwerk, 2004)


Over the years, Ron Sexsmith has wafted forth a wonderful album or two... but this one is something special. Sorry I've take sooooooooooo long to write something about it! Anyway, I've had this mellow, dreamy disc floating around in the CD carousel for weeks on end, as well as in the car stereo, where it has become a standby and was an integral part of my little baby's introduction to the wonderful world of indiepop.. It's that kind of record, one you can live with for years and still love completely every time you hear it. Highly recommended.
Effie Smith "The Chronological Effie Smith: 1945-1953" (Classics, 2004)


Cool stuff from one of the California blues scene's great unsung heroines... Effie Smith worked with Benny Carter, Lionel Hampton and Johnny Otis before setting out on her own after WWII... Smith's background as a comedienne may help explain why her work is so much sly and expressive than many of her contemporaries; she really gets into the groove of these tunes and puts a lot of feeling into the words. She also excels at a variety of styles -- smooth ballads, uptempo blues and even a scorcher or two, such as the sizzling "I Been Down In Texas." This disc is a gem, a nice discovery for folks looking for rockin' foremothers to groove out on. The liner notes are nice, too -- Smith and her husband, John Criner, were both intimately involved in the growth of the West Coast blues scene, from their own efforts on a variety of independent labels, to the the teen-oriented R&B-pop scene of the early '60s (her son wrote the Olympics' big hit, "Western Movies," and Effie's second career as a behind-the-scener, doing promotional work for the Stax label in the '70s. At any rate, this disc is fun... Smith's approach may have been a little laid-back, but she sounded pretty darn cool.
---
Recent rock reviews index
---



Indiepop Indiedex
Recent Pop Archives





---