! MP3 00/00/00 > <! update 00/00/00 > <! outside 00/00/00 > <! pix 00/00/00 >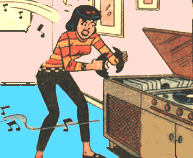 ---
TOPPERMOST OF THE POPPERMOST
Joe Sixpack Looks at
Some Reasonably New Music
---
February 29th, 2004: It's music critic career suicide day here at Slipcue.Com! First off, my apologies to all those nice people out there who have sent me their groovy rock records and waited... and waited... and waited... and waited... and waited... for me to review them. I do, honestly, suck. Well, actually, I've just been kinda busy reviewing a bazillion Brazilian records and working full-time as a for-real, they-pay-me-to-do-this-stuff-and-I-come-home-tired-every-night country music programmer for a certain gigantic media corporation which shall go unnamed for now... As a result, the indie/rock stuff that I've known and loved has sort of fallen by the wayside over the years. Anyway, I finally forced myself to sit down and confront the stack of forlorn rock CDs that has built up over the last, oh... eighteen months or so (Ooops. Tra-la-la-la-la...) and have come up with a thing or two to say about some of the more notable albums...
But see? I really do diligently review (almost) all the records that people send me! If I don't, it gnaws away at my conscience, in a very sick, good-lord-get-over-it kinda way. Trouble is, I'm a cranky old geezer now, and I seem to be more critical now that I used to be about a lot of things. So, here are some of my surprise delights and maybe-I-should-just-keep-my-big-mouth-shut moments, culled from a few recent marathon review sessions. (BTW -- older "new review" pages are now archived elsewhere on the site. Thanks again to all the nice people who have wanted me to listen to their stuff... Sorry I'm such a nerd.
Reviewed on this page: Frank Bango, Beam, BMX Bandits, The Buttless Chaps, Consonants, Cordero, The Curtains, Bart Davenport, Death Cab For Cutie, Decemberists, The Evaporators, The Five Americans, Ted Leo & The Pharmacists, The Like Young, Mates Of State, Nice Man, The Pearlfishers, Pernice Brothers, Pinhead Gunpowder, Pretty Girls Make Graves, Radio Berlin, Nate Ruth, Swell, Travis...
---
My Latest Conquests: February, 2004
---
Frank Bango "The Unstudied Sea" (Sincere Recording, 2003)


I've been a fan of Brooklyn-based power-popper Frank Bango for many years now, and was mystified by my own muted reaction to this fine album (his third, I believe...) I think it just took a long time to settle into my subconscious; I listened to it several times when it first came out, but couldn't quite formulate an articulate response to the songs. Now, revisiting it a few months later, I find myself as delighted with it as I was with his earlier albums. Bango has a playful sense of wordplay and strong ear for simple melodic hooks, which invite favorable comparisons to Dave Edmunds, Elvis Costello and Graham Parker... He's still "got it," and is crafting some of the nicest, most mature independent pop music out there today. Worth checking out!
Beam "Beam" (Antenna Farm, 2003)


An Oakland, CA indie band which borrows a page or two from the Valerie Lamercier/Coralie Clement/Ivy/Stereolab school of postmodern French ye-ye revivalism. Vocalist Helene Renaut finds sympathetic backing with some of the East Bay's artsier and hippest musicians, buoying her fragmented, obscurist lyrics and blase vocals with angular and oddly textured accompaniment. If you're into the whole Frenchie/Euro thing, ya might wanna check this one out.

BMX Bandits "Down At The Hop" (Shoeshine, 2003)


Pick a band -- any band -- that's come out of Glasgow in the last twenty years, and chances are they have some connection to the long-lived and little-known BMX Bandits. Scotland's beloved Bandits are back, and as adorable as ever, with plenty of bouncy, Beach Boys/Phil Spector/girl group-tinged pop riffs and naifish lyrics that stand up for the Grand Dork inside us all. Duglas Stewart, Glasgow's answer to Jonathan Richman, handles the lead vocals, but this time around, drummer Francis Macdonald comes to the fore as the band's principal songwriter, as well as lead xylophonist, guitarist and producer. The '60s pop vibe is borne out on song after song, some goofy and notional, and others, like "Back In Your Arms," that are irresistibly catchy. A fun album...! Longtime fans won't be disappointed; newcomers should be charmed. (PS - I also dig that Brigitte Bardot album art!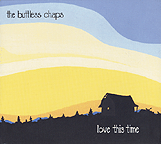 The Buttless Chaps "Love This Time" (Mint, 2003)


I quite enjoyed this album, even with the goofy, pretentious '80s Felt-like vocals. It's consistently musically varied and engaging, with only a couple of tracks that make me hit fast forward. From the goofy, Devo-ish New Wave electro-retro to the lush, banjos'n'trumpets, Lambchoppy orchestral pop, it's an album that at least shows signs of life and artistic engagement... Amid all his willful dorkiness and brooding intonement, head Chap Dave Gowans sounds like he's actually having fun... which still counts for a lot. I doubt I'd want to revisit it in years to come, but taking it out for a couple of spins now was kinda fun.
Consonant "Love And Affection" (Fenway, 2003)


Pounding, shrill, and markedly lacking in subtlety or grace, this tinny guitar band seems to be shooting for a Superchunk-ish abandon, but don't quite pull it off. And this is the best a bunch of vets from Mission of Burma, Codiene, Bedhead and numerous other indie bands can come up with? Sorry, guys! Better luck next time.
Cordero "Somos Cordero" (Daemon Records, 2003)


Nice, tuneful hook-driven power pop; somewhat amateurish and imperfectly produced, but appealing and fun to listen to. Vocalist Ani Cordero writes and sings bilingually, in English and Spanish, but the band doesn't necessarily make a big deal out of it -- not like they're up on a big rock en espanol pedestal or anything. Not earthshaking, but charming and kinda lowkey. This is apparently their second album...
The Curtains "Fly Bys" (Thin Wrist, 2003)
Moderately and purposefully irritating, difficult listening/indie pop instrumentals which have a weird way of generating a genuine, arty allure. I guess it's because the band (drums, keyboards, geetar) really seem engaged in what they're doing, crafting these perversely off-kilter, yet not too alienating melodic elisions. I didn't wind up holding onto this album, but I would still kinda have to recommend it. From San Francisco, or thereabouts, with a coupla Deerhoof members in the trio.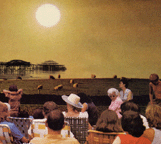 Bart Davenport "Game Preserve" (Antennae Farm, 2003)


The second solo album by this gentle voiced, country-tinged SF Bay Area retro-ist takes a step back from the more hook-laden pop of his first disc, and opts for a more mediative, reflective style. Davenport's work recalls the best of the rambling early '70s country rock/AOR sound, bringing to mind the likes of Gerry Rafferty, George Harrison, Bread, Badfinger, the softer side of Pretty Things, and even melodic boogie-rockers like Joe Cocker, when Bart starts to rock out a little bit. Some folks may take my comments as a slam, but they're not. The 'Seventies actually had a lot to offer, not the least of which was the easygoing mix of styles -- particularly jazz, soul, folk and country -- into an eclectic rock mix... This sleek experimentalism is only now really being embraced by today's indie scene, and Davenport is a fine example of the new reexamination of the once-uncool Me Decade.

Death Cab For Cutie "Transatlantacism" (Barsuk, 2003)


Several friends of mine who worshipped even more at the altar of Elliot Smith than did I turned to Death Cab a few years ago, when it was clear that Smith's albums were going to be few and far between (little did we know then... sigh.) Anyway, I never really fully checked Death Cab out, but I had this disc in the ole multi-disc CD carousel and when it came around, I was struck by the quality of the songwriting and the musicianship throughout. Nice to still hear a few new indie albums that aren't just random toss-offs, and still take pride in a certain level of worksmanship. Well done.

Decemberists "Her Majesty" (Kill Rock Stars, 2003)


This was by far the most distinctive and entertaining album of the lot: a keeper, for sure. Heck, I may even have to go back and buy copies of their earlier albums, just so I can get caught up. This Portland-based band fits snugly into the style of self-mocking pretentiousness previously mined by bands such as Belle & Sebastian, producing charming sets of lofty pseudo-literary lyrics, captivating vignettes that wow the rubes as well as other indie types (myself included) who search for songs with a little more meat on their stanzas than your standard-issue pop-rock love song or all those insufferably introverted art-rock/lo-fi toss-offs. (And if you think that was an impenetrable run-on sentence, you ain't seen nothin' yet: the Decemberists are one of those bands who cause hipoisie 'zine reviewers to go into orgiastic, gyrating backflips of dense, self-referential, overly florid prose. Everybody wants to sound as smart and as clever as their favorite band; very few of them seem able to describe the who-what-where-when-why in anything close to a straightforward manner...) Anyway, the good news is that the Decemberists live up to their hipster hype -- this is an album that can hold your attention through several auditions (though you may have to put it away for a while, to avoid burning out on it). The band shamelessly flaunts its love of soft-pop melodies (most memorably on the dark, hummable "Los Angeles, I'm Yours") and songwriter Colin Meloy proves an engaging lyricist, more capable and direct than Belle & Sebastian's much vaunted Stuart Murdoch, and closer in spirit to fellow fans of wordplay such as Stephin Merritt and Elvis Costello, or even Noel Coward or the guys from Squeeze. He's funny, arch and inventive, gleefully over the top but not so oblique that his songs make no sense. The songs are well-crafted, but not stuffy or overly serious -- you can have fun listening to this record, and yet not feel that there's no "there" there, that it's not just some wanky little indie album. Recommended! (PS - the band's website, www.decemberists.com, looks pretty spiffy, too.)

The Evaporators "Ripple Rock" (Mint, 2004)


A fun, dumb, cheerfully irritating yet kinda catchy record! This Canadian quartet plays refurbished, pop-punked-up garage riffs at a lightning fast pace, packed with silly, dorko-rific lyrics on songs like "Nard Nest," "Salad Bar" and "Addicted To Cheese." It's the sound of cruising-into-middle-age pop-culture hipster geeks having a blast, playing their electric guitars and banging their little drums for all they're worth. This may not be an album that will live with you immortally forever, but it would certainly spice up a rock-based set on your local college radio station. Worth checking out.
The Five Americans "The Best Of" (Sundazed, 2003)


I tend to think of the FA's as a one-hit wonder -- which they were -- though I always liked that one hit: "Western Union" was a fine, fine pop song. This disc, however, brings to light the other, surprisingly enjoyable music that followed, as the band struggled to build on their commercial momentum. They shamelessly repeated the riffs and motifs of that song in follow-up singles ("Zip Code," for example), but they also delved into a rich lode of melodic pop, and this generously programmed, 25-song retrospective gives a nice, balanced view of their work from 1965-69. Of course they eventually shed their clean-cut image and got all druggie and psychedelic, and that's certainly half the fun. Recommended!

Ted Leo & Pharmacists "Tell Balgeary, Balgury Is Dead" (Lookout!, 2003)


Hailed as the Next Big Thing at the indier-than-thou Lookout label, singer-lyricist Teo Leo offers more-literate-than-usual songwriting, and a certain propulsive, Jam-like charm. You'll notice I didn't describe him as a "guitarist" or "vocalist": his electrified chicken scratches and jittery, rambling yelps obscure otherwise intriguing songcraft. I guess it's meant to project a Billy Bragg-like, DIY musical nonchalance, but at least Bragg made an effort to enunciate, and that helped a lot. As it is, you need a lyric sheet (thankfully provided) to follow these somewhat pretentious songs, and while they are fairly clever, they aren't actually that much fun to listen to. Richer production, better vocals would help. Leo gets props for covering Ewan MacColl's "Dirty Old Town" and, naturally, Paul Weller and The Jam.

The Like Young "Art Contest" (Parasol, 2003)


Jangly, propulsive, anthemic, fuzzed out power-poppish rock. This Midwestern husband-wife duo, drummer Amanda Ziemba and guitarist/bassist Joe Ziemba, split the harmony and lead vocals and move all over the indiepop landscape, with dashes of Green Day, The Softies, subtler '60s pop and plenty of grinding, shimmery guitars. It's pretty much stuff you've heard elsewhere before, but as you listen to the whole album, their sound grows on you and emerges from the shadow of generic sameiness. It's impressive that two people can make so much noise together, and that it all sounds so cohesive. Not bad!
Mates Of State "Team Boo" (Polyvinyl, 2003)


Friends of mine go absolutely koo-koo over this perky, daffy keyboard-drums duo, who play spazzy, self-involved ditties and sound rather similar to Stereo Total and various other too-cool-for-school hipster acts that are gleefully goofy just for the sake of it. I guess there's something to be said for the band's willingness to embrace uninhibited dorkiness; it's a nice contrast to the ponderous self-importance of bands such as Radiohead and Oasis or, for that matter, any number of neo-soul, hard rock or hip-hop bands who clutter the upper stratosphere of the music industry. But willful noncommerciality can only take you so far, as far as the listener's experience goes, and then you get stuck in the indie microcosm's cult of personality: these people are only cool because you know their personal history from reading about it in some zine or online chat group, or because all your friends say they are. Personally, I find the Mates too limited and simplistic -- the melodies and lyrics don't seem to have taken more that a minute or two to have worked out, the themes are repetitive, there's an awful lot of inane "I-You" rambling going on, yet few real insights emerging from the dialogue, and the band's image seems almost entirely rooted in their novelty appeal. After you get past that, what's left? Methinks there's not a lot of there there.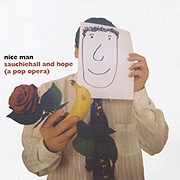 Nice Man "Sauchiehall And Hope (A Pop Opera)" (Shoeshine, 2003)


A fine, first-class, top-flight, power-pop twee treat in the grand Teen Fanclub/BMX Bandits tradition... Which shouldn't be surprising, since Shoeshine label head Francis Macdonald, who wrote and performed all the music on this delightful little album, has been an on-again, off-again member of both bands for the last fifteen years or so... Here, completely out on his own, Macdonald crafts a lovely set of heartfelt, innocence-drenched pop tunes, willfully idealistic and melody oriented, with several memorable lyrics and nice turns of phrase. This turns out to be one of my favorite (rock) albums of the last couple of years... a keeper!!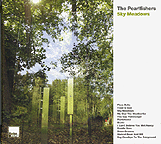 Pearlfishers "Sky Meadows" (Marina, 2003)


David Scott, Glasgow's Pearlfisher-king, has clearly mastered the lush, seductive pop production of the 1960s masters, yet somewhere along the way he may have gone a little over the deep end with the lyrical content of his odd and idiosyncratic lyrics. The pure pop melodicism of early albums seems a left by the wayside on this wordy, discursive album... It sounds pretty, with ornate, oceanic, distinctly Bacharach-ish orchestration and sleek riffs galore, yet the songs are a little too ingrown for me -- I simply have no idea what he's talking about, and the newfound deemphasis on catchy choruses makes it hard to latch on to most of these songs. The record is densely, cannily produced... but is there room in there for the rest of us?
Pernice Brothers "Yours, Mine & Ours" (Ashmont, 2003)


Another nice, tuneful, melodically clever, somewhat mordant yet melodic album, much in keeping with Joe Pernice's earlier efforts. For some reason, though, this didn't really grab my imagination... I enjoyed listening to it, but wasn't really moved by it. Hmmm. Maybe the fact that I always hated Morrissey and The Smiths might have something to do with it.
Pinhead Gunpowder "Compulsive Disclosure" (Lookout!, 2003)


Green Day's pop-punk bazillionaire Billie Joe Armstrong is, too, still totally a real-live, snot-nosed punk rocker, even if he has to go slumming with this under-the-radar East Bay side project to prove it. They crank the guitars, bang the drums and yelp away, in good, old-fashioned punk rawk abandon; it's not great art, but it also doesn't pretend to be. Should be perfectly satisfying to those who are in the right frame of mind for such cacophanous release.
Pretty Girls Make Graves "The New Romance" (Matador, 2003)


So loud, so shrill, so purposefully abrasive... I'm too old to care about this kinda stuff. Come to think of it, though, I was never all that big a fan of Ut or Fugazi or all those other loud, shrill, abrasive '80s bands that PGMG seem to draw their inspiration from... So maybe I was too old for this kind of stuff even back then.
Radio Berlin "Glass" (Action Driver, 2003)


The spirit of '80s art-goth-new wave is alive and well in this moody four-piece band... The first track sounds awfully Wire-like; Joy Division, Siouxie and Devo all rear their pointy little heads as well, in plain sight of the rock music reference-o-meter... Fans of the style won't be disappointed by the band's moodiness, sincerity and intensity.
Nate Ruth "Whatever It Meant" (Soundless, 2002)


Noisy for the sake of noisy, as far as I can tell. The distorted, scratchy guitars arc about wildly and spasmodically fill all the available space; Ruth sings, but the lyrics are incomprehensible; the band sort of bashes away behind him. There is a tunefulness to this album, but also a deep sense of self-indulgence; parallels to My Bloody Valentine and Radiohead fall short when you realize how poorly structured and uninvolving these songs are by comparison. Had I a higher threshold for wanky rock provocation, I might like this better... But I think I'm too old to care anymore. Signed, Grandpa.
Swell "Whenever You're Ready" (Beggar's Banquet, 2003)


Nice! A consistently creative, compelling set of multi-textured, twistily melodic indiepop... The band intuitively searches out unusual sounds, unsettling rhythms, novel melodic progressions... in essence, stuff that's just weird enough to keep your ears on the edge of their seats. It's pleasant -- poppy and accessible in its own way -- but full of inventive sonic novelties, and a relaxed forward momentum that gives it just enough of a "pop" feel to keep us happy. Anyway, I liked it.
Travis "12 Memories" (Epic/Independiente, 2003)


Not bad -- at least not at first. This disc starts out and you think, oh, fine -- just some nice, generic, tuneful altie Brit-rock, with pseudo-profound lyrics that don't really add up to much, but then again, gee, who cares. However, after about a half dozen tracks, the songs all start to sound painfully alike, and the singer's half-blase, half-impassioned vocals suddenly seem way too earnest and stuffy... It's tough being an "indie" band trapped on the larger stage of global showbiz, and yet trying to keep it "real." One of the great dilemmas of modern popular culture, ennit, mate?
---
Recent rock reviews index
---



Indiepop Indiedex
Recent Pop Archives





---