! MP3 00/00/00 > <! update 00/00/00 > <! outside 00/00/00 > <! pix 00/00/00 >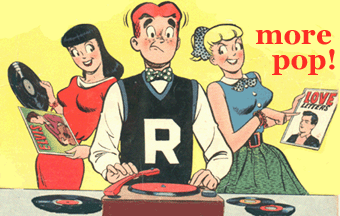 ---
TOPPERMOST OF THE POPPERMOST 2:
More Recent Pop Songs!
---
Hold onto your hats! Grandpa Joe Sixpack has even more wisdom to dispense regarding all that wacky pop music kids listen to today...
Reviewed on this page: Kansas/Proto-Kaw, Milo, Dr. Frank, John Moreman, Operation Makeout, Phillips & Driver, Rilo Kiley, Sing-Sing, Sleater Kinney, The Soft Boys, Jon Spencer Blues Explosion, Tegan & Sara, Television Personalities, Kevin Tihista's Red Terror, Mary Timony, Woodbine, "Buffy The Vampire Slayer: Once More With Feeling" (Soundtrack); Various Artists: "Board Boogie: Surf 'N' Twang From Down Under," "Hot Generation: 1960S Punk From Down Under," "Peculiar Hole In The Sky: Pop-Psych From Down Under," "Hopes, Dreams & Tombstones"...
---

Kansas/Proto-Kaw "Early Sounds From Kansas: 1971-73" (Cuneiform, 2002)


Freaky hippie prog-rock from -- yes, that's right -- The center of our nation: Topeka, Kansas! Imagine my surprise to discover not only that: A) the '70s Top 40 band Kansas actually had real roots in the Sunflower State, but that they were once a real rock band, and not just a bunch of whiny-voiced glamoids and B) they were long-haired hippies who actually came from right around where I lived as a kid. In fact, I'm pretty sure they must have gone to some of the same parties as my family and friends. What may be difficult for outsiders to appreciate is that, back in the late '60s and early '70s, this part of Kansas was actually a pretty happening place (still is, sort of...) and that bands like this were actually on the cutting edge. (Remember, Devo were from the Midwest, too... not to mention the Pagans, Pere Ubu, etc. etc...) This is an amusing album of long-lost demo recordings drawn from the first two lineups of this freak long-haired prog band... After this they would split up and one of the splinter factions would take the name on to become one of the biggest pop bands of the '70s. Here, though, they are still an avant-ish band, very much a product of their times, with one excessive, wanky, Stonehenge-y prog tune after another, full of high-flown, spaced-out lyrics and indulgent instrumental jams. Probably has less nostalgic value for non-Kansans, but prog fans will go gaga over this lost little relic. It's definitely very good for the style.
Milo "Smell The Parade" (GloomyTunes.com, 2001)
A self-released CDR that proudly proclaims its own rickety, DIY status. Despite the gimmicky attempts to, like, totally trip us out with outrageous lyrics (about sex, fetishism and various deliberately grubby topics) this disc has some good tunes, and a certain infectious zestfulness... You get the sense that this guy is really enjoying himself making this music, and that definitely counts for something. Weird, cool stuff from the little guy.

Dr. Frank "Eight Little Songs" (Self-Released, 2003)
Dr. Frank of The Mr. T Experience emerges with a swell set of bedroom demos and future hits, self-produced to sell to fans at shows and (I think) online somehow. Features the catchy, go-go rhythmed "Boyfriend Box," twisted acoustic ditties such as "Institutionalized Mysogyny," and Frank's big hit in the blogosphere, "Democracy, Whisky, Sexy," prompted by a comment made by an Iraqi citizen asked what he would look forward to, following the American invasion... er, libertation... of Iraq. (More info about the song, and presumably the EP, can be found on Dr. Frank's political blog, The Blogs of War.) More of his usual hilarious, ridiculously clever, insightful lyrics, catchy melodies, and a few pleasantly unguarded moments. Expect the best of these songs to wind up on an MTX album someday soon, though perhaps in slightly altered form... In the meantime, check this disc out!
John Moreman "EP" (Bus Stop, 2002)
A thoroughly delightful 4-song EP of dreamy, jangly power-pop by an erstwhile member of the San Francisco-based Orange Peels. Recorded with the help of ex-X drummer, DJ Bonebreak (his real name; I've seen his driver's license..), a couple of ex-Camper Van dudes, and other assorted pals. This is a great, twee little record -- I just wish it was a little longer! Recommended.
Operation Makeout "Hang Loose" (Mint, 2002)


Up-tempo, off-key, painfully sincere, impassioned latter-day, semi-melodic punk -- equal parts Bratmobile and Mission of Burma. If you're up for it, I'm sure this is fine, but it is a bit monochromatic. Their earlier album may have been a bit more distinctive...
Phillips & Driver "Togetherness" (Bar None, 2002)


Older "college rock" types may remember Austinite Gretchen Phillips' mahogany voice from such late-1980s alt-folk novelty classics as "I Spent My Last Ten Dollars (On Birth Control And Beer)" And y'know, I've wondered from time to time what she's been up to ever since... Well, it turns out (yay) that she's been honing her craft, and has teamed up with New York cabaret crooner David Driver. This is a fine, evenly measured set of original new ballads and affectionate covers drawn from '70s AOR, Broadway show tunes and folk elders such as Leonard Cohen. It's a nice, understated and impressively soulful, neo-countrypolitan set... definitely worth checking out!

Rilo Kiley "The Execution Of All Things" (Saddle Creek, 2002)


Somewhat generic, folkish indie fare, with washed-out, same-y guitars, iffy female vox, and obscure, clever, impassioned lyrics. The second album by this Omaha ensemble didn't really wow me, but it was okay... The folks who like this band seem to love them, though, so perhaps you should do a Google search or check on Amazon to see what they had to say. I just couldn't get into it.

Sing-Sing "The Joy Of..." (Manifesto, 2002)


I always counted myself among the many fans of '90s Britpop band, Lush... Now former Lush-er Emma Anderson returns as the principal songwriter on this charming, if unevenly produced, indierock album. The music dips into synthy and bleep-bloopy electronica-tinged variants of the shoegazer rock Lush was known for; the rough edges are actually kind of charming, sort of like a pop band returning to its DIY roots. The lyrics are the emotionally impassioned, confessional, etc. sort of stuff you'd expect. Old fans will want to check this out!

Sleater Kinney "One Beat" (Kill Rock Stars, 2002)


As tight and compact a band as ever, Sleater Kinney's musical interests have shifted a bit from straightahead 4/4 punk to more jittery, punk-wavish material, reminiscent of early '80s art bands such as Pere Ubu, the Au Pairs and Nina Hagen. This album is full of stuttering, stop-and-start rhythms and difficult, warbling vocals that mask, to a degree, the complex, compelling lyrics. Sadly, the band chooses not to shift between this style and others that they have mastered, so that this release has the same relentless quality of earlier albums. Still, they're thoughtful and intense, as ever.

The Soft Boys "Nextdoorland" (Matador, 2002)


A great, groovy reunion album by one of the kookiest groups of the early, olden days of the punk/New Wave scene. Robyn Hitchcock, Kimberley Rew, Matthew Seligman and Morris Windsor regroup to prove that old weirdoes can still rock out. In fact, this is a more focused and less gratuitously goofy album than most of their ever-clever classic albums from the good old days... If you ever sometimes wished that the Soft would shut up and stop trying to trip you out, and simply play some rock music, then this album may be the one for you. The lyrics are still odd and idiosyncratic, but they don't hold the rest of the record hostage the way they used to. Recommended!
Jon Spencer Blues Explosion "Plastic Fang" (Matador, 2002)


This apparently is the first album by JSBS in about four years or so... I have to confess I wasn't really paying attention. Oh, now, don't get me wrong... I don't have anything against Spencer & Co.; they can inject a nice jolt of power into a in a mixed-up set of music. It's just that they're kinda LOUD and in some regards a bit formulaic. This is a fine album, though... certainly does no disservice to their legacy or their fans. Loud and difficult, like you love it.
Tegan And Sara "If It Was You" (Vapor, 2002)


A once-folkish sister duo crank up the volume and crank out some pleasantly catchy, tightly crafted power-pop tunes. There's an interesting mix of formula and sincerity, calculation and capability. On the whole, I'd say this album is pretty darn good. Wisps of chunky alterna-punk and bouncey new wave-derived super-riffs, with piercing, abrasively pleasant vocals. The best moments come in the album's opening volley, but even if the second half of the album drags a bit and seems more by-the-numbers, this is still a striking album. Worth checking out.
Television Personalities "Fashion Conscious" (Little Teddy/Bus Stop, 2002)
Dan Treacy's loyal legions will not be disappointed by this latter-day effort, which is full of playfully aggressive melodic hooks and gimmicky goofball lyrics. Treacy, who started namedropping decades ago with the immprtal, "I Know Where Syd Barrett Lives," perfects the technique with "I Remember Bridget Riley" and "You, Me And Lou Reed." He also still has a knack for faux-prococative lyrics, such as "Now That I'm A Junkie!" and "I Was A Mod Before You Was A Mod," and tears his way through a tasty lot of cover tunes, by artists as disparate as Joe Meek, John Lennon, Lee Hazelwood, The Kinks, Daniel Johnston, The Raincoats and, yes, Syd Barrett. You kinda see where this is headed, right? There's a certain manic spirit at play here, but TVP's newfound garage-y clangour in no way masks their continued vigor and intensity. Worth checking out.
Kevin Tihista's Red Terror "Judo" (Parasol, 2002)


This disc was less alluring and sensuous than his earlier effort on Atlantic (which I liked a lot!) Here, Tihista seems to be trying too hard to impress, what with the orchestral scores, the oooh-I'm-naughty sexual darkness, etc. Still, he's an interesting artist, with a pretty cohesive idea of what he wants to accomplish, and this disc is certainly worth checking out.
Mary Timony "The Golden Dove" (Matador, 2002)


Former member of Helium... Lots of buzz and all, but it's a bit too dense for me, I'm afraid.
Woodbine "Woodbine" (Domino, 1999)


Drony, dreamy, folky slowcore that takes the British indiepop twee vibe and transposes it onto a much darker, muted ambient landscape. A bit static overall, but for those looking for something moody and intense, without being irritating or intrusive, this album offers some nice, quiet delights.

Various Artists "BUFFY THE VAMPIRE SLAYER: ONCE MORE WITH FEELING" (Rounder, 2002)


After the Buffy TV series migrated from the WB network to UPN, producer Joss Whedon wowed critics and fans alike with an outlandishly funny, skillful musical episode, in which a zoot-suit clad demon hexed Buff's hometown with a spell that zapped everyone into MGM-land, bursting into song at the drop of a top hat. The episode not only fit into the continuity of the "old" show, it also presented major character development, since the inner thoughts of all the characters were laid bare, in the grand tradition of Hollywood musicals. I'm not sure how much of the magic would translate to a non-fan who approached this CD without having first seen the series and/or the specific episode, but for true believers, it's really great. Weird that they shuffled the sequence of the songs around a little, but it doesn't really change the warm fuzzy feeling the songs will conjure.
Various Artists "BOARD BOOGIE: SURF 'N' TWANG FROM DOWN UNDER" (Ace/Big Beat, 2002)


Various Artists "HOT GENERATION: 1960S PUNK FROM DOWN UNDER" (Ace/Big Beat, 2002)


Various Artists "PECULIAR HOLE IN THE SKY: POP-PSYCH FROM DOWN UNDER" (Ace/Big Beat, 2002)


Various Artists "HOPES, DREAMS AND TOMBSTONES" (Ace/Big Beat, 2002)


Four volumes of prime 1960s Australian rock music, from surf to psychedelia... I have to confess, that although I'm a big fan of the UGLY THINGS and WILD THINGS compilations (which cover similar territory...) I found these discs to have a somewhat overly aggro, edgy feel to 'em... If you like 'Sixties "punk" and garage rock on the basis of snarly 'tude alone, then by all means snap these up... But if you're looking for a little magic in addition to the grinding, amphetamine-laced aggression, there might be other collections you'll like better...
---
New Pop Reviews Index
---



Indiepop Indiedex
Recent Pop Archives





---