<! * > <! MP3 04/15/13 > <! pix 04/15/13> <! icons 04/15/13 > <! archived - 04/15/13 with artist links >

---
Howdy, neighbors!
Here are some reviews of the new country, bluegrass and Americana records that I had the good fortune to listen to in October, 2004. This month: Mark Chesnutt, Steve Earle, Rosie Flores, The Gourds, Alan Jackson, Julie Lee, Nathan, Wille Nelson & Kimmie Rhodes, Tony Rice, Peggy Seeger, Red Simpson, Darryl Worley... and more!
...It's not everything I heard, but it's a nice sample of stuff that either tickled my fancy or ticked me off... Many records that aren't included here are reviewed elsewhere in my full Guide To Hick Music. Enjoy!
---
New Stuff: October, 2004
---
Mark Chesnutt "Savin' The Honky Tonk" (Vivaton, 2004)



Plenty of Nashville hat-act stars make a big deal about "keeping it country," which these days usually just means turning the volume on the drum machines and synthesizers down a notch or two... But Texas honkytonker Mark Chesnutt comes across with the real deal on this disc, a grand, glorious set of pedal steel and fiddle-drenched, gosh-honest, hard country music... This is an album worthy of John Anderson, back in his prime, or heck -- even of Chesnutt, when he was starting out over a decade ago... Back then, he was considered a potential heir to the honkytonk throne, a solid singer in the tradition of George Jones and Ray Price... Of course, he's had his fair share of slick pop hits since then, bit it's nice to see him coming back to his old original style. For fans of genuine, foot-stompin' honkytonk, this album is a real treat, a disc you can play from start to finish and even pound back a few brews and sing along to... Every tune on here is worth listing to, from his cover of Kevin Fowler's "Beer Bait & Ammo" to barroom gems like "Then We Can All Go Home" and "Don't Ruin It For The Rest Of Us..." This is a damn fine album... welcome back, Mark!

Steve Earle "The Revolution Starts Now" (Artemis, 2004)



After the September 11th, 2001 bombings and the subsequent invasion of Afghanistan, alt-twangster Steve Earle committed commercial seppuku with a politically charged album that lent some measure of sympathy to "American Taliban," John Walker Lindh. The Nashville establishment closed ranks against Earle, banning him from the airwaves and and doing its best to snuff out his career. The trouble with that record, though, was less its content than its form: the songs were shambling and ill-formed and the production was a goddawful glop of would-be electronica crossover... Okay, so now here's the good news: Earle's new album, which is far more political than the last one, totally kicks ass. The title track, which starts the album off, is a starry-eyed, almost too-perky ode in praise of social change and embittered optimism; then Earle unleashes the album's country tour-de-force, a modern-day trucker song in which the long haul is Highway 9 in Iraq, the so-called "highway of death," and the narrator is a military convoy driver. Ruefully, the lifelong semi driver concludes, If I ever get home to Houston alive/then I won't drive a truck anymore... Again, more than the content, what matters is the form: this is one of the best, most country-sounding songs Earle has sung in ages. Throughout the album the playing is heartfelt, twangy and compact -- roots music with a vengance. Other songs continue the political theme: "Rich Man's War," "The Gringo's Tale," the scathing (and unairable) single, "F. The C.C.," which shows that even blacklisted artists can still bite back. The one bum note on the entire album is his biting, satirical "love" song, "Condi Condi," sung in mocking honor of Bush loyalist Condoleeza Rice, deriding her as uptight and unloveable... Not that Rice isn't a deserving target of Earle's ire, but the song's concept is, frankly, pretty sexist. VP Dick Cheney is about twice as unattractive as Rice, but it's the "girl" in the Presidential cabinet who gets this kind of sexualized scorn directed at her. Other than that, though, this is an amazing record... Certainly one of my top picks for 2004!

Rosie Flores "Single Rose" (2004)



Fans will be delighted by this stripped-down live set which features Rosie at her most buoyant and upbeat...She doesn't have the most perfect voice, or always stay in tune, but she sure knows how to have fun and the gal sings and writes a lot of great songs, including several here that she's never recorded before. She starts out with an off-the-cuff recollection of when she broke into the maverick LA alt-country scene of the 1980s ("Palamino Days") and delves even deeper into her past with a particularly nice version of "Bandera Highway," which she dedicates to her father; in between is a brace of other fine songs and lively interaction between Flores and her audience. It's a really nice portrait of one of indiebilly's stalwart performers at her most charming. Worth checking out!

The Gourds "Blood Of The Ram" (Eleven Thirty, 2004)



What's most striking about this album is its musical solidity, the power of the playing and the catchiness of the tunes. I have taken the Gourds to task before for writing songs that are really just about nothing (see my Alt-Country reviews, letter "G"), but when they open an album sounding so much like Los Lobos, and follow up with rhythm work that's almost as tight as the Meters, it's hard to fault them for a little thing like how dumb their songs are. Clearly, the Gourds are a party band, and maybe it's not for a crabby old fart like me to judge them "yea" or "nay..." Either you're on their wavelength or you aren't; though I still weary of their collective addiction to novelty songs and non sequitors, I can also see how it'd be fun to stomp your feet at one of their shows with a couple of cold ones in ya. This is probably their best album to date, likely to please fans and roots music grinches alike.
Alan Jackson "What I Do" (Arista, 2004)



(Produced by Keith Stegall)
See, what he does is, is play some really, really great, fiddle-and-steel drenched, for-real country music. He's been doing it for years, and he still hasn't slowed down. This is a typical Alan Jackson offering -- a friendly, funny set of hard-country novelty songs and weepers, all sung with a big old, I'm-not-taking-myself-too-seriously grin in his voice. The opening track, "Too Much Of A Good Thing," has a catchy chorus, and the rest of the album pulls you in as well. There are a few too-dopey tunes ("If French Fries Were Fat Free," "The Talkin' Song Repair Blues") that you might not need to hear more than a couple of times, but there are also plenty of heartfelt heartsongs and uptempo honkytonkers that stand right up there with the best of Jackson's classic work. This is a fun record: definitely recommended.
Julie Lee "Stillhouse Road" (Compadre, 2004)



Wahoo! One of the most striking Americana albums of the year... A lovely debut by newcomer Julie Lee, with some nice backup from folks like Rob Ickes, Alison Krauss, Tammy Rodgers and Vince Gill. The all-star cast doesn't overshadow Lee's own strengths, as she delivers a lighthearted, hook-laden, 'grass-tinged Americana set which will be sure to delight a wide variety of folks and draw in more than a new fan or two. She has a great ear for a melody, and an even better one for a catchy chorus... Some of her songs seem pretty slight thematically, but they are uniformly pretty-sounding, and her voice is very appealing, sort of a softer version of Iris Dement's rural trill, very distinctive, but also very friendly. I think you'll like this one; it's really grown on me. Highly recommended!

Nathan "Jimson Weed" (Nettwerk, 2004)



A very nice, very pretty record, with an enchantingly twee mix of melodic country-folk and soft indiepop... Fans of Hem, Jolie Holland or the Be Good Tanyas should love this album as well... I have no idea what any of the songs are about, but I sure like listening to them. If you're looking, perhaps, for a rootsy album that you can put on when folks who "don't like country" are around, this is a mighty fine option. Recommended!
Willie Nelson & Kimmie Rhodes "Picture In A Frame" (Sunbird, 2003)



"Simpatico" is the one word that I think best describes Willie Nelson and Kimmie Rhodes, two Texas crooners whose voices and musical inclinations meld with startling beauty. Either singer can crest to the top or fall back into humble harmonies in this set of ten fine duets. The songs are mostly Kimmie Rhodes originals, though Willie contributes two ("Valentine" and "It Will Always Be") with the remainder of the set coming from sources as disparate as Tom Waits (the wrote title track), Rodney Crowell and Rhodes' partner, Joe Gracey. For folks who like understated, well-crafted American music with deep, deep roots and perfect emotional pitch, this record is the real deal. Highly recommended!
Kimmie Rhodes "Lost & Found" (Sunbird, 2003)



For an odds'n'ends album, this disc sure has a cohesive feel to it, gathering together some of Rhodes' sweeter, more searching, melodic ballads... Emmylou Harris and Nanci Griffith come to mind, but Rhodes also clearly makes her mark as an artist of equal caliber... This is just another notch in her belt, establishing her as one of the alt-country scene's little-known best treasures. Recommended!
Tony Rice & Peter Rowan "You Were There For Me" (Rounder, 2004)



Two newgrass oldtimers pair up for what is, remarkably, their first full-length collaboration together... Mystic poet-folkie Peter Rowan dominates the album in the sense that the songs are all Rowan originals, and guitarist Tony Rice (who also has a wonderful voice, but has been unable to sing for the better part of a decade, due to a medical condition...) limits himself strictly to fancy fingerpicking for the length of the record. They're joined by a compact backup band, anchored by bassist Byrn Bright, a rock-solid player who continues to prove herself one of bluegrass music's brightest new stars. It helps to be a Peter Rowan fan for this one; there isn't a very strong truegrass feel for most of the material, but Rice does roll out some beautiful and very sympathetic accompaniment. I'm always happy to hear his elegant fretwork, and this is a nice showcase for his softer side.
Peggy Seeger "Songs For October, 2004" (Self-Released, 2004)
Hey, it's election time next month, and this disc sounded like fun. It's a six-song one-off political quickie, tied to the November elections in the good old U. S. of A... Here's what Ms. Seeger herself had to say about it in a recent e-mail: I've put six songs onto an informal, impromptu CD entitled "SONGS FOR OCTOBER 2004." There are two songs about Resident Bush, two feminist pieces, one song about 9/11 and one peace song. The CD will only be available during October 2004, that is until the USA election on November 2 so it is obviously a limited edition. If you want a copy, send $10 (U.S. $$$ please) to Peggy Seeger, 3 Woodlawn Avenue, Asheville, NC 28801, USA. If you live in the UK, send '7 sterling to Peggy Seeger, 116 Red Lion Lane, London SE 18 4LE, England. If you live in a country other than those which use USA$$ or UK sterling, please send money orders and add a bit for postage. Checks (cheques) to be made out to Peggy Seeger. Be sure and specify that you want the October 2004 Songs CD. Please allow two weeks for delivery. SUPPORT POLITICAL SONGWRITERS! Thanks, Peggy. (For more info, check out www.pegseeger.com)

Red Simpson "Trucker's Christmas" (Capitol, 1973)



An amiable, loveable holiday offering by gravel-voiced West Coast honkytonker Red Simpson, who several years earlier had some big hits in the "trucker" genre... Hence the theme of this album, and its multiple songs about daddies coming home, with their 18-wheelers buring rubber to get little Timmy that very special present... Several songs have spoken introductions, including the album's winner, "Truckin' Trees For Christmas," about a guy who brings the boughs from town to town, and the spoken pice, "The Old Christmas Truck," about a broken-down hobo in a broken down truck, who gets that load of gifts to the poor kids who wouldn't have a happy holiday otherwise. It's all very old-school and corny, and it's a real gas. It's slapdash and by the numbers, but it's also funny and fun. Recommended! (For more country Christmas records, see my Hillbilly Holiday section.)
Darryl Worley "Darryl Worley" (Dreamworks, 2004)



Hey, who am I to argue with success? Obviously, Worley dips liberally into the commercial end of things, but he also has a really great voice, and when he plays real hard-country music (for example, check out "If I Could Tell The Truth"), he's top-rate. Heck, even on corny modern tearjerkers like "If Something Should Happen," where a guy about to have surgery for cancer and asks his best friend to check up on his wife and kids -- y'know, just in case -- Worley just sounds so darn sincere that he makes it work. He's good. The album is solid. It's completely corny, but it's good. This is Nashville the way it oughtta be. Oh, yeah, the political thing... Well, he kind of mentions the Iraq war and the state of the world on "Awful Beautiful Life" (the album's first single), but he swiftly deflects towards religion, and the bluntly titled "Wake Up America" turns out to be about drug abuse, not Al Qaeda... So I guess that whole out-of-sight, out-of-mind thing seems to be the operative word here. At least Worley hasn't pegged himself as a flag-waving one-trick pony, which is fine by me, since he's much more enjoyable as a damn fine, straight-up country singer. Recommended!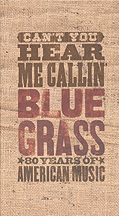 Various Artists "CAN'T YOU HEAR ME CALLIN': BLUEGRASS - 80 YEARS OF AMERICAN MUSIC" (Columbia Legacy, 2004)



An impressive 4-CD collection that spans eight decades and draws heavily on the Sony vaults, including material from their Columbia/CBS/Epic/Monument/Sony Classical back catalog, as well as a generous helping of tracks from other labels, such as Acoustic Disc, ARC, Bluebird, Capitol, Decca, Dot, E-Squared, OKeh, RCA, King, Mercury, MGM, Monument, Rounder, Sugar Hill, Vocalion and Warner Brothers... Obviously, this is not the "ultimate" bluegrass collection, but that elusive item is probably something best left to individual collectors to assemble in the privacy of their own homes... But for a major-label overview, this is pretty darn cool. Many of the major players and foundational artists are included: The Carter Family, Bill Monroe, Flatt & Scruggs, The Stanley Brothers, Jim & Jesse, Carl Story, The Osborne Brothers... And flanking this pantheon on either side are early pre-grass stringband artists such as Roy Acuff, Molly O'Day, Charlie Poole and Gid Tanner, or young'uns who have carried on or modernized the tradition -- The Byrds, The Dixie Chicks, Alison Krauss, Mark O'Connor, et al. The list of omissions and second-guessing about which tracks to have included is, of course, near-endless. I'll leave it to the purists and crabby at heart to rip Sony a new one for their criminal actions, but from where I sit, particularly knowing how hard it is to assemble reissue material in the first place, and how small the audience really is, I'd say: job well done. It's twangy as all hell and diehard fans or newcomers alike should find this a valuable and compelling collection. (Too bad they couldn't get any Blue Sky Boys songs, though!)

Various Artists "THE ROSE AND THE BRIAR: DEATH, LOVE AND LIBERTY IN THE AMERICAN BALLAD" (Columbia Legacy, 2004)



Music critic (and fellow Berkeleyan) Greil Marcus delves into the history of the American ballad, tracing the roots of Anglo-Celtic murder ballads and all-American disaster songs such as the "Omie Wise," "Barbara Allen," "Wreck Of The Old 97," etc. This album is a companion disc to a new set of essays by the same title, illuminating the use of story-songs in American popular culture. Although the album does have the overall feel of a college radio theme set that's gone on a little too long, it's still amazing how potent and immediate these old songs still seem. Marcus's selections are for the most part superior choices, particularly tracks by the Coon Creek Girls, Jean Ritchie, Mississippi John Hurt and a particularly haunting tune by Jelly Roll Morton ("Buddy Bolden's Blues"). The "through-line," as they say, is that these are all songs that tell a story, including many historical narratives and others that were tales floating around in the more general folk aether... There are also several songs that are interesting updates or recontexualizations of old themes, and many of these leap out with surprising immediacy inside Marcus's intellectual framework. Among these newer songs are Jan & Dean's "Dead Man's Curve," a surf-teen tune that takes the disaster-accident theme and moves it into modern-day LA, Bruce Springsteen's "Nebraska," Marty Robbins's still-compelling "El Paso," and -- most masterfully -- Bob Dylan's "Lily, Rosemary And The Jack Of Hearts," a song that was explicitly crafted as a reworking of old folk themes. Some of the selections seem a bit forced -- Bobby Patterson's soul version of "Trial Of Mary McGuire," a Duke Ellington opus -- but perhaps if I pick up the book, the reasoning behind their inclusion will become much clearer. At any rate, this is mostly a pretty cool collection.
---



Hick Music Index
Shop Amazon, Support Slipcue


---


<! October, 2004 >