---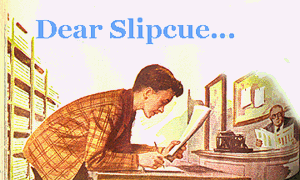 On occasion I write about someone, and they actually find out about it, and then write me to set the record straight. It's kinda freaky. Usually it's to correct some dumb error I've made (and I make a lot of them), although occasionally it's a word or two of praise. Say... do you think if I said a bunch of wildly inaccurate things about, oh, say... Liv Tyler...
Oh, but wait. I digress...
---
From: "Gerald Seligman" (gerald_seligman@fakename.com)
To: (joesixpack@slipcue.com)
Subject: Your comments on web site
Date: Mon, 16 Aug 1999 17:51:34 +0100

Dear Joe,

I've just read your reference to me: "Reissue producer
Gerald Seligman's tastes are, as ever, at odds with
what I (and, I suspect, most non-jazz listeners) would like to hear."


What does this mean? You've got me very curious.
With about 200 or more albums I've delivered as compilation
producer, re-issuer and actual recording producer, only a
fraction are jazz-related. Or am I just being sensitive?

Regards,
Gerald


Man, talk about being busted. The nice thing is that Mr. Seligman (along with his attorneys) was very nice about the whole thing... And I learned a valuable lesson about not being so mean to the other kids. Plus it turns out we like a lot of the same artists. (I still don't like most of the "A Personalidade" albums, though... sorry!)



==========================================


Audra Davis wrote:
>
> Hey...The fact that you have a web site devoted to Webb Pierce has made
> my day. He was a wonderful person, and I wish he were still here. I was
> fortunate enough to have known him for a good portion of my life. He was
> the greatest grandfather anyone could ever have. Thank you so much.
>
> Audra


Wow... thank you. I'm truly honored.


==========================================


Subject: thanks joe
Date: Fri, 27 Jul 2001 12:24:37 -0700
From: Michael Shelley
To: joesixpack


> Michael Shelley wrote:
>
> Hey Joe-
>
> just wanted to say THANKS for the nice words about the new album. I need all
> the help I can get.
>
> If I can ever return the favor, just let me know.





Just keep puttin' out great records... that's all we ask! Glad you saw (and liked!) the website... [by the way, for those of you who don't already know, Michael Shelley is a brilliant and clever power-pop musician from the greater New York City area, and a DJ at freeform radio station WFMU... I review a couple of his great records in my Pop Music section...]


==========================================


From: "Ricardo Pessanha" (ricardo_p@fakename.com.br)
To: joesixpack@slipcue.com
Subject: Ricardo Pessanha / The Brazilian Sound
Date: Wed, 10 Nov 1999 11:32:50 -0200


Hi, Joe,
Just read your review on "Tropicalia Essentials". Thanx for your words
on my liner notes. My name is wrong though. It's
Ricardo, not Roberto Pessanha, and the book I co-wrote
with Chris McGowan is called The Brazilian Sound not The Sound
of Brazil. Valeu!


Saudacoes all the way from Rio.
Ricardo Pessanha


Um... uh... well, dang. I knew I should have had some coffee that day. I guess now people can see why I don't get paid for writing this stuff... :-)

By the way, his book is incredible resource, and an absolute must-have for folks interested in Brazilian music. For more info, check out my book review section...


=======================================


Speaking of great books on Brazilian music, this e-mail kind of makes up for the last one:

Subject: obrigado!
Date: Fri, 14 Sep 2001 16:23:07 -0500
From: Christopher Dunn
To: joesixpack@slipcue.com


Dear Joe Sixpack: Thanks a lot for the nice review you gave "Brazilian
Popular Music and Globalization" on Amazon.com. I would like to send you a
copy of my new book, "Brutality Garden: Tropicalia and the Emergence of a
Brazilian Counterculture." Can you send me a mailing address? I really
like your web-site dedicated to the various albums of Tropicalia. I cited
it in my book (note 24 of Introduction). Best wishes, Christopher Dunn


Christopher Dunn, Ph.D.
Department of Spanish and Portuguese
African and African Diaspora Studies
Tulane University
New Orleans, LA 70118-5698
www.tulane.edu/~cjdunn


=======================================


Subject: Howdy from Spankerland
Date: Fri, 26 Apr 2002 16:25:55 -0500
From: JP Riedie
To: joesixpack@slipcue.com


Hi Joe -

Your site came up on one of my occassional Google searches for
mentions of the Spankers. I really dig it, especially the Brazilian
section. Remember when the web was chock full of idiosyncratic,
personal sites like yours? I do, so I happily read review after
concise review. Thanks.

My only beef is your reference to my wife's singing as "sub-Janis."
I have no argument with your opinion - I'm resigned to the fact that
not everyone will love her singing as much as I do. But the
descriptive you've chosen implies that she is trying to sound like
Janis Joplin, which is confounding to me since I know she can't stand
Joplin and no matter how I listen, I can't hear a whit of Janis in
her performances.

Maybe for the review of the next album you could use "sub-Koko
Taylor" or "sub-Nina Simone" or "sub-Helen Humes" or "sub-Mahalia
Jackson." :-)

Take care -

John (evil manager, husband)

I like a guy who can take it on the chin. Hi, John!

(By the way, alt.country fans may be interested to know that the Asylum Street Spankers are now self-releasing their own albums... Check out their Spanks-a-Lot website for more info...


========================================


Subject: EWAN MACCOLL AND PEGGY SEEGER
Date: Mon, 16 Oct 2000 23:48:13 EDT
From: Pegseeger@fakename.com
To: joesixpack@slipcue.com


Hello - most appreciative that you have put up a fan page. BUT: Kirsty
MacColl is not my daughter ... I only mention this because she is a credit to
her mother, Jean Newlove, not to me. Also: it is a very strange selection of
recordings!!! I have printed up a complete discography for myself on my
webpage, www.pegseeger.com (where you can also find a biography of Ewan).
Should you want a discography for Ewan MacColl, I can print you up one of
those. Very best wishes, Peggy


Wow. I'm so flattered (though also embarassed!) to get such a cool e-mail... (By the way, for those of you who don't know, Peggy Seeger, sister of Mike and Pete, is one of the greatest leftie folksingers of the 20th (and now 21st!) Century... She did indeed send me a copy of the complete Seeger/MacColl discography, which I have been slowly adding to an reorganizing for my own modest Celtic/Brit-Folk Music Guide...) Sadly, since Ms. Seeger wrote, Kirsty MacColl passed away in a tragic boating accident. What a shocker that was... :-/


========================================



---


Correspondence Tips
Press Clippings & Print Reviews
What's New, Slipcue?



---