<! cd 08/17/12 > <! pix 00/00/00 > <! icons 08/17/12 > <! UPDATES: 00/00/00 > <! Claude Williams, who played with Andy Kirk and his Twelve Clouds of Joy; Joe Venuti, who is best known for his work with guitarist Eddie Lang during the 1920s, and Georgie Stoll, who became an orchestra leader and film music director. Since that time there have been many superb improvising violinists including Stˇphane Grappelli and Jean-Luc Ponty. While not primarily jazz violinists, Darol Anger and Mark O'Connor have spent significant parts of their careers playing jazz, while emerging artists like Sara Caswell and Jeremy Kittel have devoted themselves almost exclusively to jazz both progressive and "old-fashioned." Violins also appear in string ensembles or big bands supplying orchestral backgrounds to many jazz recordings. BLUEGRASS: Kenny Baker Bobby Hicks Jason Carter Michael Cleveland Glen Duncan Russ Barenberg, et al "Fiddle Fever" Jeremy Garrett >
---
You gotta love the fiddle! Or, um, the violin, if you prefer... This page started out as part of my jazz-swing reviews, but includes some fiddlers in other genres as well. As always, your comments and recommendations are welcome!
---
Some Swingin' Fiddlers
---

<! Svend Asmussen a bazillion albums - several with singer Alice Babs Svend Asmussen (b. 1916) is a jazz violinist from Denmark who worked with Benny Goodman, Lionel Hampton, and Duke Ellington. Asmussen was invited by Ellington to play on the Jazz Violin Session recording in 1963 with Stˇphane Grappelli and Ray Nance. >

Svend Asmussen "Volume One -- Musical Miracle: 1935-1940" (Phontastic, 1994)

Svend Asmussen "Volume Two -- Phenomenal Fiddler: 1941-1950" (Phontastic, 1999)

Svend Asmussen "Rhythm Is Our Business" (Storyville, 2009)


Svend Asmussen & Stephane Grappelli "Two Of A Kind" (Storyville)

Svend Asmussen & David Grisman "Svingin' With Svend" (MCA, 1988)








Byron Berline - see artist discography


<! Liz Carroll >


Vassar Clements - see artist discography





Spade Cooley - see artist discography




Duke Ellington "Jazz Violin Session" (Atlantic, 1963/1977)



With Svend Asmussen & Stephane Grappelli and Ray Nance...
Hugh & Karl Farr "Hot 'N' Bluesy Fiddle/Guitar And Twin Guitar Duets: 1934-1940"


Wow. The Farr Brothers were the backup pickers who added the musical punch to many of the best old recordings of the Sons Of The Pioneers, and of Pioneers alumnus Gene Autry. Left to their own devices, they knocked out a slew of great instrumentals, like the ones on this disc. The surprising thing is how completely jazzy these tracks are. If you like old recordings from the likes of Django Rinehardt, or Eddie Lang and Joe Venuti's duets, then you owe it to yourself to check this disc out. It's hot and sweet, and very listenable.
Stephane Grappelli "1935-1940" (Classics, 1994)

Stephane Grappelli "1941-1943" (Classics, 1994)


The famed partnership of swing violinist Stephane Grappelli and the extraordinary gypsy jazz guitarist Django Reinhardt came to an end in 1939, when their band, the Hot Club of Paris was touring in England and war broke out on the Continental mainland. Rinehardt rushed back to France, where he worked throughout the war and the Nazi occupation, while Grappelli opted to stay in the UK, where he promptly picked up the pieces and started a new musical career. This is a the second volume of an outstanding series collecting Grappelli's wartime work in chronological order. The album opens with some unusual large-combo recordings, made in a style that sounds more appropriate to a Fred Astaire dance film, than the sleek, sweet and somewhat spicy jazz of the Hot Club years. A harp and second fiddle blunt the distinctive lilt of Grapelli's bow, while piano lines and a vibrophone fill in for the counterpoint parts previously taken by Rinehardt... The pianist in this case, and throughout the rest of the CD, is none other than George Shearing, one of England's best-known musicians, and later quite the king of easy listening style... Also of note are the vocals by Beryl Davis, one of the best singers of the UK's booming sweet band scene. An intriguing look at Grapelli's early solo work!

Stephane Grappelli "Stephane's Tune -- Original Recordings: 1938-1941" (Naxos Jazz, 2002)


This disc covers much of the same time period as the Classics album above, but also includes a few earlier tunes recorded with Django Reinhardt, and features Grappelli working with British pianist Arthur Young, who recorded with Hatchett's Swingtette until a war-related injury sidelined him, making room for the young George Shearing to enter the band. Shearing is heard on the last few tracks of this set; Beryl Davis also sings on several numbers. It must be said that many of these arrangements are pretty wimpy or florid, and that Grappelli's jazzy tendencies are often buried in pure schmaltz. Still, there's plenty of fun stuff to be heard on here!
Martin Hayes "Martin Hayes" (Green Linnet, 1993)



Martin Hayes "Under The Moon" (Green Linnet, 1995)



One of Ireland's most soulful fiddlers, Hayes is also one of the most striking exceptions to my "no Celtic music instrumentals" dictum. Under The Moon is a stunning solo work -- just him and his fiddle, and thirteen absolutely beautiful, moody tunes, arranged by Hayes with a delicate, profoundly melodic sensibility. This is a record that you can play on quiet days -- not sappy New Age stuff, just really, really nice. I can't recommend it highly enough. The duet album with guitarist Dennis Cahill is also quite lovely, only slightly less magical than the solo material. Also highly recommended.

Martin Hayes & Dennis Cahill "The Lonesone Touch" (Green Linnet, 1997)



This duet album with guitarist Dennis Cahill is also quite lovely, only slightly less magical than Hayes' solo material. Also highly recommended!

Martin Hayes & Dennis Cahill "Welcome Here Again" (Compass/Green Linnet, 2008)



With over a decade under their belts as a creative team, the Irish duo of Martin Hayes and Dennis Cahill return with another set of subtle, elegaic fiddle-guitar instrumentals. It's moody, mournful and utterly entrancing - one of the most interesting aspects of their style is how unobtrusive and unassuming Cahill is as an accompanist for Hayes' masterful violin work. Guitarists are often expected to come up with some sort of flashy flourish, but Cahill seems utterly content to play a strictly supporting role. Of course, this sets the tone for all their work, music that doesn't dominate or assault your ears, but does provide a rich, rewarding experience. If you've ever felt turned off by stereotypical Celtic instrumentals -- all those hyperactive jigs and reels -- give Hayes and Cahill a shot. They find the soulful, melodic core of the music and linger there, in the hurricane's calm eye, just drinking it all in.
Elana James "Elana James" (Snarf Records, 2006)



An absolutely captivating and lively record from fiddler Elana James (nee Fremerman), formerly of the Hot Club Of Cowtown. Given her illustrious swing-string pedigree, the mix of western swing and jazz standards is no surprise, but what's a delight is the album's focus and cohesion, and how gosh-darn well-produced it sounds. It just sounds like a pure, unfettered expression of what she wants to do, and with an artist this talented, that's a pretty cool thing. Throughout the album, James is clearly channeling the spirit of Bob Wills, but with a lively snap of the bow that's all her own; the vocals are also nice, as are the nods to Duke Ellington, Billy Strayhorn and Eubie Blake. If you liked the Hot Club, you're gonna want to pick this one up... pronto!





Doug Kershaw - see artist discography





Fafa Lemos - see artist discography


<! Ray Nance http://en.wikipedia.org/wiki/Ray_Nance multi-instrumentalist in Ellington orchestra - mainly trumpet, but also violin and cornet Nance lead his own band in Chicago from 1932 to 1937. Then, he worked with Earl "Fatha" Hines from 1937 to 1939; and from 1939 to 1940 he worked with Horace Henderson. Ray Nance "The Best Of Ray Nance" (xxxxxxxxxxxx, 1996) B00005QCOF B002661ATG Ray Nance "Body And Soul" (xxxxxxxxxxxx, 1996) B000EHSVMI >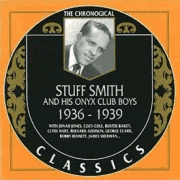 Stuff Smith "The Chronological Classics: 1936-1939" (French Classics, 1998)



It's a Cotton Club hoedown with Stuff Smith, one of the great jazz violinists of swing's golden era... His late-1930s Onyx Club Boys band included jazz luminaries such as Buster Bailey, Cozy Cole and Jonah Jones, backing Smith in a set of funky jive, with plenty of saucy lyrics, drug references (mostly about pot) and jaunty swing riffs and rhythms, and big debts to Cab Calloway and Louis Armstrong. Smith's violin style is indisputably jazzy, but with a rugged, bluesy, rural American edge that isn't present in the work of European jazz players such as Stephane Grappelli, who are a bit tonier and more classically inclined. Smith swings and plays sweet and elegant, but he also saws on the strings, giving a hint of the back-porch origins of American fiddle music. Its great stuff -- highly recommended!
Stuff Smith "The Chronological Classics: 1944-1946" (French Classics, 1996) <! date? >


Stuff Smith "The Complete 1936-1937 Sessions" (Hep Records, 2007)

Stuff Smith "Five Fine Violins: Celebrating 100 Years" (Storyville, 2010)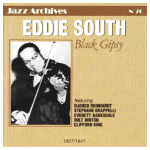 Eddie South "Black Gipsy: 1927-1941" (EPM Jazz Archives, 1993)


An excellent collection of swing violin classics from Missouri-born Eddie South, a classically trained violinist who found fame as a jazz player, incorporating blues and country riffs as well as gypsy melodies and sleek modern swing. South toured Europe as a young man in the 1920s, and returned in the early '30s to jam and record with gypsy-jazz legends Stephane Grappelli and Django Reinhardt; later, he would work with French jazz violinist Michel Warlop, as well as in the bands of Earl Hines and others. Although never quite a household name, South was an elegant and dynamic soloist, as these well-chosen recordings attest. The earliest tracks show his Vaudeville and blues roots, including some nostalgia-drenched harmony-vocal numbers lie Gus Kahn's "My Ohio Home" and Gene Austin's "The Voice Of The Southland." Later songs are sleeker, showing the progress of violin jazz into a more refined style (although South's collaborations with Grappelli and Reinhardt, such as "Daphne," are sizzling.) Great stuff, definitely worth checking out!
Eddie South "The Chronological Classics: 1923-1937" (French Classics, 1997) <! date? >

Eddie South "The Chronological Classics: 1937-1941" (French Classics, 2002) <! date? >

Eddie South "Dark Angel Of The Fiddle" (Soundies, 2000)


Eddie South "The Cheloni Broadcast Transcriptions: Recorded In Hollywood 1933" (Jazz Oracle, 2006)


Complementing the Soundies collection above, here are more live-in-studio recordings made for radio transcription discs...
Eddie South "Eddy South And His Orchestra" (Chess, 1951) (LP)

Eddie South "The Distinguished Violin Of Eddie South" (Mercury, 1959) (LP)





<! 1959 mono LP vinyl Mercury MG 20401. Songs : C-Jam Blues / Around The World In 80 Days / Currant Jelly / I Hadn't Anyone Till You / 1166 / Czardas / Liebesfreud / Nobody Knows The trouble I've Seen / Assurance / Fiddle Ditty / Hejre Kati >

Suzy Thompson "No Mockingbird" (Native & Fine, 2003)


A nice, soulful offering from fiddler Suzy Thompson, a veteran of bands as diverse as the Any Old Time String Band, The California Cajun Orchestra and the Klezmorim, whose repertoire ranges from old bluegrass and old-time stringband music to acoustic blues and a touch of klezmer and cajun. She's joined here, on her first solo album, by a talented battery of (mostly) SF Bay Area musicians -- the esteemed Mike Seeger, banjoist Bill Evans, Maria & Geoff Muldaur, Kate Brislin and Jody Stecher, Eric Thompson, bassist Steven Strauss and others. It's a nice, understated set, with plenty of fine performances. Recommended.

Suzy Thompson "Stop & Listen" (Arhoolie, 2005)



Following up on her previous solo album from 2004, veteran Bay Area fiddler Suzy Thompson leaves the 'grass behind and sticks to the blues, cutting loose on this fine live set, with pickin' that leans towards the Delta... It's an open-ended love letter to the folkie/blues in-crowd... Thompson has worn many musical hats over the years, but this disc highlights her at her bluesiest, in sort of a Maria Muldaur mode, backed by longtime partner Eric Thompson and the Thompson String Ticklers... Nice rapport with her hometown crowd, too, down at Berkeley, California's fabled folk club, the Freight & Salvage Coffeehouse.
Joe Venuti "Violin Jazz: 1927-1934" (Yazoo, 1989)

Joe Venuti "The Chronological Joe Venuti: 1926-1928" (Classics, 2002)


Joe Venuti "The Chronological Joe Venuti: 1928-1930" (Classics, 2002)


Joe Venuti "The Chronological Joe Venuti: 1930-1933" (Classics, 2004)

Joe Venuti "The Chronological Joe Venuti: 1933" (Classics, 2004)



Joe Venuti & Eddie Lang "The Classic Columbia And Okeh Sessions" (Mosaic, 2002)


When live amplification and modern electric recording techniques evolved in the late 1920s, jazz and popular music underwent a stylistic revolution -- suddenly, people could hear the softer instruments that had been previously buried onder the clatter and wail of pianos and brass. Among the first stars to exploit these opportunities were guitarist Eddie Lang and violin whiz Joe Venuti, an Italian-American duo who worked together throughout the Great Depression, adding ingenious melodic oomph to countless recordings by many of the biggest hitmakers of the jazz era. Venuti and Lang were primarily session men, who ostensibly worked in the background, yet indelibly shaped the melodic vocabulary of American pop, taking advantage of the new technologies that enabled their sweet leads to be heard note for note, at last. Their influence is best heard in a sweeping, authoritative 7-CD box set, available through the exclusive Mosaic label. These recordings highlight Venuti and Lang in a variety of settings, backing stars such as Bing Crosby, Paul Whiteman and Clarence Williams, as well as in their own innumerable acoustic combos. No matter who they played with, the stamp of their joyful, expansive style comes through as the dominant driving force, adding a delightful and irresistible lilt to even the corniest material. An amazing collection, without a single dull moment or "filler" track.
Joe Venuti & Eddie Lang "Vol. 1 & 2: The 1920s & 1930s Sides" (JSP, 2001)



A 2-CD set with plenty of fab tunes...
Joe Venuti & Eddie Lang "Wild Cats" (ASV-Living Era, 2001)

Michel Warlop "Modernistic: 1933-1943" (EPM, 1993)


French violinist Michel Warlop came onto the booming Parisian music scene of the 1930s as an accompanist for such stars as Germain Sablon and Maurice Chevalier; in his own work he pursued a more swinging style, drawn to the "hot" jazz of gypsy guitarist Django Reinhardt and his longtime partner, violinist Stephane Grappelli. Warlop also indulged in somewhat riper, more romantic material, popular dance music with an orchestral hue -- this generously programmed album gathers fine examples of both styles. Among the any musicians are Django and Joseph Reinhardt, Alix Combelle, Andre Ekyan, and a host of French jazz and pop luminaries. Nice collection of a lesser-known French jazz pioneer. Includes some fun vocal numbers, too!


<! Claude Williams http://en.wikipedia.org/wiki/Claude_Williams_(musician) multi-instrumentalist, originally famous as a guitar player in the late-'30s Basie band >

Claude Williams "Live At J's -- Part 1" (Arhoolie, 1993)

Claude Williams "Live At J's -- Part 2" (Arhoolie, 1993)


Claude Williams "Swingin' The Blues" (Bullseye, 2000)


Claude Williams "My Sweet Love" (Black & Blue, 2002)


Claude Williams "Kansas City Giants" (Big Bear Music, 1980)

Claude Williams "Call For The Fiddler" (Steeple Chase, 1994)


Claude Williams "xxxxxxxxxxxxxxxxxxxxx" (xxxxxxxxxxx, xxxxxxxxx)

Bob Wills - see artist discography
---
Compilation Albums
---
Various Artists "FOLKS, HE SURE DO PULL SOME BOW!" (Old Hat, 2001)


Another astonishing album from this truly great, tiny independent label... This features rare old recordings of fiddle music, some old-timey and some straight blues, made during the height of the Great Depression. There are a few familiar names, such as pianist Peetie Wheatstraw and guitarist Peg Leg Howell, but for the most part this is pretty ultra-obscure material (even including one track of music by immigrants from Cape Verde. This is high-quality stuff, and comes with generously informative liner note... Highly recommended!
Various Artists "THE MUSIC OF EDDIE SOUTH: VIOLIN JAZZ" (Dorian, 2010)


Various Artists "VIOLIN, SING THE BLUES FOR ME: AFRICAN-AMERICAN FIDDLERS: 1926-1949" (Old Hat, 1999)


It's pretty amazing, this late in the folkloric/historic reissues game, to find a whole album's worth of "undiscovered" old-timey music that is of such a high caliber. Old Hat Records, a tiny North Carolina indie label, packs its discs with some of the best music around. This disc highlights a rare style of African-American fiddle music, featuring rare recordings by the bands that dotted the Southern landscape 'way back when. These groups mixed stringband styles and jazzy jug-band blues and, not incidentally, made some of the catchiest music ever. In addition to great sound quality and great material, the CD is handsomely packaged; the insert booklets include some really cool archival photos, as well as extensive liner notes of the sort that have been woefully absent on similar recent reissue efforts.
---



Main Jazz Index
Pop Reissues
Pop Music Index



---