<! posted - 03/30/14 > <! archived 00/00/00 > <! MP3 00/00/00 > <! pix 00/00/00 > <! icons 02/09/11 > <! Marpessa Dawn "EP Collection" (Barclay, 2014) Marpessa Dawn - with Sivuca Annie Phillipe "Sensationel!" (Ace Records, 2015) Annie Phillipe Rough Guide African Dona Onete "xxxxx Cabloco" (Mais Um Discos, 2014) B00JK4K0GQ B00JJXCQW4 Horatio Chiva Barroso "Blues Para Un Cosmonauta" (Whatmusic, xxxxx) - '60s? jazz? - no ASIN 07/25/15 >
---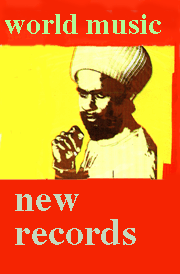 Welcome to my "New World Music" page, which highlights new(ish) African, Asian, Latin American and Celtic records, and "miscellaneous" records that I had the good fortune to check out in 2015. This page is added to as new records come in... If you want more to read more reviews, many others are archived nearby, and there are separate sections for various kinds of world music that you might like exploring as well.
By the way... you might enjoy checking out the entire 4-CD set of the CASA DE EDISON collection, recently posted online by the publisher, the Brazilian label Biscoito Do Fino. If you're into really, really primal Brazilian popular music, these sambas, marchas and other early recordings are gathered from the vaults of Casa De Edison, Brazil's only recording studio up until 1928. The digitalized anthology accompanied a massive book/DVD collection documenting the label's history, published in 2000.
---
Recommended Records: 2015 | Review Archives | World Music Index
---



New Stuff
Leny Andrade & Roni Ben-Hur "Alegria De Viver" (Motema)
Sarah Aroeste "Ora De Despertar" (Aroeste Music)
Paulinho Garcia "Aquarela" (Global Language Project)
David James's GPS "Billionaire Blues" (Demjams) (LP)
Lakou Mizik "Wa Di Yo" (Cumbancha)
Elza Soares "A Mulher Do Fim Do Mundo" (Mais Um Discos)
Various Artists "HULALAND: THE GOLDEN AGE OF HAWAIIAN MUSIC" (Rockbeat)


PLUS: New To Me...
Richard Kauhi "Hawaiian Reflections" (Waikiki Records, 1968)
The McCalmans "No Strings Attached" (RCA, 1971)


---
Leny Andrade & Roni Ben-Hur "Alegria De Viver" (Motema, 2015)


Sarah Aroeste "Ora De Despertar" (Aroeste Music, 2016)



(Produced by Shai Bachar & Sarah Aroeste)
A pretty-sounding album aimed at young children, in which singer Sarah Aroeste aims at revitalizing the Ladino language, which was originally an offshoot of mediaeval Spanish and the Hebrew spoken by the Sephardic Jews in the Iberian peninsula. At first blush, it just sounds like Spanish, but idiosyncrasies emerge as the Jewish (and other) influences emerge. Musically, this record has a distinctively "kids music feel": big, simple melodies with thick, round contours and a didactic feel that would be familiar to the viewers of Mr. Rogers Neighborhood, and fans of Raffi, as opposed to, say, Sesame Street or They Might Be Giants. Aroeste's voice is quite pleasant, and her diction is quite clear, and certainly many families of Ladino modernists will be pleased to use this as an educational boost for thier toddlers.


<! - sung in Ladino >
Paulinho Garcia "Aquarela: Traditional Songs For Children In Brazilian Portuguese" (Global Language Project, 2016)



(Produced by Paulinho Garcia & Evan Bakke)
A lovely album. Although it's pitched as a children's record, this is basically a nice, smooth set of acoustic versions of classic bossa nova and samba cancao songs, including classics by Noel Rosa, Joao Pernambuco, Dorival Caymmi, Sivuca and others. Guitarist Paulinho Garcia and singer Silvia Manrique are a perfect pair, harmonizing and gliding atop these sweet, simple melodies... The record is playful and joyous, and very pleasant to listen to. Certainly, if you want to encourage a love of Brazilian Portuguese, this is a great album, but it's also just a fun album, not dumbed-down or cutsey-fied in any way -- it's enchanting and rewarding, no matter what age you are. Fans of Paulinho da Viola or Marisa Monte could enjoy this just as well. Recommended!


<! - March 25 >
David James's GPS "Billionaire Blues" (Demjams, 2016) (LP)
(Produced by David James)
This inventive, far-flung album by San Francisco Bay Area guitarist David James easily invites comparisons to a wide range of classic jazz musicians -- and all of them are good. There's the tempered, formal elegance of Ellington and his crew, along with giddier, sillier stuff by guys like Boyd Raeburn and Raymond Scott, as well as the deeply textured grooves of the Mingus/Monk crowd, with maybe just a hint of '70s fusion-funk, and even some straight-up, breezy Joe Pass-ian jazz guitar. James has been a stalwart on the Bay Area scene for many years, including long stints with bandleader Beth Custer, who plays throughout on this album. Her clarinet work adds a playful spark on many tracks, and Custer and James compliment each other beautifully, moving with familiar, telepathic grace through a variety of styles -- touching on acoustic swing, Arabic and Mediterranean motifs, a healthy dollop of klezmer and funky, old-school blues. James has also worked with some local world music bands and on the opening tracks he skillfully weaves in the long, hypnotic loops of classic African guitar-pop, though he does it in a very subtle, under-the-surface way. This album is notable for how well James combines his own strong, clearly defined compositional talents with a remarkably generous willingness to step aside and let the rest of the band stretch out and have some fun. He has a veteran sideman's faith in the music itself, and in the power of a good groove to bring out the best in the players, but he also has the breadth of vision to craft melodies and boldly joyful riffs that shake off the stuffy self-importance of mainstream, commercial jazz, and return to a sense of playfulness and abandon. He takes risks, mostly by being open-hearted and sincere, and they pay off, on song after song. Highly recommended! (Available through David James's Band Camp page -- more info can be found on his website, www.heydavidjames.com)


<! - no ASIN 03/08/16 >

Lakou Mizik "Wa Di Yo" (Cumbancha, 2016)



(Produced by Chris Velan & Iestyn Polson)
This is one of those albums where, when I put it on without knowing what it was or where the band was from, my head turned and I said, whaaaaaaa--?? The opening tracks on this album are quite striking and have a unique, vibrant sound. There's a Caribbean zest, but with a strong African flavor, an unidentifiable Latin tinge and, yeah, sure, it made sense when I finally looked them up and found that the band was from Haiti. Lakou Mizik is a far-flung musical collective that was formed after the 2010 earthquake that devastated the nation, and in many ways their electrifying, forward-thinking sound may be an omen for better things to come, an indication of the vibrancy that may lead the country forward. The second half of this album got a little too poppy for me, but the first few songs were pretty cool, and had a sound and feel I hadn't heard before. Definitely worth a spin!


<! - April 1 >

Elza Soares "A Mulher Do Fim Do Mundo/The Woman At The End Of The World" (Mais Um Discos, 2016)


Various Artists "HULALAND: THE GOLDEN AGE OF HAWAIIAN MUSIC" (Rockbeat Records, 2015)



(Compiled by Robert Armstrong)
A classy package! Perhaps the real attraction here is the copiously illustrated, well-researched coffeetable book which houses the CDs, a hardback gem packed with colorful vintage pix from a century or so of Polynesian pop culture... The 4-CD set which accompanies the text ain't so shabby either, exploring Hawaiian music and its relationship to the mainland mainstream from several different angles. Each disc has a different emphasis -- the first CD explores the early 20th Century Hawaiian music fad, interspersing island artists with with choice examples of mainland country, pop and jazz novelty songs that had a Hawaiian flavor; from there Disc Two gets into the even odder stylings of the easy-listening/tiki music scene, with "exotica" artists such as Martin Denny and Arthur Lyman, who gave island music their own unique spin, as well as some surf music from the wave-riding rock'n'rollers of the '60s. Disc Three is more of the good stuff -- pure, classic hapa haole Hawaiian pop songs full of flashy, fun steel guitar and ukulele playing. Finally, Disc Four adds to the legacy with recordings by a bunch of modern-day neo-islanders, including folks like Janet Klein, The Sweet Hollywaiians and several tracks featuring compiler Robert Armstrong and his frequent collaborator Ken Emerson. Even for longtime fans who have dug deep into this stuff, this magnificent collection offers a lot of fun, obscure gems, including a few trashy, kitschy tracks which dare you to enjoy them, in spite of your own better judgment. Highly recommended!


<! Disc 1, From Hollywood to Honolulu 1931-1957 covers the early popularization of island music by native Hawaiians such as Andy Iona, who blended island melodies with swing, as well as performers one might not expect to see in this context: Louis Armstrong, Ethel Merman, Slim Whitman, Jo Stafford and Betty Boop are among those who put their spin on Hawaiian music. The second disc, Splendor in the Grass Shack, 1958-1974, finds Ukuele Ike, The Ventures, Arthur Lyman, and Martin Denny all capitalizing on the Tiki craze in the late 1950s. The set s foray into 60s Tiki and exotica includes a Hawaiian version of the 1968 Fleetwood Mac song Albatross. And to add a little modern day nostalgia, the themes from Hawaii Five-O and Hawaiian Eye are here too. Disc 3: Hawaiian Classics largely puts the spotlight on native Hawaiian musicians from the 20s and 30s, such as Kalama s Quartet, King Nawahi, Sol Hoopii, and Clara Inter, better known as Hilo Hattie. The fourth disc, Contemporary Hawaiian Music, was assembled by Robert Armstrong and features his fine guitar playing and along with other collaborators strumming their way to paradise in a contemporary fashion that gives a nod to the great music you hear on the first three discs. Featured are the cool sounds of the Coconut Trio, the Sweet Hollywaiians, Ken and Bob (Ken Emerson & Robert Armstrong) and the Joy Buzzards to name a few. >

---
New To Me...
---
Richard Kauhi "Hawaiian Reflections Of Richard Kauhi And His Piano" (Waikiki Records, 1968)



(Produced by Tommy Kearns)
A sweet, though unusual, album by veteran performer Richard Kapapanuihanaumoko Kauhi, who started his career in the the early 1940s, playing piano with the fabled Kalima Quartet while still just a teenager. Kauhi played innumerable hotel and nightclub gigs, both in Hawaii and on the mainland, and he spent most of the 1950s and early '60s in Los Angeles, playing shows in Reno and throughout Southern California. This record was recorded just before he returned to the islands in 1968, and features Kauhi performing alone, just him and his piano, working through a repertoire of older and more contemporary Hawaiian-language songs. He adapts the microtonal style of Hawaiian music to the more formal confines of the ivory 88s, crooning in a sedate dinner-jazz style that's reminiscent of Nat King Cole in his lushest-sounding mode. Although these songs don't have the uptempo punch of his early work with the Kalima brothers, there's a more subtle jazz influence, and this album is more about emotive expression and restraint -- it's slow, deliberate and delicate. Oddly, Kauhi reminds me of Nina Simone in vocal timbre, as well as in his phrasing and emphases, but you can hear the King Cole influence loud and clear. Though unlike a lot of Hawaiian music that you may already be familiar with, this is certainly a distinctive album, and certainly worth checking out.
The McCalmans "No Strings Attached" (RCA, 1971) (LP)


(Produced by Pete Kerr)
A nice, straightforward set, basically "earnest folkie" stuff but coming from a Celtic trad background. The liner notes say the songs here are "90% Scottish," though they don't make it clear whether there are two non-Scottish songs, or the creeping influence of outside styles on multiple tracks. (Heh. Just kidding.) Anyway, this is a nice, low-key album, with pipering and strummy acoustic guitars galore. Maybe not earth-shaking, but authentic and rootsy, and easy on the ears. Definitely worth a spin.
---



World Music Index
Other Recent Reviews


---