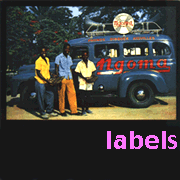 ---

AFRICAN MUSIC
and REGGAE LABELS
---
Blood & Fire
Currently, THE superior reggae reissue label, specializing in 70's roots reggae and dub. The Blood and Fire catalog includes such gems as a 2-CD Yabby You retrospective, an equally sweet 2-disc set by the Congos, and (most recently) a disc of Johnny Clarke's killer tracks done for Virgin Records in the mid-'70s. Label founder Steve Barrow is also co-author of the killer "Rough Guide to Reggae," which is, as they say, crucial.
Buda Musique
A French label with impeccable taste in rare world music material. Labels highlights include the ETHIPOPIQUES and ANGOLA series.
Ellipsis Arts
One of the more idiosyncratic labels around. As likely to put out a disc of Tuvan throat music as one of songs written on weirdo, self- made intstruments. In addition to their tangential outings, Ellipsis also has several excellent samplers of different styles of world music, such as African pop and Irish lullabies.
Green Linnet/Xenophile
Green Linnet's world music imprint. Features outstanding African music (by Tarika, I.K. Dairo, and others) as well as latin american music, including several albums by San Francisco's own Conjunto Cespedes.
Heritage Records
Part of the vast Interstate Music empire, the Heritage imprint features several amazing discs of early African proto-pop, which are well worth checking out (along with their other excellent world music rarities collections). Many discs are reviewed on Slipcue.
Island/Mango
Although the availability of their back catalog is at sometimes the mercy of corporate ups and downs, Island does have some of the best old rock-steady and classic reggae around, and makes a strong effort to keep it in print. Currently, their catalog includes Toots & The Maytals, Aswad, Burning Spear, and Mob Barley. More contemporary releases on the Mango imprint lean towards the glossier end of African pop, but nuggets do come up from time to time. For a major label affiliate, these folks are worth keeping track of.
Lyrichord Records
Lyrichord has a hefty dose of world music recordings, along with some great classical and early music releases. Before the recent "world music" boom of the 1980s and '90s, Lyrichord was one of the few American labels which consistently offered international music... Now many of the older releases may sound a little staid and dated, although they have recently begun to concentrate on more contemporary recordings.
Nonesuch Records has a complete line of Buena Vista Social Club-related albums, all reviewed on my BVSC page, as well as an impressive catalog of other great world music and modern classical releases. Check it out!
Original Music
Killer collections of African music -- over 30 titles featuring some of the best (and rarest) African music from the late '50s, '60s and early '70s. Only a handful of these discs are of what might be called "field recordings," or traditional music. Most are pop collections made from super-rare 45s of African pop that label founder John Storm Roberts has collected since in early 1960s. Recently, he re-packaged the those excellent LPs into CD format, and each one is a doozy. I was going to make a webpage reviewing the ones I had, when I stumbled onto the Eyeneer website, which describes a few albums, but seems to be shrinking in size(!). Stay tuned for my version of an Original Music discography... coming soon.
Popular African Music
More great African stuff. This label concentrates heavily on music from West Africa. Many of these discs are magical, though is you get more than a few, they start sounding rather similar. Two of the best discs in this collection are the "NGOMA" compilations, which collect rare pop singles from the Republic of Congo (aka Zaire). The early interplay of African and Euro-American styles is fascinating. Visit the label's website at www.popularafricanmusic.de
Putumayo Music
Putumayo sticks mainly to genre-oriented compilation albums, and several of these have African themes -- depending on your tastes, you may find the music on these comps to be a little overproduced, but there are also some gems. Recently Putumayo has released full albums by Habib Koite and Ricardo Lemvo that are both quite nice, and are highly recommended.
RetroAfric
Another superior African pop label, with a modest but high-quality catalog. Features early, classic material by West African pop stars such as Franco and E.T. Mensah, as well as many other lesser-known, but no less groovy, artists. Reviews and recommendations to come.
Rounder Records
Rounder, of course, has it's fair share of world music. Check in later for details.
Rounder/Heartbeat
The Stateside inheritors to the fabulous Treasure Isle label, one of Jamaica's premier early rocksteady reggae labels. Throughout the 1990s, Heartbeat has had an incredible run of oldies reissues by artists such as Peter Tosh, Derrick Morgan, and Jackie Mittoo. Check back here later for a full page of recommendations on Heartbeat.
Rykodisc is, of course, one of the all-time fab labels... World music is only a small slice of what they do, but what they have is pretty nice. More details to come.
Shanachie Records
These folks have been pretty heavy on the African music tip for many years, including modern African pop as well as reggae. Later, I'll try and get around to specific reviews, but for just let me strongly recommend their recent collection of the best-of by Stella Chiwese, one of Zimbabwe's greatest musicians. Check out the Shanachie catalog for this, and many other juicy gems!
Smithsonian Folkways
I haven't looked through the Smithsonian folkways catalog for specifically African music, though I imagine it's worth further investigation. This link, however, will take you to my page where I have some reviews for music in other genres, and from there you can enter the Folkways website on your own...
Stern's Africa
The main U.S. importer of African Music -- their catalog is jaw-droppingly fabulous, though a bit daunting to your average bear. I'm still trying to figure out their on-line presence, which seems to be tied up with KOCH, International... once I get a better handle on it, I'll update this entry.
Traditional Crossroads
Is an incredible label with more of a traditionalist bent to its releases. However, this does not translate into "stuffy old field recordings" by a longshot... Many Crossroads releases are intensely vibrant and arresting, most are well worth checking out. Specific recommendations are on the way...
---


Recommended Records
World Music Index



---