<! MP3 02/10/09, 01/07/10, 02/03/11, 02/06/12 > <! update 01/07/10 - could expand some, esp. Ethiopian > <! outside 00/00/00 > <! pix 01/07/10 > <! 02/09: Sunny Ade, Mahmoud Ahmed, Tony Allen, Amadou & Mariam all need expansion > <! icons 02/03/11 > <! Orlando Owoh "Dr. Ganga's Polytonality Blues" (Original Music) VA "SIYA HAMBAI: 1950's SOUTH AFRICAN COUNTRY AND SMALL TOWN SOUNDS" (Original Music) "AFRICAN ELEGANT SIERRA LEONE KRU/KRI (Original Music) >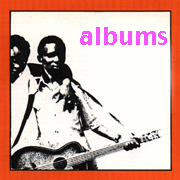 ---
I'm hardly a world's expert on African music, but exploring the various styles has certainly been a delight. My tastes veer towards older material -- there are a lot of modern recordings that don't appeal to me quite as much -- although there's so much great music to discover out there, I'm always encountering pleasant new surprises! Here are a few recommendations from stuff I've heard so far, including several real gems... Your suggestions for other records are always welcome!
---
A | B | C | D | E | F | G | H | I | J | K | L | M | N | O | P | Q | R | S | T | U | V | W | X, Y, Z | Comps

---
MUSICAL STYLES: Afro-Beat | Music of Cape Verde | South African Jive 'n' Jazz | Main Africa Index
---

Salum Abdallah & Cuban Marimba "Ngoma Iko Huku" (Dizim, 2000)


A delightful collection of early Tanzanian guitar music, from 1955-65... Low-key, back-country material with European and Cuban pop influences... Some great guitar work, but with sparse production and enduring charm. Highly recommended!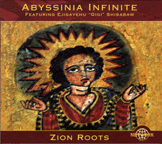 Abyssinia Infinite "Zion Roots" (Network, 2003)


What with the album title and all, you'd be forgiven for thinking this was a reggae album, but back in Ethiopia, they actually take that whole Land of Zion thing pretty literally. But no, this isn't another rasta lovefest -- rather, it's a quite lovely, subtly textured and dreamalicious Bill Laswell-produced project which picks up where Ethiopian pop pioneers such as Mahmoud Ahmed left off. Singer Ejigayehu "Gigi" Shibabaw has a lovely voice, and her smooth style stands in welcome contrast to the normal shrillness of much of the older, classic Ethiopian pop and traditional recordings. The soundscape here is spacy, hypnotic and amorphous, akin to Sheila Chandra or Natacha Atlas in their mellower moments; although lushly produced, the album doesn't lapse into outright trip-hop -- unlike previous Gigi/Laswell collaborations, this disc is relatively circumspect and retains a distinctively local sound. Fans of the fabled ETHIOPIQUES series will definitely want to check this disc out to get a sense of where that style has gone, and anyone looking for some relaxing yet substantive world music will like this as well.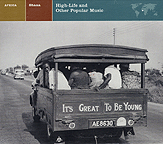 Saka Acquaye "Highlife And Other Popular Music" (Nonesuch, 1969/2002)



One of the most fascinating and unique-sounding of the recently rereleased early Nonesuch Explorer albums. Ghanaian highlife pioneer Saka Acquaye hosted this loose-edged, jazz-tinged jam session, which blends standard old-school highlife music (and its calypsonian roots) with playful, exploratory free jazz. American saxophonist Charles Earland was a key participant in these freewheeling. improvisational sessions, adding an authoritative jazz feel to the delicate clamour of a keening vocal chorus and erratic, seemingly chaotic percussive patterns. This is a very different sound for this musical style, although one suspects it's also truer to highlife's early, informal roots. Similar at times to Alice Coltrane's early '70s afrocentric jazz ramblings, but more focussed and more fun. A cool record, though not for everyone, and definitely not as representative of Ghanaian dance music as the record jacket might have you believe.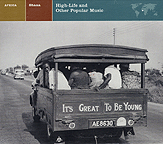 Saka Acquaye "Gold Coast Saturday Night" (Elektra) (LP)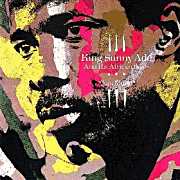 King Sunny Ade "Juju Music" (Mango/Island, 1982)



Perhaps Nigeria's greatest living pop star, King Sunny Ade remains one of the world's most successfully marketed African musicians, being promoted in the early 1980s as Africa's party-down alternative to the late Bob Marley. This intricately crafted album flaunts all that is best about Ade's music - the elongated, sleekly produced tracks hint at the half-hour long grooves his band was famous for in its live performances... This disc is also an artistic high point for the high-tech wing of the AfroPop movement: gloriously layered, hypnotic guitars play cheerful hopscotch games with amazingly elastic talking drums, capped off by gentle, good-humored Yoruban vocals. The tightly interlinked elements form a glorious whole... After a burst of critical success that helped invigorate the newborn "world music" scene in the U.S., Sunny Ade unfortunately fell victim to high expectations, and his later albums were found lacking in comparison to this absolute gem. If you've never heard this disc before, then you should definitely check it out.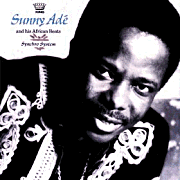 King Sunny Ade "Synchro System" (Mango/Island, 1983)



Some folks viewed this as a mere re-tread of Juju Music album... which, in a sense, it was. But when you've got ahold of a luscious groove like this, why let go? Beautifully produced, densely layered, hypnotic pop - if this happens to be the first Sunny Ade album you stumble across, then go for it. It's pretty sweet.

King Sunny Ade "Synchro Series" (Indigedisc, 2003)


An exceptional collection, capturing Sunny Ade at the height of his fame, and the height of his powers. These early '80s recordings are of the same vintage as his Juju Music and Synchro System albums, with the same smooth, hypnotic grooves and irrepressible melodic addictiveness. The songs are a little less lavish, however, and in some ways are possibly even more accessible. Whereas later albums tried to recapture the Island album's moment in the sun with even glossier pop production, these recordings sound a bit sparser, while sacrificing none of the original magic. Highly recommended!
King Sunny Ade "Classics, Volume 1: Let Them Say/Edide" (Masterdisc, 1999)


This gathers together two albums, 1986's Let Them Say and Edide, which seems to be different than the 1995 album by the same name. The sixteen tracks total teeter between hypnotic bliss and repetitive tedium, fortunately tilting towards the groovy side of the spectrum. Say what you will, the dude sure was prolific!
King Sunny Ade "Classics, Volume 2: Ekilo Fomo Ode/The Way Forward" (Masterdisc, 1999)


More of Ade's back catalog, reissued in a seemingly random fashion... This seems to be a reissue of a nice, spacy 1974 album (Ekilo Fomo Ode), which has some really intriguing, inventive and somewhat noodly guitar work, along with a rather tepid political/inspirational anthem to the future of Nigeria ("The Way Forward," parts I & II). Worth picking up to check out the unusual guitar work, particularly on the album's opening numbers.

King Sunny Ade "Baba Mo Tunde" (IndigeDisc, 2010)



The first studio album is several years from this renowned Nigerian groovemaster... It's classic Ade-style juju with solid grooves that never seem to stop. This 2-CD set concentrates a lot on percussion (although not so much on the "talking drums" familiar to listeners of his "Synchro System" days...) Nice, solid stuff, with Ade and his band undiminished after all these years!
King Sunny Ade "Best Of The Classic Years: 1967-1974" (Shanachie, 2003)


King Sunny Ade "Gems From The Classic Years: 1967-1974" (Shanachie, 2006)


African Virtuoses "Nanibali" (Bolibana, 1998)

African Virtuoses "The Classic Guinean Guitar Group" (Stern's, 2007)



Fans of Ry Cooder's forays into "world music" might want to check this one out... Cooder's not in the band, but his clean, expansive guitar sound is... This disc collects vintage recordings from a Guinean guitar quartet out of Conakry in the late 1970s/early '80s... There's a sweet, relaxed feel and a smooth, sleepy production style that reminds me of Hawaiian slack-key legend Gabby Pahinui, and like Pahinui's music, this boasts a subtle blend of regional styles along with what some call "new acoustic" guitar. It's sweet stuff -- well worth checking out!


<! Afrigo, Afrigo Band - with Rachel Magoola 02/20/09: six albums on Amazon > <! Afro-Jazz De S'Gou -- early Malian band not sure if anything is available in recorded form >

Mahmoud Ahmed "Almaz: 1973" (Buda Music/France, 1999)



Mahmoud Ahmed is probably the single best-known Ethiopian musician in the world today. His 1975 album, Ere Mela Mela, (reviewed below) was a watershed record for African pop, following its reissue by a European label in the mid-1980s. Ahmed's uniquely hypnotic style is a mix of what can most efficiently be described as Middle Eastern bellydancing music with African pop, American soul and jazz. It's got a distinctly mystical bent to it, elusive and enthralling, and is one of the clearest demonstrations of just how distinct Ethiopian music is from the rest of the African styles. These earlier recordings are less sleek than the reknowned Ere Mela Mela, but all the elements are in place. Fans of Ahmed's music will find this disc a must-have as well. (Volume 6 of Buda Music's highly-regarded ETHIOPIQUES series.)

Mahmoud Ahmed "Ere Mela Mela: 1975" (Buda Music/France, 1999)



Probably the single most accomplished -- and magical -- album to come out of the golden years of Ethiopian groove. This disc contains the entire original Ere Mela Mela LP, as well as several "new" tracks from the archives of the Kaifa label. Ere Mela Mela is the flagship release of the rejuvenation of interest in Ethiopian music; in 1986 it was reissued on the Crammed Disc and Hannibal labels, and blew the minds of world music fans worldwide. Ahmed had, quite simply, one of the fattest and most sensuous grooves of anybody, anywhere, projecting the vibe of master musicians who transcend their own styles and connect with the hearts of listeners across many divides. It's a great record. 1973's Almaz (reviewed above) shows the earlier incarnation of this style, but this is its perfection. Highly recommended. (Volume 7 of the ETHIOPIQUES series.)

George Williams Aingo "Roots Of Highlife: 1927" (Heritage, 1992)


Primal, foundational Nigerian guitar music from the dawn of the African recording industry. Aingo is a charming and innovative acoustic musician, although I have to confess I found this disc to be a little hard to get into: the songs largely all sound the same and the sound quality isn't always that clear. Part of the difficulty is in the lack of stylistic variation, part of it is that you can't always hear what Aingo was up to, some of the nuances seem lost to time. Still, anyone with an interest in the historical roots of modern African guitar pop may want to check this out... It's certainly not "highlife" music as we've come to know it, but you can hear the creativity bubbling up in these early recordings.


<! Vocalist singing in Fanti tongue accompanied by guitars, drums, bongos & bottles w. coins >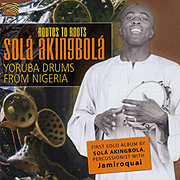 Sola Akingbola "Routes To Roots: Yoruba Drums From Nigeria" (Arc Music, 2007)



(Produced by Sola Akingbola)
A cool mix of tradition and experimentation from the Nigerian-born drummer of the world-beat band Jamiroquai. Akingbola says this disc was a return to his roots, but it's hardly and arid, hyper-traditionalist outing. There's music in a variety of styles, with plenty of melodic allure and multi-textured production... What unites the various strands is the joyfulness and intensity of the performances -- Akingbola and his crew obviously had a lot of fun making this album, and their pleasure bleeds through to the listeners, from the first note to the last. Definitely worth checking out!

Alexandra Youth Choir "South African Choral" (Naxos, 2002)



I've never been a huge fan of South African choral music, but I have to admit that this group, recorded early in 2002, with some rhythm players added to the mix, has a pretty creative approach to the style. Their songs are original and complex, with dynamic arrangements and swooping vocal interplays... It's a nice new twist on a genre that had gotten kind of static over the years. Worth checking out, particularly if you were already a fan of this sound.
Maria Alice "Ilha D' Sal" (Ovacao, 1993)


Maria Alice "D'Zemcontre" (Lusafrica, 1996)



Lush -- perhaps overly lush -- pop music by one of the devotees of Cape Verde's superstar vocalist, Cesaria Evora. I picked this disc up because I loved the one song included on the groundbreaking SOUL OF CAPE VERDE collection that came out the same year; as it turned out that is the best track on here, and the rest of the album is, perhaps, a notch or two below it. At the time, I really got into this record, but revisting it a decade or so later, I find it fairly flat and disappointing. The style is dreamy and suave, but the execution is drippy and a bit awkward.
Maria Alice "Lagrima E Suplica" (Zona Musica, 2002)


The Allenko Brotherhood Ensemble "The Allenko Brotherhood Ensemble" (Comet, 2000)



The Allenko Brotherhood Ensemble "The Allenko Brotherhood Ensemble" (Shanachie, 2002)



Tony Allen was the much-revered drummer for Fela Kuti's legendary Africa 70 ensemble; as such he was largely responsible for crafting the relentlessly infectious, driving marathon beat of the Nigerian supergroup. This remix project features a host of artists, from soul-oriented rappers to electronic mixmasters. Several tracks, particularly the instrumentals, are appropriately hypnotic and captivating, while some of the vocal numbers seem a bit off the mark. Maybe that's because Allen's genius was rhythmic and nonverbal, and by wedding his work to flavor-of-the-day lyrics, it pulls the listener in unnecessary directions. Anyway, keep in mind that's just my reaction, and I'm pretty picky. Most Afro-beat fans will probably not be disappointed by this album.

Tony Allen "Lagos No Shaking" (Honest John's, 2006)



A mellower than usual offering from this legendary Afro-Beat drummer... Recorded in Lagos in '05 -- marking Allen's return to Nigerian studios, after many year's absence -- this has plenty of long, loping grooves, and lissome vocal choruses, with Allen's trademark beat held at a steady, sly pace. Fans of Fela Kuti and Allen's earlier solo work will dig this latest record, too!
Tony Allen "Secret Agent" (Nonesuch, 2010)



Altaf Gnawa Group "Gnawa Music From Morocco" (Arc Music, 2005)



I'm not totally up on the rarified charms of the hypnotic tribal music known as gnawa... For the most part the style seems a bit static and sparse to my untrained ears, although this was one of the most alluring and pleasant of the few gnawa records I've heard. There's a softness to this disc that's hard to put your finger on... And even hard to hear at times -- some passages are so quiet that on multiple occasions I've had this disc on at a moderate volume and was fooled into thinking that the disc had ended, so quiet and so subtle was the performance. I'd recommend this album as an introduction to the style: it is perhaps more melodically accessible than some of the starker and more droning gnawa albums... I leave it up to the true fans to say which albums are more "authentic" or whatever... All I know is, this disc brought me on board!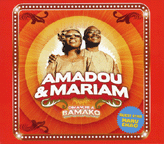 Amadou & Mariam "Dimanche A Bamako" (Nonesuch, 2005)



Modern African pop that'll really bend your ears sideways. What's most striking about this album is its remarkable tonal and textural palatte; producer and co-performer Manu Chao brings a powerful technical proficiency to bear, capturing and isolating individual sound sources and giving each element a distinctive coloration and feel. Rather than use studio multi-tracking to create the illusion of an organic live performance, Chao opts to use technology as an instrument in itself, a tool to amplify and expand the group's stylistic depth and variety... While the results may initially feel a bit rigid or overly artificial, bit by bit the underlaying fluidity of the music will begin to assert itself, and the album will win you over. Amadou and Mariam's earlier albums have all had a peculiar magical appeal, but Chao's inventive, kaleidoscopic production nudges their brand of Malian pop into new directions... This album will doubtless get great press and blow a lot of people's minds: this time you can believe the hype and check it out... It's pretty cool.


<! http://en.wikipedia.org/wiki/Amadou_%26_Mariam Amadou & Mariam "Se Te Djon Ye" (1999) Amadou & Mariam "Sou Ni Tile" (1999) Amadou & Mariam "Tje Ni Mousso" (2000) Amadou & Mariam "Wati" (2003) Amadou & Mariam "Dimanche A Bamako" (2005) Amadou & Mariam "Je Pense A Toi: The Best Of Amadou & Mariam" (2005) Amadou & Mariam "Zeit, Dass Sich Was Dreht" (with Herbert Gronemeyer) (2006) Amadou & Mariam "Welcome To Mali" (2008) >

Les Ambassadeurs Internationales "...Featuring Salif Keita" (Rounder, 1992/2008)





<! 1. Kolangoman - Les Ambassadeurs, Traditional 2. Seidou Bahkili 3. Mousso Gnaleden - Les Ambassadeurs, Diakite, Sambou "Mi 4. Super Koulou 5. Sali > <! originally called Les Ambassadeurs du Motel - 1970s Malian band, Salif Keita joined in early '70s "Mandjou" album a keystone (unavailable in US, as of 02/09) >

Les Ambassadeurs Internationales "African Classics" (Cantos, 2007)






<! B000T27YDA the same? > <! 1. DJandjon" (12:01) 2. DJougouya" 3. Kibaru" (20:50) 4. Bara Willile" 5. Wara" 6. Wassolon Foli" 7. Mandjougoulon" >

Antibalas Afrobeat Orchestra "Liberation Afrobeat, v.1" (Afrosound /Ninja Tune, 2001)



Picking up the mantle of Afro-Beat straight from the Fela tradition, this Brooklyn, New York-based musical collective has a fiercesome groove, with plenty of drive and a sharp melodic sense. Although Antibalas follows the Fela template very closely, they also hint at their local NYC salsa heritage, and have a much tighter compositional sense -- although songs stretch on to six and seven minutes in length, they seldom improvisationally wander and drift the way Fela often would. (Hey, let's be honest...!) The original Afro-Beat leftie political slant is also kept intact, notably on the Jazz Poets-y "World War IV," recorded live in London, where they point the finger at Bill Clinton, of all people, for maintaining the blockade of Iraq, and at the Mexican government for its tiffs with the Chiapas guerillas. Behind it all, a magnificently produced, rock-solid beat, along with plenty of those classic saxophone squonks we know and love so well. The best thing about Antibalas is that they are an actual, functioning musical group, not just some haloed band from the hazy past of African popular music. If you get a chance to see them play live, go for it. In the meantime, their records are also highly recommended and very enjoyable.

Antibalas Afrobeat Orchestra "Talkatif" (Ninja Tune, 2002)



A fab follow-up album, which appropriately enough shifts from the harder-edged Afro-Beat of Fela Kuti into something closer to the sleek juju highlife of King Sunny Ade, who became Nigeria's next superstar, as Fela's star faded. This is a beautiful record, and probably a lot more accessible to the casual listener who might have been put off a bit by the squonking saxes and rugged rhythms of the first Antibalas album (or the entire Fela catalog!). Hyponotic and graceful, this is a superior space-out groove album. Highly recommended. (For more info on this band, check out the Antibalas website.)
Antibalas Afrobeat Orchestra "Who Is This America?" (Ropeadope, 2004)


Antibalas Afrobeat Orchestra "Security" (Anti-, 2007)






<! http://en.wikipedia.org/wiki/Antibalas >

Antibalas Afrobeat Orchestra "Government Magic" (EP) (Idea, 2007)



Mulatu Astatqe "ETHIO JAZZ & MUSIQUE INSTRUMENTALE: 1969-1974" (Buda Music/France, 1999)



The fourth volume of Buda Musique's highly-regarded ETHIOPIQUES series... This disc documents one man's limited success trying to build a jazz scene in Ethiopia's habitually insular culture. Mulatu Astatqe was classically trained, and while studying abroad, performed in several European and American jazz and latin dance bands. Be brought new musical ideas back with him, and formed several ensembles in Ethiopia that aimed at creating a new musical tradition, almost out of whole cloth. Astatqe's records share a lot of the adventurous mix-and-match quality of the other ETHIOPIQUES artists (he also played in a lot of the other bands featured in this series...) but the jazz thread is pretty distinct. It's not uniformly compelling, though -- improv soloists were presumably in short supply and many tracks simply sound like somewhat marginal easy listening. But if the rest of the series has caught your attention, this is worth checking out, to round off your appreciation of the big picture.


<! GIF really 110x108 >

---
---



African Music Index
World Music Index


---