<! * > <! MP3 04/14/13 > <! pix 04/14/13 - oops! > <! icons 04/14/13 > <! archived - 04/14/13 - no links to artist pages >

---
Howdy, neighbors!
Here are some reviews of the new country, bluegrass and Americana records that I had the good fortune to listen to in December, 2004. This month: Lynn Anderson, Clint Black, Elvis Costello, Kevin Fowler, Frog Holler, The Gatlin Brothers, Shooter Jennings, Buddy Miller, Ronnie Milsap, Willie Nelson, The Oak Ridge Boys, Roy Rogers, Red Simpson, Art Stamper, Foy Willing... and plenty of holiday cheer!
...It's not everything I heard, but it's a nice sample of stuff that either tickled my fancy or ticked me off... Many records that aren't included here are reviewed elsewhere in my full Guide To Hick Music. Enjoy!
---
New Stuff: December, 2004
---
Lynn Anderson "Greatest Hits" (Collector's Choice, 2004)


Wa-hoo! Although she was a mega-huge star in the early 1970s, when her version of Joe South's "Rose Garden" became one of the greatest countrypolitan hits ever, Lynn Anderson's legacy has been poorly served in recent years. Her last serious best-of sets were on the fly-by-night Renaissance label, and these flew quickly out of print. In particular, her dynamic early recordings for the independent Chart label -- the focus of one of the two Renaissance discs -- has faded from sight, remembered by only a few old fans. This new album is the actually first collection that gathers her Chart material with hits from her long run on Columbia Records, a long-overdue real career retrospective that highlights both her most upbeat and most ornate musical moments. "Rose Garden" is, of course, the apex -- (what an amazing pop song!!) -- but there are plenty of other nice oldies on here, including spunky numbers like "Stay There 'Til I Get There," "Talkin' To The Wall," "Flattery Will Get You Everywhere," "No Another Time" and "That's A No-No." Early on, she recorded a lot of songs written by her mother, Liz Anderson, and these are all lots of fun; later as the whole "countrypolitan" thing got a little too serious and stuffy, her endless stream of erotically-tinged, overly orchestrated love songs got to be kind of repetitive, and her chart hits dwindled. To their credit, the folks at Collector's Choice do a fine job balancing this material, giving a good picture of her commercial career while also packing in enough musical goodies to keep more traditionally-oriented country fans hooked as well. This is a must-have for serious students of country history.

Clint Black "Christmas With You" (Equity, 2004)



This is a reissue of Black's 1995 holiday hit, Looking For Christmas, with two new songs added for good measure. Although I'm not really that into the modern, ornate Nashville pop arrangements, I'd still say this is a superior country Christmas record. For one thing, it's not another set of cheesy standards -- Black wrote or cowrote all the songs on here, and anyone who adds some new songs to the Christmas canon gets extra points straight out the gate, as far as I'm concerned. Also, his heart really seems in it here: Clint sings with conviction and warmth, and his lyrics are generally about the more spiritual, human side of the holiday. For him, the season is about companionship, family and inner warmth, not fancy gifts and getting drunk. The songs are willfully sentimental and gooey, but Black has the sincerity to pull it off... If you're looking for a nice little holiday disc to trim the tree to, this one's a mighty fine option. (Note: for more holiday recommendations, check out my Hillbilly Holiday section...)

Elvis Costello "The Delivery Man" (Lost Highway, 2004)



Hailed as a back-to-basics roots-rock album, this is less a country-rock outing than a return to Costello's old fondness for tortured, James Carr-ish soul wailing... There's some slap-happy electric blues and Memphis-styled reverb-a-billy, but little in the way of the countrypolitan twang of the Almost Blue variety. Frankly, as an old Costello fan from the '70s and '80s, I now find his ceaseless, by-rote wordsmithing mildly impentrable, not because I can't understand what he's saying, but because I don't really want to... This album sounds okay, but it doesn't seem to be saying anything new, and Elvis mostly appears to be going through the motions. It's not like he actually needs to express deep feelings anymore, it's just that that's what you do when you make records, so let's crank up the irony machine again and see what comes out. Aurally, this is a perfectly adequate, listenable album... It's just that nothing really stands out as particularly new or emotionally resonant. There are a couple of notable duets: Lucinda Williams delivers a remarkably insincere vocal performance on the negligible "There's A Story In Your Voice," while Emmylou Harris brings gravity and heartbreak to "Nothing Clings Like Ivy," a song that may be the album's highlight. I suppose this record is good enough, but it's not an album I'd see myself revisting over the years.
Kevin Fowler "Loose, Loud & Crazy" (Equity, 2004)


Rough-edged and fully steeped in the independent spirit of Texas outlaw country, songwriter Kevin Fowler (whose "Beer, Bait & Ammo" has become a modern day comedic country anthem) makes the leap from microscopic Lone Star labels to a maverick would-be major. Kudos to Clint Black for signing Fowler up on his newly-launched Equity label, and for giving raw-boned, goofball novelty honkytonk a new place in today's super-sanitized Country charts... Having heard Fowler's last couple of albums, I was psyched and more than a little surprised to see him popping up on the Billboard Top 40... But imagine how much more amazed I was to get the album and hear that Fowler hadn't changed a thing about his sound... No slick keyboards or cheesy power ballads here, just a fine, fun set of dopey drinking songs and love-a-loser lyrics. If anything, he might be trying a little too hard to be hard-country and "outlaw," but hey, I ain't complaining. I'm just glad to hear some real twang coming out of Nashville. If you like George Strait, Waylon Jennings or Ed Burleson, you're gonna love Kevin Fowler.
Frog Holler "The High, Highs & The Low, Lows" (EP) (Zo Bird, 2004)



Well, while I thought the songwriting was uniformly interesting and engaging, I found the crash-banging overemphasis on rock-style electric guitars to be kind of unfortunate. Most of the songs on this 7-song EP slide into prolonged, overly shrill solos that kind of suck the life out of the songs themselves. Of course, that's just my perspective... I've never been much into the whole roots-rock sound, so if you're more into Drive By Truckers or Steve Earle's grungier side, then this might be for you. As I say, though, the songs are all pretty good, with above average lyrics and unique conceptual twists... just wish I didn't have to turn the volume down or skip past those guitars so often.
Larry Gatlin & The Gatlin Brothers "Sing Their Family Gospel Favorites" (Dualtone, 2004)



This is a nice Christian country set, if that's a style you go for. Admittedly, Larry is sounding a little long in the tooth and slightly shaky as a soloist, but their obvious sincerity and love of the music lifts this album up, and when they sing in an upbeat jubilee style, the Gatlins can really get your toes a-tappin'. There are also some slower ballads sung in a more modern Southern Gospel style, though almost all the songs are older traditional tunes like "Amazing Grace," "Rock Of Ages," Albert E. Brumley's "I'll Fly Away," etc. Another nice thing is that the musical backup is pretty restrained: they just have the band play as much is necessary to get the message across, and leave the emphasis on their vocals and on the words, which is really where is belongs. Gospel fans and Gatlin fans alike should enjoy this record quite a bit.
Shooter Jennings "Put The O Back In Country" (Universal South, 2004)



Are you sure ol' Hoss done 'em this a-way? When Waylon Jennings is your dad, that's certainly a lot to live up to... And, sadly, I gotta say I'm not sure is lil' ol' Shooter is really up to the job. He goes through the same motions as, say, Hank Williams III or even Kid Rock, going out of his way to point out how all-fired rowdy and rebellious he is... He gets kinda grungy with the Southern-ish, bar-band rock, and he even gets dad's old pal George Jones to do a guest appearance on one song... Yet somehow Shooter just isn't as colossally cool as his old man was. Then again, who is? This album has an almost-but-not-quite, hey-kid-quit-trying-so hard quality that's almost a little heartbreaking... I was so distracted (and at times irritated) by all the hey-look-over-here musical theatrics that it was pretty hard to tell how good a singer Shooter might actually be. His voice is clearly not as rich and his phrasing nowhere near as skillful as Waylon's, but I suspect that given a more relaxed, more intelligent production style, he might prove a much stronger artist than this disc would suggest. If you're a Waylon fan, you could check this out... It doesn't really suck, it just kinda misses the mark.
Buddy Miller "Universal United House Of Prayer" (New West, 2004)



It's tough to know just what to make of Buddy Miller's new all-gospel album... I have a lot of respect for Miller as a musician and it's obvious that his heart is really in this dark, complex, challengingly religious record. That being said, it's hard to figure out just who the audience might be: college-age alt-country hipsters are generally a blasphemous lot, and might find all the Jesus talk and soul-searching spirituality a bit off-putting... Old-fogey Southern gospel and country gospel fans will probably find its hard-edged, bluesy musical approach a bit off-putting, as well as its multi-layered view of the Christian faith... For example, alongside the Louvin Brothers' rally-the-troops anthem "There's A Higher Power," Miller also covers Bob Dylan's scathing "With God On Our Side," which is one of the greatest folk scene satires of religious triumphalism and hypocrisy. Most of the other songs are Miller originals, with co-writers that include his wife Julie as well as Jim Lauderdale and Victoria Williams, and while his exploration of his own faith is fascinating, it doesn't lend itself to the embrace of those who look to religion for easy answers. On the musical end, I found it a little too loud and overly muscular, as if Miller & Co were trying to reclaim Christianity for the neo-Southern rock wing of the Americana scene... I personally could do with a few less of the sludgy, soul-tinged electric guitar power chords, but then again, I might not be Buddy's target audience either. Anyway, if you want to check out a country gospel album that has sincerity and substance, with depth and shades of dark and light, this disc really might speak to you.
Ronnie Milsap "Just For A Thrill" (Image Music Group, 2004)



Milsap tries his hand out at swanky, slick, Harry Connick, Jr.-style big band/pop vocal tunes, indulging in old standards like "My Funny Valentine," "Cry," "Since I Fell For You," etc. It's not my cup of tea, exactly, but for the genre it's pretty good. Milsap's voice is still in excellent form, and folks who like modernized swing music will probably enjoy this quite a bit.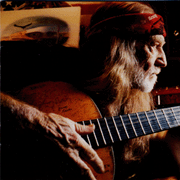 Willie Nelson "It Always Will Be" (Lost Highway, 2004)



(Produced by James Stroud)
Oh yeah, he's still got it. In a big way. This is Willie's best album of the decade, thus far... There are some fine duets on here, including another outing with Norah Jones, and a beautiful collaboration with Lucinda Williams (on her haunting "Overtime"), but this disc is mostly Willie's own show, and it's a welcome change of pace from all that "...And Friends" jazz he's been up to recently. He's obviously been gathering up his spirit for this one, and puts a lot of feeling into each song: the production and the arrangements are rich and warmly textured, and the songwriting is top notch, with a sprinkle of Willie originals and a ton of stuff by other folks, including Tom Waits (a reprise of "Picture In A Frame"), Jimmy Day, Sonny Throckmorton, Toby Keith and a couple by Toby's pal, Scotty Emerick. Willie's kids, Lukas and Paula Nelson kick in as well; I'm sad to report that Paula's brassy vocals (and her writing) on "Be That As It May" lack the economy and depth that Willie brings to his art. Lukas Nelson's "You Were It" is also a bit sparing, but it ain't bad. Overall, though, the good news here is that this is a really strong, really listenable record, one of Willie's best in a long while (and thatŐs saying a lot!). Cut the disc off before the clunky version of "Midnight Rider," and you will be one happy, happy camper.

The Oak Ridge Boys "The Inspirational Collection" (Varese Sarabande, 2004)


The gospel roots of the Oak Ridge Boys run pretty deep, and this disc is a fine representation of their best work in the band's mid-1960s incarnation as Southern Gospel modernists, mixing the vocal tradition of the Blackwood Brothers with the electrified bounce of Buck Owens and the West Coast honkytonk-pop scene. This 18-song disc gathers material from several albums on the Skylite label, 1965's I Wouldn't Take Nothing For My Journey Now, River Of Life and Solid Gospel Sound, from 1966. Some of the songs are a bit sleepy and barbershoppish, but others have a surprisingly vigorous country sound; country fans may be surprised to find how engaging some of this material can be... There were major personnel shifts before the Boys broke into Country mainstream: the now-familiar low, deep bass rumble of singer Richard Sterben wouldn't be added into the mix until 1972, and it was probably his voice more than anything else that cemented the Oak Ridge sound as most folks remember it. Still, you can hear the roots of that sound here, and Southern Gospel fans should be thrilled by such a nice, compact reissue of their old, religious material.
Roy Rogers "King Of The Singing Cowboys" (Collector's Choice, 2004)


Because they performed so frequently on radio and in the movies, the silver screen "singing cowboys" all have a wealth of live material for reissue labels to plow through. This disc is an especially fine, fun selection of Roy Rogers material from 1943-44 (with a couple of later tunes from the 1954 Roy Rogers Show) Laced in with all the cowpoke corn is some might fine, mighty jazzy musicianship, giving these songs a special little bounce that makes 'em as irresistible today as they were decades ago. If you haven't checked Roy Rogers out yet because you think he's hokey and square... well, that's an easy mistake to make. But if you want to hear "western" pop music at its best, this disc is a fine place to start. (You can also check out my Singing Cowboys discography as well!)


Red Simpson "Trucker's Christmas" (Capitol, 1973)



An amiable, likeable holiday offering by gravel-voiced West Coast honkytonker Red Simpson, who several years earlier had some big hits in the "trucker" genre... Hence the theme of this album, and its multiple songs about daddies coming home, with their 18-wheelers buring rubber to get little Timmy that very special present... Several songs have spoken introductions, including the album's winner, "Truckin' Trees For Christmas," about a guy who brings the boughs from town to town, and the spoken pice, "The Old Christmas Truck," about a broken-down hobo in a broken down truck, who gets that load of gifts to the poor kids who wouldn't have a happy holiday otherwise. It's all very old-school and corny, and it's a real gas. It's slapdash and by the numbers, but it's also funny and fun. Recommended!

Art Stamper "Wake Up, Darlin' Corey" (County/Rebel, 2004)



Veteran bluegrass fiddler Art Stamper, most recently known for his work in the Ralph Stanley band, bangs out another fine solo album, with old-timers Harry Bickel and Doc Hamilton on banjo and guitar, respectively. Tim O'Brien, who's getting to be kind of an old-timer himself these days, pitches in on a trio of tunes, singing and playing guitar, and the net effect is one fine twangy little album. Stamper hearkens back to the good old days of pre-bluegrass hillbilly music, but he approaches the old-timey style with none of the stiffness and stuffiness that many of today's revivalists emply. He realizes that Charlie Poole and all them fellers from the Great Depression era were having a good old time playing their tunes, and Stamper does a nice job bringing that loose, lively feel back into the music. All of his records are fun, and this one's a winner as well. Recommended!


The Statler Brothers "Christmas Collection" (Mercury Nashville, 2004)



With their penchant for nostalgia-based material, the Statlers were the perfect candidates to make a Christmas album... In fact, they've made quite a few! This disc reissues one of those records in its entirety, 1978's Statler Brothers Christmas Card, which has a nice mix of old classics and new material. The new stuff is best: the boys pick out plainspoken, sentimental songs like "I Believe In Santa's Clause" and "Christmas To Me" that wonder what's happened to the old-fashioned, love-your-neighbor flavor of the holiday, and long for the good old days... And you really believe 'em when they sing about it... Good record; not too corny and certainly worth checking out.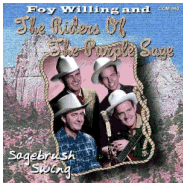 Foy Willing & The Riders Of The Purple Sage "Sagebrush Swing" (Collector's Choice, 2004)


A sweet, swinging set of western-themed oldies from the 1940s edition of the fabled Riders Of The Purple Sage. The harmonies are sublime, the musicianship is first rate, and the songs are all a lot of fun... The liner notes don't say exactly when these radio performances were made, but the late 'Forties seem like a safe bet, perhaps when the band was on the All-Star Western Theatre program... Anyway, it's great stuff, with bandleader Foy Willing at the peak of his powers. This is a generously programmed, 20-song collection, well-paced and with great sound quality. Recommended!

Various Artists "ALL-STAR BLUEGRASS CELEBRATION" (Sugar Hill, 2004)


This big-name Ryman Auditorium guest-fest, presided over by Ricky Skaggs (naturally), follows a pretty predictable trajectory, with folks such as Vince Gill, Alison Krauss, Patty Loveless, Del McCoury, Dr. Ralph Stanley and Earl Scruggs, all working their way through the classics -- "Pretty Polly," "Shady Grove," etc. Less traditionally oriented artists are also on hand, such as Nickel Creek, Bruce Hornsby(??) and Travis Tritt... The album's okay; the video version, which was broadcast on public TV, is probably more engaging.
---



Hick Music Index
Shop Amazon, Support Slipcue


---


<! December, 2004 >