<! * > <! MP3 04/16/13 > <! pix 04/16/13 > <! archived 04/16/13 - with artist links >

---
Howdy, neighbors!
Here are some reviews of the new country, bluegrass and Americana records that I had the chance to listen to in June, 2004. This month: Tom Adams & Michael Cleveland, Red Allen, Bobby Bare, Jr., Brad And Shelley, Maggie Brown, Josh Gracin, Carolyn Dawn Johnson, Jon Langford, Jim Lauderdale, The Lees, Lonestar, Charlie Louvin, John Arthur Martinez, Gurf Morlix, David Lee Murphy, Railroad Earth, Doug Sahm, The Steep Canyon Rangers, Lane Turner, Uncle Dave & The Waco Brothers, Gretchen Wilson... and more!
...It's not everything I heard (because I wanted it all to fit on one page...) but it's a nice sample of stuff that either tickled my fancy or ticked me off... Many records that aren't incleded here are reviewed elsewhere in my full Guide To Hick Music. Enjoy!
---
New Stuff!
---
Tom Adams & Michael Cleveland "Live At The Ragged Edge" (Rounder, 2004)



A lively, often dazzling set of mostly-instrumental duets by these two bluegrass virtuosi, zipping their way through around two dozen tunes, most of 'em played at a lightning pace on fiddle and banjo. The vocal material is nice, too -- in fact, an album highlight comes when Tom Adams flubs the lyrics on "Shady Grove," and improvises with the inspired line, "Blah, blah, blah..." Nice to sometimes see a few cracks in the super-musicianship of the bluegrass upper crust. And a good sense of humor!
Red Allen "Keep On Going: The Rebel & Melodeon Recordings" (Rebel, 2004)



Magnificently pure, old-fashioned high-lonesome truegrass, reissuing material from several early albums and singles from 1963-65, when singer-guitarist Harley "Red" Allen was really on fire. He'd made a name for himself in the 'Fifties, working in a trio with the Osborne Brothers, though from '58 on, Allen led his own band, keeping afloat and keepin' it real during some of country music's roughest times. The lineup on these tracks changed frequently, but with sidemen like Frank Wakefield, Bill Emerson and Scotty Stoneman pitching in, along with the Yates Brothers, Bill and Wayne, filling out the vocal harmonies, Allen & The Kentuckians were a force to be reckoned with. This stuff's about as good as it gets, and puts most of Allen's early '60s contemporaries to shame. It's really, really good, really, really rootsy, true bluegrass... highly recommended!
Red Allen "Lonesome And Blue: The Complete County Recordings" (Rebel, 2004)



This disc reissues two classic mid-'60s albums, Bluegrass Country, from 1965, and 1966's Red Allen & The Kentuckians, which were among the first records issued on the fledgling County label. Bluegrass fans will note these records for their historical significance -- fiddler Richard Greene makes his debut on the first album (soon to move on to Bill Monroe's band, and later newgrass reknown), while mandolin king David Grisman, still testing his wings, was signed on to work his magic on the second. Neither, naturally, were as accomplished as they would later become, but they were still pretty good. While not as electrifying as other Allen albums, this is still pretty nice stuff, well worth checking out, and certainly a major milestone for those tracking the growth of the bluegrass revival.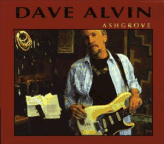 Dave Alvin "Ashgrove" (Yep Rock, 2004)



Hmmm. Well, I dunno. I mean, obviously I'm a huge Dave Alvin fan, but this disc didn't really grab me. For starters, there's way too much house-rockin' blues for me -- just about every other song, which is about 50% more than I wanna hear -- and a lot of the lyrics are pretty forced, and pretty drawn-out. Alvin's knack for crafting the deft melodic twist seems to have taken a little vacation, in favor of a more brooding, more leaden style... Guess maybe he's just pursuing his muse, but it's not a journey I need a ticket for as well... There is one great song on here, though, "The Man In The Bed," a spine-tingling tale of old age and illness, as the narrator recounts the strengths he's lost, and the freedom he yearns for, as time and ailments take their toll. That one is a real keeper.

Bobby Bare, Jr. "From The End Of Your Leash" (Bloodshot, 2004)



Honestly, I was surprised by the strength of some of these songs... The two opening tunes actually got me sort of tapping my toes and nodding my head... and I really hate Bobby, Jr. (...at least as a performer; I'm sure he's a swell guy in real life.) So, here's the update: he still has a really crappy voice, and for the most part his lyrics are appallingly over-obvious and lame, but -- and here's the amazing part -- he is getting better. The more thoughtful musical arrangements help... this disc is way better produced than his other albums, and even has some catchy melodic touches. He is definitely not the musical genius or amazing rock'n'roll rebel his publicists make him out to be, but he may actually be turning into an interesting artist, rather than simply a pointless aural irritant. This is the first record of his that I wouldn't just tell you to avoid at all costs.
Brad & Shelly "Don't Make Me (Have To Come In There)" (Cupit, 2004)
Not that you'd know it by listening to the Clear Channel... I mean, the radio... but independent country is alive and well, somewhere out there, and there are plenty of gems to be heard, if you just know where to find them. This cheerful little song sounds like something straight out of the '70s, and probably would have been a big hit if it had come out back then. Led by a bouncy, Cajun-tinged fiddle, this is just a plain, old fun song, with fine duet and harmony vocals. Uncomplicated, good-natured and irresistible. These guys apparently have a full album out that this track comes from... If I can track it down, I'll be sure to give you the full scoop. In the meantime, here's a link to their label, if you want more info.
Maggie Brown "Maggie Brown" (Riverwide, 2004)



A cool, catchy mix of roots-country and bluesy rock... There are obvious debts to early Bonnie Raitt, as well as a Sheryl Crow-meets-The Black Crowes guitar rock vibe, and a little hint of Norah Jones crooning on the soft side... These comparisons are inevitable but a little unfair, since Brown is also a fine, soulful singer in her own right, though more to the point, she crafts some mighty good songs, catchy stuff that sticks to your ribs. The doleful, country-drenched "Full Moon Over Dallas" echoes in my mind; folks who are into the whole adult-roots tip should like this self-released gem... a lot! (Available through MaggieBrown.net.)

Josh Gracin "Josh Gracin" (Lyric Street, 2004)



(Produced by Marty Williams)
Yet another American Idol alumnus muscling his way onto the charts... Gracin is aided by huge, lavish production, some of it pretty silly-sounding, and most of it very by-the-numbers. The first single, "I Want To Live," shamelessly lifts a Led Zeppelin guitar riff; many of the songs have sugary, jittery pop-isms worthy of boy-band country acts like Rascal Flatts and Emerson Drive, although to his credit it must be said that Gracin is able to muster a bit more vigor than any of those wimpier singers. This is all tremendously fake and prefab, but it works well, given the formulae. Be interesting to see if his career really goes anywhere.
Carolyn Dawn Johnson "Dress Rehearsal" (Arista, 2004)



(Produced by Dan Huff)
As aggressively "pop" a country album as has been produced in the last five years or so... pretty lavish and heavy on the chiming electric guitars, compact rhythmic hooks and treble-tilting EQ, but also pretty effective at what it's trying to do. To their credit, the label picked two of the more demure, more country-sounding songs as the initial singles, "Simple Life," with it's pert little banjo riff, and "Die Of A Broken Heart," which is a rather nice little weeper... I would have picked those songs, too. The rest of the album, though, is a little bit busy for my tastes, and a few tunes are actually rather jarring -- the cloying pop-gospel of "God Doesn't Make Mistakes," the Stones-y Sheryl Crow-isms of "My Little Secret," the sheer shrillness of "Squeezin' The Love Right Out Of You," the awkward meter of the otherwise sweet "Life As We Know It," etc. Johnson's following the prefab pop diva path of Shania and them other 1990s gals, and while that style is a turnoff for me, more mainstream modern pop-country fans should find this album pretty satisfying. But really... why call it "country"??

Jon Langford "All The Fame Of Lofty Deeds" (Bloodshot, 2004)



Oh, whatever. I mean, yeah sure, the Mekons were a super-cool punk band, more diverse and seemingly more literate than others, but Langford's countrified ramblings on the Chicago scene have long left me cold. I suppose a big part of it is his plangent, Joe Strummer-like voice and his equally Strummer-like tendency to harangue his listeners and to assume that good politics and good intentions will be enough to make up for the concessions given to musicality, all in the name of a higher calling. Me, personally, if I'm listening to a record, I want the musical end to stand on its own... I have no problem mixing social causes with art -- quite the contrary -- but it's nice when you also stay in meter and stick to the melody. Which is, I guess, my longwinded way of saying that I thought this disc was another moderately difficult Wacos-y offering, not intellectually engaging or musically satisfying enough to hold my attention. I don't want to have to work so hard to apprehend points and poetics that I don't find that interesting to begin with. I mean, I get it, already! Geez. And, um, can I make another admission that is sure to drive loyal Langfordites into conniption fits? I don't like his paintings, either. Never have. Yeah, it's a striking, recognizable style, but it's also kind of ugly and trafficks in overly-obvious, repetitive cultural touchpoints. That being said, longtime Jonboy's fans will probably love this disc... And more power to ya!

Jim Lauderdale "Headed For The Hills" (Dualtone, 2004)



Lauderdale's been taking a somewhat hippie-ish bent recently, first on his preceding album made with the jovial jam band, Donna The Buffalo, and now with a set co-written with Dreadful Grate lyricist Robert Hunter. I gotta admit, this disc didn't really grab me -- it's not that I thought it was sucky or anything, rather that the songs all seem so amorphous and indistinct. The elements seem to be in place for the magic to happen, but it just didn't gel for me. Still, for those of us out in the Rainbow Nation, this record could be a real hoot. I'll try this again, though, and see if it grows on me...
The Lees "The Lees" (Lee Records, 2004)



A sweet, innocuous, though ultimately irritating set of folkish country ditties by a family band hailing from New South Wales, Australia. Mom and Dad -- Steve and Tracey Lee -- have a brood of four precious but talented kids, ranging down in age to little Savannah Lee, who takes her turn singing a tune or two. This disc isn't electrifying, but it's very nice and very enjoyable, although the teen themes and novelty aspect wear thin, especially as the music doesn't change much from song to song. Still, fellow Aussie twangster Kasey Chambers gives them her stamp of approval, so if you like Chambers's work, this disc'll probably hit you the right way as well.

Lonestar "Let's Be Us Again" (BNA, 2004)



Not that this band was ever particularly vigorous, but I think they've kinda lost it on this one... The songs are just so belabored and drawn out... and so dorky! I dunno, it just seems like you gotta work too hard to get into some of these songs, no really strong concepts or choruses, and while I've never been a huge fan of Richie McDonald's voice, it really seems to get swamped by the formulaic, tinny production... He just sounds so damned whiny, ya want to give him a beer to drink to thicken things up a little. This is calculated, commercial stuff, but I'm not sure the formula's really working for them here. The patriotic war ballad topical song, "Somebody's Someone," is a highlight -- it's thoughtful and reserved; the comedic "Mr. Mom" is a close follow-up, even though it's pretty lightweight and forgettable. But the rest of is simply boring and strained. Yawn.

Charlie Louvin "The Greatest Hits Of Charlie Louvin" (Collector's Choice, 2004)


At last...! A long-overdue retrospective of solo material by hard-workin' Charlie Louvin, the surviving member of the oh-so-sublime Louvin Brothers duo. After the long-lived brother act went bust in the early '60s (largely due to personal differences between level-headed Charlie and his more reckless sibling), each went their separate way and started a solo career. After Ira passed away in 1965, Charlie soldiered on, and had a remarkably successful career, starting off with a #4 hit in 1964, "I Don't Love You Anymore," and 1965's heartwrenching weeper, "See The Big Man Cry," about a divorced daddy who's kid sees him, but doesn't know who he is. Although he got stuck with a lot of repetitive "theme" songs (centered around the "more" vs "less" twist of his initial hit), Charlie still had a pretty good run in the Top 40, right up through the mid-1970s. This disc captures Charlie Louvin's down-to-earth, gosh-heck appeal, and while there are some songs that are missing (and a too-skimpy offering of his early-'70s duets with Melba Montgomery), this is still a mighty fine record, and is bound to be a real treat for fans who've been waiting decades to see many of these songs back in print in any format... Snap this up while you still can.

John Arthur Martinez "Lone Starry Night" (Dualtone, 2004)



Austin native Martinez was a second-place runner up of the cable TV country music talent show, Country Star, the Nashville version of American Idol, and on the opening track of this new album, you can see why he made it to the top of the pile. He's likeable and confident, and with the right backup behind him, he can really carry a tune. That song is the highlight of this disc, though -- there are a couple of nice acoustic Western swing tunes not far behind, but the album soon devolves into material that has a feel that's all too familiar to folks who've heard a few of the gazillions of self-produced country records out there today. Martinez is the top of the heap when it comes to that kid of country, but he hasn't yet transcended the limitations of the style, although his bilingual lyrics and nods towards Tex-Mex culture (as on "Tonight At Fiesta") bring something new to the mix. Martinez recorded a couple of self-released albums before this -- 1999's Spinning Our Wheels and Stand You Ground, in 2001 -- and one hopes that he'll keep working at it; it'd be nice to see that the little guys can still crack into the big time.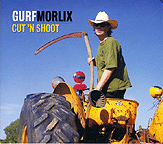 Gurf Morlix "Cut 'N' Shoot" (Blue Corn Music, 2004)



A fine album by this Austin insider... It's funny that a fellow who's as well connected and professionally accomplished as Morlix would put out such a rickety album -- his voice is a little shaky, and the production is fairly muted -- but there's no denying his real country roots, as the spirit of Hank Williams wafts through the opening tracks, supplanted later on by an offhand, Gary P. Nunn-ish casual approach. Morlix takes the forms and lyrical conventions of old-fashioned country heartsongs and gives them a playful, goofy, hippiedelic tweak. It's not surprising to see him cowriting a tune or two with Jim Lauderdale, who also has an off-center sensibility -- their "Where There's Smoke" is an album highlight, along with the giddy "Yesterday She Didn't" and the doleful "Lost Without You..." Although many of these renditions are a little sluggish, you can easily imagine other artists taking the same songs and polishing them into gems; folks who prefer the whole "real folks making real music" approach will appreciate Gurf's purposefully unprofessional delivery, although I have to admit listening to this album all in one sitting is a little bit taxing. I like the songs, but the delivery is a little off. Fans of Ricky Barnes and Rex Hobart should dig this set as well.
David Lee Murphy "Trying To Get There" (Audium, 2004)



(Produced by David Lee Murphy & Kim Tribble)
This opens with a clattersome blast of Southern-tinged roots-rock, replete with whiffs of John Cougar Mellencamp, Bryan Adams and The Black Crowes... It's not my cup of tea -- a little too loud, cluttered, and busy-sounding, and the songs are kind of on the wordy side... But I can see the appeal. Then Murphy gets more conventional, with some slower, nostalgia-drenched, formulaic country tunes, such as the album's title track, stuff that may be more radio-friendly and accessible to the non-macho soft-country crowd. I'm still not wild about his voice, but fans will be pleased to hear him back in action again. Country name-dropping tune: "Ghost In The Jukebox" namechecks Hank, Lefty and George Jones. Too bad the song itself is so rock-oriented. Egregious, naked swipe of someone else's idea: "Mama's Last," which is pretty much just "Mama Tried" with a sloppy facelift. Whatever.

Railroad Earth "The Good Life" (Sugar Hill, 2004)



Mellow music for grown-up hippiedelic tree-huggers. This super-cutesy, eclectic mix of bouncy folk, bluegrass and Celtic pop is tailormade soft-pop for the more sedate, Deadhead-ier end of the jam band spectrum, with long songs that dig deep into sugary acoustic grooves. I'll admit it's kinda goopy, and lead singer Todd Scheaffer is sounding even more like Arlo Guthrie with every passing day -- not just in tone, but also in temperament -- still, there are some songs on here that are kind of irresistible and catchy, and I can definitely see the appeal. Folks looking for a band that's a little twangy yet easy on the ears can find safe haven here.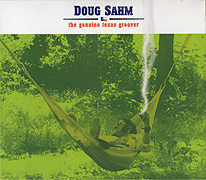 Doug Sahm "The Genuine Texas Groover" (Rhino Handmade, 2003)



In the years since his death (and for some time before...!) Doug Sahm's legend has grown to epic, fittingly Texan proportions, making him the patron saint of the longhair Lone Star alties. Deservedly so, as these early '70s Atlantic label recordings reveal him at his most diverse and most drugged out. The famous Doug Sahm And Band album of 1973, with luminaries such as David Bromberg, Dr. John, Bob Dylan, Flaco Jimenez and saxophonist David "Fathead" Newman all pitching in on an occasionally incandescent, frequently sideways-sliding and zonked-out mix of rootsy, funky blues and spacey country oldies, one of the ultimate cosmic cowboy records of its time, with, of course the FM underground hit "Is Anybody Going To San Antone" to kick things off. This set was sloppy, but in a nice, purposefully greasy, jam session way -- a bunch of roots music heavyweights getting together and letting the tape run. Paired with the '73 album on this 2-CD collection is the followup album, Texas Tornado, from 1975, and on each disc there's about an extra album's worth of outtakes and previously unreleased full-length versions of longer jams that got trimmed a bit to fit them on the album. Devoted Sahm fans will salivate at the chance to hear this stuff all in one place at one time... I gotta confess I find a lot of it to be fairly sludgy, although I suppose it's still pretty cool... Get it while you can, 'cause it's one of those limited edition Rhino Handmade dealies, and if it took the WEA folks this long to put this stuff out on CD, it's not likely to come back around anytime soon...

The Steep Canyon Rangers "The Steep Canyon Rangers" (Rebel, 2004)



This is the third album by this talented new bluegrass combo, a mighty fine, mighty lively set from four talented North Carolina young'uns... The music has a loose-limbed bounce to it which bespeaks some alt-y inclinations, although they keep it pretty straight and pretty traditional sounding. Their sound is playful and open, with a loping bass, a sprightly banjo, soulful fiddling and bright mandolin... Best of all, this album is almost all original material -- a dozen new songs added to truegrass canon, along with one well-chosen Jimmy Martin oldie, and even a Nascar novelty song, a tribute to Dale Earnhardt... Midway through they lose a little steam, but overall, this is a pretty impressive effort by an up-and-coming band that we should all keep an eye on in years to come.

Lane Turner "Right On Time" (Warner Brothers, 2004) (Unreleased)
The album title could refer to the timing of the record itself... If Nashville ever needed a shot of pure hard country honkytonk, it was in pre-Gretchen Wilson '04, and Lane Turner sure did deliver. Think about John Anderson, Merle Haggard, Brad Paisley and Dale Watson all rolled into one, and you'll get an idea of how rich and how rural-sounding this disc is. Oh, yeah, to be sure, there are some syrupy weepers, like the first single, "Always Wanting More" and the title track, but they're more than matched by the uptempo numbers, which are pretty durn good. He devolves into formula, especially on songs like "Halfway To Mexico," but with well-crafted winners like "Outside Looking In," "Happy Hour" and the boozy "King Of Pain," Turner's won himself one loyal listener. Here's the catch, though: Warner shelved the album! So get out there and track down those promo copies, if you can! I mean, it's not exactly the greatest country record ever, but it has its moments!

Uncle Dave & The Waco Brothers "Nine Slices Of Midlife Crisis" (Buried Treasure, 2004)



Mekons/Waco Brothers head honcho Jon Langford produced this ungainly alt-billy outing. It's okay, I suppose, although singer and Mekons confidante "Uncle" Dave Herndon has a markedly unimpressive voice, and his songs are a bit on the obvious side. It's a countrified update of the whole Hazel Adkins joke-a-billy schtick... with plenty of swampy rhythms and chiming rock guitars mixed in with the twang. Didn't do much for me, but for those who are into the Waco Brothers orbit, it's probably a real hoot.
Gretchen Wilson "Here For The Party" (Epic Nashville, 2004)



A huge surprise hit, Here For The Party is one of the biggest artistic shots in the arm that commercial country has gotten in the last years or so. Sidestepping the bland, overproduced soul-pop diva schtick of Shania Twain and Martina McBride, Ohio-based Gretchen Wilson bursts forth with a raunchy, raucous, guitar-heavy novelty song, "Here For The Party," with riffs worthy of Southern rock revivalists like Montgomery Gentry and Travis Tritt, a tune which lets us all know she can hold her own with the boys, and probably even drink half of 'em under the table. The album's second song, "Redneck Women," is an irresistible hit which shot to the top of the charts -- funny, good-natured, and catchy as all hell -- the perfect antidote to the drippy Celine Dion-isms that Nashville women have been miring themselves in for years. The whole album isn't as perfect as these two two tunes, but it's pretty damn good. She sings some ballads, and it's here that her vocal shortcomings come to the fore -- tonally, she's sort of a mix of Natalie Maines and Tanya Tucker, though she starts to frazzle a bit on the high end. But hey, with George Jones-y weepers like "When I Think About Cheatin' " and "The Bed" to back her up, and with the fact that she wrote or co-wrote most of this material, Wilson proves herself to be the real deal. The more we can hear country gals singing real country, the better off we'll all be. Highly recommended!
---



Archived Reviews
Hick Music Index


---