<! * > <! MP3 04/16/13 > <! pix 04/16/13 > <! archived 04/16/13 - with artist links >

---
Howdy, neighbors!

Here are some recent hick records which have caught my attention. This page reviews some of the coolest new stuff I've heard, both new music and reissues... Many of the artists I review are also profiled on separate pages, which are linked to in these reviews. Other artist profiles and guides to various styles can be found from the main Hick Music Index.
---
New Stuff: Spring, 2004
---
Red Allen "Keep On Going: The Rebel & Melodeon Recordings" (Rebel, 2004)



Magnificently pure, old-fashioned high-lonesome truegrass, reissuing material from several early albums and singles from 1963-65, when singer-guitarist Harley "Red" Allen was really on fire. He'd made a name for himself in the 'Fifties, working in a trio with the Osborne Brothers, though from '58 on, Allen led his own band, keeping afloat and keepin' it real during some of country music's roughest times. The lineup on these tracks changed frequently, but with sidemen like Frank Wakefield, Bill Emerson and Scotty Stoneman pitching in, along with the Yates Brothers, Bill and Wayne, filling out the vocal harmonies, Allen & The Kentuckians were a force to be reckoned with. This stuff's about as good as it gets, and puts most of Allen's early '60s contemporaries to shame. It's really, really good, really, really rootsy, true bluegrass... highly recommended!
Red Allen "Lonesome And Blue: The Complete County Recordings" (Rebel, 2004)



This disc reissues two classic mid-'60s albums, Bluegrass Country, from 1965, and 1966's Red Allen & The Kentuckians, which were among the first records issued on the fledgling County label. Bluegrass fans will note these records for their historical significance -- fiddler Richard Greene makes his debut on the first album (soon to move on to Bill Monroe's band, and later newgrass reknown), while mandolin king David Grisman, still testing his wings, was signed on to work his magic on the second. Neither, naturally, were as accomplished as they would later become, but they were still pretty good. While not as electrifying as other Allen albums, this is still pretty nice stuff, well worth checking out, and certainly a major milestone for those tracking the growth of the bluegrass revival.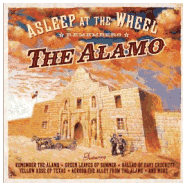 Asleep At The Wheel "...Remembers The Alamo" (Shout Factory, 2003)



Ray Benson and his pals pay loving homage to the dismal defeat that made Texas legend, the 1836 battle that pitted the thousands-strong Mexican army under Santa Ana against nearly two hundred proto-Texan provocateurs, including legendary figures such as Jim Bowie and Davy Crockett... The two-week siege became the stuff of legend, and helped pave the political path for the United States to lay claim to the Spanish-held territories and annex the Lone Star State. AATW approach the subject with smirking affection, covering songs from old Hollywood films, Bob Wills classics such as "San Antone Rose," and TV themes like "The Ballad Of Davy Crockett," each with its own connection to the Alamo. The album's highlights include two more modern songs, Monty Warden's "Stout And High," played as a plaintive ballad, and "Don't Go There," a guffaw-worthy novelty song about the time rocker Ozzy Osbourne got arrested for peeing drunk on the side of the Alamo itself(!) (Miraculously, Ozzy was not lynched then and there, but he was banned from San Antonio for the next ten years... Funny song; wish I could play it on the radio...)

Blackie And The Rodeo Kings "Bark" (True North, 2003)



Hey, waitaminnit.... If it's Canadian, is it still Americana? Far North Americana, maybe? Sub-Arcticana? Anyway, this disc opens with "Swinging From The Chains Of Love," a tasty, upbeat country-billy tune, then it zips into more chunky-sounding roots-rockish territory, with a bouncy, agile slide guitar at the heart of the mix, bringing to mind old stuff by David Lindley and Ry Cooder. Mostly this is pretty darn catchy, although they do slip into some sluggish tropes, as with the forced profundity of "Heaven Knows Your Name," "Willie's Diamond Joe," and a couple of other tunes. If you like these guys, also try checking out solo albums by singer-guitarist Colin Linden.

The Blasters "Live: Going Home" (Shout Factory, 2004)



A blistering live set, recorded in the Santa Ana, California's Galaxy Theatre, in the band's old Southern California stomping grounds... Phil Alvin spits out his lyrics like he wants to set the mic on fire, while Dave whips through some dazzling guitar licks... These guys may be old geezers, but they sure haven't mellowed out!

BR549 "Tangled In The Pines" (Dualtone, 2004)



(Produced by BR5-49, Keith Thompson)
Darn. Just when I was ready to let go of my grudge and give these guys the benefit of the doubt, they come up with this unconvincing outing, another dispirited mix of retro hillbilly boogie, rockabilly and traffic ticket (not quite "outlaw") country. It's weird - they were just gathering steam and emerging from their "gosh, heck!" world's-best-bar-band image and writing some strong country material, then they come back with this half-hearted set of novelty tunes -- the songs themselves are fine, but the band's delivery is remarkably flat, as if they knew that the retro-billy thing wasn't gonna play well in Nashville, and simply lost the courage of their convictions. The opening song, "That's What I Get," held out great promise, with a Rockpile-style blast of pop-a-billy momentum, but then the disc sort of fizzles out from there on. I liked a lot of the lyrics, but the musical end just isn't being held up. The Derailers plow a lot of the same fields -- their crop seems to have had a much better harvest.
Marshall Chapman "Goodbye Little Rock'n'Roller" (Tall Girl, 2003)



This 13-song retrospective disc is a companion to Chapman's autobiographical memoir of the same name... The early tracks, which date back to the 1970s are really impressive for their audacity and balls-out (boobs-out?) rawness, particularly "Rode Hard And Put Out Wet," which was written after a nightlong bender, and "Running Out On The Night," which is one of the more sexually forthright rock songs this side of Marianne Faithfull's "Why'd Ya Do It." The lighter acoustic number "Texas Is Everywhere" derides the mainstream commercialization of the "outlaw" country scene, and other songs such as "Betty's Being Bad," The Perfect Partner" and the title track delve into feminine identity, while the closing tracks get a bit spiritually inclined (reflecting Chapman's clean-and-sober maturity...) All in all, this is an intellectually impressive set which revels a penetrating, restless personality and while her stripped-down roots-rock musical approach may meander a bit, Chapman is definitely worth checking out.
Angel Dean & Sue Garner "Pot Liquor" (Diesel Only, 2004)



An interesting, modernized reworking of Carter Family-style harmonies and old-fashioned country murder ballads, along with some moody lo-fi instrospection. Sounds a lot like Freakwater, with maybe less of a rough edge, and while the subject matter tends to be bleak, it suits the music well. Later in the album, they get into some uncommercial "pop" stuff with weird harmonies and aesthetic choices that reminded me quite a bit of the Roches. Nice stuff, though it might fit more into the "rock" side of the altie equation.

Grey DeLisle "The Graceful Ghost" (Sugar Hill, 2004)



Wow... talk about a shift of direction! After self-releasing a pair of semi-dismal rockabilly-retro albums, LA-based singer-songwriter Grey DeLisle has apparently found her metier, slowing things down and penning a brace of Carter Family/Dolly Parton-styled acoustic, old-timey ballads, material that fits her somewhat shaky voice much better than the uptempo bluesiness of the 'billy scene. Before this disc came out, she was firmly planted on my "danger sign" list -- now I'm kind of curious to see where she goes from here. Admittedly, this disc is still gimmicky and bandwagonesque in a different kind of way, but it has an atmospheric feel that works for me. Definitely worth checking out... Fans of Be Good Tanyas and Jolie Holland will probably like this as well.
The Flatlanders "Wheels Of Fortune" (New West, 2004)



Some songs old, others new... The second album from the revitalized Flatlanders trio has less of a dynamic, organic feel to it, seeming more a series of songs than an exploration of a newly-renewed creative partnership. Ely, Gilmore and Hancock still bring a wealth of roots music road warrior experience to bear, but the songs seem disconnected from each other, and too tightly crafted in parts, more of a carefully crafted studio creation than a joyful old-timer jam. I really liked the last record, and while this one may grow on me, for the moment I'm a little nonplussed.

Michael Fracasso "A Pocketful Of Rain" (Lone Star, 2004)



A Midwesterner who hit the NYC folk circuit in the 1980s, then headed for Austin when the Americana scene started to hit its stride, Fracasso's work is evenly spaced between fragile acoustic folk-Americana and jangly indiepop, music with an interesting, distinctive charm to it... Fracasso has a thin voice, and a notable comfortability with his own limitations, drawing from the traditions laid down by twee power-poppers and Panhandle poets of years gone by. Not all of the songs hold up, but if you're willing to get on his wavelength, Fracasso is an artist whose work can be quite rewarding. (For more info, check out www.michaelfracasso.com.)
Jolie Holland "Catalpa" (Self-Released, 2003)



This is one of the most distinctive, defiantly genre-bending albums to come down the pike in quite some time... Generally speaking, it's in the "Americana" realm, but with odd, insistent jags of torchy jazz, blues and indefinable world music influences. It's not surprising since Holland, who has become a fixture on the Northern California/SF Bay Area scene, was a founding member of the equally eclectic Be Good Tanyas, and carries much of their searching moodiness with her. There's also an art-school diary aspect to this disc, with elusive impenetrable lyrics that are matched by the amorphousness of the music. This album certainly has a unique feel to it... whether she'll be able to sustain the mystique, or sharpen her focus, remains to be seen, but for now Holland has struck a remarkable balance between the pretentious and the sublime... If you're looking for something substantive and off the beaten track, this disc is certainly worth checking out.
Toby Keith "Shock'N'Yall" (Dreamworks, 2003)



(Produced by James Stroud & Toby Keith)
I almost hate to say it, but Toby Keith has really kinda matured and mellowed into a really fine, first-rate country singer, more self-confident and relaxed than just about anyone else in Nashville these days, worthy of Waylon comparisons and the whole deal. Of course, that's only half the story -- the rest of the time he's still bein' a big jerk, sticking his chin out and daring someone to take a poke. This disc typifies that divide: the album opens with "I Love This Bar," an improbably long and deliciously boozy single, a tune worthy of Moe Bandy, back in his salad days. The simple approach works equally well on "Don't Leave, I Think I Love You," which is one of the best, catchiest country songs I've heard in years. He really won me over with "If I Was Jesus," which has a half-blasphemous premise, but is a really funny song, with well-delivered lines. Things bog down, though on other tracks, particularly songs in which he's trying to prove a point. It starts with "American Soldier," which tries to affect an Ernie Pyle-like affinity for the military rank & file... a nice sentiment, to be sure, but the song is hopelessly clumsy and on-the-nose; similarly artless is the live rendition of "The Taliban Song," which is one of the most poorly written political songs ever made. Finally, there's "The Critic," in which Toby takes pot shots at guys like me -- music critics -- making fun of our crappy cars and teeny-tiny paychecks, as if being a millionaire proves he's a great musician. The trouble is, Keith is pretty good, and he's wasting his time recording petty, un-clever snipes like that... and our time as well. My rating? Two great songs, some other stuff that's okay but didn't move me, and about half an album that's kind of just wasted space. Oh, speaking of being wasted, Toby's stoner anthem, "Smokin' Weed With Willie" is pretty funny, too... Just hope it doesn't get that Nelson boy in trouble!

Raul Malo/Pat Flynn/Rob Ickes/Dave Pomeroy "The Nashville Acoustic Sessions" (CMH, 2004)



A nice, relaxed set, featuring country crooner Raul Malo (of the Mavericks), along with fusiongrass studio cats Rob Ickes (best known for his work with Alison Krauss), Pat Flynn (of Newgrass Revival) and bassist Dave Pomeroy, all longtime veterans of the Nashville studio scene. Here they indulge a passion for the simpler side of the country-folk tradition. Malo's mellow vocals on the album's opener, a sweet version of "Blue Bayou," is an album highlight. It's also a pleasant surprise to hear versions of two Louvin Brothers oldies, "When I Stop Dreaming" and "Great Atomic Power," and even a lazy version of "Moon River" and Van Morrison's "Bright Side Of The Road." In places, they overplay their hand -- Ickes' dobro work is mixed too hot throughout much of the album, and Malo goes a little overboard on the Gram Parsons white soul weeper, "Hot Burrito #2." Overall, though, this is a warm. Welcoming album that listeners in search of a softer sound will probably enjoy... Mavericks fans, in particular, will appreciate the chance to hear Malo back in a more mellow setting.
John Michael Montgomery "Letters From Home" (Warner Brothers, 2004)



(Produced by Byron Gallimore & John Michael Montgomery)
Of the flood of post-September 11 patriotic tunes, few have reached the lyrical heights of Alan Jackson's "Where Were You," and in general most songs in the ouvre have been clumsy and ham-fisted, stuff like Toby Keith's oafish and embarrassingly bad "Angry American" and "American Soldier" or Daryll Worley's catchy but poorly reasoned "Do You Remember," songs that mainly seek to persuade or score points in the ongoing cultural turf war on the homefront. In contrast, this album's title track, Tony Lane and David Lee's "Letters From Home," transcends the politics of the moment with an understated, emotionally resonant, well-crafted portrait of a soldier at war whose crushing daily regime is lightened by news from the folks back home. By not mentioning Saddam, Osama or -- god forbid -- the "ragheads," the song retains a timelessness, speaking to the hardships and determination of soldiers in general, not just those send abroad in the Bush years, and its rise to the top of the charts is quite justly deserved. Though not as powerful as the single, the rest of the album is also pretty good -- on the very next track, Montgomery mentions seeing the war on the evening news, but lapses into escapism and the comfort of baby's arms. On the whole, though, singing one great song with such emotional power ain't bad, and fans who buy this album just on the strength of that track alone will not be disappointed by the rest of the disc. Recommended.
Allison Moorer "The Duel" (Sugar Hill, 2004)



An odd match-up between the folkie-bluegrass Sugar Hill label and Ms. Moorer, particularly as this is one of her most crunchy, electric-guitar heavy rock albums to date. The opening track, "I Ain't Given Up On You," has a strong '70s classic rock flavor, almost Led Zeppy, even, and Neil Young's grungy visage hovers over the remainder of the album, even as Moorer's vocals get more soul-drenched and emotive, casting her deeper into the Dusty Springfield/Bobbie Gentry mould... Four songs in, the guitars get so unapologetically strident, it almost sounds as if Teenage Fan Club were backing her up (!) and then finally, she relents and coughs up some country with the spacy "One On The House" and the strummy "When Will You Ever Come Down." That's about it for the twang factor on this one, though... the closing numbers are more acoustic, but not overtly "country." Moorer's lyrics are uniformly bleak, and often a bit too convoluted for my tastes, though gloom junkies should go ga-ga over this one. At least she seems to be writing music she believes in, and injects more genuine instrospection and depth than you normally find on records these days... Fans and the idly curious alike should find a lot to latch onto with this one.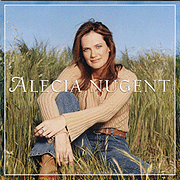 Alecia Nugent "Alecia Nugent" (Rounder, 2004)



(Produced by Carl Jackson)
Carl Jackson produced this fine album by talented newcomer Alecia Nugent, who is pretty much the only bluegrass artist I can think of offhand who doesn't play an instrument on her album (!) but just lets her voice do the talking for her. And hey, when you've got Larry Cordle, Carl Jackson, Ronny McCoury and Ben Isaacs backing you up, then "just" singing seems a whole lot easier! The album kicks off with a sweet, hot fiddle riff from Aubrey Haynie, establishing some solid truegrass cred, and while Nugent moves between 'grassy numbers and country-ish heartsongs, she does so with a sense of absolute calm and authenticity... This is a for-real, rural country singer, a roots singer on par with Patty Loveless or Lee Ann Womack, and while you can imagine her easily cracking into the Nashville network, it's pretty darn nice hearing her go the traditional route for now. There are a ton of fine, fine performances on here, with songs by Cordle and Jackson, and several well-chosen oldies. One highlight is Cordle's "You Don't Have To Go Home," a gentle gospel tune featuring a gorgeous three-way harmony between Nugent and guest vocalists Sonya Isaacs and Rhonda Vincent, who have both skirted along the boundaries of the bluegrass and commercial country worlds. With a debut like this, Alecia Nugent is definitely a talent to keep an eye on... Highly recommended!

Old Crow Medicine Show "O. C. M. S." (Nettwerk, 2004)



Raspy old-time music with modern lyrics and a rawk'n'roll attitude, ala the Bad Livers or Asylum Street Spankers... Like similar efforts on, say, the Bloodshot label, this seems to lack a real feel for the country/hillbilly style -- it's clattersome, but without the rhythmic punch or soulful sincerity that makes old-timey music so compelling. I mean, I guess it's okay, but it sounds a little forced and doesn't really draw me in... Although they gather some subtlety as they go along, the group just seems so mannered and self-conscious about what they're up to that it's hard to just relax and settle into the album. Still, if David Rawlings signed up to produce these guys, maybe they've got something going on after all... (Rawlings plays guitar on a tune or two; Gillian Welch bangs the drums on "Big Time In The Jungle," which deals with the Vietnam War...) Worth checking out, though you may have to force yourself to listen to it for a while before anything really starts to sink in... (Postscript: since reviewing this album, I've heard these guys a couple of times on the radio, and they sound a lot more fun live... So who knows? Their next album might blow me away!)
Dolly Parton "For God And Country" (Welk Group, 2003)



(Produced by Dolly Parton & Kent Wells & Tony Smith)
Y'know, when Dolly decides to get cornball, she really can go all-out like nobody else... With an occasional super-perky, barbershoppish "River Boat"-style chorus bounding up behind her, Dolly sings some swell religious tunes, reprises a few WWII-era military oldies, and pays homage to all that is apple pie-licious about America, yet with a definite nudge and a wink. There are plenty of Parton originals as well, some of older vintage, others that comment on the current day. The most direct (and most dicey) of these is her version "Gee Ma, I Wanna Go Home," where Dolly updates the Eddie Cantor-style stage patter with a bunch of one-liners about Saddam Hussein and Iraq... Of course, it's all redeemed when she cracks a joke about the generals rushing to pin a medal on her ample bosom, referring to her own super-famous boobs as "Shock & Awe." (Only Dolly could pull that joke off... or, maybe Jay Leno...) Admittedly, if you're not on her wavelength on this one, your jaw will drop in disbelief at the over-the-top patriotic, jingoistic presentation... But even if you don't quite agree with her political slant, taken as camp, this is an amazing album. Likewise, if you take it at face value.
Dirk Powell "Time Again" (Rounder, 2004)



An exemplary set of oldtime-ish mountain music, Appalachian tunes played informally and with a relaxed warmth that takes off much of the edge that many contemporary old-timey revivalists have adopted as a badge of honor. Powell's approach is accessible and inclusive: there's no denying the authenticity of these songs, yet listeners who are apprehensive towards or new to the genre won't have to push past abrasive antonalities or shrillness in order to appreciate the music's depth. Doubtless there are crusty purists out there who will grumble about Powell "softening" the music, but there's an equally strong argument to be made that this music was originally intended as entertainment, and that clinging to dissonance as a litmus test of purity is just a form of snobbishness and exclusion. Obviously, there's room for both approaches: I like hyperpurist old-timey music when I'm in the mood, but it's also nice to be able to put on a record or two that friends can listen to as well. Along with a sweet set of traditional tunes and original compositions, this disc is peppered with home recordings of Powell and his maternal grandfather, James Clarence Hay, picking and reminiscing together in 1990. Just the right touch to anchor this album is the past, while personalizing Powell's deep connections to his Kentucky roots.
The Stanley Brothers "An Evening Long Ago: Live '56" (Columbia-DMZ, 2004)



So cool. Recorded in an after-hours session at Bristol, VA radio station WCYB, this twenty song set captures the Stanley Brothers at the peak of their fame, in March, 1956, playing in a relaxed, informal setting that emphasizes the their softer, folkier side. Station engineer Larry Ehrlich asked the brothers to play some of their favorite traditional songs, and while they still wound up performing several of their own original songs, the bulk of the album is material that were a little off the beaten track for the Stanleys, and has a haunting quality that will make you sit up and take notice. Although many of these tunes would become part of their regular repertoire, these versions have a more subdued, old-fashioned feel than in their more polished, popular studio renditions. On shorter instrumental numbers such as "John Henry," the band shows that size isn't everything: in 76 seconds they rip through the melody, with some notably slick banjo playing by Ralph, with dazzling backup picking throughout; even goofy novelty numbers like "My Long Skinny Lanky Sarah Jane" show the breadth of the band's entertainment repertoire. Mandolinist Curly Lambert and fiddler Ralph Mayo provide some sweet, understated accompaniment... Nice stuff!
Dale Watson "Dreamland" (Koch, 2004)



Looking at the album's cover, two things struck me right away: one was that Asleep At The Wheel's guiding light, Ray Benson, is the producer, which made me think, uh-oh, since AATW has kind of lost my allegiance over the years... The other thing that hit me was how much Dale seems to have aged in the last few years -- he's gone completely gray, and looks more haunted than haggard on the trio of photos that grace the album's cover. But inside -- ah, inside! This is another rock-solid, grade-A, kickass, all-American, hard country gem, a record made the way only Dale Watson can make 'em. It's hard to pick out favorite tracks, since the whole record is, well, just so darn good. Dale's grasp of old-style West Coast honkytonk, as well as his deepening interest in countrypolitan, ranks him as one of the most accomplished, masterful country singers around. This album is also a welcome return to form after a couple of shakier efforts, a solid, well-measured, mature record, with a richness and fullness of production that's a real pleasure to hear. His version of Tony Hazzard's "Fox On The Run" (last heard as a hit for Tom T. Hall) is particularly masterful... This is a record that really should grow on you as the years go by... Recommended!
---
---



Hick Music Index
Shop Amazon, Support Slipcue


---