<! cd = 08/29/12 > <! MP3 08/29/12 > <! outside 00/00/00 > <! pix 08/29/12 > <! 208-pix: 00/00/00 > <! icons 08/29/12 > <! UPDATES: 08/29/12 - posted > <! "Norwegian Favorites" (2010) just a best of? B003VUV40G >
---
Straight out of the gate, Brad Paisley emerged as one of country's most likable superstars: his self-effacing persona is charming and disarming, and shows much greater self-confidence than the many big-chested blowhards that clutter the upper layers of Nashville royalty. Paisley knows how to play it cool -- really cool -- and he lets his music do the talking for him. Also, he has a great sense of humor, one that seems more genuine than the factory-made stuff that other country dudes buy off the rack when they hit Music Row. I mean, sure, Paisley's got his formulas, too, but I don't care. I like the guy -- it's hard not to. Here's a quick look at his work...
---
Discography - Best-Ofs
---
Brad Paisley "Playlist: The Bet Of Brad Paisley" (Sony Legacy, 2010)


Brad Paisley "The Video Collection" (Sony-Arista, 2006)

---
Discography - Albums
---

Brad Paisley "Who Needs Pictures?" (BMG-Arista, 1999)



(Produced by Frank Rogers)
Back in the day, it was fashionable in the circles I run in (indie-billy snobs) to pooh-pooh Brad Paisley as the last gasp of the '90s prettyboy neotraditionalist "hat act" singers, and to mock him in comparison to real hard country singers like Dale Watson or Wayne Hancock. But see, I think Paisley's kinda cool; at least, I'd rather be listening to him than to cheeseballs like Billy Ray Cyrus or Collin Raye. Paisley's definitely got something... And while this debut album was undeniably slick and deliberately crafted, it's got some nice material. It opens brilliantly, with "Long Sermon," a goofy tune about a guy who wants to run wild on Sunday morning but, since he was raised "right," has to sit through the a slow-moving church service before he can go out and play. As an country music image-building exercise, it's a stroke of genius, since it shows both a boyish rowdiness, and a family values, god-fearing traditionalism. Plus it's funny. Funnier still is the follow-up tune, "Me Neither," where a would-be barroom Romeo tries to roll with the punches as each of his pick up lines go down in flames. It's on the novelty numbers that Paisley excels, straight-up romantic material generally doesn't fare as well, in part because he doesn't really have all that great a voice, and also because he just seems more into the smart-ass stuff. On the whole, though: nice album. Definitely worth checking out.

Brad Paisley "Part II" (Arista Nashville, 2001)



(Produced by Frank Rogers)
An uneven album in that some songs are great, while others drag on too long. When Paisley latches onto a good gag, his comic timing can be perfect -- "Wrapped Around" and "I'm Gonna Miss Her" are awesome, sterling examples of good-natured hard country novelty songs at their best. As noted above, his delivery on more serious material can be hopelessly obvious, even sluggish at times. Though his old-fashioned acoustic-based orientation is a welcome contrast to the overinflated popatronics of post-millennial Nashville, in all honesty this is a disc that's ripe to be picked apart by the "best-of" patrol. It's worth checking out, but chances are you can live your life just fine without hearing Brad sing those ballads more than once or twice.

Brad Paisley "Mud On The Tires" (BMG-Arista, 2003)



(Produced by Frank Rogers)
This disc starts off strong, with several good-natured, fairly straightforward hard country tunes, followed by a nice set of sensitive-guy, slice-of-life domestic portraits. Paisley considers the battle of the sexes more as a loosely organized game of tug-o-war rather than a bitter struggle to the death. His resolutely mellow, can't-we-all-get-along approach, and his affectionate embrace of his gal's human frailty rings a lot more true than the "Hey baby, I dig where you chicks are coming from, but check out my gun rack!" pseudo-macho contrivances of practically all the other cuddly studs on the current Country charts. The radio single, "Celebrity," is a funny jab at how the "reality TV" instant fame mentality has further cheapened the once-sacred traditions of stardom; unfortunately, this also also includes a song called "Famous People," which is an unnecessary rehash of the exact same theme, and signals the album's sideways slide during its second half. In some respects, the way the album unravels is admirable -- rather than try and pack every inch of disc space with hits, hits and more hits, Paisley is content to joke around and goof off. A duet with Alison Krauss (on Bill Anderson's cautionary tale of alcholism, "Whiskey Lullaby") sounds lovely, but is kind of a downer; Brad scores hard country cred points for covering Vern Gosdin's "Is It Rainin' At Your House," and his version of the gospel oldie, "Farther Along," while not electrifying, is still a nice touch. A couple of tracks falter -- "The Cigar Song" is boring, the semi-instrumental track with guest guitarist Redd Volkaert is goofy, but not that great, and "Make A Mistake" is a great concept that needs to be fleshed out and made into a real song. On the whole, though, this is a fine album, and a nice breath of fresh air from the boy band sound that's swamped Nashville in the last couple of years. Keep 'em comin', Brad!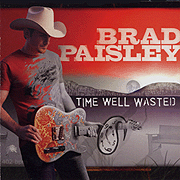 Brad Paisley "Time Well Wasted" (Sony-BMG/Arista, 2005)



(Produced by Frank Rogers)
He's taking himself a little too seriously this time around, and occasionally goes overboard with the production, but Paisley still has a way with clever lyrics that'll keep his twang-cred intact... The album's comedic highlight is the lazy-paced hit single, "Alcohol," which describes all the virtues of the world's favorite drug (including "helping white people dance...") and other tracks like "You Need A Man Around Here" and "Flowers" help add a little grit, while some of the ballads such as "She's Everything," "Love's Never-Ending" and "Rainin' You" send me clickin' the fast-forward button... But that's par for the course for Nashville these days, and I guess we twangfans should just be glad Brad's still trying to keep it country in the first place. The album closes with Paisley showing off his chops as a Telecaster master, including "Cornography" a raunchy, blue humor track where he swaps licks with the great James Burton, and while this stuff is interesting (and probably fun to see live), it's not as much fun as when he sings a few great country songs. This disc isn't nearly as fresh-sounding or as fun as 2003's Mud On The Tires, but it's still got several really nice songs... Definitely worth checking out!

Brad Paisley "A Brad Paisley Christmas" (Sony-BMG/Arista, 2006)



A lively, likable Christmastime offering... Even when Paisley's playing it corny and slow, there's plenty of twang, and a more rugged feel than most of the over-orchestrated holiday albums that are out there. Some nice upbeat material as well... You can feel his sincerity and sense of fun on many of these songs. Recommended! (PS- for more Christmas music, check out my Hillbilly Holiday section.)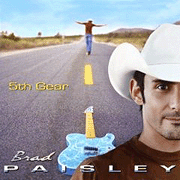 Brad Paisley "5th Gear" (Arista Nashville, 2007)



(Produced by Frank Rogers)
Once upon a time, Nashville was packed with artists who unabashedly devoted themselves to novelty songs -- Buck Owens and Little Jimmy Dickens come to mind right away. Although the country charts are still full of novelty tunes, for the most part, the big stars play it safe with tightly-crafted power ballads and by-the-numbers good ol' boy anthems, while the goofy stuff is more of a sideline. Singer-writer-guitarist Brad Paisley is the exception to the rule, a glorious throwback to the days when a country star could make a career out of making people laugh, and have a good old time doing it. Sure, he's got romantic material on here as well, but the heart of this album are his hilarious, intelligently crafted gut-busters like "Online" (about a geeky guy who has a studly self-image on MySpace), the bubbadelic "I'm Still A Guy" (where Brad's he-man persona casts a stink-eye glance at squishy-soft, fashion-obsessed metrosexuality) and "Mr. Policeman" (about a Smokey And The Bandit car-chase fantasy that devolves into an violent, OJ-style confrontation, although the mock-macho narrator is too clueless to realize how deep a pile of doo-doo he's gotten himself into). Possibly the best joke on here is "Ticks," a brilliant parody of Top 40 sensitive-guy ballads, in which Paisley opines how he's different from all the other guys and would like to take the object of his affection away from the sleazy bar scene, out wholesomely hiking in nature... and then give her a tick check when they're done. Paisley's ability to make fun of himself is certainly one of his greatest strengths as a singer -- the characters in his songs rarely know what total tools they are, so we get to laugh at them along with Brad, winking at each other about the bluster and bravado that make them so human and flawed. It's a brilliant formula, and Paisley's delivery is perfect, he lets the jokes play out nice and slow, and keeps adding layers of humor once you've already gotten the gag. His conversational style is unusual as well-- you really feel you're hanging out with a real person, not a polished star, and he's a really funny guy. Brad Paisley would be fun to hang out with, I'm pretty sure of it. There's a sincere side to his work as well -- "All I Wanted Was A Car" seems like a novelty song at the start, but shifts gear into a song about modest, middle-class American dreams, family life and the value of hard work; "If Love Was A Plane" -- a song about divorce rates -- takes a simple metaphor and blows it away ("If love was a plane/nobody'd get on"), and "When We All Get To Heaven" is a fine country gospel tune. As far as I'm concerned, Brad Paisley is the real deal -- his songs are intelligent, emotionally honest and bracingly unique, with a modern sensibility and down-to-earth humbleness that are sorely needed in today's too-slick country-pop scene. This album's another winner!

Brad Paisley "Play: The Guitar Album" (RCA-Nashville, 2008)



Now, don't get me wrong -- I'm a big Brad Paisley fan. (Honest: check out my old reviews!) But an album of guitar Brad Paisley guitar instrumentals isn't exactly the first thing you'll see on my Christmas list. Paisley obviously fancies himself a guitar hero, and he certainly has a lot of fun when he twangs away on his six-string, but the truth of the matter is that his instrumental outings are often the weak spots in his otherwise awesome albums, and have been for a while. His non-vocal tracks are sometimes funny, but in a limited way: I find his approach too linear and I'm not too fond of the actual tone to his Telecaster pickin', plus I'd really just rather hear the guy sing -- that's where his real wit and warmth comes out, loud and clear. Now, to be fair, this record isn't strictly an all-instrumental album... there are some nice cuts with Steve Wariner, Keith Urban, the late Buck Owens and even a blues duet with B.B. King and a silly voiceover from Andy Griffith. But most of it is the chicken-pickin' thing, and unless you're a diehard fan, a little bit of that probably goes a long, long way.
Brad Paisley "American Saturday Night" (RCA, 2009)


Brad Paisley "Hits Alive" (Sony-Arista, 2010)



A 2-CD live set... Includes guest appearances by Alison Krauss (on "Whiskey Lullaby") and Dolly Parton...

Brad Paisley "This Is Country Music" (Sony Nashville, 2011)



Another strong set from twangy chart-topper Brad Paisley, kicking off with the title track, "This Is Country Music," a cliche-packed Nashville anthem that seems meant to win back listeners who were miffed by the liberal views on the last album. Lots of guest stars on here, too: Blake Shelton, Carrie Underwood, Don Henley on a very Eagles-y tune, and a trio of talent on the gospel tune that closes the album: Sheryl Crow, Carl Jackson and Marty Stuart singing harmonies on a stripped-down version of "Life's Railway To Heaven." The strongest, most radio-friendly song is probably the booze-soaked novelty tune, "Don't Drink The Water," with Paisley and Shelton swapping lines about a tropical holiday where they don't have to worry about the local water quality, 'cause it ain't water they're planning on drinking. Moe and Joe would be proud. Also nice is his sympathy for the working man ballad, "A Man Don't Have To Die," which describes how bad things can get when the economy goes sour... best of all (from my point of view) there's only one of his chicken-pickin' guitar hero solo songs, and it's a good one, this time a surf-y take on old spaghetti western music, appropriately called "Eastwood." All in all, another good one from one of Nashville's finest!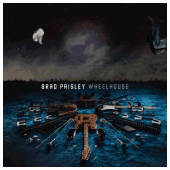 Brad Paisley "Wheelhouse" (Sony-Arista, 2013)


Paisley ruffled a few feathers and caused a big social-media stir with the politically-themed song, "Accidental Racist," about a Southern boy who wears a Confederate flag t-shirt into a coffee shop up North, and has to defend himself against the negative reactions it provokes. As Paisley makes a plea for cultural tolerance, rapper LL Cool J provides a contrasting point of view, although they both basically conclude that it's best just to get along and that "not up to" people living nowadays to "rewrite" history and maybe everybody should all just mellow out. I give Paisley major credit for trying to open an honest dialogue on this issue, particularly for the attempt to present the frame of mind of "rednecks" to a non-Southern audience. Nonetheless, the song is a musical and political fail: the whole I-didn't-start-the-Civil-War thing is a complete cop-out, because if you're flying Old Dixie, you're on-purpose jabbing other people in the eye. You just are. Paisley also presents the argument that it's a matter of white Southerners taking pride in "our" land and "our" culture, which I kind of don't get. Unless I'm mistaken, isn't the South still part of America, and don't other people live in the South besides just white folk? It's clinging to a time and an ideal that wasn't really all that nice, and in terms of the Confederate flag, the concept of "Southern culture" can't really be pried loose from the underlying racist history. Some symbols don't need to be preserved. Of course, Paisley is an intelligent, socially-aware modern guy and I think he's being more nuanced here than most people realize. Plus, he can do a better job persuading people about this issue than you or I can, and while this song is muddled, it's well-meaning, and even in its failures it seems more likely to nudge the national dialogue in a healthy direction than to harden people's hearts. He's also walking a fine line with an increasingly rigid country listenership, people who might not appreciate the criticism of Southern history included with the nostalgia, so on top of "Accidental Racist" he adds the more rah-rah "Southern Comfort Zone." Moving on, the rest of the record shows Paisley delving even deeper into the novelty-song direction that he favors, on this album perhaps more than any other. In the past, his records have mostly been good country music punctuated by goofy, indulgent moments... Here, I'd have to say the pure twang is almost entirely gone, and while songs like "Those Crazy Christians" or "Karate" are funny, they're not durable, nor is anything else on this record. It's a totally disposable album, the musical equivalent of a small bag of chips that you pick up at the 7-11... It's cool that Paisley can be so lighthearted and not take himself too seriously, but musically there's no real emotion resonance, and nothing on here that I could see myself listening to more than a couple of times for laughs.
Brad Paisley "Moonshine In The Trunk" (Sony Arista, 2014)


---
Discography - Albums
---
---
Links
---
---