<! cd = 07/30/13 > <! MP3 09/12/08, 03/08/12 > <! pix 03/08/12 > <! icons 01/23/11 > <! UPDATES: 07/30/13 - separated Sergio & Arnaldo into new solo pages >

---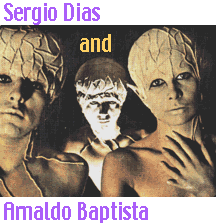 Let's review. Os Mutantes were a psychedelic rock band at the center of Brazil's acid rock-influenced "tropicalia" movement of the late 1960s. One of the most vibrant and musically experimental groups of the late-'60s Brazilian crowd, they played backup on the first solo albums of Caetano Veloso and Gilberto Gil, as well as on the landmark TROPICALIA compilation which also featured Veloso, Gil, Gal Costa and Nara Leao.
After the original band split up, guitarist made a go of keeping the band together, fronting a new Os Mutantes lineup as a commercially-inclined prog rock outfit, while his brother Arnaldo Baptista and singer Rita Lee both pursued solo pop careers, with varying degrees of success. Arnaldo's career was cut short by a crippling emotional depression which led to his retirement from the music industry. Sergio Dias went on to do some work as a session guitarist and a solo artist, but also has not recorded much in the last few decades. Here's a quick look at his work...
---
Sergio Dias Solo Albums
---

Sergio Dias "Sergio Dias" (CBS, 1980)

Sergio Dias "Sergio Dias Solo - Gravado Nos EUA" ( Producao Eddie Offord )

Sergio Dias "East Side Strut" (1981)
With Eumir Deodato.
Sergio Dias "Armacao Ilimitada" (TV Globo, 1983)

Sergio Dias "A Era Dos Halley" (TV Globo, 1985)

Sergio Dias "O Filho Da Cidade - Abertura Novela Cambalacho" (TV Globo, 1987)

Sergio Dias "Johnny Love" (Soundtrack) (Vid Filmes, 1988)


Sergio Dias & Phil Manzera "Mato Grosso" (Black Sun Records, 1990)



Sergio Dias "Mind Over Matter" (Expression Records, 1991/Natasha, 1996/Mancub, 1999)


Pretty painful, although earnestly delivered. It's just... um... such a terribly mainstream album, and so phenomenally behind the times. Plus, it's all in English, which takes the fun out of it as well as making it impossible to overlook the sheer Rush/Styx/Journey-ness of it all. It sounds very heartfelt, but in terms of innovative rock music, this is kind of a write-off.

Sergio Dias "Song Of The Leopard" (Black Sun, 1996)



A straight-ahead "world music" release, mixing South African pop and Brazilian folk and MPB. Following a trip to South Africa, Sergio got in a Graceland frame of mind and hooked up with the Chris Faya Gospel Singers, a fairly traditional South African choral group. There are a few striking moments on here -- weird collisions of art rock, AfroBeat and Brazilian forro, but it also lurches into some pretty syrupy terrain. Overall, not that great, but still might be of interest to Mutantes fans.


<! 08/10: lost GIFS, just 0'd it out >

Sergio Dias "Live At Jazz Mania" (Mancub Records, 1998)

Sergio Dias "Mind Over Matter" (Mancub, 2000)

Sergio Dias "Estacao Da Luz" (Tratore, 2001)





<! B001AJX9CQ Italian tribute >

---
Links
---
Sergio Dias' official Mutantes page also includes his solo discography, and links to other websites. He's still working on the English translation...
For links to websites about Rita Lee, Arnaldo Baptista or Os Mutantes, please go to those Slipcue discography pages...
All Brazilian Music has good biographical sketch and discography of Sergio Dias... A recommended website!
The New York Times ran an excellent article on Os Mutantes in April, 2001... bascially an interview with Rita Lee, it also provides some good information about the band and fills in a few blanks hitherto unknown...
---



---