<! MP3 02/17/11 - not much! > <! update 02/17/11 - no links to '70s albums, still didn't add 80s or '90s. More best-ofs to do. > <! pix 00/00/00 > <! icons 02/17/11 >

---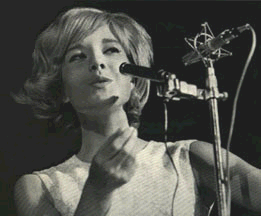 It's easy to dismiss Sylvie Vartan's contributions to the ye-ye scene, since (like her then-husband, Johnny Hallyday) she wasn't that great a singer, and her specialty was doing kitschy, French-language covers of American rock songs. But it's precisely her fluffiness which makes Vartan so enjoyable. She was one of the first successful ye-ye singers, with hits in the early '60s that set the pace for rock singers to come. To be sure, a lot of Sylvie's records were pretty weak, but the best songs were a lot of fun.
---
Discography
---

Sylvie Vartan "Sylvie" (RCA, 1962)


Even the most curmudgeonly among us (me!) must admit that this album is hella cute. Though, frankly, Vartan's talent could go only so far, these early recordings work exactly as intended -- exuberant, kitschy versions of pre-Beatles hits such as "Breaking Up Is Hard To Do", "Baby It's You" and "The Loco-Motion" sound every bit as precious as the record producers thought they would be. As a cultural snapshot, these tracks stand the test of time -- even though they are clumsy and effete by comparison to the American originals, they still capture the genuine French interest in America's rock revolution, and the initial spark of excitement before all the ennui and detachment set in. Recommended!
Sylvie Vartan "Twiste Et Chante" (RCA, 1963)

Sylvie Vartan "A Nashville" (RCA, 1964)

Sylvie Vartan "A Gift Wrapped From Paris" (RCA, 1965)


Well, who woulda thunk it, but Vartan actually sounded better singing in English than she was in French! Recorded in New York and Nashville, this includes solid versions of songs such as "My Boyfriend's Back," "Alley Oop," and "Gonna Cry"... all with a solid, Mussel Shoals-y backing... the wackiest thing, though is how much stronger Vartan's vocals are here than on many of her earlier Francophone recordings... Go figure! At any rate, this is a pretty cool album, and is definitely recommended!
Sylvie Vartan "Il Y A Deux Filles En Moi" (RCA, 1966)


Less bouncy and more ballad-y than many earlier albums, features a version of the folk-rock standard "Turn, Turn, Turn."
Sylvie Vartan "2'35 Du Bonheur" (RCA, 1967)


Sylvie gets R&B funky with a cover of the Spencer Davis Group hit, "Gimme Some Lovin'", as well as some Smokey Robinson Motown standards.
Sylvie Vartan "Comme Un Garcon" (RCA, 1967)

Sylvie Vartan "La Maritza" (RCA, 1968)





<! Sylvie Vartan -- Sylvie Vartan (Japanese paper sleeve edition -- with bonus tracks) ... CD RCA (Japan), 1969. New Copy Gatefold .... $21.99 A obscure all-Italian album from French pop chanteuse Sylvie Vartan -- one with some very very groovy numbers! The overall style here is a bit similar to Sylvie's best late 60s work in France -- thanks to arrangements that are mostly from Reg Guest and Arthur Greenslade -- but the change in.>

Sylvie Vartan "Aime-Moi" (RCA, 1970)
Guest star - Johnny Hallyday




Sylvie Vartan "Sympathie" (RCA, 1971)





Sylvie Vartan "J'ai Un Probleme" (RCA, 1973)
Guest star - (...gasp!) Johnny Hallyday




Sylvie Vartan "Shang Shang A Lang" (RCA, 1974)



<! B0027IOHR0 LP >

Sylvie Vartan "Qu'est-Ce Qui Fait Pleurer Les Blondes?" (RCA, 1976)





Sylvie Vartan "Ta Sorciere Bien Aimee" (RCA, 1976)





Sylvie Vartan "Georges" (RCA, 1977)





Sylvie Vartan "Fantasie" (RCA, 1978)
One track is titled "Disco Queen"... need we say more? No. I don't think so.


<! B00413VRDG LP >

Sylvie Vartan "I Don't Want The Night To End" (RCA, 1979) (LP)





Sylvie Vartan "Deraisonnable" (RCA, 1979)



<! a BUNCH of more recent releases, including several on MP3. Not old stuff, though. >

---
Best-Ofs
---

Sylvie Vartan "L'Essentiel" (RCA-France)


Gosh, was she really that bad? Well, here's two CDs worth of Sylvie's "best" from 1962 through the late '70s that serve as one big "case in point"... There are lots of other goodies from her early catalog that I could think of to include on a collection like this, though this has a few nice ones. Her cover of "Rhythm of The Rain" and "Let's Dance" are nice... but her covers of "Oh, Pretty Woman" Paul Anka's "I'm Watching" are absolute disasters. This devolves into pure schlock pretty quickly, especially once she becomes a more mainstream Euro-pop singer. And disco? Oy geyvalt! It must be said, though, that this is definitely a representative collection... no doubt about that. Scary. Why do I have a whole website devoted to this woman??
---
Links
---
Sylvie Vartan Unofficial Website (on the French Music Database) includes a thorough discography with tracks listings and brief comments about each albums, and lots o' pictures. Other artist pages in the Database are not as lavish, but this one is pretty spiff. (January 20, 2002: is this site defunct? The old link no longer seems to work...)
La Martiza is a great site, except for the horrible banner ads which cause navigational snags and endless irritation each time you go anywhere on the site. Still, a pretty cool source of Vartan info. (January, 2002: also inactive?)
The Ye-Ye Girls Website has great profiles of several leading stars, as well as links to some other great websites... Nice French pop clearinghouse!
---



French Music Index
French Rock Albums



---