<! MP3 03/23/10 > <! update 00/00/00 > <! pix 03/23/10 > <! icons 01/30/11 > <! Charlie Louvin - late album >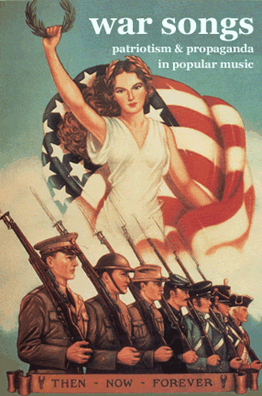 ---
The patriotic war song pretty much died a lonely death during the Vietnam War with Sgt. Barry Sadler's "Ballad Of The Green Berets" and Tony Orlando & Dawn's "Tie A Yellow Ribbon" proving the last gasp of this once-great genre. During WWII, though, propaganda songs were perfected to a "T," and numerous fascinating examples can be found on reissue records such as the ones listed below. By the '60s, however, war-related songsmithery had turned more towards anti-war anthems, particularly those of the Greenwich Village folk scene and the hippie hordes who came after them, and the Reagan-era leftie balladeers such as Ewan MacColl, Dick Gaughan and Billy Bragg, who carried the torch, even as the Cold War rose to its final (?) crescendo.
Anyway, here's where my (so-called) training as an historian and as a self-taught musicologist collide: an overview of music related to warfare, both from the patriotic and the pacifistic viewpoints. Propaganda songs are an interesting artform; the best songs are so memorable, and even the hack tunes can be very revealing about the cultures they represent. Naturally, it's a delicate balance that separates a tawdry broadside from a gut-wrenching or emotionally resonant work of art. Of course, where you stand on that issue may partly depend on your political leanings... and that's part of the attraction of this particular genre. At any rate, in the continuing struggle to promote some semblance of historical awareness within our ever-shallowing global culture, I now offer a quick look at the musical history of pride, carnage and jingoism.
This page deals mainly with full albums devoted to pro-war themes and jingoism. Antiwar anthems are are reviewed on a separate page.
War Films - war and peace up on the screen
---
War Songs - A Musical Overview
---

Gene Autry "The Cowboy Is A Patriot" (Varese Sarabande, 2002)


A great 2-CD collection of Sgt. Autry's wartime broadcasts, in which he lends the might of his Melody Ranch radio program to the tasks of selling bonds, recruiting soldiers and recycling scrap metals and rubber for the homefront mobilization. The first CD skillfully sifts through his wartime broadcasts, gathering choice radio announcements and one cheerful patriotic tune after another. Many of these tunes seem unique to Autry's program -- fine, but rare, examples of wartime propaganda songs. The second disc replys one of his radio shows in its entirety -- similar material, but nice to hear how it was all put together during their live shows. For Autry fans or history buffs, this collection is a doozy!
Elton Britt "The RCA Years" (Collector's Choice, 1997)


One of those improbably sissy-voiced singers who became country stars back in the early days, Britt started off doing novelty songs and yodeling tunes, but shifted to the sentimental side when he had a big wartime hit in 1942 with the patriotic weeper, "There's A Star Spangled Banner Waving Somewhere". After that, he kept his hillbilly sensibility, but his work was much smoother and sedate, keeping an eye on the Bing Crosby-dominated pop market. This is a great collection of his early work, and also includes a several follow-up attempts to capitalize on the success of his first war-related hit.

Charlie And His Orchestra "German Propaganda Swing, v.1: 1941-1942" (Harlequin, 1990)


I'm a bit leery of including this disc in my survey... not because of the quality of the material, but because I loathe the idea of giving fodder to some racist dimwit who might get off on hearing some actual, archival Nazi propaganda, or of helping propagate any of the lame (but pernicious) racial slanders used in the lyrics. Still, this is amazing material from an historian's standpoint, and if anybody belongs in a survey of wartime propaganda, "Charlie" and his crew certainly qualify. This album collects nearly two dozen rare transcription discs of one of Heinrich Goebbel's most prominent propaganda efforts, English-language political parodies of popular swing and society dance tunes, performed by anonymous German jazzmen. The songs start off straightforwardly enough; they sound like some wimpy British sweet band playing "Dinah" or "Hold Tight" or "St. Louis Blues," or whatever. The idea was to get US servicemen "hooked" by the simple sounds of home, and then they'd whammy 'em with an unexpected propaganda message, aimed at demoralizing the troops, or fomenting division between the Yanks and their British allies. I suppose that's fine in theory, except that the crude anti-Semitism and the execution of the lines is so clumsy that it hardly seems like it could have been very effective... ("Roosevelt iss a Jew," hisses Charlie, during the spoken-word bridge, "He will shoot you in the back while you are on the front lines...") I'm sure the soldiers it was aimed at just rolled their eyes and changed the station. Nonetheless, it's still fascinating from a historical perspective, particularly as these original recordings were mostly destroyed as the war came to a close, and war crime trials loomed on the horizon. None of the musicians involved were ever prosecuted -- many were foreign jazz players who were drafted into service by the SS -- but as a group they were reviled for their efforts, and few would leap up to take credit for such dubious accomplishments. The CD also includes an excerpt of a wartime broadcast made with the infamous Lord Haw-Haw, the most nototious of the German broadcast propagandeers. Weird and icky, but fascinating nonetheless.

Charlie And His Orchestra "German Propaganda Swing, v.2: 1941-1944" (Harlequin, 1990)

Ewan MacColl "Bless 'Em All ...And Other British Army Songs" (Riverside)
A great collection of barracks ballads from the British armed forces. Those Brits are so great with words... so it's little surprise that during the wars the lads broke out their guitars, and wrote clever, biting songs to pass the time and relieve the pressure of military life. Two things make this a great album; first there's MacColl's wonderful, boisterously funny performance, second, there are the songs themselves, which are surprisingly and bluntly subversive. As far as I know, this isn't in print on CD, but it would be lovely if it were. For more about Ewan MacColl, see my artist profile.
Country Joe McDonald "War War War" (Vanguard, 1971)


In the mid-1960s, Berkeley, California's own Country Joe McDonald sang the famed "Fixin' To Die Rag," as popular an anthem as the American antiwar movement could ever hope for. An icon of the pinko commie Left, McDonald later campaigned for the politcal rights and rehabilitation of returning Vietnam veterans, helping bridge the gap between the protestniks and the soldiers they had once reviled. This is an impressive album that he made during the height of the Vietnam War, hearkening all the way back to the First World War, and the poetry of Robert W. Service, a Canadian poet who served as a war correspondent in the Balkan wars and later as an ambulance driver on the French front in WWI. Service was generally patriotic throughout the conflict, but as he witnessed so much the unceasing carnage, he was overcome by disillusionment and disgust. Although many of the poems on here may be a bit too epic and belaboured, the opening tracks, "Foreward" and "The Call," are quite compelling, and certainly rank as some of the best work McDonald has ever done. He deserves credit for recording this album, which showed a surprising measure of maturity and artistic depth within a rather polarized and often glib political clime. Definitely worth tracking down. (For more info, check out Country Joe's website, Art Damage and the Robert W. service home page.)
Dolly Parton "For God And Country" (Welk Group, 2003)



Y'know, when Dolly Parton decides to get cornball, she really can go all-out like nobody else... With an occasional super-perky, barbershoppish "River Boat"-style chorus bounding up behind her, Dolly sings some swell religious tunes, reprises a few WWII-era military oldies, and pays homage to all that is apple pie-licious about America, yet with a definite nudge and a wink. There are plenty of Parton originals as well, some of older vintage, others that comment on the current day. The most direct (and most dicey) of these is her version "Gee Ma, I Wanna Go Home," where Dolly updates the Eddie Cantor-style stage patter with a bunch of one-liners about Saddam Hussein and Iraq... Of course, it's all redeemed when she cracks a joke about the generals rushing to pin a medal on her ample bosom, referrring to her own, super-famous boobs as "Shock & Awe." (Only Dolly could pull that one off... Or, maybe Jay Leno...) Admittedly, if you're not on her wavelength on this one, your jaw will drop in disbelief at the over-the-top patriotic, jingoistic presentation... But even if you don't quite agree with her political slant, taken as camp, this is an amazing album. Likewise, if you take it at face value.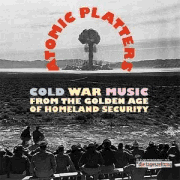 Various Artists "ATOMIC PLATTERS: COLD WAR MUSIC FROM THE GOLDEN AGE OF HOMELAND SECURITY" (Bear Family, 2005)


A 6-CD box set from the fine folks at Bear Family Records... Great music, great scholarship, pretty packaging!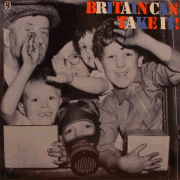 Various Artists "BRITAIN CAN TAKE IT!" (EMI World Records, 1974)
The Battle of Britain, an aerial firefight over the English Channel, and the ongoing Blitz of London and the countryside that lasted the length of the war, were Great Britain's trials by fire in World War Two. British musicians addressed the war with characteristic wit and aplomb, and this collection is packed with great material, including nuggets such as Harry Roy's lament over wartime rationing ("When Can I Have A Banana Again?"), numerous songs about air raids and their humorous consequences, a lampoon of German propaganda efforts ("Lord Haw-Haw And The Humbug Of Hamburg") and even some patently offensive, racist material such as "The Jap And The Wop And The Hun," by Ronald Frankau. Not all of these songs are top-flight, but the ones that are certainly tip the scale, particularly gems such as Noel Coward's brilliant "Don't Let Us Be Beastly To The Germans," which satirically suggests a soft line on reparation talks after the war is over. What's notable about these British songs, as opposed to the American feelgood jingoism, is their specificity and willingness to address unpleasant topics head-on. The English method seems to be to diffuse hardship through wit and good old-fashioned complaining and blowing off steam. As a result, although their songs are always as well crafted as the Yanks, they often hold more historical detail, and are quite fascinating. Definitely a disc worth looking for.

Various Artists "HITLER AND HELL -- AMERICAN WAR SONGS: 1933-1947" (Trikont, 2001)


This German import zeros in on political themes, and is jam-packed with incredible material from the worlds of big band, blues and country. The title track is a preach-and-shout gospel tune which likens Hitler to the devil; also included are classics such as "Stalin Wasn't Stallin'," sung in praise of our noble Russian allies, and Texas Jim Robertson's strident "Last Page Of Mein Kampf" (we write it, not the Nazis). Racism also played a huge role in wartime propaganda, as heard on the catchy-but-creepy "Goodbye Mama, I'm Off To Yokohama," where a gleeful bomber pilot declares: "A million fighting sons of Uncle Sam, if you please/will soon have all those Japs right down on their Japan knees"... On the flipside, this disc also includes a lone example of Goebbels's house band, the "big band" group of Charlie and His Orchestra, whose crudely concieved English-language broadcasts aimed at demoralizing the Allies and creating friction between the American and British troops. Not for the faint-of-heart or overly-PC listener, but a real treasure trove for anyone interested in seriously researching wartime propaganda songs. Highly recommended.

Various Artists "LIKE AN ATOM BOMB: APOCALYPTIC SONGS FROM THE COLD WAR ERA" (Buzzola, 2004)


Various Artists "OH, IT'S A LOVELY WAR: SONGS AND SKETCHES OF THE GREAT WAR, v.1" (CD41, 2001)



An impressive collection of archival British recordings made during and right after World War I... This includes many famous songs like the title track (and others featured in the play by the same name), as well as other, odder recordings such as staged reenactments of wartime combat (which were represented at the time as actual documentary recordings, despite the patently inauthentic clatter of kettle drums, as opposed to the dull thud of explosive charges), and the macabre recitations of Sgt. Edward Dwyer, a war hero who went on the homefront recruitment circuit after getting wounded in 1915, then went back to the front and was killed the following year. The immediacy of these mens' experience is compelling, as is their verve for life -- despite the horrors of a particularly horrible war -- and the richness of the music they embraced. The sound quality is pretty good, especially considering that many of these recordings were pre-electric, and a few are even from old cylinder recordings. If you're into the historical aspects of the war, this is an invaluable resource. The label can be emailed, courtesy of the album's editor, James Nice.
Various Artists "OH, IT'S A LOVELY WAR: SONGS AND SKETCHES OF THE GREAT WAR, v.2" (CD41, 2001)

Various Artists "OH, IT'S A LOVELY WAR: SONGS AND SKETCHES OF THE GREAT WAR, v.3" (CD41, 2001)


Various Artists "OH, IT'S A LOVELY WAR: SONGS AND SKETCHES OF THE GREAT WAR, v.4" (CD41, 2001)



Various Artists "REMEMBER PEARL HARBOR: SONGS THAT WON THE WAR" (Varese Sarabande, 2001)


A great set of WWII rah-rah songs, including many of the more-obscure recordings of the itme. A few were mere feelgood anthems, like "Praise The Lord and Pass The Ammunition", or simpleminded knockoffs like Bing Crosby's "Buy, Buy, Buy War Bonds." Other songs actually chronicled their times, including the darkness as well as the light. The real historical gem on this collection is Horace Heidt's "There Ain't Gonna Be No War," which perfectly captures the smug isolationism of prewar America as regards the rest of the world: "We're gonna have peace and quiet/and if they start a riot/we'll sit right back and keep score./The only place you you'll go marching to/will be the corner grocery store..." Plenty of other great material as well... an admirable collection, edited, oddly enough, by writer Rod McEuen, who is apparently a serious warsong-oldies buff himself. Definitely worth checking out.


Various Artists "SONGS THAT GOT US THROUGH WWII, v.I" (Rhino, 1990)


Various Artists "SONGS THAT GOT US THROUGH WWII, v.2" (Rhino, 1994)


These two discs are so-o-o-o-o-o-o-o-o-o sweet! These really are the big hits of the wartime years... And you know why they were big hits? Because they were such great songs! If your appetite for the swing era extends further than the last Gap ad, then you owe it to yourself to check these CDs out. Not all of these songs were overtly war-related, but the ones that were (such as "Coming In On A Wing And A Prayer," "G.I. Jive" and "When The Lights Go On Again" are great. And "It's Been A Long, Long Time," a song about a soldier coming home to his sweetie's eager arms, is one of the most frankly erotic tunes of the era, sung in a whisper by the young Kitty Kallen. Both volumes of this series are highly, highly recommended.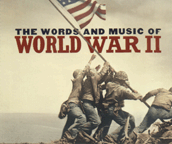 Various Artists "THE WORDS AND MUSIC OF WORLD WAR II" (Columbia Legacy, 1991/2001)


Issued on the 40th anniversary of the bombing of Pearl Harbor (and reissued on the 50th), this 2-CD set is an interesting mix of archival audio -- presidential speeches, radio broadcasts, governmental announcements -- and one great war-related song after another. The only downer is that many of the songs are shortened, or compacted into iffy medleys. I see the strength of this approach -- this way they get to include more eye-opening material, enhancing the documentary structure of the set. But for connoisseurs of propaganda songs, having only truncated versions of stunners like "Atom And Evil," "Ma, I Miss Your Apple Pie" and "You're A Sap, Mr. Jap" is tragic. It's especially unfortunate when many of the songs that do appear in complete form, such as "It's Been A Long, Long Time" and "Don't Sit Under The Apple Tree," are readily available elsewhere. Still, it's a great document, and the inclusion of the original "Stalin Wasn't Stallin'," by the Golden Gate Quartet, is worth the price alone. Recommended!
Various Artists "SONGS OF THE DEPRESSION" (Book-Of-The-Month Records/CBS, 1980) (LP)


Well, okay... sure, this isn't really about the war, per se, but many leading experts agree that the Great Depression stoked the fires for future global conflict -- hyperinflation in Germany, boredom and malaise everywhere else. At any rate, where else was I going to review this wonderful collection of economically-oriented jazz-era oldies? And it is really top-notch stuff, including hits you'd expect, such as "Happy Days Are Here Again" and "We're In The Money," along with a slew of lesser-known but no less wonderful tunes. I'm afraid this particular edition is out of print, but when I get a chance, I'll do some research on other, comparable collections.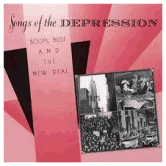 Various Artists "SONGS OF THE DEPRESSION: BOOM, BUST AND THE NEW DEAL" (Bear Family, 1999)


A 4-CD box set from the fine folks at Bear Family Records... Great music, great scholarship, pretty packaging!
---
Links
---
---



Main Jazz Index
Pop Reissues
Pop Music Index



---