<! posted - 03/30/14 > <! archived 00/00/00 > <! MP3 00/00/00 > <! pix 00/00/00 > <! icons 02/09/11 > <! Marpessa Dawn "EP Collection" (Barclay, 2014) Marpessa Dawn - with Sivuca Annie Phillipe "Sensationel!" (Ace Records, 2015) Annie Phillipe Rough Guide African Dona Onete "xxxxx Cabloco" (Mais Um Discos, 2014) B00JK4K0GQ B00JJXCQW4 Horatio Chiva Barroso "Blues Para Un Cosmonauta" (Whatmusic, xxxxx) - '60s? jazz? - no ASIN 07/25/15 >
---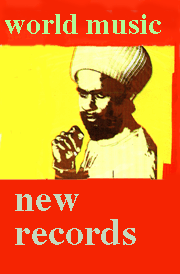 Welcome to my "New World Music" page, which highlights new(ish) African, Asian, Latin American and Celtic records, and "miscellaneous" records that I had the good fortune to check out in 2015. This page is added to as new records come in... If you want more to read more reviews, many others are archived nearby, and there are separate sections for various kinds of world music that you might like exploring as well.
By the way... you might enjoy checking out the entire 4-CD set of the CASA DE EDISON collection, recently posted online by the publisher, the Brazilian label Biscoito Do Fino. If you're into really, really primal Brazilian popular music, these sambas, marchas and other early recordings are gathered from the vaults of Casa De Edison, Brazil's only recording studio up until 1928. The digitalized anthology accompanied a massive book/DVD collection documenting the label's history, published in 2000.
---
Recommended Records: 2015 | Review Archives | World Music Index
---



New Stuff
Kiran Ahluwalia "Sanata: Stillness" (Kiran Music)
Amira Medunjanin "Silk And Stone" (Harmonia Mundi/World Village)
Slim Ali & The Hodi Boys "70s Pop!" (ARC Music)


PLUS: New To Me...

---
Kiran Ahluwalia "Sanata: Stillness" (Kiran Music, 2014)



(Produced by Rez Abbasi)
Another stunning record from Indian-born world citizen Kiran Ahluwalia who continues to meld wildly divergent styles, most notably the combination of classical Indian rhythm and melody with the deep, funky grooves of Saharan tuareg music. Both styles share an affinity for hypnotic drones, and Ahluwalia finds that common ground and uses it to alloy two seemingly divergent musical paths into a sound so solid and organic, it's hard to believe they weren't from originally from the same tradition. As on previous albums, her main collaborator is her husband Rez Abbasi, a versatile Pakistani-American guitarist who has mastered the tuareg sound and adds subtle, jazzy fillips throughout. Together, Abbasi and Ahluwalia set a high bar for contemporary "world music" artists, with music that is deeply entrancing and mellow, yet pleasantly challenging and unique. Plus, she has a gorgeous voice. Highly recommended!
Amira Medunjanin "Silk And Stone" (Harmonia Mundi/World Village, 2014)



"The Sarajevo Siren..."


<! October 20 >
Slim Ali & The Hodi Boys "70s Pop!" (ARC Music, 2014)



This album is a companion disc to the 70s Soul collection by Kenyan pop singer Slim Ali, a '70s star who divided his efforts between Africa and the Middle East... This set includes his biggest hit, "You Can Do It" from 1977. Heavily influenced by American soul pioneer Otis Redding, Ali worked in a number of styles, mostly spacy-sounding ballads with hints of Philly soul and classic lovers reggae, and a bit of more standard-sounding African pop. It's sung mostly in English, and only rarely (alas) sung in a local dialect. Mostly this is a little thinly produced and overly laid-back for me, though there is still a fascinating appeal, an intensity and conviction to his performances that transcends the apparent limits of the Kenyan studio scene. Unfortunately this disc does not include his 1977 hit, "You Can Do It," though that can be heard on a separate release, 70s Soul. Fans of African funk and soul will want to check this out, although it should be noted that this leans heavily on melody and less so on rhythm -- much more soul than funk-oriented.
---
New To Me...
---
---



World Music Index
Other Recent Reviews


---