<! * > <! MP3 04/15/13 > <! pix 04/15/13> <! icons 04/15/13 > <! archived - 04/15/13 with artist links >

---
Howdy, neighbors!
Here are some reviews of the new country, bluegrass and Americana records that I had the good fortune to listen to in November, 2004. This month: Roy Acuff, Brooks & Dunn, Richard Buckner, Ed Burleson, George Canyon, Slaid Cleaves, The Crickets, Jimmy Dean, Eleven Hundred Springs, Pat Green, John Wesley Harding, Red Murrell, Bill Nettles, Graham Parker, Split Lip Rayfield, Ralph Stanley, The Stray Cats, Shania Twain... and more!
...It's not everything I heard, but it's a nice sample of stuff that either tickled my fancy or ticked me off... Many records that aren't included here are reviewed elsewhere in my full Guide To Hick Music. Enjoy!
---
New Stuff: November, 2004
---
Roy Acuff "The Essential Roy Acuff" (Sony Legacy, 2004)


Although this 14-song collection is a step backwards from Sony's previous Essential collection of a decade earlier (which had a half-dozen more tracks on it), it's nice that students of country music can still find an affordable best-of set for this legendary figure. And the sound quality is quite nice; CD technology has come a long way since '92. So, all in all, I'd say this one's a winner, full of prime material from Acuff's peak years, 1938-49. If you don't already have this music, you should pick this one up and check it out.
Brooks & Dunn "Greatest Hits Collection 2" (Arista, 2004)



Here's a darn fine best-of, cherry-picking their later work from 1998-2004, with a heavy dose of recent singles and three new tracks unique to this album. There are plenty of album tracks that would've been nice to hear as well, but if you just want a taste of what these guys do, well... here it is... Some of the most tightly-crafted commercial country of the decade... It's not totally my cup of tea, but if youre gonna do the Nashville thing, these guys are about as good as it gets.

Richard Buckner "Dents And Shells" (Merge, 2004)


Dour alt-country crooner Richard Buckner is clearly a musician who has found his groove; his new album picks up where his last one, '02's Impasse, left off, melding an irresistible melodic bounce with his own odd, rumbling vocal drone, a vestige of his old alt-country persona infusing his work with a somber, mumbling gravitas... It's hard to know what the heck he's songing about, but it sure sounds nice. This album is at least as listenable as his last, packed with fine melodies and mysterious introspective musings... If anything, this surpasses Impasse, in that it doesn't have the on-again/off-again feel of that album, where the songs flipped back and forth in a slow-song/fast-song rhythm that made it feel predictable after a while. Here, the pacing is much more subtle, and the record that much more captivating. Recommended!
Ed Burleson "The Cold Hard Truth" (Palo Duro, 2004)



This is just flat-out one of the best hard country albums of the year... Heck, of the century (so far!). Sure, Burleson has plenty of rough edges... that's what makes his music so real. He also has a kick-ass band with guys who know how to play country music with real feeling, and a bunch of songs that sound like a real, live human being wrote 'em, not some committee in Nashville. Burleson's other albums have all been really good... this one is really great... His best to date. Highly recommended!
George Canyon "One Good Friend" (Universal South, 2004)



(Produced by Tim DuBois & Steve Mandile)
Mining much the same territory as hat act dudes like Clint Black, George Strait and Tracy Lawrence, Canadian newcomer George Canyon is a gruff-voiced neotradder who isn't in the slightest little bit afraid to record super-formulaic material. Mostly, it pays off real well. Despite some of its by-the-numbers aspects, his album has a vigorous feel, and several songs you just gotta love, like the dopey "Working On A Ten," which revisits the whole rating-gals-on-a-one-to-ten-scale thing, and the religiously themed "Unfinished," in which a guy's life flashes before him in a moment of danger, and after taking stock of his own shortcomings, he decides to do better and make himself a better man. It's unashamedly, unselfconsciously corny material, and that's one of the reasons it works so well... The other reason is that the production is relatively restrained -- oh, sure, it's factory made and totally Nashville, but it still has some grit to it, and the propulsive approach Canyon and his band use plows along and pulls us with it. A couple of songs towards the end are only so-so, but mostly this is a commercial country album you can listen to from start to finish, without having to skip tracks or hit fast forward. Hope he can keep it up, because this is one of the decade's most promising commercial country debuts.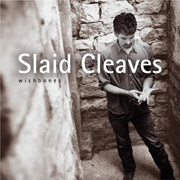 Slaid Cleaves "Wishbones" (Rounder-Philo, 2004)



(Produced by Gurf Morlix)
A well-crafted, emotionally resonant set of modern-day earnest folk music... Here, Cleaves settles into a Woody Guthrie-ish mode, concentrating his fire on longer story-songs about immigrant workers, doomed horse jockeys and others bit by the hard-luck bug. As a rule, I'm not terribly drawn to coffeehouse folk tunes like this, but as the genre goes, this is one dang fine record. Credit is due in part to the fine backing band, which includes Austin, Texas scenemaker Gurf Morlix, who once again produces and plays guitar, and a sharp rhythm section that never flags or hits a false note. Pretty good stuff... definitely worth checking out!
The Crickets "...And Their Buddies" (Sovereign, 2004)



Hey, everybody loves Buddy Holly, right? What's not to like? So when Holly's old bandmates -- who've still been playing together off and on for years since his untimely death -- asked various rootsy types to guest star on their record, you can bet a bunch of them leapt at the chance. Thus country dudes like Rodney Crowell and dino-rock guitar god Eric Clapton rub shoulders with indie-altie types such as Nanci Griffith and John Prine, as well as many names from the past, such as Peter Case, Johnny Rivers, J.D. Souther and Bobby Vee... Albert Lee delivers a gemlike version of "Learning The Game" and the late Waylon Jennings (who was also briefly in Buddy Holly's employ) rasps out an earthy rendition of "Well... All Right." (And isn't that Lucinda Williams, singing uncredited on a fine version of "Love You More Than I Can Say"?) All in all, this is a pretty nice, heartfelt, almost DIY-ish tribute album that also highlights the undiminished talent of some 'Fifties pickers who never stopped rocking. Worth checking out!
Jimmy Dean "Complete Columbia Hits & More" (Collector's Choice, 2004)


For a guy who was once so famous, former sausage king and soft-country crooner Jimmy Dean sure dropped off the radar over the years. This is the first major retrospective of his work to come out in the States on CD, gathering together his biggest hits for Columbia, including "Big Bad John" and the various "big, bad" spinoff singles, along with the remainder of his chart singles made before he left the label in 1966. Dean's star was already falling when he split for RCA, and there's not much notable in his career after that, other than his mid-'70s Mother's Day novelty hit, "IOU," which sadly is not included on here. This 24-song collection is pretty comparable to the Bear Family import that came out a decade earlier: both albums have all his major hits, and then they veer off in different directions when it comes to the B-sides and album tracks, and the Bear Family set only goes up to '62. This new retrospective sticks more strictly to his chart material, so it may be more interesting to folks who knew Dean through the radio... at any rate, if you want to check Dean out, this is the place to go.

Eleven Hundred Springs "Bandwagon" (Compendia/Palo Duro, 2004)



This Austin-area altie band has really grown by leaps and bounds... where their earlier releases had shown promise, this disc delivers the goods. It opens with "Northside Blues," an organ-based, Doug Sahm-styled groover with an irresistible hook, and slides right into one of the finest sets of modern-day Texas outlaw music in recent memory. Sure, some of the songs are a little too on the nose, like two titled "Long-Haired Tattooed Hippie Freaks" and "Hank Williams Wouldn't Make It In Nashville Today," but the music is so darn nice, it's really not a problem. These guys might have had to study up a bit to get the whole pot-smokin' hippiebilly thing down just right, but I'm sure glad they did... They might just wind up being one of the best indie country bands of the decade! Check 'em out.
Pat Green "Lucky Ones" (Universal South, 2004)



(Produced by Don Gehman)
Once a standardbearer of the Texas indie scene, the dusty-haired, now-craggy Pat Green has had an uneasy relationship with mainstream success, tenuous mostly in the quality of the music it's produced. Although Green still champions talented but lesser-known songwriters such as Ray Wylie Hubbard, Jack Ingram and Irene Kelley, as well as fellow commercial-yet-hard country artists such as Radney Foster, Brad Paisley and Trent Summar (who all contribute songs to this record), the production on his albums is remarkably busy and high-tech... There seems to be little musical center to what he does these days; his albums sound like he's working with producers, rather than with a band. This latest album is a good example -- it's less overtly poppy than last year's Wave On Wave, but still pretty high-tech to sit comforatbly with the twangcore crowd. Some songs have glimmers of the Jerry Jeff-ish raffishness that was once Green's chosen style, but the bad-boy rowdiness seems a bit forced, and buried under an increasingly confused attempt to hit the charts again... Not sure, really, how I feel about this one... there's stuff on it that I wanted to like a lot more than I did, and Green still has plenty of stylistic rough spots and vocal imperfections that give him cred as far as folks like me are concerned... But there's very little in the way of a good, pure, fiddle-and-steel honkytonk song that you can really lose yourself in and sing along to... So I guess it's disappointing in that regard. I plan to hang onto this and give it a few listens further down the line, and see how I feel then...

John Wesley Harding "It Happened One Night/It Never Happened At All" (Appleseed, 2004)



English alt-rock folkie John Wesley Harding made his 1989 debut with a live album, of all things, and followed up with a studio session that recaptured many of the fresh new songs-in-progress that had been heard in the concert... and which was never released. Time has been kinder, perhaps, to the live album, which has its shared of rushed moments and flubs, as well as a charming brashness and DIY fervor that still comes through all thee years later... The earnest/ironic, singer-songwriter coffeehouse folk-poet thing was well beyond old hat in '89, but Harding went for it anyway, and by sheer force of will (and that twinkle in his eye), went out and made a name for himself... The shelved studio album, on the other hand, remained largely unmixed and the surviving tracks sound as if they may have been improperly stored in someone's dusty basement for a decade or two... Still, it's a nice glimpse at his early ouvre, and an illuminating look at how he's grown over the years... Back then, he balderdashed his way into the spotlight, and while you can hear the callowness in many performances, it's also this clear humanity that gives him credibility and the benefit of the doubt... Fans will dig this album, and newcomers may find themselves beguiled as well...

Red Murrell "Sittin' On Top Of The World" (Jasmine, 2004)



Hey, don't feel bad about it: I'd never heard of this guy before, either... But if you like that old-fashioned, West Coast, 'Forties-style honkytonk swing, then this guy'll rock your world. A member of both Cliffie Stone's and Jim Lewis's bands in the mid-'40s, Missouri native Joyce "Red" Murrell went it alone when he formed the Ozark Playboys, one of the many fine bands in the postwar California country scene. This disc collects his work on the Capitol, Acme, Atlas and Signature labels (and several other tiny indies), all of it fine, fine, for-real hick music with sarcastic lyrics and a peppy, swinging beat. If it sounds kinda familiar, you might not be surprised to find out that both Merle Travis and Cliffie Stone backed Murrell on various sessions... It's fun stuff; definitely recommended!

Bill Nettles "Hadacol Boogie" (Jasmine, 2004)



This is one fun record. Bill Nettles was a verteran of the sentimental "brother act" fad of the 1930s, but when he turned his hand to the rowdier stles of honkytonk, hokum and country boogie, he sure found his calling. These 1940s-ish recordings, drawn from his tears on the Bullet, Imperial and Mercury labels, feature one great novelty song after another, with stories of hopheads, heartbreakers, layabouts and ne-er-do-wells, the kind of good-natured country comedy that hardly anyone sings "seriously" anymore. Most of all, it's great music, a lot of fun to listen to, sung with a sense humor that'll never let you down. For my money, this is one of the best country reissues of the year!
Graham Parker "Your Country" (Bloodshot, 2004)



England's ascerbic Graham Parker, a punk-era/New wave-ish rocker who's always been a little hard to pin down, returns here with a sharp set of alt-countryish tunes that may be his best album in many a moon. The lyrics are typically dense and brainy, but Parker adopts enough of old-school country's keep-it-simple ethos that most songs have sharp hooks and clean choruses. He's backed here by Tom Freund, with Don Heffington and Ben Peeler of the band the Wallflowers, who have enough of an alt-country vibe to bring in some twang while zeroing in on Parker's strengths as a rocker. The addition of Americana diva Lucinda Williams seals the deal -- she helps Parker hit a homer with "Cruel Lips," and even those folks who might not have been huge Graham Parker fans in the past may be surprised by the strength of this new album. Definitely worth checking out!

Split Lip Rayfield "Should Have Seen It Coming" (Bloodshot, 2004)



One of the finest acoustic twangcore albums of recent vintage... Now, I may be a little biased since these fellas are from my old hometown of Lawrence, Kansas, but really I thought this was an impressive set of tunes. Building from a bluegrassish base of banjo and mandolin, the Rayfield quartet use a scrappy sound to mask their abundant talent (check out that mandolin solo at the end of the title track... that boy can really play!), and leave listeners to concentrate on the lyrics, which turn out to be pretty darn good. Songwriters Wayne Gottstein and Kirk Rundstrom both tilt towards novelty material, but they manage to keep themselves above the lowest-common hick joke standards of the altabilly scene, and on occasion they craft a truly resonant tune or two. Some of the novelty songs are still tossoffs ("C'Mon Get Your Gun," et al) but the performances reveal an intelligence and affection for the style that puts these guys a notch or two above their contemporaries, and indeed, on the album's closer, "Just Like A Gillian Welch Song," they ably lampoon one of the giants of the genre. This may not be a purty-sounding record but it's still purty good.
Ralph Stanley "Great High Mountain" (Rebel, 2004)



A fine best-of set, looking back at Dr. Ralph's decades-long run on the Rebel label, spanning 1971-1996. There's one previously unreleased track, "Wild Geese Cry Again," and thirteen other tracks of equal calibre. It's classic, vintage high lonesome-style bluegrass, with Stanley's uncompromised, hardcore traditionalist sound coming through loud and clear on every track. Nice stuff! Definitely worth checking out if you don't already have a bunch of the old original albums.
The Stray Cats "Rumble In Brixton" (Surfdog, 2004)


A high-power concert performance by these venerable rockabilly revivalists, recorded live in London in celebration of the band's 25th anniversary... This 2-CD set features lots of fast, note-heavy lead guitar is balanced by a powerful, thumping rhythm section and a nice mix of original material written by the band and various oldies from the rockabilly canon. It sounds a bit blaring after a while, but you can't miss the band's energy and enthusiasm, or its juggernaut power: these old coots can still kick ass, and they sure know their stuff when it comes to '50s-style rock.

Shania Twain "Greatest Hits" (Mercury, 2004)



Aw, shucks... You know we love you, Shania... just wish you'd get back to recording actual country music sometime. Meanwhile, fans of your poppy stuff'll be thrilled by this spiffy little disc. It has four new songs, including the vaguely Gretchen Wilson-esque duet, vaguely fun "Party For Two," which was the first single... But there's an awful lot of pop on here. Oh, well. Can't please everybody all of the time, can ya?

Various Artists "CLOSE HARMONY -- A HISTORY OF SOUTHERN GOSPEL MUSIC, v.1: 1920-1955" (Dualtone, 2004)



The key to appreciating this album is the "history of" part in the title... Southern Gospel is a very particular subgenre of American music, with many fans who would take offense at it being considered a "country" style... In the years since its mid-20th Century heyday, Souther Gospel has become more of a mom'n'pop, DIY musical style, with hundreds of artists recording for self-owned or small independent labels, supported by a network of religiously-motivated fans. Modern Southern Gospel has a much mellower sound than the old stuff, incorporating the soft pop style of groups like the Carpenters, with electronic keyboards and modern production laid on top of the vocal harmony tradition the style was originally known for. This volume concentrates on the old stuff, with tracks by foundational artists such as the Blackwood Brothers, the Chuck Wagon Gang, the LeFevers and the Stamps Quartet, as well as some rarer, archival recordings by less well-known artists. (The legendary African-American gospel group the Golden Gate Quartet are included as well, showing their stylistic influence on their white counterparts, and hey, who am I to complain? They always sound good.) Still, this older version of the Southern style may seem a bit foreign to modern SG fans, especially since the genre's country roots are fairly plain... Southern Gospel is still a genre that honors tradition, however, and an archival collection like this should be much welcome among the faithful... it's also a fine introduction for anyone making the move from, say, bluegrass gospel into the more overtly devotional SG style. (PS - the liner notes draw heavily on the authoritative book on the style, "Close Harmony," by Appalachian State University history professor James R. Goff... I imagine anyone who's really into the style will want to pick that book up as well...)
---



Hick Music Index
Shop Amazon, Support Slipcue


---


<! November, 2004 >