<! * > <! MP3 04/15/13 > <! pix 04/15/13 > <! archived 04/15/13 - with artist links >

---
Howdy, neighbors!
Here are some reviews of the new country, bluegrass and Americana records that I had the good fortune to listen to in September, 2004. This month: Kay Adams, Allison's Sacred Harp Singers, Eric Andersen, Kenny Baker, Norman & Nancy Blake, Wilma Lee & Stoney Cooper, Carolina Cotton, Dick Curless, Eliza Gilkyson, Tim McGraw, Tift Merritt, Nora O'Connor, Ronnie Reno, Jason Ringenberg, Charlie Robison, Maggie & Suzzy Roche, Geraint Watkins, Dan Zanes... and more!
...It's not everything I heard, but it's a nice sample of stuff that either tickled my fancy or ticked me off... Many records that aren't included here are reviewed elsewhere in my full Guide To Hick Music. Enjoy!
---
New Stuff: September, 2004
---
Kay Adams "Wheels And Tears" (Tower, 1966/Sundazed, 2004)


A great set of mid-1960s, West Coast-flavored trucker songs... Adams, a sassy singer who sounded a bit like Loretta Lynn, had a sizeable hit with the novelty song "Little Pink Mack," and they naturally tried to follow it up with similar material, like "Six Days Awaiting," an answer song to Dave Dudley's wildly popular "Six Days On The Road." That didn't work quite as well, but the rest of this album is still a lot of fun -- it's pure, glorious Bakersfield twang, and definitely worth checking out if you like the cool old stuff. Adams even pays homage to a West Coast foremother, Rose Maddox with a fine version of "Big, Big Day Tomorrow," a great old weeper that Rose recorded a few years earlier. Folks looking for lost gems in country's past would be well advised to snap this tasty reissue up now, while you still have the chance!

Allison's Sacred Harp Singers "Heaven's My Home: 1927-1928" (County, 2004)



A fascinating collection of extraordinarily rare old 78s made at the dawn of the country music industry. The religious tradition that the Allison's Singers were from is pretty far afield from the readily commercialized scene that other rural artists pursued, but as with many shape-note performers, the rawness and emotional immediacy of their work is quite striking. It's also such a distinctive sound! This is an American-born musical tradition that is truly like no other, and the County label has done a commendable job rescuing these old discs from the brink of obscurity. This stuff isn't for everyone, but folks who do like it will be thrilled to hear these songs. (Also check out the companion collection, RELIGION IS A FORTUNE, reviewed below...)
Eric Andersen "The Street Was Always There" (Appleseed, 2004)



Earnest 'Sixties folkie Eric Andersen was always one of my favorites in the Greenwich Village crowd... He was never as pointedly political as Dylan, Ochs or Paxton, but he still had a certain sincerity and charm that I liked... Here, he pays tribute to the good old days, covering songs by Tim Hardin, Fred Neil, Paul Seibel, Bob Dylan, Buffy Sainte-Marie, Patrick Sky and others... Andersen's voice has thickened, the gentle acoustic strumming has been replaced by a dense, Dire Straits-ish electric mix, but the sincerity is still there. Longtime fans may want to check this out...
Kenny Baker & Bobby Hicks "Darkness On The Delta" (Rebel/County, 1980)



Swell fiddle duets by two of the best bow-stretchers in the business... This much-welcome reissue is one of Hicks's strongest albums ever, while Kenny Baker remains a force of nature. If you like sweet, fancy fiddlin', you'll want to check this one out!
Norman & Nancy Blake "The Morning Glory Ramblers" (Western Jubilee/Dualtone, 2004)



Another sweet, understated set of quiet, old-timey tunes which slows the pace of life down and takes us back to simpler days. The Blakes are old hands at this kind of musical wizardry, and while this disc doesn't cut any paths for them, it's another fine example of their mastery of the style. This is a mostly gospel set, and if you want a mellow, nonconfrontational version of the country gospel, this is a pretty little disc.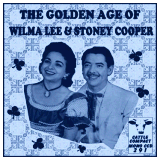 Wilma Lee & Stoney Cooper "The Golden Age Of Wilma Lee & Stoney Cooper" (Binge Discs, 2004)
Wilma Lee and Stoney Cooper were a husband-and-wife team whose career spanned back to the '30s, and whose music remained resolutely hillbilly and hick, well into the "Nashville Sound" era, when the rest of Nashville went pop. This fine collection focusses on their early work on the Columbia, Rich-R-Tone and Harmony labels, material recorded between 1947-53, offering a soulful, rough-edged mix of heartsongs and old-timey stringband music, with a hefty dose of sentimental gospel material to round things out. This disc's a real treat, gathering material you're not likely to hear anywhere else anytime soon. Recommended!
Carolina Cotton "Yodel, Yodel, Yodel" (Binge Discs, 2003)
Outstanding! This disc collects the work of Helen Hagstrom, aka Carolina Cotton, a little-remembered, post-WWII yodeler who worked extensively with Spade Cooley, Bob Wills, Merle Travis, and many of the West Coast honkytonk-swing scene elite. There's lots of accordion on here, as well as Cotton's winsome vocals -- and she was one heck of a singer! Her signature tune was "Three Miles South Of Cash (In Arkansas)," a reference to her hometown, where she was born just before the Great Depresssion... There are three versions of the song on here, two from live transcription recordings, and one from a 1952 MGM single; the material on this disc comes from a variety of sources, mostly from "Soundies" transcriptions and other radio shows, but also from various movie appearances and a handful of singles, scattered over several labels. It's all pretty good, with some stuff that's surprisingly electrified and other material that's straight out of the West Coast playbook... This disc was one of my big new discoveries of the year -- a great country gal singer, with a big, friendly voice and plenty of great songs. The only weak spot on the album is a live 1946 recording of a great novelty song, "I'd Like To Be A Cowgirl (But I'm Afraid Of Cows)," which has the hilarious chorus, "Moo! Moo! Moo! How they scare me..." A wonderful tune, but unfortunately the source material is very poor, and while you can easily enjoy the song at home, I wasn't able to play it on the radio. The rest of the album sounds fine, though... All in all, this disc is a real find. Highly recommended!
Dick Curless "Tombstone Every Mile" (Capitol/Tower, 1965)


A regional success up in New England, Maine's country croaker Dick Curless hit the Top 5 back in '65 with "Tombstone Every Mile," a classic tune that remains one of the best trucker songs ever recorded. Whether he really had what it takes to sustain a national career after that is debatable... As this album shows, he certainly had his limitations as a singer, and yet he also had a certain gravitas that could pull you in. On the sparser, more folk-oriented songs, he often ran out of juice, but with a good, solid, thumping backup behind him, he sounded pretty darn good. This disc is certainly worth checking out... and Curless's fans will be quite pleased to see this back in print as a reissue.

Eliza Gilkyson "The Land Of Milk And Honey" (Red House, 2004)



For some odd reason, this album kept sliding to the bottom of my "listen to" pile; I dunno why, since I really liked her last record a lot. Well, I like this one even more. It's great. Go out and get it. Now. Before it's too late. Gilkyson is, of course, the daughter of '50s/'60s folksinger Tony Gilkyson, and while her career has led her towards more rock-related material, here she returns solidly to her folk-scene roots, with a searing, heartfelt, and emotionally powerful set of topical, social-political songs, each of which carries considerable impact. The album opens with "Hiway 9," which refers to the main transportation corridor in Iraq -- the song is a blistering indictment of the Bush League's war plans, and their impact on our two nations; similarly, on "Tender Mercies" she explores the emotional deadening of terrorists and the world around them. Even on the one topical song where she seems to overplay her hand, "Ballad Of Yvonne Johnson," about a woman convicted of murder after enduring a lietime of abuse, Gilkyson sticks to a smouldering emotional core that keeps the music compelling. There are also several songs of a more purely emotional/confessional style -- "Separated," "Dark Side Of Town" -- and these are similarly drenched with a dark, contemplative, largely pessimistic maturity: this is an album made by and for adults, and the quality of the craftsmanship is never sub-par. Helping her out are some of the cream of the contemporary roots-music scene -- Slaid Cleaves, Jon Dee Graham and others -- and the musicianship, with the smooth, moving guitar work, is what makes this disc a real gem. Gilkyson is also joined by a powerhouse trio of folkie gals (Mary Chapin Carpenter, Iris Dement and Patti Griffin) who trade verses on a newly unearthed Woody Guthrie song, "Peace Call," which ends the album on a hopeful, spiritual note, underscoring the reflection and soul-searching that suffuses the whole record. All in all, I give this album a big thumbs-up. It's message is timely and urgent, and the delivery is powerful and sincere. It may be kind of a bummer, but it is real art.

Tim McGraw "Live Like You Were Dying" (Curb, 2004)



One of the landmark releases in the commercial country world, this finds singer Tim McGraw in fine form and still, somewhat inexplicably, still on the top of the heap. He's never been that great a singer, but for some reason he really connects with his audience. Here, McGraw indulges yet again in the over-the-top emotiveness that has made him famous, and the sleek, lavish production style that Top Country fans seem to love. The title track is a solid gold weeper, a song dedicated to his father, pro ball player Tug McGraw, who was battling terminal illness when the song was written... It's all about embracing life, living while you can, never looking back, jumping into the fray, etc. It's a super-sentimental heart-tugger that was destined to top the charts, a modern Nashville slam-dunk. Even better still is the fact that the rest of the album has some pleasant surprises, not the least of which is that McGraw seems to have gotten back to his roots a little bit, and is finally not taking himself so damn seriously. Oh, sure, there are several more overwritten power ballads on here, but there are also a few dorky novelty tunes like the curmudgeonly, faux-notalgic "Back When" (which plays off modern slang words, ie: "...back when a ho was a hoe...") and the workplace saga, "Everybody Hates Me," which aims for a sort of "Take This Job And Shove It" common touch. As modern, prefab Nashville stuff goes, this ain't bad... In fact, it's one of McGraw's better records.
Tift Merritt "Tambourine" (Lost Highway, 2004)



Following the lead of Whiskeytown's Caitlin Cary, Tift Merritt, the twangy, steel-tipped shell casing of the Two Dollar Pistols, has set her country roots aside and gone for a new soul diva sound. She's much better off sticking to the hillbilly stuff. Really, you gotta have great vocal chops to really sing R&B, and while her voice works okay in an alt-country context, it was slightly torturous here. Bigwig producer dude George Drakoulias (known for his work with the Jayhawks and Black Crowes) builds a sound that's simply too big for Merritt's voice, and the gap is too painfully apparent. But, judging from what I've read elsewhere, mine may be the minority opinion, so take what I say with a grain of salt. Still... I dunno...

Nora O'Connor " 'Til The Dawn" (Bloodshot, 2004)



This is one of my favorite Americana/indie country albums of the year, kicking off with a quartet of memorable, compelling songs, each one a little gem. The doleful, indie-ish "Revolver" is perhaps the catchiest song on here, with a lovely, simple acoustic riff that stands up there with the best stuff Gillian Welch has ever done. Midway through, the music shifts into more pensive, singer-songwriterish territory, and Neil Young's influence (and perhaps Joni Mitchell's) seeps into the album's end. Chicagoan O'Connor is one of those folks who has played with a bazillion other artists, including Neko Case, Jeff Tweedy, The New Pornographers and a regular gig with Andrew Bird's Bowl Of Fire. Now she's finally come out with an album of her own and it's really, really good. Finally an artist on the Bloodshot label who isn't striking a pose when they put on some twang! I can't wait to hear more.

Ronnie Reno & The Reno Tradition "In Concert" (Shell Point, 2004)


Don Reno's son, leading a crackerjack bluegrass crew through a fun live set. The picking is strong and no-nonsense, the vocals are cheerful and inspired... these guys just sound like they were really enjoying themselves... What more can I say? If you enjoy good, strong truegrass albums where the band sounds like it's having a lot of fun, check this one out!

Jason Ringenberg "Empire Builders" (Yep Roc, 2004)



Poetic and political, this disc explores various aspects of America's social life -- racism in the military, our new adventures into overseas intervention, South-will-rise-again-ism, and the blemished history of the US government's dealings with the Native American nations... There's also a love song or two on here and a tribute to surf-garage guitar god Link Wray. Craftwise, this is an impressive set for songwriter Ringenberg, who penned all but two of these tunes (one of the covers is a particularly loopy version of Merle Haggard's "Rainbow Stew," the other is a song by banjoist Jim Roll, who guests on a different track. A lot of this album's appeal has to do with Ringenberg's particular personality; folks who've been following his career over the years will probably find this enchanting, nonfans may be a little mystified by the appeal of this gangly-voiced oddball. The musical end is consistently strong throughout, but this disc certainly won't be for everybody. This isn't an album I would listen to for fun, but it was consistently engaging, and is certainly worth checking out.

Charlie Robison "Good Times" (Dualtone, 2004)



A likeable, fun set of acoustic outlaw country, full of familiar themes that feel like tall tales told from a Texas porch in the still-hot twilight of a hot dusty day. Which is to say, that while this isn't an all-out hellraising set like Robison's last few albums, it might just be the best record he's done to date. At least, I liked it. You probably will, too.

Maggie & Suzzy Roche "Why The Long Face" (Red House, 2004)



The Roche sisters are back and, as on all their recent records -- well, all their records, really -- this disc has a few songs that will stand out and charm you immensely, and a whole slew of other tunes that might simply get on your nerves. These gals have always had an unusual harmonic sensibility, and the odd tones and dense melodies they delve into are probably not for your average folkie or pop fan... But in terms of their lyrics, they sure have a lot to talk about, and a distinctive way to say it... Highlights include "Who Cares," which looks mournfully at 9/11 and its global aftermath (still a high priority and an ethical muddle for these New Yorkers) and Suzzy's "Long Lonely Road To Nowhere," which skewers the self-help scene, holding it up to the cold, calm light of self-acceptance and embrace of the imperfect. There's a real maturity and absurdism at play here that you simply don't hear in much of our glib modern art... Whether the folks who will appreciate the message will also be able to put up with the atonalities and dissonant melodies of the Roche sibs is another matter altogether... But if you like folk music with substance to it, this is worth checking out...
Geraint Watkins "Dial 'W' For Watkins" (Yep Roc, 2004)



Solo stuff from Nick Lowe's longtime bandmate... This album starts off on a bad foot, with Watkins indulging in a little bit of would-be trip-hoppism, but then it gets on more solid footing when he delves into more natural-sounding, bluesy, roots-rockish material... Very much along the lines of Long John Baldry, J.J. Cale, Mark Knopfler and the like... Nick Lowe plays on a few tunes, but it's mostly Watkins' show, as far as you can hear...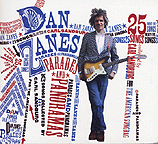 Dan Zanes "Parades And Panoramas: 25 Songs Collected By Carl Sandburg For The American Songbag" (Festival Five, 2004)



This disc is an absolute delight, certainly one of the best folk-roots records of the year (and one that best deserves being called an "Americana" album). As Zanes says of himself, in the liner notes, what I know of Carl Sandburg could barely fill a thimble -- I always vaguely thought of him as a distant member of the American literary canon, one of the many eminent old white guys that I would probably never read if some teacher or another didn't force me to... His lightness of touch, his political populism and sense of humor completely eluded me, as did his nearness to me in time -- although he was born in the decade after the American Civil War, he didn't emerge as a writer until around the First World War, and was very much a 20th Century artist. This album is made from songs gathered in a book called The American Songbag, which Sandburg published in 1927, just as America's modern pop culture -- and, along with it, the country music industry -- was coming into being. The writing is down-to-earth and personable, written in a plain voice, telling little stories that pull you right in, and includes such gems as the well-known "Hallelujah, I'm A Bum" and the half-taunting topical song, "Titanic," which casts a critical eye on the fabled naval tragedy. The instruments Zanes chose for this album create a nostalgic, late-19th Century feel, particularly a softly bomp-bomping, muted tuba, a gentle mandolin and a notably un-bluegrassy banjo, which perfectly frame Zanes's uneven and pleasantly human vocals. Avant guitarist Marc Ribot plays on a few tunes, but most of the musicians are just pals of Zanes, East Coast folks you've never heard of, who lend a nice DIY feel to the project. I was enchanted by this album, I hope you will be, too! (For more info, check out the label at: www.festivalfive.com.)

Various Artists "COUNTRY GIRLS ON WESTERN RANCH PARTY: 1957-1960" (Country Routes, 2004)


An awesome set of live, rockabilly-tinged tracks by the likes of Patsy Cline, Wanda Jackson, Bonnie Guitar, Rose Lee Maphis and several now-forgotten lesser lights, such as Mary Lou Nell, Fiddlin' Kate, Dorothy Wright and Marilyn Tuttle. There are also a slew of cool performances by Lorrie Collins, including several solo numbers apart from her guitar-whiz little brother... This is an ace bunny killer collection, which also includes plenty of the stage banter with MC Tex Ritter. My only complain is this: why the heck did the label choose to always put the spoken intros to specific artists on the tracks preceding the artist being introduced???? It's a really unfortunate decision, as it makes the record near-impossible to play correctly on the radio, or to listen to in a CD carousel, or an iPod, for that matter... There's all this dangling information out there, dozens of tracks that end with the introduction of a song you won't be able ot hear under normal listening circumstances. And who has the time to re-edit the tracks so they make sense? Kinda dumb. Oh, well. The music is still really great, and random technical oddness aside, this disc is highly recommended.
Various Artists "COWBOY CROONERS: SING SONGS OF THE WEST" (Collector's Choice, 2004)


Super-groovy old recordings culled from various 1940s radio performances... It's the cream of the crop of both the "singing cowboys" scene and the western swing crowd, with headliners such as Elton Britt, Tex Ritter, Jimmie Davis, Bob and Johnnie Lee Wills, Eddy Arnold, Dale Evans, Roy Rogers and the ever-fab Sons Of The Pioneers, as well as a few less-well known singers... All of them are in fine form, and this 2-CD set is a delight from start to finish, with pleasantly recognizable big hits and kooky one-off novelty songs (such as "Gonna Build A Big Fence Around Texas," by Cowboy Joe Randall), all of which will bring a smile to your face, and make you hum along. Great fun... highly recommended!

Various Artists "THE GRASS IS ALWAYS BLUER" (Nettwerk, 2004)


The Nettwerk label, once a bastion of grinding, blaring, '80s-style industrial music, has recently done a major about-face, delving deep into the current crop of mellow, melodic indiepop-Americana crossovers, and has become home to several of the genre's most promising new artists. The Be Good Tanyas, Shelley Campbell, Nathan, Oh Susannah and Old Crow Medicine Show represent the newly retooled label on this fine Americana sampler, which also pulls from several other sources to include stalwarts such as Iris Dement, Emmylou Harris, The Jayhawks, Rhonda Vincent, Gillian Welch and Lucinda Williams, for a well-programmed sampler of the current wealth of rootsy singers out there today. Nice collection!

Various Artists "RELIGION IS A FORTUNE: SACRED HARP SINGING" (County, 2004)



More rare old 78s, profiling the arcane art of shape-note, or sacred harp, gospel singing. These are all artists from the 1920s and '30s that very, very few people have ever heard of, vocal groups such as the Fa-So-La Singers, Dye's Sacred Harp Singers, Daniels-Deason Sacred Harp Singers, Lee Wells Sacred Harp Singers and others. The music is alien and bizarre, rough-hewn harmonies that tear across standard tonality in odd, zig-zag patterns, a sound so unusual it is one of America's great "outsider" art styles. The Allison's Sacred Harp Singers ensemble is the subject of an entire separate disc (see above), though they are represented here by several tunes as well... The sacred harp style is still kept alive by devoted churchgoers throughout the South, but here is a chance to hear some of its earliest recorded examples, some spooky old music that definitely has the Holy Spirit surging through it. Recommended!
---



Hick Music Index
Shop Amazon, Support Slipcue


---


<! September, 2004 >