<! * > <! MP3 04/16/13 > <! pix 04/16/13 > <! archived 04/16/13 - with artist links >

---
Howdy, neighbors!
Here are some reviews of the new country, bluegrass and Americana records that I had the good fortune to listen to in August, 2004. This month: The Armstrong Twins, Junior Brown, Jimmy Buffett, Burrito Deluxe, Amy Farris, Jerry Garcia & David Grisman, Colin Gilmore, John Dee Graham, Andy Griggs, Ray Herndon, Patterson Hood, Linda Gail Lewis, Willie Nelson, Old 97s, Waylon Payne, Norm Pikelny, Rachel Proctor, Kimmie Rhodes, Sugarland, Tres Chicas, Uncle Kracker, Ben Weaver... and more!
...It's not everything I heard, but it's a nice sample of stuff that either tickled my fancy or ticked me off... Many records that aren't included here are reviewed elsewhere in my full Guide To Hick Music. Enjoy!
---
New Stuff: August, 2004
---
The Armstrong Twins "Mandolin Boogie" (Arhoolie, 1979/2004)



Killer-diller hillbilly music from the late 1940s, with Arkansas natives Floyd and Lloyd Armstrong taking the stripped-down bluegrass/old-timey sound of "brother duets" like the Blue Sky Boys and pushing it into an aggressive, driving style that prefigures the rockabilly sound of the next decade. The Armstrong Twins distinguished themselves from many of their hillbilly boogie contemporaries in several ways: first off, they were in the vanguard, a lot of the country boogie material dates from the early '50s, and their 1948-49 recordings predate the main deluge. Then there's their choice of instruments: led by an acoustic mandolin, rather than the classic honkytonk fiddle-and-steel sound that most hillbilly boogie artists built off of... Finally, there's the fact that they quite simply rocked! A lot of hillbilly boogie was kind of awkward and gangly, whereas the Armstrongs sounded perfectly at ease, rollicking and having lots of fun. It's an infectious sound: their mile-wide smiles are audible across the decades, and the picking is also top-notch. This CD reissue also includes several tracks recorded during a 1979 reunion session -- their voices don't have the same spark and fire as when they were young, but the music is played with great authority and compare quite favorably with similar stuff done by the Blue Sky Boys during their '60s and '70s sessions. Good stuff... a keeper, for sure!!
Junior Brown "Down Home Chrome" (Telarc, 2004)



Pretty standard fare for this guitar-slingin' cowpicker... A mix of good old-fashioned honkytonk, rockaboogie, blues and even some standards vocals and some wailing acid rock as well (a blaring cover of Jimi Hendrix's "Fahk-seyyy Lay-dehhhh...") I'm still not a big Junior Brown booster, but I'm sure his fans will like this disc. I do think Brown's got his heart in the right place, but for whatever reason, he just never really resonates with me.
Jimmy Buffett "License To Chill" (RCA, 2004)


(Produced by Michael Utley & Mac McAnally)
Man, Jimmy Buffett's just like the Energizer Bunny of beach-bum stoner country... he just keeps going, and going, and going... Musically, this disc is a lot like everything he's put out for the last 25 years -- okay in its own way, but not as compelling as his classic hits in the '70s. What's striking about this disc is the preponderance of high-power guest stars, with top country Nashville heavyweights like Clint Black, Kenny Chesney, Alan Jackson, Toby Keith, Martina McBride and George Strait pitching in on various cover tunes, including a reggaefied version of Hank Williams' Hey Good Lookin'," (the hit single) and a sluggish remake of Don Gibson's normally-bouncy "Sea Of Heartbreak." A lot of these songs have a made-in-the-studio feel to them, where there seems to be very little face-to-face interaction between the participants, and an awful lot of cut'n'paste editing. Despite the prefab feel, many of these songs are quite well constructed and effective in a workmanlike way; in fact, I'd say many of Buffet's solo songs outshine the collaborative tracks (which are obviously phoned in from opposite ends of the planet.) High marks go to his "Window On The World" and the willowy duet with Nanci Griffith, on a soft version of Bruce Cockburn's "Someone I Used To Love." All in all, it's a creditable effort for this pink, crusty old-timer.
Burrito Deluxe "The Whole Enchilada" (Luna Chica, 2004)



Generally speaking, I try and avoid commenting on all these latter-day Burrito Brothers releases: they aren't bad, but they're seldom exciting. This one features Garth Hudson (of The Band) as a guest bandmember; singer Carlton Moody offers a friendly, if underwhelming, vocal presence. The songs themselves are adequate -- nothing really leaps out at you, but nothing sounds terrible, either. Like I say, there's not that much spark to their performances, but there certainly is a lot of history, and a sincere appreciation for where the music comes from.

Amy Farris "Anyway" (Yep Roc, 2004)



There are several swell, catchy songs that start this album off, with Austin scenester Amy Farris riding a fine line between indie and Americana tendencies. The country-ish stuff is the best, and while some of the more rock-oriented songs reveal some of her vocal limitations, on the whole this is a nice little record, with a cute DIY feel built around her off-kilter, mousy vocals, which bring Victoria Williams to mind, albeit with a more focussed musical vision. I've enjoyed hearing Farris in the background of many Kelly Willis records; it's a treat to hear her taking center stage at last. Sometimes producer Dave Alvin's guitar-heavy approach threatens to leave her high and dry, but for the most part this is quite nice. Definitely worth checking out.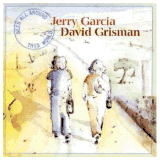 Jerry Garcia & David Grisman "Been All Around This World" (Acoustic Disc, 2004)



Another collection of nice, relaxed, acoustic duets, culled from the many hours of informal jam sessions that these two shaggy roots music old-timers held over the years. Jerry croons country oldies like the George Jones classic, "Take Me" and Merle Travis's "Dark As A Dungeon" and "Nine Pound Hammer," reggae tunes like "Sitting Here In Limbo" and several traditional songs, which help anchor the album's old-timey sound. The sedate, laid-back version of Bob Dylan's epic "Ballad Of Frankie Lee And Judas Priest" is a highlight, though, honestly, there's no weak link to be heard on this album. These performances are understated and sincere, and though Grisman may have mined his archives several times for similar material, he is certainly not scraping the bottom of the barrel here... Not at all!
Colin Gilmore "The Day The World Stopped And Spun The Other Way" (Squirmy, 2004)



An impressive debut by Colin (son of Jimmie Dale) Gilmore, who busts out of Texas with a perky mix of ebullient indie rock and real, rootsy twang. Sir Douglas himself woulda been proud. There's a nice set of original tunes, and some cool covers (Terry Allen's "The Beautiful Waitress" and the classic Clash song, "White Man In Hammersmith Palais," played pretty much straight, as heard in the '77 original...) There is a noticeable vocal similarity between father and son, but not so much so that it overshadows Colin in any way. Indeed, he's very much his own artist, and with a catchy first album like this, I'm hoping we'll hear plenty more from him... very, very soon.
Jon Dee Graham "The Great Battle" (New West, 2004)



Gruff, grizzled, singer-songwriter roots-rocker ruminations, with clear echoes of Joe Ely, Warren Zevon and Bruce Cockburn... I can't say that I personally go for this style myself -- it's just too much effort for me as a listener -- but I do recognize the subtlety and depth that Graham's bringing to bear, and would flag this disc as one of the better records of its kind, and possibly his best record to date. If, unlike me, you like the roadhouse poet genre, then this is an album you really oughtta check out.

Andy Griggs "This I Gotta See" (BMG-RCA, 2004)



(Produced by Randy Scruggs)
For an old-fashioned, hard country fan like me, an album like this is nigh unbearable: it's bland and flat-sounding, while simultaneously floridly overproduced... Griggs is basically a pin-up artist: a clean-shaven pretty-boy with perfectly-coiffed, dusty blonde-highlighted hair, and a rather questionable voice. And yet, there is an interesting aspect to his work: Griggs is the latest in a line of purposefully(?) imperfect singers, who use their rough edges as a selling point, picking up the torch that Hank, Jr. has laid down. In Griggs's case, it's both an asset and a liability: he does manage to make himself stand out from the crowd, and the more maudlin, emotive aspects of his work come out quite prominently, which is a plus when you're building a career on slushy romantic tunes like "My Kind Of Beautiful," "Why Do I Still Want You" and "She Thinks She Needs Me." Griggs's reading of these lyrics is so amazingly clumsy that you are compelled to listen to every word he sings, so in a sense, I guess it works. Still, the neutered Southern rock guitars, buried under an avalanche of lifeless, studio-perfect production, and all his other Travis Tritt-isms consign Griggs to an eternity of artistic mediocrity, no matter what his momentary chart success may be.
Ray Herndon "Livin' The Dream" (Rayman, 2004)



Guitarist-songwriter Ray Herndon has a swell-looking resume -- he worked for a bazillion years as the guitar picker in Lyle Lovett's band, then was in the semi-successful Nashville band, McBride & The Ride band... Here, on a solo outing packed with guest artists (Lovett, Clint Black, Sonya Isaacs and Jesse Colter are among his duet partners), he proves himself an amiable, if somewhat limited, also-ran. This disc didn't really catch fire as far as I was concerned, but it has its moments, as well as a sort of a downhome, underdog appeal.

Patterson Hood "Killers And Stars" (New West, 2004)



A self-produced, lo-fi kitchen-recording solo album from one of the honchos in the Drive-By Truckers. Solo acoustic, he's every bit as boring and pretentious as when he's plugged in and grungy. He's just not a very interesting songwriter, and when he goes all navel-gazey, he loses what little novelty the Truckers garner when they go all Southern rock and wow the rubes. I'll pass on this one.
Linda Gail Lewis "Boogie Woogie Country Gal" (Castle, 2004)


Back in the 1960s, Jerry Lee's little sister used to be just another beehived backup singer, but somewhere along the line she got the bug to start plunking the piano keys, just like her older sibling, and over the years she's carved out a nice niche for herself as a rockin' roots-blues pianist. She draws favorable comparisons to other gals such as Marcia Ball, Angela Strehli and Katie Webster -- while her voice isn't a dazzler, she has plenty of enthusiasm, and it can be contagious. In addition to a dozen fine songs recorded under her own name -- including a nice set of bluesy gospel tunes -- this disc includes several tracks by the "Lewis 3," a bluegrass combo that includes her daughters, Mary Jean and Anne Marie. It's be nice to hear some of her older stuff, back when she was on Sun, but it's still nice to hear her thumping away in the modern day as well.

Willie Nelson "The Troublemaker" (Columbia, 1976)



(Produced by Arif Mardin) <! producer? >
An extraordinary country gospel album, recorded by Nelson in 1973 during his brief stint on Atlantic Records, but shelved for several years until the time was right for the world to hear his hippiedelic version of the holy word. The title track is a real humdinger, a brief little Vietnam War-era ditty that decries a longhaired troublemaker who stirs the kids up and tell them not to go to war... Hey, turns out it's that Jesus fella! Separate from Willie's rare venture into topically oriented protest music, there's a remarkable brace of rough-hewn, sincerely rendered versions of a dozen-plus old-fashioned, washed-in-the-blood, Bible-thumpin' great old gospel songs -- songs like "Uncloudy Day," "Precious Memories" and "Where The soul Never Dies" -- all delivered by Willie and his band with a rawness and affection that puts life back into the country canon. Hearkening back to the soulfulness of Albert E. Brumley and his generation of country gospel pioneers, Willie approaches the music with reverence and feeling, but also with a lustiness and looseness that acknowledges the soaring, searching aspect of down-home religion. It really is a remarkable record, well wrth tracking down. The 2004 CD reissue includes several live tracks with Nelson's drunken hippie fan base rompin' and stompin' their way along with Willie and the boys, as Willie makes 'em soak up some of the holy spirit. It would have been easy for him to pass it off as a campy joke, but that wasn't where his head was at on this one. He's sincere, and the music is swell.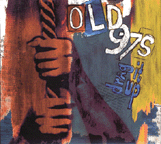 Old 97's "Drag It Up" (New West, 2004)



I have to confess that -- gasp! -- I've never been that much of an Old 97s fan... It's not that I have anything against them, mind you, it's just that when they were altabilly, I wasn't paying attention, and when they got more rock-oriented, I had no interest. Well, of course, I've had to go back and check them out, and get a more informed opinion... And when new album comes out, I gotta get on the stick and review it, too...! So here's the good news: this album is pretty darn good. It's got a wide stylistic range, staring off with some uber-retro cowpunk ("Won't Be Home") and slides deftly between various shades of indie-introspection and twangy Americana truthtelling. I doubt this is a record I would ever really revisit or draw much meaning or spiritual solace from, but it is nice in and of itself, and brings a welcome relief from the more aggressive, generic twang-rock sound they'd embraced in recent years. Some songs, like "In The Satellite Rides A Star" and "Adelaide," are quite nice.
Waylon Payne "The Drifter" (Universal/Republic, 2004)



Meh. Color me unimpressed. This is basically Wilco/Son Voltish soft indie rock with an added twangy sheen -- some okay pedal steel work added onto a seemingly endless morass of amorphous, ill-defined songs. I just don't think the themes are very well developed, or all that interesting. It's okay, but there's lots of stuff I like better.

Noam Pikelny "In The Maze" (Compass, 2004)



Pleasant, plainspoken newgrass instrumentals featuring Leftover Salmon's banjoist, joined by Matt Flinner on mandolin, David Grier on guitar, Gabe Witcher (fiddle) and Todd Phillips (bass.) It's easygoing stuff, not particularly challenging, but also not a crossover-y fusionfest. It's pretty straightforward and pretty nice to listen to.

Rachel Proctor "Where I Belong" (BMG-BNA, 2004)



(Produced by Chris Lindsey)
Her first album was a long time in coming -- a couple of poorly-performing singles were floated the year before, and then she finally struck gold with "Me And Emily," a divorced-mommy tableau that I found a little depressing, but which pulled Proctor up into the Top 20. So, the record finally came out, and the good news is that there are some pretty nice songs on here, in between the glossy would-be Martina McBride type numbers. I liked the more traditional-sounding, upbeat tunes, songs like "Shame On Me" and "I'm Gonna Get You Back," which have a Tanya Tucker-ish sassiness. The ballads, packed with tinkly pianos and smothering schmaltziness, are pretty insufferable... I mean, really, a song like "If That Chair Could Talk" is just so absurdly belabored and contrived... But y'know... no one asks me about stuff like that before they put it on their album... Anyway, this is a mixed bag -- Proctor's not a great singer, by any measure, but she does have an appealing quality that may do her in good stead over the years to come. Nice, too, that she wrote about half the songs on here... I wish her all the best!
Kimmie Rhodes "Lost & Found" (Sunbird, 2004)



For an odds'n'ends album, this disc sure has a cohesive feel to it, gathering together some of Rhodes' sweeter, more searching, melodic ballads... Emmylou Harris and Nanci Griffith come to mind, but Rhodes also clearly makes her mark as an artist of equal caliber... This is just another notch in her belt, establishing her as one of the alt-country scene's little-known best treasures. Recommended!
Sugarland "Twice The Speed Of Life" (Mercury Nashville, 2004)



(Produced by Garth Fundis)
Three struggling contemporary-folkish singer-songwriters from Atlanta turn their hands towards blatantly commercial Top Country Nashville fare, with decidedly iffy results. I kind of liked the single, "Baby Girl," even though it shamelessly lifts its catchiest hook from Terri Clark's "Three Mississippi," and even though the concept's a bit simplistic (a gal who's set off for Nashville sings to the folks back home, asking them to send some money; by the end of the song, she's sending cash to them, 'cuz she's made it in the big time). When I got the full album, though, I was less than thrilled. Lead singer Jennifer Nettle's exaggerated twang ("Deeeeeeeeerre mom and dad...") plays poorly through the length of the album; she's trying to pull a Martina McBride, but sounds like a complete poseur. Plus, her vocal tone isn't just piercing and distinctive, it gets to be downright irritating. Likewise, the band overplays its hand on the lyrics and the hook-heavy production; even amid the elaborate formulae of the Nashville music factory, this album sounds overly prefab and contrived. I just don't buy it; they don't have real country soul, and they also don't have the sense of control it takes to really pull something like this off. (That being said, they'll probably wind up being the act of the century, since I pooh-poohed 'em straight out the gate.)

Tres Chicas "Sweetwater" (Yep Rock, 2004)



An alt-gal supergroup of sorts, featuring Hazeldine's Tonya Lamm, Lynn Blakey (Glory Fountain), and Caitlin Cary, of Whiskeytown fame, singin' a lot of three-part harmony and presenting some interesting material, with Chris Stamey producing and playing guitar... Signalling their influences, they cover an old George Jones tune and Lucinda Williams's "Am I Too Blue," a song which may carry too much history with it for others to tackle in a way that can add much to the mournful wallop Lucinda already infused into it. The overall vibe of this album is pretty folkie and soft; I kept expecting it to catch fire at some point, but it never really did... The three collaborators seemed to cede ground to one another, opting for a CSN-ish collective sound, rather than doing a round-robin your song, her song, now mine kind of thing. Which is fine; I'm sure there are plenty of Americana fans who will appreciate the change of pace and overall mellowness, although for me, personally, this disc never really gels.

Uncle Kracker "Seventy-Two & Sunny" (Lava-Atlantic, 2004)



I'm, uh, not, like, really that up on Kid Rock and what he sounds like... I've seen his picture, heard a few tunes, sorta felt like I didn't need to worry too much about it one way or the other. So when I heard this was a record by his "DJ," I thought, "Huh? Neo-Southern Rockers have DJs now?" Still, I'd heard that song Kracker did with Kenny Chesney, so I was a little confused -- was this guy totally rowdy or a big ole wuss? What was the deal? As it turns out, Uncle Kracker's third solo album is pretty good, or at least pretty listenable. It's also surprising how measured and skillful this album is; it's fairly thoughtful, fairly catchy, melodic stuff, country-tinged post-'70s soft rock with a bitter, sardonic edge. I think I may have caught a few veiled, coded good-ole-boy racist signifiers on a tune or two, but, hey -- the rest of the album plays out so smoothly that you kind of have to shrug your shoulders and go, oh well. Its a very sleek, highly crafted pop album, sort of like Beck, but without the Dadaist baggage. I wouldn't put in in my top 10 list (if I had one, which I don't) but it was much more enjoyable and compelling that I had ever imagined. Worth checking out!
Ben Weaver "Stories Under Nails" (Fugawee Bird, 2004)



Yawn. Big yawn. Someone somewhere -- oh, wait, it was MOJO magazine -- tagged this guy as a "hillbilly Leonard Cohen..." I guess everyone' entitled to their own opinion, but maybe them pale-faced fellers at MOJO should stick to reviewing wanky Britpop next-big-things, and leave assessments of twangy Yanks to us folks on this side of the Atlantic. 'Cause this disc is stone cold boring. It's a guy who can't sing, can't really play the banjo, and who writes painfully lame, painfully tame, incredibly flat, obvious lyrics. This is one of the most torpid, pointless records I've ever heard. It's really bad. You can skip it. Trust me.

Various Artists "POR VIDA: A TRIBUTE TO THE SONGS OF ALEJANDRO ESCOVEDO" (Or Music, 2004)


This double-disc benefit album (to help cover mounting medical expenses) pays tribute to songwriters Alejandro Escovedo, the quirky, Texas-based rock-Americana songwriter who recently fell ill with hepatitis C... I have to confess, I've never been a fan of Escovedo's work -- it simply leaves me flat -- but the assembled talent on this collection is enough to turn anybody's head, so I felt obligated to check it out. What's that? Who's on it? Oh, just Lucinda Williams, Chris Stamey, The Jayhawks, Rosie Flores, Son Volt, John Cale, Lenny Kaye, John Dee Graham, Jon Langford, Jennifer Warnes (!), Cowboy Junkies and Calexico... to name a few. Escovedo's family members also pitch in, including jazz great Pete Escovedo (his dad), Shiela E. (his sister) and Javier Escovedo (his brother, who also used to be in the SF punk band, The Zeros...) Turns out I still don't like Alejandro's songwriting that much, but hearing it in new interpretations is kinda cool. High marks go to the craggy-voiced Bob Neuwirth for his spooky rendition of "Rosalie," and to the Jayhawks for the spacy Byrds-meet-Roy Montgomery vibe of "Last To Know." Those who enjoy eclectic music will find a lot to slurp up on this set.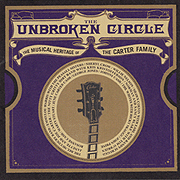 Various Artists "THE UNBROKEN CIRCLE: THE MUSICAL HERITAGE OF THE CARTER FAMILY " (Dualtone, 2004)


(Produced by John Carter Cash)
The various wings of the legendary Carter Family are joined by numerous eminent guest stars - George Jones, Willie Nelson, Ricky Skaggs and Emmylou Harris among them -- in paying homage to the legacy of the original Carter Family. Johnny Cash, June Carter Cash , Marty Stuart contribute from the family side of things, as do Joe and Janette Carter (who turn in one of the album's most resolutely rootsy, raspy, old-timey performances) and Rosanne Cash, whose plain-spoken vocals on "The Winding Stream" are an album highlight. Emmylou collaborates with the Peasall Sisters, who may finally be living up to their post- O Brother hype, on a sweet, understated version of "Sea Of Galilee"; other highlights include John Prine with a crackling electric accompaniment on "Bear Creek Blues" and Willie's sweet, sparse rendition of "You Are My Flower," as well as Sheryl Crow singing (what else?) "No Depression In Heaven" and the fine group harmonies that the White's throw on in their track with Ricky Skaggs. Heck, really, the whole album is quite good. Highly recommended!
---



Hick Music Index
Shop Amazon, Support Slipcue


---