<! * > <! MP3 04/16/13 > <! pix 04/16/13 > <! archived 04/16/13 - with artist links >

---
Howdy, neighbors!
Here are some reviews of the new country, bluegrass and Americana records that I had the chance to listen to in July, 2004. This month: Terri Clark, John Conlee, Deke Dickerson, Joe Diffie, Joe Ely, Emerson Drive, Jay Farrar, The Flatlanders, Rob Ickes & Blue Highway, Kieran Kane & Kevin Welch, Blaine Larsen, Los Lobos, The Meat Purveyors, Buddy & Julie Miller, Montgomery Gentry, The Notorious Cherry Bombs, Roane County Ramblers, Todd Snider... and more!
...It's not everything I heard (because I wanted it all to fit on one page...) but it's a nice sample of stuff that either tickled my fancy or ticked me off... Many records that aren't incleded here are reviewed elsewhere in my full Guide To Hick Music. Enjoy!
---
New Stuff: July, 2004
---
Terri Clark "Greatest Hits: 1994-2004" (Mercury Nashville, 2004)



An outstanding best-of collection which captures the best of Clark's career, (thankfully) largely omitting the disastrous pop-crossover material that capsized her career in the late 1990s. Clark's strength really lies in her tough, tomboyish, hard-country approach and when she moved away from what made her unique, in favor of a Shania-like sleekness, she slid way off the charts. A few years later, she came back with some more sassy, robust material, notably "I Wanna Stay Mad," a free-floating, albumless single which climbed up the charts and opened the door for the followup hits like the arch "Girls Lie Too," and "One Of The Guys," an uptempo honkytonker that's sure to do real well. The older tracks on here represent a good cherry-picking of her earlier albums, with strong songs like "Better Things To Do" and "You're Easy On The Eyes," where Clark was really in her element. If you're looking for some Nashville Top 40 that still has some bite in it, this is a mighty fine record.
John Conlee "Classics" (RCR, 2003)


Although the album art shows an older edition of the artist himself, these tracks are actually the original radio hits -- nineteen Top 20 hits recorded for the MCA label between 1978-85, presented in chronological order, with three additional new tunes thrown in for good measure. Much of Conlee's classic work has been inexplicably out of print for quite some time; finally it took a vanity pressing on his own label to make the stuff available to his fans, another sad statement for the state of Nashville's ongoing profits-over-posterity ethic. Anyway, it's all great stuff, a slick, latter-day countrypolitan sound fronted by a phenomenally expressive voice... It's a shame Conlee couldn't also lease his later material for the Columbia and 16th Avenue labels, which also included several sizable hits, but with tunes like "Rose Colored Glasses," "Backside Of Thirty" and "Busted" back in print, there's still plenty for country fans to cheer about.
Deke Dickerson "My Name Is Deke" (HighTone, 2004)



A fine best-of, covering guitar god Deke Dickerson's years on the HighTone label... A wide variety of styles, including rockabilly, hillbilly boogie, R&B and all kinds of kooky rock'n'roll novelty tunes, all laced with Deke's trademark hot pickin' and unquenchable good humor. His solo albums are all worth picking up, but this disc does a good job compacting them into a pure fun confection... Recommended!

Joe Diffie "Tougher Than Nails" (Broken Bow, 2004)



(Produced by Joe Diffie & Lonnie Wilson)
Finally, Diffie gets back to basics on this album... A fairly rugged neotrad album, pretty much in keeping with his best old stuff. The title track -- Diffie's first Top Ten hit in ages -- is a Christian-themed novelty song with a catchy hook... See, that Jesus dude was actually pretty tough... tougher than nails... Get it? There's another religious tune later on in the album that is more subtle, "Something I Do For Me," with some rowdier stuff in between... George Jones guests on "What Would Waylon Do," which has a nice feel (though it doesn't quite live up to Waylon's standards...) and "The More You Drink, The Better I Look," which is one of the kind of honkytonk no-brainers that put Diffie on the map, all those years ago. For me, the most solid song on here is probably "Am I," a weeper that holds up pretty well to repeat listens. All in all, a nice return to form for Diffie, who's been kind of up-and-down for the last few years... It's commercial, but better than average, I'd say.

Joe Ely "Settle For Love" (HighTone, 2004)



This is a handy single-disc set that gathers the best of alt-country road warrior Joe Ely's two albums for the HighTone label -- ten songs off of Lord Of The Highway and Dig All Night, along with a couple of one-offs and an added video track for his song "My Baby Think She's French." It's a nice look back at his mid-period career; you could also track down the original albums (and hear the stuff they left out) but this is a nice summation of his rock-tinged, late-'80s sound.
Emerson Drive "What If?" (Dreamworks, 2004)



There's an old joke in rock music that on their third record, every band winds up doing a concept album... I'm not sure if that's what Emerson Drive are attempting on this disc (which is actually only their second), but they might as well be, with all the puffed-up, pretentiousness that's on display. Huge, bombastically popped-up tunes with oceanic orchestrations cloak remarkably vacuous lyrics, songs that are made all the more ridiculous by the occasional attempts to sound macho (as on "Running Back To You") while evoking the memory of old Bryan Adams power ballads. Is this really "country"? Oh, wait, I do hear a few fiddles here and there -- and there is one tune, "Fishin' In The Dark," that starts with the stompy rhythm from that old Queen song, where they get kinda Southern rock-y and actually got me to nod my head in time with the beat... But otherwise... jeez... this ain't my kinda country. I guess I can see the appeal, but I'll pass on this one.

Jay Farrar "Stone, Steel & Bright Lights " (Artemis-Transmit Sound, 2004)


A passionate, animated, and somewhat loud live set that acts as concert album and career retrospective in one. Backed by the old-school country-rockish band called Canyon, Farrar bares his soul and earnestly presents his ouvre... I personally find it a little grating at times -- it's just not something an old fart like me would want to have on as at-home music -- still, I recognize the intensity and sincere intentions; you just can't miss 'em! An excellent presentation of Farrar's art that's sure to make fan's happy.
The Flatlanders "Live At The Knite: June 8th, 1972" (New West, 2004)



What an amazing document of this band, live in action during its faint, glimmering, short-lived first incarnation. These recordings were apparently made in front of an audience of less than a dozen people, the sum total of the patrons of a teensy Texas watering hole known as the Knite... You'd never know it was a near-empty room, though, from the intensity with which the threesome tackled each and every song. They were clearly a powerful, powerfully earnest band, covering oldies and adding new tunes to the hard country canon... These soundcheck recordings are remarkable for a variety of reasons... First off, songwriter Butch Hancock doesn't sing at all, while Jimmie Dale Gilmore was the main vocalist, surprising in itself, but made even more remarkable when you hear Joe Ely's vocals cut through on a couple of tunes -- Ely, the growling, grizzled road-warrior-to-be, singing with a high, youthful, almost nervous voice, singing beautifully, with a sincerity that matched the music. Although the studio album that came out of this group's first year was a bit on the reserved side, these live recordings are passionate and compelling: this is what a real 'billy band sounded like, back in the earliest days of the "outlaw" era. And it was mighty fine. Highly recommended!

Rob Ickes & Blue Highway "Big Time" (Rounder, 2004)



Dobroist Rob Ickes, perhaps best known for his work with Alison Krauss and Union Station, has become this decade's Jerry Douglas, a ubiquitous bluegrass player whose technique is flawless and at times soul-penetratingly pure. On his recent solo albums, he's tilted towards the jazzy fusions of the new-acoustic newgrass scene; here he reins in the crossover impulses and plays things fairly straight, with the traditionalist band Blue Highway backing him up. The opening numbers are the most traditional sounding, and they sound mighty fine; then the newgrassy instrumental numbers start to dominate and these are kind of hit or miss... Naturally, there's no faulting the technical end of the performances; these guys are all top-flight pickers, but there is a certain predictability to the set... Still, several tunes, particularly the slower ones, like "Ireland, Love Of My Heart," which closes the album, have an ethereal elegance to them, and Ickes proves himself a very soulful player. The fast stuff is fun, the slow stuff is sweet; it's the music in the middle that might need a little boost.
Kieran Kane, Kevin Welch & Fats Kaplin "You Can't Save Everybody" (Compass, 2004)



Two veteran Americana scenesters reunite for a fine set of acoustic-based tunes... The first three tracks on this album are sublime, the sort of stuff that just jumps out at you and holds your soul... Perfectly crafted, compelling blues-laced country-folk. From that fine start, though, my attention started to wander a bit., with a few too many Greg Brown-ish topically-oriented singer-songwriter songs, with throaty intoning galore. But hey, that's just me -- I'm old and crabby and I have a low tolerance for things that seem stagey or overly self-conscious. Overall, this is a great record, and if you like the Greg Brown style, you're gonna love this album. Those first three songs alone should make it worth your time.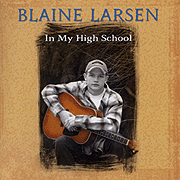 Blaine Larsen "In My High School" (Giantkiller, 2004)


WOW. Mark my words, this guy -- or should I say, this kid -- is going to be huge. Like, super-duper, Kenny Chesney-Tim McGraw-Alan Jackson mega-huge. Blaine Larsen, an eighteen-year old newcomer from an old logging town in Washington state, has a tremendous voice, with perfect vocal control, and a strong command of the musical conventions and sentimental lyrical formulae of modern neotrad country. I put this disc into my player not knowing what to expect and was, quite simply, totally blown away. I've heard a lot of independently produced country records which aim at recreating the sound that the fats cats in Music City use to put a lock on the Top 40, and usually these underfunded efforts fall well short of the mark... This is the first one I've heard that really had no flaws -- Larsen's voice is tremendous, and the simple, strong studio accompaniment is right there to back him up. Plus, he writes most of his material, and the songs are pretty darn good. You might never have heard of this guy, but if you like those deep-voiced, sensitive hat act guys who are on TV and the top of the Billboard charts, then you should buy this record and enjoy the fact that you just got in on the ground floor. I think he's going to be huge.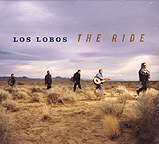 Los Lobos "The Ride" (Hollywood, 2004)



An ambitious, star-studded, marvelously diverse set, with luminaries such as Tom Waits, Richard Thompson and Dave Alvin pitching in from the folkie tip, Little Willie G, Mavis Staples and Bobby Womack representing the R&B camp, Elvis Costello wandering around on the margins, and Cafe Tacuba and Ruben Blades adding their brands of latino superjuice into the mix. It's an impressive and well-produced album... a bit dense and poppish for me, personally, but fans who enjoy Los Lobos's knack for stretching expectations and boundaries will find this disc another nice step in their journey.

The Meat Purveyors "Pain By Numbers" (Bloodshot, 2004)



These scrappy Austin alt-ys are back, with another loose, lively and comparatively clunky set of original tunes and well-chosen covers. You really have to be on this band's wavelength to get into their albums; folks who want country musicians who "sound right" (ie. in tune and able to keep the beat) are probably better off avoiding this disc, while fans who like bands who are all plucky and punky and DIY and all that jazz will be heartened to hear that the Purvs have not "sold out" or anything... They're still as clattersome and shrill and full of piss'n'vinegar as ever, and they still sound like a slightly kinder, gentler Freakwater. They cover Fleetwood Mac and Johnny Paycheck with equal aplomb, and bend country conventions to their own devices; their winsome cover of the old Ronnie Milsap hit, "Daydreams About Night Things," is an album highlight. Personally, I can't imagine myself listening to this album more than once, although there are several songs on here that have involving, interesting lyrics. It's just the musical end of things that leave me a little underwhelmed; I like records that are pleasant to listen to, and pure 'tude doesn't do as much for me as it used to.
Buddy & Julie Miller "Love Snuck Up" (HighTone, 2004)



A handy-dandy best-of that spans the Miller's mutual careers as HighTone recording artists. Cherry-picking their solo and duo albums, this is a fine collection, and includes a previously unreleased version of "You Make My Heart Beat Too Fast" (...which doesn't really seems that different than the version on their Buddy & Julie Miller album... But hey, it's still a rarity!) At any rate, this is a nice retrospective, although, as always, going for the original albums may be more rewarding in the long run... If you want to check these two out, though, this is a perfect place to start.
Montgomery Gentry "You Do Your Thing" (Columbia, 2004)



Skillfully produced, softened-up Southern-rockin', electric-geetar country, with an odd mix of anthemic, swaggering machoisms and rather bleak, bummerific lyrics (lots of stuff about feeling the back of daddy's hand, watching the tailpipe of your ex's car, the joys of twelve step programs, etc.). While I'm not really that much in on their musical wavelength (I'd personally go for Humble Pie or the Black Crowes, if I wanted a fix of soaring "Freebird" style guitars...) but I can certainly see the appeal. At least they aren't playing some shiny, sanitized, smiley face yuppie fluff -- their lyrics acknowledge life's hard side and its gritty disappointments, subject matter that's largely been scrubbed off of the squeaky-clean face of modern, navel-gazing Nashville pop. So even with their over-the-top aspects, I suppose MG should be praised for trying, in their own way, to keep things real. One of the album's softer numbers, "I Ain't Got It All That Bad," with guest vocals by Hank Williams Jr, is actually a pretty moving, reflective song, as is the tune that follows, "Talking To My Angel." After the blare and bombast of all the songs that came before them, those two tunes stand out like little gems. Anyway, this disc ain't bad -- worth checking out, for sure.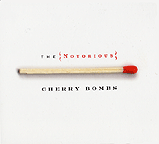 The Notorious Cherry Bombs "The Notorious Cherry Bombs" (Universal South, 2004)



This loosely confederated supergroup gathers Nashville heavyweights Rodney Crowell, Vince Gill and Hank DeVito (all former members of the Emmylou Harris Hot Band) with bigtime music producer Tony Brown (late of MCA-Nashville, now head of Universal South, and the group's piano player) and several of their hotshot session playing pals. The music is a nice, rootsy mix of honkytonk country, barroom R&B and 'Fifties-style rock, with these alt-country old-timers letting their hair down and cutting loose to boogie down and have a little fun. For both Gill and Crowell, it's some of the most relaxed, least pretentious work they've done in years -- oh, sure, there are a couple of tunes that are a little leaden, but mostly this is a really nice album... Fans of either artist will be quite pleased to pick this disc up. It's also nice to hear Brown get out from behind the soundboard and play some music himself, even if he's still mostly in the background... Plus, with a neo-outlaw tune like "It's Hard To Kiss The Lips At Night That Chew Your Ass Out All Day Long," what's not to love about this album? Recommended!

Roane County Ramblers "Complete Recordings: 1928-1929" (County, 2004)



In the 1920s, during the early, hazy days of the country music business, scrappy stringbands like Roane County, Tennessee's Roane County Ramblers dotted the landscape, playing a driving style of acoustic music that was the transition between the old-timey music of the Antebellum South and the more modern "bluegrass" style that would arise over a decade later. The Ramblers were one of the most musically accomplished of these groups, featuring the sleek, nuanced fiddling work of Jimmy McCarroll, a mine worker and mill worker who wrote several well-known breakdowns, notably "Hometown Blues," with a tune that was covered by numerous other artists and morphed over the years into Bill Monroe's "Heavy Traffic Ahead." While just writing the song was enough to put him on the map, his performance style was also pretty striking -- bluegrass fans and fiddling enthusiasts in particular will enjoy this collection for its richness and textural depth, as well as for the phenomenally clean sound quality... Kudos to the County label for another fine reissue!

Todd Snider "East Nashville Skyline" (Oh Boy, 2004)



Slipping into a cynicism as deep, profound and sincere as Steve Earle's, comedically-inclined alt-folk troubadour Todd Snider gets a few good ones in, but ultimately may lose a few listeners with the relentlessly depressing nature of this album. Lots of songs about drugs and jails and broken relationships... Where all his anger comes from may be a little mystifying, but you gotta admit he makes pretty good use of it... His rambling anti-censorship song, "Ballad Of The Kingsmen," recounts the presumptive suppression of the Kingsmen's old hit, "Louie Louie" (no one could understand the lyrics, so they must've been wicked...) and laments those who would blame the Columbine school shootings on rock music, rather than ask what the heck is wrong with our kids today... On a similar note, the song "Conservative Christian, Right Wing, Republican, Straight, White, American Males" is an update of the old rednecks-vs.-hippies theme... As ever, Snider has a superb deadpan delivery and a biting wit, but somehow this album seems a bit off... It's just so inherently glum and pessimistic that it never really gets off the ground... Still, it's a sharp, clever and quite personal... possibly the perfect antidote for all the bland, prefab crap out there on the radio dial.
Various Artists "20 BEST OF BLUEGRASS" (Arc Music, 2004)


A nice glimpse American bluegrass music, via a European world music label. It's a nice cross-label sampler, drawing primarily on material from the Rounder, CMH and Shell Point labels, and a few stray tracks from more independent sources. Although moderninsts such as Bela Fleck lead off the set, this tilts generously towards the traditional, and sounds mighty fine. Artists include Tony Rice, Mac Wiseman, Larry Cordle, James King, The Stonemans, Lester Flatt, The Bluegrass Cardinals, and others. Worth checking out if you're new to the style.

Various Artists "PATRIOTIC COUNTRY" (BMG, 2004)



This is a pretty handy collection of flag-waving commercial country songs, gathering together a bunch of songs that can be appreciated either as sincere expressions of heart-stirring pride, or as jingoistic kitsch... Either way, it's a nice record of its time... There are some older, pre-9/11 songs, like David Ball's perfect, beautiful tearjerker, "Riding With Privte Malone," and Lee Greenwood's super-cheesy, nigh-unbearable "God Bless America," which originally came out in 1984, and has since been remixed so many times you'd think Greenwood owned stock options in the Cuisineart company... Even though this is a multi-label collection, there are also several significant omissions, including lame-o hits like Clint Black's "Iraq And Roll" and Toby Keith's numerous stupid propaganda songs; more importantly, it misses some of the good songs, like John Michael Montgomery's "Letters From Home" and Lonestar's "Somebody's Someone" (which are both current hits, and thus unavailable for repackaging), and Darryl Worley's "Do You Remember." And the most glaring omission is, of course, Alan Jackson's "Where Were You (When The World Stopped Turning?)," which is without doubt the single greatest artistic statement to have come out of Nashville after the 9/11 attacks... Even so, even without those songs, this album is still a good document of country music's patriotic resurgence. The one question I have, though -- and it's kind of depressing to even ask it -- is why this album is touted as a fundraiser that "will benefit the USO, our active-duty troops, and the families of fallen soldiers"? I mean, why is a benefit album even necessary? Shouldn't the government be doing that already?

Various Artists "POR VIDA: A TRIBUTE TO THE SONGS OF ALEJANDRO ESCOVEDO" (Or Music, 2004)


This double-disc benefit album (to help cover mounting medical expenses) pays tribute to songwriters Alejandro Escovedo, the quirky, Texas-based rock-Americana songwriter who recently fell ill with hepatitis C... I have to confess, I've never been a fan of Escovedo's work -- it simply leaves me flat -- but the assembled talent on this collection is enough to turn anybody's head, so I felt obligated to check it out. What's that? Who's on it? Oh, just Lucinda Williams, Chris Stamey, The Jayhawks, Rosie Flores, Son Volt, John Cale, Lenny Kaye, John Dee Graham, Jon Langford, Jennifer Warnes (!), Cowboy Junkies and Calexico... to name a few. Escovedo's family members also pitch in, including jazz great Pete Escovedo (his dad), Shiela E. (his sister) and Javier Escovedo (his brother, who also used to be in the SF punk band, The Zeros...) Turns out I still don't like Alejandro's songwriting that much, but hearing it in new interpretations is kinda cool. High marks go to the craggy-voiced Bob Neuwirth for his spooky rendition of "Rosalie," and to the Jayhawks for the spacy Byrds-meet-Roy Montgomery vibe of "Last To Know." Those who enjoy eclectic music will find a lot to slurp up on this set.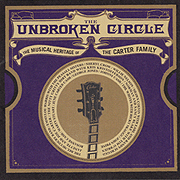 Various Artists "THE UNBROKEN CIRCLE: THE MUSICAL HERITAGE OF THE CARTER FAMILY " (Dualtone, 2004)


(Produced by John Carter Cash)
The various wings of the legendary Carter Family are joined by numerous eminent guest stars - George Jones, Willie Nelson, Ricky Skaggs and Emmylou Harris among them -- in paying homage to the legacy of the original Carter Family. Johnny Cash, June Carter Cash , Marty Stuart contribute from the family side of things, as do Joe and Janette Carter (who turn in one of the album's most resolutely rootsy, raspy, old-timey performances) and Rosanne Cash, whose plain-spoken vocals on "The Winding Stream" are an album highlight. Emmylou collaborates with the Peasall Sisters, who may finally be living up to their post- O Brother hype, on a sweet, understated version of "Sea Of Galilee"; other highlights include John Prine with a crackling electric accompaniment on "Bear Creek Blues" and Willie's sweet, sparse rendition of "You Are My Flower," as well as Sheryl Crow singing (what else?) "No Depression In Heaven" and the fine group harmonies that the White's throw on in their track with Ricky Skaggs. Heck, really, the whole album is quite good. Highly recommended!
---



Archived Reviews
Hick Music Index
Shop Amazon, Support Slipcue


---