<! cd=06/15/05> <! MP3 05/02/09 - probably other best-ofs > <! update 00/00/00 > <! outside 00/00/00 > <! pix 00/00/00 > <! 208-pix: 00/00/00 > <! icons 11/05/10 >
---
Keith Whitley (1954-1989) was immensely talented picker and singer who spent years on the bluegrass circuit, then rose to mainstream fame as a Top Forty country singer in the 1980s. Sadly, he drank himself to death in 1989, leaving behind a bunch of great songs and some sad memories. Still, those old records sound pretty nice, even now. Here's a quick look at his work...
---
Discography - Best-Ofs
---

Keith Whitley "The Hits" (Sony-BMG Legacy, 2006)



Like his old pal, Ricky Skaggs, Keith Whitley was a super-talented young'un who made the leap from the bluegrass world up into the commercial country stratosphere, scoring several big hits in the late 1980s and emerging as a major talent before his sad, early alcohol-related demise. This richly packed, rewarding set skims the best of his work on the RCA label, some of which ranks among the best true-country singing of the decade. Singing in a deep, smoky rumble, Whitley took his cues from supreme honkytonkers George Jones and Lefty Frizzell, and heard on this album's opener, "Don't Close Your Eyes," a soul-crushing weeper that'll just make your jaw drop when you hear it. Of course, he also got drawn into the poppier, sappier stuff that Nashville invariably demands of its stars, and while songs like "Miami, My Amy" were hits, they don't hold a candle to Whitley's best stuff. This is a straight reissue of an earlier best-of set, 16 Greatest Hits, but it's still mighty fine. Recommended!
Keith Whitley "Greatest Hits" (RCA, 1990)


Keith Whitley "The Essential Keith Whitley" (RCA, 1996)


Keith Whitley "RCA Country Legends" (RCA, 2002)






<! I'm sure there are plenty of others... >

---
Discography
---
Ralph Stanley & The Clinch Mountain Boys "Sing Michigan Bluegrass" (Jessup, 1971)


Although there wasn't anything particularly "Michigan" about the songs themselves, you sure can't fault the music! This early '70s lineup of the reconstituted Clinch Mountain Boys featured vocalist Roy Lee Centers (a dead ringer for Carter Stanley) as well as young'uns Keith Whitley and our hero, Ricky Skaggs, who plays guitar, fiddle and mandolin throughout. These early indie recordings have recently been reissued on the Varese Sarabande label's Echoes Of The Stanley Brothers CD, along with material from their second Jessup LP, reviewed below.
Ralph Stanley "Cry From The Cross" (Rebel, 1971)



This album also features the Skaggs/Keith lads on fiddle and guitar. An all-gospel effort that showcases the band's fine instrumental prowess and high, keening harmonies.
Ralph Stanley & The Clinch Mountain Boys "Sing Gospel Echoes Of The Stanley Brothers" (Jessup, 1973)


More fine gospel material, recorded by the early '70s lineup of the Clinch Mountain Boys, featuring Centers, Whitley and Skaggs, and the rest of this super-talented crew. These early indie recordings have recently been reissued on the Varese Sarabande label's Echoes Of The Stanley Brothers CD, along with material from the first Jessup album (reviewed above), which was recorded at the same time, back in '71, but was released a couple of years later. Top-flight stuff, of course... Recommended!
Ricky Skaggs & Keith Whitley "Second Generation" (Rebel, 1971/1990)



These early '70s recordings capture two young members of Ralph Stanley's Clinch Mountain Boys just as they were about to go out on their own as vanguard members of the newgrass generation. Both Whitley and Skaggs cut new roads in the '70s country renaissance, and in the next decade each also successfully moved into the world of commercial Top 40 Country. But here they are, young and earnest as can be, singing pure, sweet bluegrass and playing with a magical melodic grace. This album was originally a modest release, not entirely off the radar, and a welcome surprise for the bluegrass faithful, though not a blockbuster hit by a long shot. Now, decades later, it's a wonderful document of two master musicians in their early years. Plus, it's just enchanting -- great music performed with real feeling. Thank goodness Rebel dusted this one off for modern listeners to check out again... it's highly recommended!
Ralph Stanley "Classic Stanley" (Freeland, 1998)


A 2-CD live set with performances from the early, featuring teenaged Ricky Skaggs and young Keith Whitley at the center of Stanley's revitalized Clinch Mountain Boys...




J.D. Crowe & The New South "Somewhere Between" (1981)



<! LP - B00008FP2T >

Keith Whitley "Keith Whitley" (RCA, 1984)





Keith Whitley "A Hard Act To Follow" (EP) (RCA, 1985)

Keith Whitley "L.A. To Miami" (RCA, 1985)

Keith Whitley "Don't Close Your Eyes" (RCA, 1988)


Keith Whitley "I Wonder Do You Think Of Me" (RCA, 1989)

Keith Whitley "Kentucky Bluebird" (RCA, 1991)

Keith Whitley "Wherever You Are Tonight" (BNA, 1995)

Keith Whitley/Various Artists "Tribute Album" (BNA, 1994)



(Produced by Blake Mevis & Randy Scruggs)
This disc was an odd project organized by Whitley's widow, country star Lorrie Morgan, several years after his death. It's a mix of Whitley's recordings and various Nashvillers paying tribute to him... His tracks aren't the strongest material he'd ever recorded -- no big hits, really, and a few mediocre tracks that seem to have been laying around in the can or something -- though the actual tribute tracks are mostly pretty good. Mark Chesnutt, Diamond Rio, Joe Diffie, Alan Jackson, Alison Krauss, Tracy Lawrence and Morgan herself are among the artists included here, along with about a bazillion guest singers on the "event" track that ends the album, a "We Are The World"-ish guestfest that ends the album. All in all, not bad, although it's a shame they didn't pick stronger tracks for Whitley's side of things...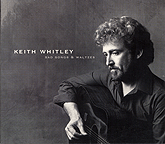 Keith Whitley "Sad Songs & Waltzes" (Rounder, 2000)



Wow. A stunning, superior set of penetratingly soulful hard country heartsongs and pure, undying weepers. This disc is a reissue of Whitley's 1982 album, Somewhere Between, which marked Whitley's transition from a country-drenched bluegrasser to a rising Nashville idol. And you can see why: the disc starts out with his soul-crushing cover version of Lefty Frizzell's late period masterpiece, "I Never Go Around Mirrors," and just gets better from there. With his deep, mournful tones and heartfelt delivery, Whitley proves himself a masterful honkytonk singer, easily on a par with the elders he tips his hat towards... His later Top 40 work would soften things up a bit, but these sessions with bluegrass buddy J.D. Crowe filling in as producer, and together they nail it. In addition to the ten original tracks from the '82 album, this disc includes five previously unreleased songs, and each of them's a gem. Whitley doesn't pepper this disc with stylistic variations or concessions to the high-tech sounds of the time: it's just pure country from start to finish. Highly recommended.
---
Links
---
---