<! cd = 05/14/12 > <! MP3 05/14/12 > <! outside 05/14/12 > <! pix 00/00/00 > <! 208-pix: 00/00/00 > <! icons 00/00/00 > <! UPDATES: 05/14/12 - posted >
---
The former lead singer of the vocal band Shenandoah, Marty Raybon has proven to be one of the most soulful and versatile modern country singers. Like many 1980s/early '90s country stars, Raybon got the cold shoulder from Nashville when tastes started to change, and dropped off the radar after being dropped from the major label rosters. Years later he reemerged as an indie artist, with a particular slant towards gospel material, although still keeping touch with his country roots. Here's a quick look at his work...
---
Discography - Best-Ofs
---



American Bluegrass Express "Bluegrass Express" (Eagle Records, 1975) (LP)
(Produced by Leonard Walls)



<! - #ER-ABE-109 - their first album (per the liner notes) - Marty Raybon was fifteen years old! (maybe sixteen?) - 1976? >

American Bluegrass Express "Bluegrass On My Mind" (Eagle Record Productions, 1979) (LP)
(Produced by Leonard B. Needham)
Over six years before he joined Shenandoah in 1985, twenty-year old Marty Raybon led this bluegrass band, with three of his brothers -- Ken, Rick and Tim -- playing a mix of secular and religious material. Decades later, as an ex-chart artist gone indie, Raybon returned to bluegrass and gospel... Nice to hear that he had real roots in the style!


<! - with Marty Raybon and three brothers Tim, Rick and Ken - label from Sanford Florida "Early private album by Raybon Brothers - includes letter of introduction to Hee Haw and handwritten comments made by someone reviewing contents of the album. Lead singer Marty Raybon went on to major label stardom with the band Shenandoah and the hit "Church On the Cumberland Road". He is still an active gospel/bluegrass singer." >

American Bluegrass Express "Live!" (Redwing) (LP)



<! Florida bluegrass outfit called American Bluegrass Express. A pretty exciting band during its day, the lead singer was Marty Raybon from the country band Shenandoah, who also penned a couple of songs on the LP. He is joined here by brothers Tim and Rick, banjo player Ron Rimmer and Kenny Raybon on fiddle. >


With Shenandoah: see band discography




The Raybon Brothers "The Raybon Brothers" (MCA, 1997)


(Produced by Tony Brown & Don Cook)
Marty Raybon, along with his brother Tim, on an album that veers between the supper-sappy (the gospel-tinged "Butterfly Kisses") and ineffective, overproduced upbeat material like the almost-but-not-quite "The Way She's Lookin'." Those were the album's only two chart entries, and there's kind of a reason for it. I mean, look: it's nice Marty was able to keep his hat in the ring and if you're a big Shenandoah fan, you'll love this album, even though it sounds pretty forced overall. It's not bad, though it didn't really grab me; not until the second half, with the album's slowest song, "Every Fire," which is kinda nice, followed by the uptempo, Buck Owens-ish "Hello Love," and, to a lesser degree, "Just Tryin' To Keep The Woman I Got," songs which hold out promise that the rest of the album doesn't quite meet.
Marty Raybon "Marty Raybon" (Chordant, 1995)

Marty Raybon "Marty Raybon" (Tri-Chord, 2000)


Marty Raybon "Full Circle" (Doobie Shea, 2003)


Ricky Skaggs, much? A slick but soulful mix of bluegrass picking and country craftsmanship, ex-Shenandoah leader Marty Raybon's new album takes him into mountain music territory, starting off on a reasonably traditional tone, then quickly leaping into more ornate grass-fusion, ala Skaggs and Krauss. The thing is, he's pretty good at it. Since he's used to tackling overwritten, high-falutin' Nashville-style material, Raybon can still deliver the goods when the formula is transposed into a bluegrass context. This comes pretty close to sounding like straight-out Nashville schmaltz, but folks looking for a good set of sappy story-songs will probably be pleased with this disc. Worth checking out!
Marty Raybon "When The Sand Runs Out" (Aspirion, 2006)


Marty Raybon "What I Came Here To Do" (CBUJ, 2008)


An all-gospel set...

Marty Raybon "...And Full Circle" (Synchord, 2009)



(Produced by Marty Raybon)
Shenandoah's old lead singer is one of many Nashville ex-chart-toppers who have gone indie in the 21st Century... Here he's still mixing bluegrass with acoustified country ballads and heartfelt gospel -- and it sounds pretty good! A strong song selection with solid picking behind him. Raybon's voice ain't what it used to be, but it sounds fine on the uptempo numbers, and his old-man grit'n'growl sounds pretty authentic. Fans'll be happy, and skeptics might be surprised.


<! listed as "This That & the Other" on Amazon (???) >

Marty Raybon "At His Best" (Hi Five, 2010)



(Produced by Marty Raybon & Paul Carroll Binkley)
For a few years now Marty Raybon, former lead singer of the top country band Shenandoah and a huge star in the late 1980s and early '90s, has been an indie artist, recording country ballads on his own dime since the Nashville majors won't let him do it on theirs anymore. Their loss, really. Although Nashville no longer lets artists grow old for their fans anymore, the artists themselves have figured out how to get their music out in the digital age, and with Raybon, like many others, the results are kinda interesting. His voice sounds old, not quite ragged, but definitely with a little rasp and a load of wisdom that wasn't there twenty years ago... and it sounds nice. The songs are all good, the same sort of stuff he sang in his heyday - robust, romantic but not overly sentimental, and with a core of sweet, soulful vocals that will still thrill old fans.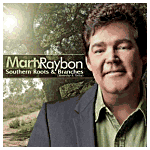 Marty Raybon "Southern Roots And Branches" (Rural Rhythm, 2012)



(Produced by Marty Raybon)
Another rock-solid, bluegrass-tinged album from this 1990's country-star-gone-indie-troubadour... Presumably this would be the secular counterpoint to the Hand To The Plow gospel set that came out at the same time, but I guess the Lord's work is mightily on Raybon's mind these days: most of the material on here is Christian-themed or inspirational as well... And it's all mighty good. Admittedly, Raybon sounds pretty long in the tooth, but he sings with conviction and power, and the caliber of songwriting is top-flight. Also, his backing band -- including folks such Rob Ickes, Kenny Smith, Tim Stafford and Bryan Sutton -- is on fire. Raybon's work of the last few years has been consistently good, and this record's right up there with his best.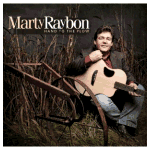 Marty Raybon "Hand To The Plow" (Rural Rhythm, 2012)



(Produced by Mark L. Corman)
Gospel fans will enjoy this spiritual set, issued alongside the more acoustic-based Southern Roots album (above). This one has bigger, poppier production, some of it sliding into contemporary Christian music territory, with tinkly keyboards and wind chimes in the mix; some of it has more of a top-country feel, with pedal steel and rock guitar. Fine vocals and plenty of feeling from Raybon himself, and while I prefer the acoustic approach on the other album, this one grew on me... There are some fun, shamelessly sentimental songs and some good novelty lyrics as well. Definitely worth a spin.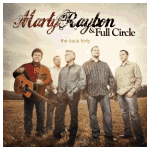 Marty Raybon & Full Circle "The Back Forty" (Rural Rhythm, 2013)



(Produced by Marty Raybon)
Another rock-solid bluegrass set from country elder Marty Raybon, who has gone from his Top 40 heyday with the band Shenadoah and his subsequent solo career into a fascinating third act as a bluegrass craftsman. Raybon's voice is still warm and robust, though on this album adding a little more of the authority and authenticity of age, and the musicianship of his current band is top-flight and pleasantly traditional. Where Raybon's really knocking it out of the park is as a songwriter: he co-wrote half the songs on this album and each one is a fine addition to the modern bluegrass canon. Plus, he covers an old Webb Pierce song, which always gets my attention. Good stuff... recommended!
---
Links
---
---