<! cd = 01/13/14 > <! MP3 00/00/00 > <! outside 00/00/00 > <! pix 00/00/00 > <! 208-pix: 00/00/00 > <! styles: Top Country, 70s, Songwriters > <! UPDATES: 01/14/14 - posted; other tribute albums hidden below >
---
Mickey Newbury (1940-2002) was one of the groundbreaking country songwriters of the 1970s, as well as one the artists who joined Willie Nelson and Waylon Jennings in their determination to wrest creative control away from the closely controlled Nashville studio system. Although Newbury wasn't exactly part of the "outlaw" movement, he set an example for up-and-coming artists who wanted to widen the range of material, and he also encouraged other innovative composers such as Guy Clark and Kris Kristofferson. Newbury's own songs tended to be poetical and rather dark in tone, yet despite his outsider approach, Newbury penned several popular classics, and was one of the most influential country songwriters of his generation. Here's a quick look at his work...
---
Discography - Best-Ofs
---
Mickey Newbury "Harlequin Melodies: The Complete RCA Recordings ...Plus" (Raven, 2003)

Mickey Newbury "Sweet Memories" (MCA, 1981) (LP)

Mickey Newbury "The Best Of Mickey Newbury" (Curb, 1991)





<! 1. An American Trilogy 2. Danny Boy 3. Blue Sky Shinin' 4. Makes Me Wonder If I Ever Said Goodbye 5. Shenandoah 6. She Even Woke Me up to Say Goodbye 7. Ain't No Blues Today 8. Sunshine 9. Hand Me Another of Those 10. It Just Doesn't Matter Anymore 11. Gone to Alabama 12. Any Way You Want Me >

---
Discography - Albums
---
Mickey Newbury "Harlequin Melodies" (RCA Victor, 1968) (LP)

Mickey Newbury "Looks Like Rain" (Mercury, 1969) (LP)

Mickey Newbury " 'Frisco Mabel Joy" (Elektra, 1971)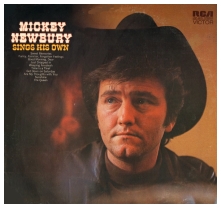 Mickey Newbury "Sings His Own" (RCA Victor, 1972) (LP)


(Produced by Felton Jarvis)
As an established hitmaker, Mickey Newbury the songwriter got considerable leeway as a recording artist, as heard on this Nashville album which was a collection of unused recordings made during Newbury's brief clash with the RCA label. It sounds simultaneously sterile and iconoclastic, certainly a little "kooky" by the standards of Nashville at the time: the overall sound is very sparse and stripped-down, matching Newbury's own modest vocal talent, but also giving a slightly spooky feel to many of these songs. Side One includes a mild rock'n'roll freak-out arrangement of his song, "Just Dropped In (To See What Condition My Condition Was In)," which in the bouncy Kenny Rogers/First edition hit version was a classic of faux-hippie drug-culture kitsch... Here, in a starker setting, it's a little eerier, and the looser-than-normal, country-guys-imitating-acid-rock arrangement actually brings out the weirdness of the lyrics, rather than detracting from it... Likewise, the similarly-themed "Got Down On Saturday," gives an even more unsettling glimpse of the incoherency and disorientation of a drug trip -- it's one of the weirder, more scrambled-sounding lyrics of the genre -- less glib than glazed, agog and uncomprehending. On his more conventional songs, Newbury takes a pretty laid-back, minimalist approach, with light orchestrations and a fairly open uncluttered backing. Some of the drumming, in particular, has a unique feel, almost hinting as a jazz-improv style, but keeping just inside the dotted line. This was Newbury's last album for RCA, and while he may remain an acquired taste for many listeners, this certainly showcases him as a singular performer, in spite of the restraints of the studio system. Nice version of "Funny, Forgotten, Familiar Feelings."
Mickey Newbury "Heaven Help The Child" (Elektra, 1973) (LP)

Mickey Newbury "Live At Montezuma Hall" (Elektra, 1973) (LP)

Mickey Newbury "I Came To Hear The Music" (Elektra, 1974) (LP)

Mickey Newbury "Lovers" (Elektra, 1975) (LP)

Mickey Newbury "Rusty Tracks" (ABC-Hickory, 1977) (LP)





<! reissued on MCA >

Mickey Newbury "His Eye Is On The Sparrow" (ABC-Hickory, 1978) (LP)

Mickey Newbury "The Sailor" (ABC-Hickory, 1979) (LP)

Mickey Newbury "After All These Years" (Mercury, 1981) (LP)

Mickey Newbury "In A New Age" (Airborne, 1988)

Mickey Newbury "Nights When I Am Sane" (Winter Harvest, 1994)

Mickey Newbury "Lulled By The Moonlight" (Mountain Retreat, 1996)


Mickey Newbury "Live In England" (Roadhouse, 1998)


Mickey Newbury "It Might As Well Be The Moon" (Mountain Retreat, 1999)

Mickey Newbury "Stories From The Silver Moon Cafe" (Mountain Retreat, 2000)


Mickey Newbury "A Long Road Home" (Mountain Retreat, 2002)


Mickey Newbury "Winter Winds" (Mountain Retreat, 2002)


Mickey Newbury "Blue To This Day" (Mountain Retreat, 2003)


Mickey Newbury "An American Trilogy" (Drag City, 2011)



A four-CD set that includes reissues of Looks Like Rain, Frisco Mabel Joy and Heaven Help the Child, along with an additional disc of "new" material.


<! An American Trilogy: Looks Like Rain/Frisco Mabel Joy/Heaven Help the Child: (reissue of three original albums + CD 4: If You Want Me To I'll Go; Sunshine; Sad Satin Rhyme; Why You Been Gone So Long; I Don't Wanna Rock; Let Me Stay Awhile; Flower Man; Good Morning Dear; On Top of Old Smokey; Interlude: How Man Times (Must the Piper Be Paid For His Song); Better Days; How I Love Them Old Songs;I Don't Wanna Rock; I Don't Want Me No Big City Woman; You're Not My Same Sweet Baby – 23-08-11 (4 CD box) >

Mickey Newbury "Stories From The Silver Moon Cafe" (Mountain Retreat, 2012)


---
Tributes
---
Ronny Cox "How I Love Them Old Songs" (Wind River, 2007)

Kacey Jones "...Sings Mickey Newbury" (IGO, 2006)


Various Artists "FRISCO MABEL JOY REVISITED... FOR MICKEY NEWBURY" (Appleseed, 2000)






<! Cowboy Johnson "A Grain of Sand" (MoonHouse, 2004) B000CAFDUA Toni Jolene Clay "Amen For Old Friends" (2005) - no ASIN? Jonmark Stone & Marie Rhines "When I Heard Newbury Sing" (2005) B007A3LQ26 >

---
Links
---
---