<! cd 09/28/10 > <! MP3 09/28/10 > <! update 09/28/10 > <! outside 00/00/00 > <! pix 00/00/00 > <! 208-pix: 00/00/00 > <! icons 03/25/11 >
---
A distant relative of fiddler Doug Kershaw, Louisiana native Sammy Kershaw was a major figure in the 1990s country scene, scoring numerous Top 10 and Top Forty hits. Kershaw often alternated between gruff, George Jones-ish honky-tonk tunes and slower romantic ballads; from 2001-07 he was married to Top Country singer Lorrie Morgan, with whom he recorded a full album of duets. Like many other former top-tier country stars, Kershaw has dropped off the charts, but continues to record for independent labels. Here's a quick look at his work...
---
Discography - Best-Ofs
---
Sammy Kershaw "The Hits, Chapter One" (Mercury, 1995)


Sammy Kershaw "Millennium Collection" (Mercury, 2003)


Sammy Kershaw "The Definitive Collection" (Mercury, 2004)


---
Discography - Albums
---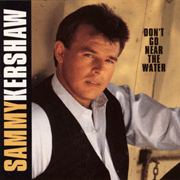 Sammy Kershaw "Don't Go Near The Water" (Mercury, 1991)



(Produced by Buddy Cannon & Norro Wilson)
He looks a little like Warren Beatty and he sounds a lot like... well, golly gee, he sounds just like George Jones!! Seriously, I had to go check the liner notes to make sure ol' George wasn't filling in on a tune or two, and then I almost had to pull the album out of the stereo to make sure someone hadn't switched the discs by accident. Okay, so maybe Kershaw wasn't aiming very high in the originality department, but these pedal-steel drenched country ballads sure do sound nice. Why, heck... it sounds just like George Jones... And that's pretty high praise. I like this album. You should, too.
Sammy Kershaw "Business Is Pleasure" (Master Trak, 1992)


Recorded before Kershaw signed to a major label, but released after he first hit the charts -- these are actually his earlier recordings, apparently dating back to 1989...
Sammy Kershaw "Haunted Heart" (Mercury, 1993)



Sammy Kershaw "Feelin' Good Train" (Mercury, 1994)



(Produced by Buddy Cannon & Norro Wilson)
A pretty safe, unchallenging and, frankly, unexciting pop-country album... The sound is still rooted in honkytonk twang, but the performances seem workmanlike and unspontaneous... Although he's started to downplay his vocal similarity to George Jones, the parallels persist, as Kershaw delivers a set of strained, but sort-of-okay material that feels like it was made by a committee rather than a country band, not unlike Jones's work from the late '80s. George makes an appearance on the hurried duet, "Never Bit A Bullet Like This," which also ain't the greatest thing either of these guys have done.
Sammy Kershaw "Christmas Time's A Comin' " (Mercury, 1994)





<! 10/10: no MP3 ASIN >

Sammy Kershaw "Politics, Religion And Her" (Mercury, 1996)



Sammy Kershaw "Labor Of Love" (Mercury, 1997)



(Produced by Keith Stegall)
An okay, if somewhat generic, set of honkytonkish pop-country... He doesn't dip too deeply into the super-sappy modern Nashville ballads, and when he does, somehow -- like Randy Travis -- he has a way of pulling it off sounding sincere, instead of like a total cheeseball. Also, he's really toned down the George Jones imitation, which is kinda nice in a way. (Of course, now he sounds like Travis Tritt, but that's another story altogether...) Includes four singles that charted, including the title track which hit #2 in Billboard, but predictably enough is one of the few outright lame songs on here. Not a classic album, but nice enough, for Nashville in the 'Nineties.

Sammy Kershaw "...Covers The Hits" (MCA, 2000)


Kershaw croons his way through classic guilty pleasures such as the Rolling Stones' "Angie," "Chevy Van" and "Third Rate Romance," as well as some more serious ballads...

Sammy Kershaw "Maybe Not Tonight" (Mercury, 1999)



(Produced by Keith Stegall)
Yeah, maybe not. This album kicks off with the title track, a sappy, "You Don't Send Me Flowers"-ish duet with his wife, Lorrie Morgan, then picks up a little steam with midtempo ditties like "Me And Maxine" and "Ouch." Mostly, though, it slow, sappy stuff, with plenty of egregiously placed string arrangements, and sooper-gooey lyrics. He still sounds a little George Jones-y on the steel-drenched "How Can I Say No," but for the most part, this is pretty skippable for anyone who's not a big fan of cheesy romantic ballads. The anti-scientific gospel song, "How Much Does The World Weigh?" is kind of a hoot, and has a nice singalong chorus...

Sammy Kershaw & Lorrie Morgan "I Finally Found Someone" (RCA, 2001)



I guess Morgan's marriage (her third) to Sammy Kershaw raised a few eyebrows in Music City, and this album's title track is a testament to their undying love... It's one of those drippy romantic ballads, complete with ringing Spanish guitars, that Kenny Rogers excelled at in the '80s. You hear it and think, "uh-oh..." but the uptempo feel of the next song brings a sigh of relief. It's only temporary, though: they go back into more goddawful, formulaic sappiness a minute later, and though there are some good tracks on here, by and large this is a pretty prefab album. The single, "He Drinks Tequila," is patently offensive -- it's about a lusty Latin couple living in a trailer park, who dance around their Winnebago and talk dirty en espanol; the rest of the album wobbles around and hits a few high notes here and there. They're at their most George and Tammy on "Be My Reason," and Lorrie's solo number, "I Must Be Gettin' Older" is fairly resonant as well. Guess it's kinda cool to hear someone doing an entire duets album again, rather than just slipping a single song at a time, here and there. For the turf, this ain't bad.

Sammy Kershaw "I Want My Money Back" (Audium, 2003)



An uneven album from an erstwhile Top 40 dude... The title track single is kinda okay, but not dazzling. A few of the more "pop" songs have disasterous rock'n'roll arrangements, but the album is redeemed by a couple of good tunes: the cornball "mama" song, "Stitches," is delightfully retro and shamelessly nostalgic, though the album's real winner is Kevin Fowler's good ole boy anthem, "Beer, Bait And Ammo," which has an irresistible production style, reminiscent of Bobby Bare's classic late '70s/early '80s work. It's followed by a dumb, misogynistic tossoff number, but that's kind of an indicator of the up & down qualities of this album. The fun stuff is fun, but the awkward songs just doesn't work...
Sammy Kershaw "Honky Tonk Boots" (Category Five, 2006)

Sammy Kershaw "Better Than I Used To Be" (Big Hit Records, 2010)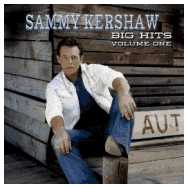 Sammy Kershaw "Big Hits, Volume One" (Sony-MRI-Big Hit Records, 2013)



(Produced by Sammy Kershaw)
There are those who reflexively sneer at remake albums, those after-the-fact greatest hits collections where fallen stars re-record their oldies -- there's a natural tendency to compare the new versions to the originals, and (perhaps less fairly) to denounce them as acts of fraud. I've been there, I get it. But over the years I'm steadily more accepting of this kind of record, especially since the Nashville machine is now so quick to slam the door on its former top artists, in favor of fresh, new faces, and now an entire generation of "old-timers" from the 1990s and '00s have had to self-release their own records. These indie offerings from former chart-toppers are often surprising, particularly for stars who made their mark recording lavishly produced, pop-oriented singles but can now indulge their twangier roots. Late vintage recordings also reveal changes in temperament and tone, emotional growth and stylistic nuances. Back in the 1960s and '70s, legacy performers like Roy Acuff or Ernest Tubb may have been caught in futile loops trying to recreate their glory days, but nowadays -- having been kicked off the stage by the remorseless modern entertainment industry -- many singers are free to pursue expressiveness rather than phantom hits, and in some ways they remind me of jazz musicians such as Louis Armstrong, whose later work was more about mastery and understatement, rather than the brash energy of youth. Take for example these new recordings by Mr. Kershaw, who as a George imitator had a deep rootsy core but buried it in the high-tech production of the era. There's some echo of that slick sound here, but mostly it's a more laid-back approach with more modest musical backing. Also, Kershaw's voice has changed -- he still has those deep, Jones-like tones, but a thinness and fragility has crept it, revealing his age and, like many older artists singing country heartsongs, he wears it well. If you want the old hits songs in their original, unaltered states, they're out there on other Kershaw collections... But if you want to hear how that man has matured and modified his performance style, a decade or two later, you might want to give this record a whirl. It may surprise you.
Sammy Kershaw/Joe Diffie/Aaron Tippin "All In The Same Boat" (Big Hit Records, 2013)


Sammy Kershaw "Do You Know Me? A Tribute To George Jones" (Big Hit Records, 2014)


---
Links
---

Wikipedia has a good artist profile and discography page


---