<! cd = 02/05/13 > <! MP3 02/05/13, 09/24/13 > <! pix 00/00/00 > <! SOURCES 02/05/13 - AM > <! icons 02/05/13 > <! UPDATES: 02/05/13 - posted >

---
One of Brazil's finest young samba singers of the new millennium, Teresa Cristina has a gorgeous voice, masterful phrasing, and perfect taste. Her band, Grupo Semente, attains equally high standards, and has already produced solo artists such as Pedro Miranda, who are also taking modern-day roots samba to glorious new heights. Here's a quick look at their work...
---
Discography
---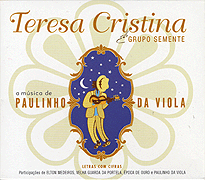 Teresa Cristina & Grupo Semente "Canta Paulinho Da Viola, v.1" (Deckdisc, 2002)


Teresa Cristina e Grupo Semente "Canta Paulinho Da Viola, v.2" (Deckdisc, 2002)


Teresa Cristina has been embraced by the samba old guard, and returns the favor on these two gorgeous tributes to acoustic samba king Paulinho Da Viola. It's kind of nice when records like this live up to the hype... These two albums are some of the purest, sweetest acoustic samba music you'll ever hear, with gorgeous accompaniment on the cavaquinho and bandolim, and clear vocal echoes of Clara Nunes and the young Beth Carvalhlo... Cristina pays dutiful homage to the Portela samba school, and she does Paulinho Da Viola proud as well... Old-timers Elton Medeiros, the Velha Guarda Da Portela, Epoca De Ouro and Paulinho himself all chime in, as well as the flawless Grupo Semente... If you want to hear some of the best Brazilian music out there, snap these puppies up! (Note, they can either be bought as single discs or as a two-pack that might be a bit cheaper. It's worth it.) Highly recommended.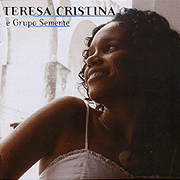 Teresa Cristina e Grupo Semente "A Vida Me Fez Assim" (Deckdisc, 2004)



An absolutely gorgeous modern acoustic samba set that recalls the glory days of the 1970s pagode scene. Indeed, Ms. Cristina sounds quite a bit like the late, fabled, glorious samba star, Clara Nunes, earning high praise and many well-deserved accolades. With a compact foursome, guided by a sensuous, insistent cavaquinho and the singers crystalline tones, this is the music of the gods.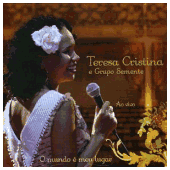 Teresa Cristina e Grupo Semente "O Mundo E Meu Lugar: Ao Vivo" (Deckdisc, 2005)



(Produced by Joao Augusto & Paulao 7 Cordas)
A nice live album with a far-ranging repertoire... Initially, Cristina comes on strong, with a robust touch of vocal thunder that echoes the glory days of Clara Nunes, then she softens and sidles up to the sleeker side of the samba sound... Perhaps not as arresting as her studio work, but nice nonetheless. Definitely worth a spin!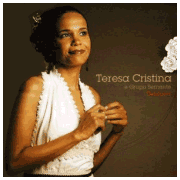 Teresa Cristina e Grupo Semente "Delicada" (EMI, 2007)



(Produced by Paulao 7 Cordas & Rodrigo Vidal)
Another lovely traditionalist samba set, with straight-up acoustic numbers filling the first half, and some more varied arrangements towards the end, including some chorinhos and flowery material that recalls Cape Verdean mornas. About half the songs are Cristina's original compositions, peppered with choice covers of classics by Candeia, Joao do Vale, Paulinho da Viola, Caetano Veloso's "Gema," and a lively instrumental by Grupo Semente's cavacao player Joao Callado. Pedro Miranda is still in the band, mostly playing tamborine, and the whole record is sublime, from beginning to end. Highly recommended.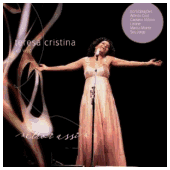 Teresa Cristina "O Melhor De Teresa Cristina" (2009)


Beautiful acoustic samba music. A 2-disc best-of set that includes new material along with groovy stuff from her hard-to-find albums, as well as the concert DVD O Mundo E Meu Lugar: Ao Vivo. If you haven't heard (or seen) this incredible young Brazilian samba star, this is a great introduction to her work.
Teresa Cristina "Ao Vivo: Melhor Assim" (EMI, 2010)


A concert album with several high-powered guest performers, including Arlindo Cruz, Seu Jorge, Lenine, Marisa Monte, and Caetano Veloso. More lovely music from one of Brazil's finest new performers.
Teresa Cristina "Cantar: Grandes Sucessos" (EMI, 2011)

Teresa Cristina "Duetos" (Microservice)


Teresa Cristina "Teresa Cristina + Os Outros = Roberto Carlos" (Microservice, 2012)



Grupo Os Outros back Teresa Cristina in a tribute to rocker-turned-crooner Roberto Carlos...
---
Links
---
---



---