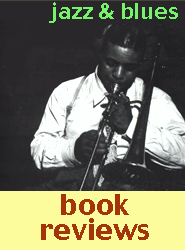 ---
Glenn Miller Could Have Cleaned The Floor With Miles Davis...

---
Welcome to this quick look at some of the best Jazz Music reference works out there today... I admit I'm not the world's biggest jazz buff, but these are some books I've found useful & I think you might as well. Here are some related topics also included in the Slipcue website:
---
General Reference Works
---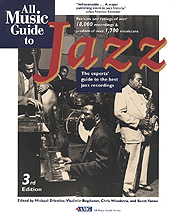 "The All-Music Guide To Jazz (3rd Edition)"
Ed. by Scott Yanow, Michael Erlewine, et al
(Miller Freeman Books, 1998)


WOW. This is a real tour de force -- definitely the best jazz guide available, and highly recommended. If you want a book that can help you figure out how to delve deeper into jazz, or even just where to start listening, this is your best bet. Includes entries on all styles of jazz, from traditional to bop, cool jazz to fusion, and on into contemporary neo-traditionalism; it even touches lightly on current "squonky" avant-gardists such as John Zorn, et al. The presentation is well-balanced, avoiding the snooty factionalism which so many jazz fans take so seriously -- this book can tell you what a particular artist or band's place in history was, and which of their records are best and why (along with zillions of well-articulated alternate choices). I appreciate the healthy number of entries on big band -- including pre-bop "sweet" bands such as Paul Whiteman and Isham Jones, who are all but reviled, if not entirely forgotten by "hard jazz" purists. Special gold star for co-editor Scott Yanow, who contributed about two-thirds of all the entries. He's a very fine writer of the bite-sized review, and has very good taste.
"MusicHound Jazz: The Essential Album Guide"
ed. Steve Holtje & Nancy Ann Lee
(Visible Ink Press, 1998)


This continues in the fine Music Hound tradition of compact, sassy reviews and interesting appendices. Of special note are the producer index, as well as a cross-referencing of various sidemen and information about various jazz-related websites and music festivals. Also includes a pretty decent CD sampler drawn from Blue Note's Profile series, with pretty strong song selection. Recommended.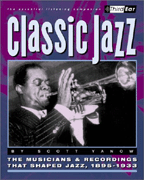 "Classic Jazz: The Musicians and Recordings That Shaped Jazz, 1895-1933"
By Scott Yanow
(Miller Freeman, 2001)


Sure, there's a certain amount of recycling in this edition from venerable tomes such as the All Music Guide To Jazz (which the ever-amazing Scott Yanow edited and practically wrote singlehandedly...) but it's still nice to have a book that concentrates on the formative era of jazz (the first third of the 20th Century, give or take a decade on either side...) Fewer album reviews, but many entries of "lesser" artists who were influential even if they didn't record as solo players... And as ever, Yanow's writing is clear and cogent. Recommended!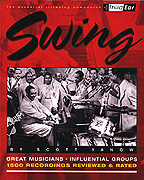 "Swing: The Essential Listening Companion"
by Scott Yanow
(Third Ear/Miller Freeman Books, 2000)


Scott Yanow, the editor of the All Music Guide To Jazz (see above) is probably one of the most readable jazz critics around. Here he concentrates on the music all the kids have been talking about, that crazy little thing called swing. As ever, his style is clear and compact, and the breadth of his knowledge impressive. Yanow covers all the bases, the big bandleaders, the important musicians (broken down by type of instrument) and even a section on composers and arrangers. Even when he's talking about unfamiliar artists, he knows how to stir your curiousity (Cab Calloway had a famous older sister...!?), and the book has a lot to offer to a wide variety of readers. Hundreds of albums are rated on a 1 to 10 scale, and if anything Yanow is a little more charitable here than in his AMG reviews... He's particularly kind to the dozens of retro-swing acts that have sprouted up in recent years...but at least he had the good sense to knock the Cherry Poppin' Daddies down to size!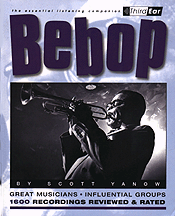 "Bebop"
By Scott Yanow
(Miller Freeman/Third Ear, 2000)


Another outstanding effort from one of the clearest, most concise jazz critics around. Here Yanow profiles dozens of artists and hundreds of albums, outlining the history of this aggressive improv style with admirable deftness. One unusual aspect of the book is its division of musicians by their craft - with separate chapters for soloists on trumpet, sax, piano, bass, etc. and additional attention given to vocalists and arrangers. Yanow covers all the major heavy hitters such as Dizzy Gillespie, Bud Powell, Charlie Parker and the like, but also plenty of non-household names, letting us know where they stood in the development of the music and their particular discipline. As ever, Yanow writes with the assurance of an expert, but in a style that even the uninitiated can appreciate.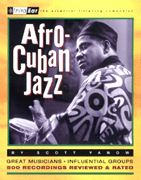 "Afro-Cuban Jazz"
By Scott Yanow
(Miller Freeman, 2000)


Scott Yanow, who I rate as the best of the popular jazz writers, weighs in on the history of Afro-Cuban jazz (also known as "Latin Jazz"). This volume is compact, but eminently useful, with two introductory essays that sketch out the history and significance of this dynamic art form. These are followed by dozens of biographical and discographical essays on all the major players in the field, including Tito Puente, Chico O'Farrell, Mongo Santamaria, Arturo Sandoval and others. The book also ranges back to the start of the 20th Century to include now-obscure figures such as Don Apiazu, and sideways to give propers to mainstream jazz musicians such as Duke Ellington and Stan Kenton, who helped the style develope and find a wider audience. Yanow's writing is, as always, clear and to the point: you know what he likes, and why. On the downside, this is much more sparing in the the number of records reviewed per artist (at least in comparison to Yanow's other opus, the All Music Guide To Jazz, but it's still a great introduction to a much-neglected field of musical study. For more info on this style, see the Slipcue.Com Cuban Music Guide.
"The Big Bands"
By George T. Simon
(Schirmer Books, 1967, 1981)


This is, as they say, the definitive work on classic big band and swing music, full of profiles of bands and band leaders large and small, from the Artie Shaws and Glenn Millers to the Will Bradleys and Hal Kemps. The scope of the book is very well-rounded, including information on often-neglected "sweet" band musicians such as Isham Jones, along with pre-big band acts like Ted Lewis. The downside is that Simon -- a jazz music critic for Metronome magazine during the big band years -- wears his insider credentials on his sleeves, and is a bit of an insufferable name-dropper. Nonetheless, this is a great reference work, and a nice look back at the glory days of swing.

"The Big Band Almanac"
By Leo Walker
(Da Capo Press, 1978, 1989)


The low-key, down home alternative to George Simon's Big Bands, this has a charming, almost DIY, quality to it. The graphic layout is a little funky, but there are more and better photographs than in Simon's book. Also the writing is less jaded and more enthusiastic, conveying the author's continued enthusiasm for his favorite artists of year gone by. Most significantly, Walker puts all the artists on an equal footing, listing them from A to Z, whereas Simon makes a big distinction between "major" artists, and lesser or non-swing musicians, shunting them to separate sections in the back of the book. Both books are informative, but I have more of a soft spot in my heart for this one.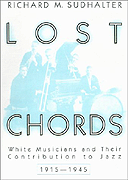 "Lost Chords: White Musicians And Their
Contribution To Jazz 1915-1945"
By Richard M. Sudhalter
(Oxford Press, 1999)


The legacy of white musicianship in jazz -- in the big band arena and elsewhere -- is masterfully discussed in this hefty volume, which seeks to settle for once and for all the inter-ethnic character of jazz history. For the most part, Sudhalter is a clear and engrossing writer, although the book is fairly thick on musical theory, and shifts back and forth between theory and narrative (which I wish was more prominent...) The main emphasis seems to be on proving that white guys had serious musical chops, and weren't just flashy opportunists (which is the afrocentric viewpoint). Thus, extensive analyses of the various solos and compositional strengths of players such as Bix Beiderbecke, Jack Teagarden, Bud Freeman, Red Norvo and Artie Shaw dominate this book, though a good deal of well-researched biographical information is available as well. This is an invaluable work, particularly for anyone who tires of rolling their eyes every time someone lectures them on how jazz is an "African American" art form that was unjustly co-opted by white scam artists. Sudhalter pays tribute to the pivotal innovations of artists such as Louis Armstrong, et al, but won't give an inch when challenged on the importance of the legions of enthusiastic and talented pale players who came in their wake. Recommended!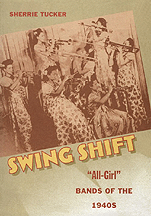 "Swing Shift: 'All-Girl' Bands Of The 1940s"
By Sherrie Tucker
(Duke University Press, 2000)


An even more neglected group of jazz musicians are the so-called "all-girl" bands of the wartime era, who packed the dancehalls during the fight against Hitler, while the established male jazz elite were either enlisted and at war, or entertaining troops abroad. This is a feminist history, and as such embues its subjects with the dignity they were hardly afforded back in their swinging heyday. The International Sweethearts of Rhythm and the similarly-named Darlings of Rhythm are profiled, as well as countless other musicians who were much further under the radar... Tucker looks at the impact touring and performing had on their personal lives, and at the social climate of the times, in particular the assumed sexual availability of women in entertainment, and how pernicious Jim Crow laws affected the careers of African-American musicians touring down South. When the War ended, and the men came back, practically all of the hundreds of women musicians retired -- their stories would be all but lost if it weren't for the painstaking archival research and timely interviews that Tucker conducted. A great resource for students of a missing era in jazz history.
---
Biographies
---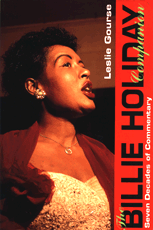 "The Billie Holiday Companion: Seven Decades of Commentary"
ed. Leslie Gourse
(Schirmer Books, 1997)


Whenever confronted with the eternal question of what my "desert island discs" would be, I always start the list with Columbia's set of Billie Holiday double LPs which came out in the early 1970s... and invariably my questioners will comment on what a depressing choice that would be. I feel somewhat vindicated by this book's firm assertions that Holiday was not, in fact, a downcast performer. Like the other volumes in Schirmer Books' excellent Companion series, this anthology draws on a wide range of sources, including artist interviews and autobiographies, contemporary newspaper reviews and formal music criticism. This patchwork of Holiday's admirers and intimates creates a warm and frequently contradictory portrait of the world's greatest jazz vocalist. An extremely vulnerable yet extremely toughened, capable artist, Holiday's life is often seen through the filter of her tragic drug abuse, which led to her complete physical breakdown and death in 1959. This sordid reduction of Holiday's life has led many of her biographers to protectively soften or cover up aspects of her personality, which in turn has contributed to the confusion about her life. Editor Leslie Gourse skillfully weaves through these various accounts, offering illuminating commentary as to their relative strengths and blind spots. Included are entries by musicians such as Buck Clayton, producers John Hammond, Milt Gabler and Leonard Feather, and a host of journalists and biographers, including Gourse's own essay, "There Was No Middle Ground With Billie Holiday". This is an invaluable resource for anyone who wants to find out more about Lady Day, her influence on modern vocals, and her sad yet glorious life. Highly recommended.
---


Other Book Reviews
Slipcue Main Index




---
Copyright 1998-2006 Slipcue.Com. All Rights Reserved.
Unauthorized use, reproduction or translation is prohibited.
---