! MP3 00/00/00 > <! update 00/00/00 > <! outside 00/00/00 > <! pix 00/00/00 >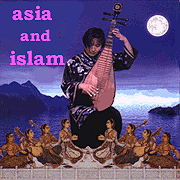 ---

ASIAN & ISLAMIC MUSIC
Recommended Record Labels
---
There are dozens of great labels offering Asian and Arabic music... this list primarily concentrates on smaller independent companies. Some of the links on this page include reviews of recommended albums, others will simply take you to a label's website. Miscellaneous albums are reviewed on a separate page.
---
AMMP - North Indian master musician Ali Akbar Khan's label. Releases include classic performances as well as new recordings.
Ellipsis Arts
One of the more idiosyncratic labels around. As likely to put out a disc of Tuvan throat music as one of songs written on weirdo, self- made intstruments. In addition to their tangential outings, Ellipsis also has several excellent samplers of different styles of world music, such as African pop and Irish lullabies. If I can find their website, I'll set a link for it soon...
Lyrichord Records
Lyrichord has a hefty dose of world music recordings, along with some great classical and early music releases. Before the recent "world music" boom of the 1980s and '90s, Lyrichord was one of the few American labels which consistently offered international music... Now many of the older releases may sound a little staid and dated, but their catalog is still well worth checking out, especially the Asian selections.
Moment Records -- Stellar Indian classical music, featuring studio recordings and concerts by master percussionist (and label founder) Zakir Hussain. With very few exceptions, these are all incredible, often transcendent, performances.
Music of The World
This label is especially strong on contemporary Indian music, including releases by Sargam, and Jagdeep Singh Bedi. If you like the mellower melodic introductory movements known as the alap, many of these releases should appeal to you.
Rykodisc is, of course, one of the all-time fab labels... World music is only a small slice of what they do, but what they have is pretty nice. More details to come.
Shanachie Records
These folks have been pretty heavy on the Asian music tip in recent years, including stellar releases by Abida Parveen, who is the female equivalent of the much-vaunted Nusrat Fateh Ali Khan. Other excellent records include their "Music Of Burma" series, which has some exceptionally unique-sounding records. Check out the Shanachie catalog for these and many other juicy gems!
Smithsonian Folkways
Their "MUSIC OF INDONESIA" series (up to 20 volumes at last count) is one of the most amazing ethnographical undertakings ever. Check out my Smithsonian site for more details...
Traditional Crossroads
An incredible label with more of a traditionalist bent to its releases. However, this doesn't translate into "stuffy old field recordings" by a longshot... Many Crossroads releases are intensely vibrant and arresting, most are well worth checking out. Specific recommendations are on the way...
Waterlily Acoustics is one of the best Indian classical labels in the US. Their catalog includes traditional classical recordings as well as several amazing East-West collaborations such as the Ry Cooder/V. M. Bhatt album.
---


Asian Music Index
World Music Index




---