<! WOA-WZZ > <! MP3 11/03/10 > <! outside 00/00/00 > <! pix 12/13/13 > <! icons 11/03/10 > <! UPDATES: 12/12/13 - added Tom Wurth, need some adjustments? >
---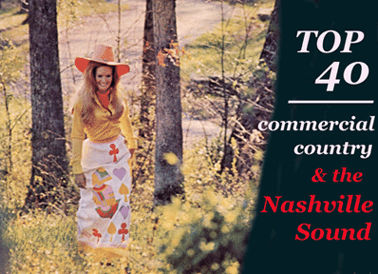 Are you a George Jones guy in a Garth Brooks world? A Loretta Lynn gal trying to understand why people still call Shania Twain a "country" artist?
Well, then this website is for you! Here's your chance to read all about Nashville pop, from the late-'50s "Nashville Sound" and the countrypolitan scene of the '70s to today's chart-toppers and pretty-boy hat acts, seen through the lens of DJ Joe Sixpack, a hick music know-it-all with a heart of gold...
Your comments and suggestions are welcome, particularly suggestions for artists or albums I might have missed. Other types of twang are reviewed elsewhere in my Hick Music Guide.
This is the fifth page covering the letter "W"
---
A | B | C | D | E | F | G | H | I | J | K | L | M | N | O | P | Q | R | S | T | U | V | W / W-2 / W-3 / W-4 / W-5 | X, Y & Z | Comps | Other Country Styles | Hick Music Index
---
Drew Womack "Drew Womack" (Smith's Music, 2004)



A solo album from the former lead singer and main songwriter for the Sons Of The Desert...
Lee Ann Womack - see artist discography
Steve Woods & The Slingshot Band "Highway Bound" (Mercury, 1981) (LP)


(Produced by Larry Butler & Billy Sherrill)
A pretty dull album that never came close to the charts, although I'm not sure why -- it's not that different than other stuff that did well at the time. Sort of a Johnny Lee-meet-The Oak Ridge Boys vibe here, with uninspired though competent backing by a band that included fiddler/guitarist Steve Hill, a talented veteran of the Texas twang scene who later went on to work with Chris Hillman and the Desert Rose Band. This album's a dud, though, mostly because of the singer. My guess is once they had it in the can and realized it was a stiff, the label just 86-ed the promotions and let it die a quiet death. If you really, really are into the mellower end of the early '80s country sound, you could check this out, but there's certainly better stuff out there.
Sheb Wooley - see artist discography
Darryl Worley "Hard Rain Don't Last" (Dreamworks, 2000)



(Produced by Frank Rogers & James Stroud)

Darryl Worley "I Miss My Friend" (Dreamworks, 2002)



(Produced by Frank Rogers & James Stroud)

Darryl Worley "Have You Forgotten?" (Dreamworks, 2003)



(Produced by Frank Rogers & James Stroud)
Top Country hunk Darryl Worley gets points for his social conscience, and for his clever timing, rushing this stirring, patriotic pro-war dirge out onto the market quick enough to hit the top of the Billboard charts, even as the bombs were still falling in Iraq. But while his heart seems to be in the right place, he falls a little short in terms of really understanding the war, embracing the faulty reasoning that linked the September 11th bombings to the rickety regime of Saddam Hussain. Worley begins by singing, "I hear people saying we don't need this war," (True.) and goes on to recount the sorrows of September 11th, concluding, "...And you tell me not to worry about Bin Laden..." Well, wait a minute. False. In fact, all the people I talked to who were against (or wary of) invading Iraq never said boo about not wanting to nail Osama Bin Laden -- instead they pointed out that Bin Laden and Saddam Hussain had very little in common, and indeed had hated one another for many years. Bin Laden is a religious fanatic who despises non-religious, secular Arabs like Saddam Hussain, and I'm pretty sure the feeling was mutual. If anything, most people who were critical of the war complained that the $100 billion we just spent to buy ourselves a really big, really violent West Bank of our own could have been better spent actually combatting terrorism, rather than provoking it, and that we could have used the money to help local and state governments pay for the massive domestic security costs involved in making sure September 11th never happens again. But I guess that would be a difficult sentiment to express in a four-minute pop single. Otherwise, this disc is pretty good. It's mostly cobbled together from Worley's last two albums, Hard Rain Don't Last and I Miss My Friend, which are both fine examples of reasonably vigorous, reasonably traditional country. Worley's a good singer, with a nice mix of sensitivity and machismo, and he's got real country roots. With four new songs, this is a pretty decent best-of, with a few extra goodies to make fans happy. I think Worley's wrong about the war, but he's sure right about his rhythms.
Darryl Worley "Darryl Worley" (Dreamworks, 2004)



(Produced by Frank Rogers)
Hey, who am I to argue with success? Obviously, Worley dips liberally into the commercial end of things, but he also has a really great voice, and when he plays real country music (for example, check out "If I Could Tell The Truth"), he's top-rate. Heck, even on corny modern tearjerkers like "If Something Should Happen," where a guy about to have surgery for cancer and asks his best friend to check up on his wife and kids, Worley just sounds so darn sincere that he makes it work. He's good. The album is solid. It's completely corny, but it's good. This is Nashville the way it oughtta be. Oh, yeah, the political thing... Well, he kind of mentions the state of the world on "Awful Beautiful Life" (the album's first single), but he swiftly deflects towards religion, and the bluntly titled "Wake Up America" turns out to be about drug abuse, not Al Qaeda... So I guess that whole out of sight, out of mind thing seems to be the operative word here. At least Worley hasn't pegged himself as a flag-waving one-trick pony, which is fine by me, since he's much more enjoyable as a damn fine, straight-up country singer. Recommended!


<! 144 x 144 >

Marion Worth "Greatest Hits" (Columbia, 1963) (LP)

Marion Worth & George Morgan "Slippin' Around" (Columbia, 1964) (LP)

Marion Worth "Sings Marty Robbins" (Columbia, 1965) (LP)

Marion Worth "A Woman Needs Love" (Decca, 1968) (LP)

Bobby Wright "Here I Go Again" (Decca, 1971) (LP)


The son of country superstar Kitty Wells and hillbilly star Johnny Wright (of the Johnny & Jack duo) Bobby Wright appeared onstage with his folks while still a little kid, but as a young man he struck out on his own as an actor in Hollywood. From 1962-66, Wright had a steady role on the McHale's Navy TV show though he also continued to perform with his folks and eventually moved back to Nashville to be part of their road show. Although he released a long string of solo singles, this was his only full-length album, yielding a Top 20 hit with the title track, a small nugget of sweeping, ornate contrypolitan-pop splendor. He was unable to sustain this success, and although several singles came out over the next few years, eventually Wright gave up on the limelight, dropping off the charts and out of sight by decade's end. For fans of gooey, lavish countrypolitan twang, this disc might be a real find.


<! https://en.wikipedia.org/wiki/Bobby_Wright >


Chely Wright - see artist discography



Curtis Wright "Curtis Wright" (Capitol, 1992)


The lone solo album by songwriter Curtis Wright, who started out in the Super Grit Cowboy Band in the '70s then joined Vern Gosdin's band during the '80s. This album generated two singles, though both failed to crack into the Top 40, and Wright formed a partnership with Robert Ellis Orrall, releasing one album as a duo before Wright took an offer to join the band Shenandoah.
Michelle Wright "Do Right By Me" (Savannah, 1988)


Michelle Wright "Michelle Wright" (Arista, 1990)


A so-so album from a Canadian artist who seems pulled in several directions -- soft country-pop (with a slight traditionalist/rockabilly undercurrent on a few tunes), along with bluesy-torchy vocals, ala k.d. lang... She seems like an artist who could've caught fire, given the right musical backing, but as is, this album feels a bit flat.
Michelle Wright "Now And Then" (Arista, 1992)

Michelle Wright "The Reasons Why" (Arista)

Michelle Wright "For Me It's You" (Arista, 1996)

Michelle Wright "Shut Up And Kiss Me" (2004)

Michelle Wright "A Wright Christmas" (Icon, 2007)


Michelle Wright "Everything And More" (2008)


Michelle Wright "Greatest Hits" (Arista, 2000)





<! Michelle Wright "Do Right By Me" (1988) B0001GV30O Michelle Wright "Michelle Wright" Michelle Wright "Now And Then" Michelle Wright "The Reasons Why" Michelle Wright "For Me It's You" Michelle Wright "Shut Up And Kiss Me" Michelle Wright "A Wright Christmas" Michelle Wright "Everything And More" Michelle Wright "Greatest Hits" >
Ruby Wright "Dern Ya!" (Kapp Records, 1966) (LP)


The daughter of Kitty Wells and hillbilly star Johnny Wright, Ruby Wright (1939-2009) followed her folks into the music business in the early 'Fifties, working for a while in a short-lived pop-billy trio with Anita Carter of the Carter Family. Ruby scored a surprise Top Twenty solo hit with "Dern Ya," an indie single which was an answer to Riger Miller's "Dang Me," and this album piggybacks on the success of that single, but like her brother Bobby, Ruby Wright found country music a hard nut to crack and proved to be more or less a one hit wonder. Nonetheless this album yields a few more noteworthy novelty numbers such as "Billy Broke My Heart At Walgreens," and I suppose someday Bear Family or some other well-meaning anthologists could put together a collection of her work that would include her earlier work from the '50s and later recordings from the '70s.


<! https://en.wikipedia.org/wiki/Ruby_Wright_%28country_singer%29 http://countrydiscography.blogspot.com/2012/03/ruby-wright-wells.html >

The Wrights "Down This Road" (RCA/Sony-BMG, 2005)



(Produced by Keith Stegall & John Kelton)
A memorable debut album of sweet, well-crafted country duets by this husband-wife songwriting team, Adam and Shannon Wright. The Wrights were introduced to country fans earlier in the year when they sang on Alan Jackson's What I Do album, where they contributed musical backup as well as two new songs... Adam Wright does just happen to be Jackson's nephew, and Uncle Alan does just happen to make an appearance on this album as well, but one listen to this disc and you'll know that they got here based on their talent, not anything else. This is a really striking record for a modern commercial country release -- it's got a softness and sincerity that's really quite refreshing. The Wright's never sound like they're straining to find a hit, or trying out whatever styles or gimmicks they can think of to see what might stick. They have a nice, simple sound and they stay with it, giving them a distinctive presence amid all the pop-soul crossovers of recent years. Also, the production is smooth and assured, and pleasantly restrained, given how over-the-top the Nashville studio cats have gotten. This is a classy record, a well-measured piece of craftsmanship that never blunders into by-the-numbers commercial formulae... If you enjoy Barry and Holly Tashian's records or the mellower stuff by Buddy and Julie Miller, then you may find kindred spirits here... Check it out!


<! 144 x 144 >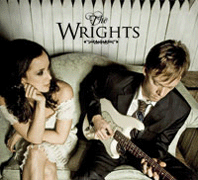 The Wrights "The Wrights" (Alan's Country Records, 2007)



(Produced by Keith Stegall & John Kelton)
Bee-yoo-ti-ful. The husband-wife team of Adam and Shannon Wright burst on the Nashville scene a couple of years ago with their major label debut, Down This Road, a wonderful set of melody-twang-and-harmony drenched commercial country that seemed just too good to be true. Maybe it was, since this new EP is and indie release (like a lot of the best country coming from Nashville these days...) Regardless of whatever's happening between them and the majors, the Wrights sure do sound good. This disc opens on a high note, with "Rewind," a soaring harmony tune written by Shawn Camp, produced in a lavish style that recalls Billy Sherrill's best years... Indeed, the Wrights are resurrecting a much-neglected tradition of country duet singing that had its heyday back when Sherrill was working with George Jones and Tammy Wynette -- it's a sound that's fallen by the wayside in recent years, and you'll wonder why when you hear these two croon one great tune after another, including originals like the twangy "Do You Still" and catchy hits-in-the-making like "Planting Flowers" and "You're The Kind Of Trouble." Guitarist Paul Kennerley plays throughout and also wrote or co-wrote several of the songs; veteran producer Keith Stegall exhibits his tried-and-true, irresistible blend of twang'n'pop, which fits these kids like a glove. If you like real, true, sweet country pop, the kind of stuff you can crank up loud and sing along to, then check this album out. It's a treat. (For more info, check out www.thewrightsmusic.com )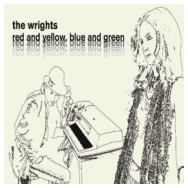 The Wrights "Red And Yellow, Blue And Green" (Tour Records, 2010) <! label? >


The husband and wife duo of Adam and Shannon Wright have gone full-bore indie on this new album, which they've released on their own, and which featured more of a rock vibe than their earlier releases. Sure, there's some twang, and more of their Everly-esque harmonies, but they're also indulging in some moody, noodly indie-rock ambiance, singing alongside a vintage-sounding keyboard with an exploratory vibe that may baffle a few fans who know them better from their Nashville and nearly-Nashville country work. It's kinda cool, but definitely a different direction, although their roots are still showing here as well. If you loved their earlier work, you'll wanna check this out as well.


<! 08/10: no CD version? rock-oriented >
Sonny Wright "I Love You Loretta Lynn" (Kapp, 1969) (LP)


(Produced by Walter Haynes)
Interestingly enough, although the debut album of country second-stringer Sonny Wright was a Loretta Lynn tribute album, and while he toured in her band and professed his affections for Loretta, in reality Wright married her little sister, singer Peggy Sue. Overall, this is a pretty lackluster album, with sleepy arrangements and cover versions that are mostly pretty close to the originals, with a couple of gender-flipped remakes such as "Blue Kentucky Boy" and "Your Chief's On The Warpath Tonight." That one, like the album's opener, "I Come Home A-Drinkin'," takes a fairly mean-spirited slant on the whole war-of-the-sexes theme -- hearing some dude complain about how his woman won't put out when he comes home hammered doesn't quite have the same charm as the feminist theme of the original hit. The title track is okay, but again, kind of snoozy. Nothing charted from this album... not too hard to see why. Loretta wrote some nice, supportive liner notes.
Sonny Wright & Peggy Sue "Gently Hold Me" (Big R, 1981) (LP)

Sonny Wright & Peggy Sue "One Side Of Peggy Sue/One Side Of Sonny Wright" (Circle/Country International, 1982)

Tom Wurth "Love Songs And Lullabyes For Daddy's Little Dreamer" (Jaba Records, 1996) <! date? >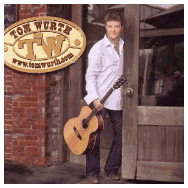 Tom Wurth "T.W." (Aspirion, 2006)


(Produced by Bart Butler & John Ford Coley)
An appealing Top Forty-ish album with a nice, bluesy, bar-band undercurrent. Hailing from Iowa, Wurth gained a foothold in Nashville as a songwriter -- his sentimental, I'll-always-be-here-for-you ballad, "If The Road Runs Out," was recorded by Ty Herndon, and it sounds pretty nice here, too. Wurth includes some pretty twangy stuff on here, like the chicken-pickin' "Bread On The Table," along with plenty of big-hook, poppier numbers that sound pretty much in line with the rest of the contemporary Music City sound. Most of the songs on here are from other writers, but he sings 'em with conviction, along with a handful of his own compositions. Worth checking out, if you're into the indie-ish side of the Top Country scene, but still enjoy modern-day, formulaic Nashville country-pop.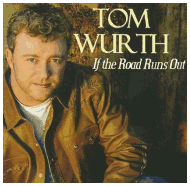 Tom Wurth "If The Road Runs Out" (Echelon, 2009)


Worth remade his 2006 album -- juggling the setlist, repeating the best songs, and adding some new ones, including "Almost Died Today," an apparently autobiographical song about his experiences in near-fatal car crashes, in which he reflects on the fragility and value of life. All in all, another strong offering from a guy who couldn't quite crack into Nashville, but comes awfully close... Definitely worth a spin if you're a "top country" fan.
Tom Wurth "Midnight Rain" (TaDa Records, 2012)

Tammy Wynette - see artist discography
Wynonna - see The Judds
---
Commercial Country Albums - Letters "X," "Y" & "Z"
---