<! MP3 00/00/00 > <! update 00/00/00 > <! outside 00/00/00 > <! pix 00/00/00 > <! icons 11/04/10 >
---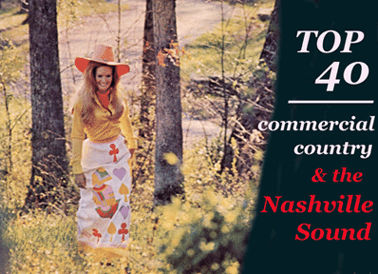 Are you a George Jones guy in a Garth Brooks world? A Loretta Lynn gal trying to understand why people still call Shania Twain a "country" artist?
Well, then this website is for you! Here's your chance to read all about Nashville pop, from the late-'50s "Nashville Sound" and the countrypolitan scene of the '70s to today's chart-toppers and pretty-boy hat acts, seen through the lens of DJ Joe Sixpack, a hick music know-it-all with a heart of gold...
Your comments and suggestions are welcome, particularly suggestions for artists or albums I might have missed. Other types of twang are reviewed elsewhere in my Hick Music Guide.
This is the fourth page covering the letter "T"
---
A | B | C | D | E | F | G | H | I | J | K | L | M | N | O | P | Q | R | S | T / T-2 / T-3 / T-4 | U | V | W | X, Y & Z | Comps | Other Country Styles | Hick Music Index
---
Ernest Tubb - see artist discography
Justin Tubb - see artist discography
LaCosta Tucker - see artist discography
Tanya Tucker - see artist discography

Josh Turner "Long Black Train" (MCA, 2003)



(Produced by Mark Wright & Frank Rogers)
Inoffensive, formulaic modern Nashville ballads, sung in a low, rumbling baritone. Turner trolls for the female demographic with unconvincing (and rather clumsy) weepers (like "She'll Go On You," which is about the last song I would've thought to release as a radio single...) and puts a little more feeling into it on the more dudely numbers, such as the archly bitter "What It Ain't," a giddy, goofy novelty song which defty details the signs of a love gone wrong. This disc is mostly okay, but unremarkable -- Turner sounds fine, but it feels like he's only going through the motions. Only one song really provokes a genuine reaction: "Backwoods Boy" is an irritating look-at-how-redneck-I-am song about hunting deer in the forest: yuck, dude. Who cares? On the other hand, I thought "Unburn All Our Bridges" was a darn good love song, a real weeper in the george Jones tradition. If he stuck with straightforward honkytonk heartsongs like that, I'd sit up and take notice.

Josh Turner "Your Man" (MCA, 2005)


Josh Turner "Everything Is Fine" (MCA, 2007)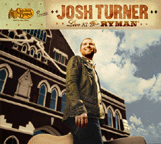 Josh Turner "Live At The Ryman" (Cracker Barrel, 2007)


(Produced by Richard Barrow & Frank Rogers)
The Cracker Barrel restaurant chain must pay a truckload of royalties to land exclusive albums like this: newcomer Josh Turner is one of the hottest young singers in Nashville, and this live set, recorded in April of '07, features relaxed, intimate versions of his many hits. If you're a fan, it'd be worth it to stop in for some chicken fried steak just to pick this one up... In keeping with the super-professionalism of modern top country, these performances aren't all that different from the studio versions (which may actually be a bit better) but they show that Turner's rough-tough neotraditionalism hold true in a live setting, and that these songs all really have legs. There's also a trio of cover tunes that aren't available elsewhere -- Hank Williams's "I'll Never Get Out Of This World Alive," Merle Haggard's "Silver Wings," and the best of the three, a smoldering rendition of the old George Jones classic, "He Stopped Loving Her Today," which would do songwriter Bobby Braddock proud. At times Turner may be a little too laid back, but his restraint is a welcome change of pace from the far-flung, soul-tinged crossover pyrotechnics of other top country stars -- he's singin' real country, and he sings it quite well. Ya gotta love that rumbly, grumbly baritone! (Exclusively available on the road or at Cracker Barrel.com)
Josh Turner "Haywire" (MCA, 2010) <! 2009? >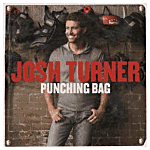 Josh Turner "Punching Bag" (MCA Nashville, 2012)



(Produced by Frank Rogers)
An impressive album where Top-40 Nashville star Josh Turner hits the nail on the head on each and every song. The first half of the album is more mainstream, uptempo, dude-ly pop-country, macho but not too macho, and more importantly, a well-produced set of tunes, with enough twang to catch my attention and keep me happy. Turner gets sentimental and goes all family-values on a trio of tunes at the album's end -- a gospel song ("For The Love Of God"), one about raising kids ("I Was There") and a romantic ballad about getting married and settling down ("Left Hand Man") all of which affirm family values without getting all in-your-face about it, or losing the music in favor of the message. Turner remains a rock-solid performer, a singer with a great voice and good in material to cover. Another winner from one of the top talents in contemporary Top Forty country.
Josh Turner "Icon" (MCA, 2011) <! 2009? >



Lane Turner "Right On Time" (Warner Brothers, 2004) (Unreleased)
The album title could refer to the timing of the record itself... If Nashville ever needed a shot of pure hard country honkytonk, it was in pre-Gretchen Wilson '04, and Lane Turner sure did deliver. Think about John Anderson, Merle Haggard, Brad Paisley and Dale Watson all rolled into one, and you'll get an idea of how rich and how rural-sounding this disc is. Oh, yeah, to be sure, there are some syrupy weepers, like the first single, "Always Wanting More" and the title track, but they're more than matched by the uptempo numbers, which are pretty durn good. He devolves into formula, especially on songs like "Halfway To Mexico," but with well-crafted winners like "Outside Looking In," "Happy Hour" and the boozy "King Of Pain," Turner's won himself one loyal listener. Here's the catch, though: Warner shelved the album! So get out there and track down those promo copies, if you can! I mean, it's not exactly the greatest country record ever, but it has its moments!
Lane Turner "Lane Turner" (EP) (Original Signal/Universal, 2009)

Shania Twain - see artist discography

Twister Alley "Twister Alley" (Mercury, 1993)



(Produced by Mike Lawler & Harold Shedd)
An iffy outing from this one-hit outfit from Arkansas... Vocalist Shellee Morris is enthusiastic and gives it all she's got, but when all is said and done, turns out that really isn't that much -- she's just a smidge flat most of the time, and it doesn't always come off as "twang." The production's pretty generic, too, and the highly compressed sound mix smudges out a lot of the contributions of various bandmembers, though, really, there's nothing overly memorable on this disc. Mostly this seems to have been an outlet for the songwriting ambitions of co-producer Mike Lawler, who claims songwriting co-credit on almost all the songs the band recorded. The single was "Dance," a linedance-y novelty tune that featured the pop of a bullwhip each time Morris barks out the song title... Not something you need to try too hard to track down.
Conway Twitty - see artist discography
---
Commercial Country Albums - Letter "U"
---