<! SU-SZ > <! MP3 10/29/10 > <! outside 00/00/00 > <! pix 10/29/10 > <! icons 10/29/10 > <! updates: 10/29/10 - new Sweethearts of the Rodeo page; no BB adds >
---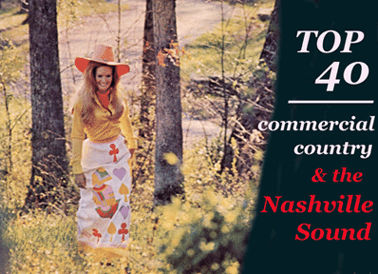 Are you a George Jones guy in a Garth Brooks world? A Loretta Lynn gal trying to understand why people still call Shania Twain a "country" artist?
Well, then this website is for you! Here's your chance to read all about Nashville pop, from the late-'50s "Nashville Sound" and the countrypolitan scene of the '70s to today's chart-toppers and pretty-boy hat acts, seen through the lens of DJ Joe Sixpack, a hick music know-it-all with a heart of gold...
Your comments and suggestions are welcome, particularly suggestions for artists or albums I might have missed. Other types of twang are reviewed elsewhere in my Hick Music Guide.
This is the sixth page covering the letter "S"
---
A | B | C | D | E | F | G | H | I | J | K | L | M | N | O | P | Q | R | S-1 / S-2 / S-3 / S-4 / S-5 / S-6 | T | U | V | W | X, Y & Z | Comps | Other Country Styles | Hick Music Index
---

Sugarland "Twice The Speed Of Life" (Mercury Nashville, 2004)



(Produced by Garth Fundis)
Three struggling contemporary-folkish singer-songwriters from Atlanta turn their hands towards blatantly super-commercial Top Country Nashville fare, with decidedly iffy results. I kind of liked the single, "Baby Girl," even though it shamelessly lifts its catchiest hook from Terri Clark's "Three Mississippi," and even though the concept's a bit simplistic (a gal who's set off for Nashville sings to the folks back home, asking them to send some money; by the end of the song, she's sending cash to them, 'cuz she's made it in the big time). When I got the full album, though, I was less than thrilled. Lead singer Jennifer Nettle's phony, exaggerated twang ("Deeeeeeeeerre mom and dad...") plays poorly through the length of the album; she's trying to pull a Martina McBride, but sounds like a complete poseur. Plus, her vocal tone isn't just piercing and distinctive, it gets to be downright irritating. Likewise, the band overplays its hand on the lyrics and the hook-heavy production; even amid the elaborate formulae of the Nashville music factory, this album sounds overly prefab and contrived. I just don't buy it; they don't have real country soul, and they also don't have the sense of control it takes to really pull something like this off. Frankly, this record is so aggressively hit-oriented that it's kind of exhausting to listen to... (That being said, they'll probably wind up being the act of the century, since I pooh-poohed 'em straight out the gate.) (Postscript: Sure enough, after about a full year of aggressive promotion, they went Top 10. "Deeeeeeeeerre mom and dad..." "Deeeeeeeeerre mom and dad..." "Deeeeeeeeerre mom and dad..." "Deeeeeeeeerre mom and dad..." "Deeeeeeeeerre mom and dad..." Guess the egg's on my face!)

Sugarland "Enjoy The Ride" (Mercury-Nashville, 2006)



(Produced by Byron Gallimore, Kristian Bush & Jennifer Nettles)
The opening tracks on Sugarland's second album come as a pleasant surprise -- "Settlin' " and "County Line" both have a relatively simple sound, at least compared to the band's forceful, uber-jangly, overbaked (and wildly successful) commercial debut. Ah, at last! I sighed, they've learned how to keep it simple! Well, the slick, thick Nashville sound kicks in soon after that, but they still don't lay it on as thick as they did before. It turns out the reason is that the group has shed one of its principal members, songwriter-singer Kristen Hall, and now tailors its sound entirely towards the vocals of Jennifer Nettles, who acquits herself nicely. The record is, understandably, formulaic -- you don't hit the top of the Country charts without going over-the-top, musically speaking -- but it's a calmer, more easily digestible affair, and has moments of understatement that give me hope that they might tap into something closer to old-school country... Wouldn't that be nice? Doubtless some fans will feel cheated -- where's Kristen?? -- but I prefer this less hyperactive mix. The band itself seems a little conflicted about its future: on one hand, the album title seems to hint at an uneasiness about the impermanence of fame, though on the other hand, they close the record with a belated theme song, "Sugarland," which might come in handy if they stay together for a while. I dunno, I hadn't expected myself to be so amenable to this record... So I guess you can count me among the folks who are curious to see where it goes from here.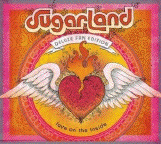 Sugarland "Love On The Inside" (Mercury-Nashville, 2008)



(Produced by Kristian Bush, Byron Gallimore & Jennifer Nettles)
Fascinating how such a popular Top 40 band, whose first two albums were so resolutely commercial and pop-oriented, could aim for such an introspective, almost folkish sound on their third album. I guess this is Jennifer Nettles returning to her folkie/adult-alt roots, with personal-sounding, confessional-inspirational lyrics and a softer-edged, less twanged-out mix. Reminds me quite a bit of Wynonna Judd's solo work, and I'm sure it will appeal to Wynonna's fans as well. Personally, I don't miss the ultra-exagerated faux-twang of their first couple of records -- and since this disc was a big commercial hit, I wonder where they'll go from here... Hmmm. Time will tell!


<! correct ASINs? AUG '08 >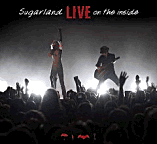 Sugarland "Live On The Inside" (Mercury-Nashville, 2009)


(Produced by Kristian Bush & Jennifer Nettles)
A few years ago, Sugarland started out with a big bang, topping the charts, filling the airwaves, becoming stars. As this live album, a combination CD and concert DVD shows, though, since then they've gone to another level. You can hear it in the reverent murmur of the audience, and in the self-aware superstar purr of lead singer Jennifer Nettles: Sugarland has become the kind of "you changed my life, I worship you" band that gets a special kind of super-fan. Their songs have become more poetical and profound, as well (although with dips into poppy raunch that are meant to keep them in the just-plain-folks category...) Wynonna Judd comes to mind right away, with the modern pop-meets-tailored twang style, seasoned with constant bluesy soul-mama intonations. I suspect that there's some overlap in the fan base as well; it's a formula that works. I still think Nettles is overdoing it with the exaggerated twang, but hey -- who am I to argue with success? The big attraction for many fans will be the high-definition live footage from a concert in Lexington, where you can not only hear, but see the connection between Sugarland and their fans. One thing that's really cool: there's no overlap between the songs on the audio and video discs, a nice bonus for consumers in these troubled times.

Sugarland "Gold And Green" (Mercury, 2009)



(Produced by Kristian Bush, Jennifer Nettles & Byron Gallimore)
A smooth but not unpleasant holiday offering from this early 2000's-era supergroup. When they play it straight on standards such as "Winter Wonderland," it's okay... Jennifer Nettles' gospel-soul showboating on songs such as "Coming Home" and "Green And Gold" gets to be a bit noxious. In general, this disc shares the same problems as their Top 40 albums -- they seem to have a near-absolute inability to keep things simple, and are continually adding little "look at me!" touches that reflect, I suppose, the ethos of the American Idol scene, overproduced pop for folks who believe that more is always better. Personally, I prefer a more subtle touch. Nonetheless, there are some okay tunes on here, though there are other Christmas records I'd rather have around.


<! fake and phony-sounding >

Sugarland "The Incredible Machine" (Mercury, 2010)


Trent Summar "...And The New Row Mob" (VFR, 2000)

Trent Summar & The New Row Mob "Live At 12th & Porter" (DCN, 2003)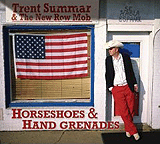 Trent Summar & The New Row Mob "Horseshoes And Hand Grenades" (Palo Duro, 2006)



Yeahhhhhh!! Let's hear it for the dark underbelly of Nashville! Songwriter Trent Summar is doin' fine for himself as a Music City songsmith (you might recognize his Steve Earle-styled rebel anthem, "Guys Like Me," from its earlier incarnation on a Gary Allan album...) but he's also one helluva alt-ish hard country artist all on his own. This is a flat-out awesome, smokin' set of hard-edged, cheerfully rowdy, rollicking material, from the twangy title track, to the power-chord, Southern Rock heaviness of "She Knows What To Do," kind of the guys-eye view of the Gretchen Wilson schtick. One song stands out as a potential Top 40 smash: "Supposed To Do" is a mournful, shimmering ballad about all the things that add up, in their little way, to a broken heart: the truck that took her away, etc., and while I could easily see any number of Nashville stars taking this one on, Summar's own vocals are perfect on this tune... In a just world, a song like this should sail to the top. Other highlights include "Really Never Loved Her Anyway" (another fine novelty song) and "Girl From Tennessee," which extols the virtures of the local gals, and is a fine tune, despite strong thematic (and structural) similarities to Willis Alan Ramsey's "Northest Texas Women..." The only weak note on the entire album is Summar's cowpunky rave-up on his cover of the George Jones oldie, "He Stopped Loving Her Today," but one dubious tune stacked up against ten winners ain't a bad ratio. This disc is highly recommended.
Joe Sun - see artist discography

Doug Supernaw "Red And Rio Grande" (BNA, 1993)


(Produced by Richard Landis)
A swell hard-country debut... there are hints of slicker formulas to come, but really, this is a nice little honkytonk album, opening with the plain-and-simple truths of "Honky Tonkin' Fool," and the homespun puniness of Bob McDill's "The Perfect Picture (To Fit My Frame Of Mind)." There are also some mega-weepers, like "I Don't Call Him Daddy," a forlorn ditty about a divorced parent visiting his boy -- of course it went to #1, and proved to be Supernaw's biggest hit. It ain't the best song on here, but hey, it paid the bills so we could hear the rougher stuff as well. Nice record, though -- I kept my copy.
Doug Supernaw "Deep Thoughts From A Shallow Mind" (BNA, 1994)


(Produced by Richard Landis)
His second album out on a major, yet it still has the feel of an indie release. The album title, the opening track, his brilliant cover of Steve Goodman's "You Never Even Called Me By My Name" (with mischievous guest cameos by Waylon Jennings, Charlie Pride, Merle Haggard and David Allan Coe...) all give you a sense of just how true Supernaw is to his Texas country roots; the second half of the album loses focus and momentum, but it's still a breath of fresh air, with its stripped-down honkytonk arrangements. This isn't a "great" record, but it sure is nice. Definitely worth tracking down!

Doug Supernaw "You Still Got Me" (Warner Giant, 1995)



(Produced by Richard Landis)
Well sure, Supernaw may not have the world's greatest voice, but he sure has an affable personality, and he really grows on you after a while. This was the first album of his I'd ever heard, and by the end, when he sang the last song, a laid-back, Jerry Jeff-ish weeper called "What In The World," I was a convert. He's best on the faster songs, dopey romper-stompers like "Daddy Made The Dollars (Mama Made The Sense)" and the daffy "We're All Here," but given the right accompaniment, he completely nails the slow songs, too. Take his version of "The Note," for example -- whereas Daryle Singletary's version, which came out a couple of years later, is slick to a fault, Supernaw delivers it as a non-nonsense weeper, and makes you pay attention to every word. This guy is really a superior true-country singer.

Doug Supernaw "Encore Collection" (Warner Giant, 1997)


This reissue features material from his first two albums on the BNA label, Red And Rio Grande and Deep Thoughts, from 1994. His earliest singles were as pure a blast of hard country grooviness as you're ever likely to hear. "You're Gonna Bring Back Cheating Songs," "Honky Tonkin' Fool" and "I Would Have Loved You All Night Long" are all real doozies, and the guest-star cameos on his version of Steve Goodman's immortal "You Never Even Called Me By My Name" are a work of sheer genius.

Doug Supernaw "Fadin' Renegade" (Tack, 1999)


(Produced by Freddie Fletcher & Doug Supernaw)
For whatever reason, Supernaw fell off the radar in the 1990s, and wound up cutting this record on an indie label... The album title sounds promising -- maybe ol' Doug's gonna cut loose and show those damn Nashvillers a thing or two -- but the opening numbers seem disappointing, like he was trying to recreate his more commercial-sounding successes, rather than resurrecting his hard country glory days. But just when you're ready to shrug and say "oh well," he pulls out a trio of cover tunes that let us know he's still got his heart in the right place. There's a fine version of Gene Watson's "Nothing Sure Looked Good On You," followed by a nice cover of "Jaded Lover," a sardonic song best known from Jerry Jeff Walker's early years, and then the old Willie Nelson chestnut "Me And The Drummer," fine songs all, given soulful readings by this fadin' honkytonk hero... If you liked Supernaw's old stuff, this disc is worth looking for as well.

Billy Swan "Greatest Hits" (Collector's Choice, 2005)


As one who lived throught the era, I can say with confidence that Billy Swan's one big hit will forever be historically tied with the roller rinks of the 1970s... "I Can Help," with its glimmering, irresistible, low-rent organ riff, was simply the ultimate cotton-candy rollerskating song. Decades later, it's still a great pop tune, as fine a brainworm as any other eternal, immutable melody... Nothing he did matched that one wonderful hit, but the rest of his 'Fifties-tinged repertoire has its charm, and Swan remains a likeable figure, with a lighthearted approach to songmaking that can still win over openminded listeners. He wasn't the twangiest country singer, but he also never strayed too far from his roots.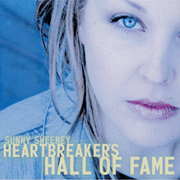 Sunny Sweeney "Heartbreaker's Hall Of Fame" (Self-Released, 2006)



God bless Texas! That little state has got more real country music in its little finger than the rest of the country has in its collective craw. Newcomer Sunny Sweeney is the latest example of the Lone Star State's amazing ability to produce the sort of super-twangy, super-indie honkytonk that makes folks like me look forward to tapping our toes and drinking our beers for year to come. Possessed of a squeaky little rasp that seems equal parts Tanya Tucker and Iris Dement, Sweeney sings with true conviction and pure delight, infusing each song with sincere emotion and a swinging sense of fun. Her band twangs along at a rapid-fire clip, slathering on sweet fiddle, pedal steel and bouncy guitar -- all pure catnip for the hard-country crowd. The song selection can't be beat, either, ranging from several great Sweeney originals to a pair of Jim Lauderdale tunes, a cover of Lacy J. Dalton's ode to Nashville, "16th Avenue," and a version of Iris Dement's "Mama's Opry" that's so achingly sincere, you'll find it hard to believe Sweeney didn't write it herself. Lauderdale makes an appearance himself, singing a fine duet on Keith Sykes' "Lavender Blue," while fiddler Bobby Flores -- a longtime indie-Texas stalwart -- helps anchor the band. All in all, a really nice record and a kickass debut that should set Sweeney on the path to win a much wider audience. Recommended! (See her website for more info: www.sunnysweeney.com )
Sunny Sweeney "Concrete" (Republic Nashville, 2011)



(Produced by Brett Beavers)

Sweethearts Of The Rodeo - see artist discography
Taylor Swift - see artist discography
Sylvia - see artist discography
---
Commercial Country Albums - Letter "T"
---