<! SHA- > <! MP3 10/22/10 > <! outside 00/00/00 > <! pix 00/00/00 > <! icons 10/22/10 > <! UPDATES 11/09/11 - might need Ryan Shupe page? Or just add to bluegrass? >
---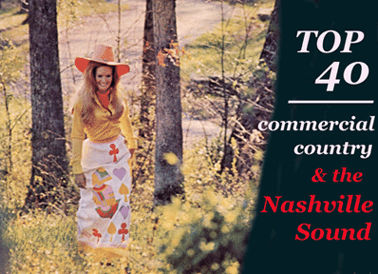 Are you a George Jones guy in a Garth Brooks world? A Loretta Lynn gal trying to understand why people still call Shania Twain a "country" artist?
Well, then this website is for you! Here's your chance to read all about Nashville pop, from the late-'50s "Nashville Sound" and the countrypolitan scene of the '70s to today's chart-toppers and pretty-boy hat acts, seen through the lens of DJ Joe Sixpack, a hick music know-it-all with a heart of gold...
Your comments and suggestions are welcome, particularly suggestions for artists or albums I might have missed. Other types of twang are reviewed elsewhere in my Hick Music Guide.
This is the second page covering the letter "S"
---
A | B | C | D | E | F | G | H | I | J | K | L | M | N | O | P | Q | R | S-1 / S-2 / S-3 / S-4 / S-5 / S-6 | T | U | V | W | X, Y & Z | Comps | Other Country Styles | Hick Music Index
---
Whitey Shafer - see artist discography
Kevin Sharp "Measure Of A Man" (Asylum, 1996)



(Produced by Chris Farren)



<! WP: The debut single, "Nobody Knows" went to number one on both the American and Canadian country charts. The next two singles, "She's Sure Taking It Well" and If You Love Somebody" both charted in the top ten while the last single, "There's Only You" failed to reach the top 40. >
Kevin Sharp "Love Is" (Asylum, 1998)



(Produced by Chris Farren & David Foster)



<! singles flopped >
Kevin Sharp "Make A Wish" (Cupit, 2005)



(Produced by Jerry Cupit)

Sunday Sharpe "I'm Having Your Baby" (United Artists, 1975) (LP)


(Produced by Larry Butler, Johnny Slate & Larry Henley)
The lone LP by singer Sunday Sharpe, a distant also-ran in the Top Forty field who also released a handful of singles up through '77, and performed regularly on the Hee-Haw TV show. She fell just short of the Top Ten with the lead single from this album, an answer song/cover of Paul Anka's "She's Having My Baby," delivered from a woman's perspective, but no less creepy as a result... Sharpe was a bright, poppy vocalist, with a girl-groupish style similar to that of Skeeter Davis and Brenda Lee, and finds comfortable accompaniment by the (uncredited) studio pros, as well as the string arrangements by Bill Justis. She covers other pop-oriented songs such as Anka's "Put Your Head on My Shoulder," and "Mr. Songwriter," from the Tommy Boyce catalogue, though on Side Two she settles into a more country-sounding mode, where she proves herself an adequate, Donna Fargo-ish mid-'70s ballad singer. Of note among her twangier tunes is one by Linda Hargrove ("I Never Loved Anyone More") and one song that she wrote herself, "It's A Beautiful Night For Love." Nothing earthshaking, but if you enjoy this era of Nashville pop -- in between the trad and neotrad eras -- this album fits right in.


<! I'm Having Your Baby; Another Lonely Night; Put Your Head On My Shoulder; Everything I Touch Turns To Sugar; I Gave All I Had To Him; Rainy Days, Sunny Days; Mr. Songwriter; I've Never Loved Anyone More; My Legs Won't Walk Away From You; It Takes A Man To Make A Woman's World; It's A Beautiful Night For Love >


Billy Joe Shaver - see artist discography




SheDaisy "The Whole Shebang" (Lyric Street, 1999)



A second-string country-pop band that came up during Nashville's pre- and post-Millennial flirtation wth the glitzy production of the "boy band"/Brittney era. These gals were marketed as "country" almost by default, and derided as Dixie Chicks wannabees. Like many of their contemporaries, they dip into soul-style vocals and cluttered, overly-complicated pop arrangements. Nonetheless, the band's bright sound and earnest presentation -- as well as their wholesome image, a product of their Mormon upbringing -- won them a sizeable and devoted fan base. I'm sure there are folks who dig their sound, though for the most part it doesn't do much for me.


SheDaisy "Brand New Year" (Lyric Street, 2000)



A holiday album, with pretty much the same high-gloss production approach as their secular records. For more Christmas music, see my Hillbilly Holiday section.)
SheDaisy "Knock On The Sky" (Lyric Street, 2002)



SheDaisy "Sweet Right Here" (Lyric Street, 2004)



(Produced by Dan Huff & SheDaisy)
I read somewhere about how this disc marked a turn towards a more "country" sound, away from the perky teeniebopper pop of their earlier albums... Dunno so much about the "more country" part of that equation, but this is certainly a more mature-sounding album, with the 'Daisy gals tackling social issues and reflecting on their life in the Nashville biz. Musically, this didn't wow me -- not my cup of tea -- but I was intrigued by the lyrical content. Some of it's the same old prefab profundity that's seeped into mainstream country, but some of it stands out as more personal and heartfelt. In particular, I was intrigued by their willingness to take a playful poke at their own core audience -- Christian evangelicals -- in the song "Love Goes On," wherein they roll their eyes at a nosy, Bible-thumping neighbor: "...Mrs. Jones next door is still extreme/Goes on and on about the Bible/What comes around still goes around..." It's not, like, the heaviest social satire ever, but given the current level of spiritual pushiness in this country, it's refreshing for a band known in part as religious role models to acknowledge a little give and take, and to let us know they don't go for the super-uptight, dogmatic version of Christianity. Fans who have been following this band over the last few years should like this album a lot -- it's very "pop," but it's also a record than feels like we're watching the artists growing up, right before our eyes. More power to' em.
SheDaisy "Fortune Teller's Melody" (Lyric Street, 2006)


SheDaisy "The Best Of SheDaisy" (Lyric Street, 2008)


David Shelby "I Came To Play" (David Shelby, 2007)


David Shelby "Rust Belt Cowboy" (Highway South Records, 2013)



Wannabee Top-40 tough-dude country... He's about as subtle as a bag of bricks, and full of all the musical cliches you'd expect, including glossy Big & Rich-ish pop-rock production. Not my cuppa tea, but I could imagine this guy breaking through in Nashville. I mean, why not?

Blake Shelton "Blake Shelton" (Warner Brothers, 2001)



(Produced by Bobby Braddock)
Hailed as a honkytonk throwback, Oklahoma's Blake Shelton is easily one of the weakest singers to come down the pike in a while... Well, to be fair, the real problem is with the material, and the overreaching, multi-layered crossover arrangements... At least this disc, which was his debut, has a streak of Southern rockiness that excuses some of the excess, but for my money, this is an example of Nashville's overboard obsession with hi-tech production. The centerpiece was a ballad called "Austin," which was an okay tune centering on the outgoing phone message of a man with a broken heart, and "Ol' Red," a slow-moving redneck prison tune... Neither song did much for me, but they did fling Shelton into the upper reaches of the Country charts, and along with the glossier efforts on this album, they pretty much let you know what to expect from this hat act dude. Very much of it's time; it's pretty ironic that he preaches the gospel of "real country music" on "Same Old Song," a remarkably leaden tune that does little to make up for all the fancy-schmancy studio work on the rest of the album...

Blake Shelton "The Dreamer" (Warner Brothers, 2003)



Shelton blows any hard-country cred he might have had with this totally over-the-top, frightfully overproduced, hi-tech musical morass.. The opening single, "Heavy Liftin'," was a silly stab at showy macho posturing, while "The Baby" was a fairly effective, completely shameless weeper about a guy who was Momma's favorite dealing with losing her (when she gets sick, he races back home to be at her side, but is, sniffle, too late...) From there he goes into a series of misfires -- "Asphalt Cowboy" is so generic it hardly makes a dent in your brain; most of the oterh songs are pretty negligible... The keyboards, fake sounding drums, and electronica-tinged production are all terrible mismatches for his modest vocal talents... He does alright on a simple country twang tune like "Georgia In A Jug," but on other tracks, where he tries his hand at swooping vocal acrobatics... well, it's just kind of embarrassing. This is pretty skippable.

Blake Shelton "Barn & Grill" (Warner Brothers, 2004)



(Produced by Bobby Braddock)
This disc opens with "Some Beach," an unbeat, semi-risque ditty about the aggravations of modern life (and the need to escape to "some beach, somewhere...") It's a likeable novelty tune, and several tracks on here echo it's no-frills, good ol' boy honkytonk vibe... There are also some drippy slow songs on here that reveal Shelton's weak spots as a vocalist, but when he keeps things simple, he does just fine. Nice to hear all that pedal steel in there as well. Not bad.
Blake Shelton "Pure BS (Deluxe Edition)" (Warner Brothers, 2007)



Hey, he said it, not me.

Blake Shelton "Startin' Fires" (Warner Brothers, 2008)



Give the fella credit -- for a guy with a fairly limited voice, Blake Shelton has built up one heck of a career. This disc has some fun numbers, particularly the album's environmentally-themed opener, "Green," which posits that country folk were "green before green was a thing", playing acoustic guitars, growing their food, etc. (We'll leave aside the whole propane tanks in the back yard and broken trucks in the front stereotypes -- this is a funny song, so we'll leave it at that...) Generally speaking, Shelton best hits the mark on upbeat, rowdy numbers, including the bluesy hillbilly funk of "Never Lovin' You" or even a by-the-numbers blue-collar anthem like "Working Strong." Where he falls flat is on overwrought power ballads such as "She Wouldn't Be Gone" and "I'll Just Hold On" -- no doubt these are his bread-an-butter on commercial radio, but for this crusty old country fan, Shelton's voice just doesn't carry this material. Still, I'd give the rougher tunes a spin -- they'll turn up a smile or two for sure.
Blake Shelton "Hillbilly Bone" (EP) (Warner, 2010)


Blake Shelton "All About Tonight" (EP) (Warner, 2010)



This 6-song EP shows Shelton's strong suits, leaning mainly on robust, uptempo tunes, with a couple of wispy ballads as well. The steel-drenched, windswept "Who Are You When I'm Not Looking" is one of the nicer slow ones he's done; this also features "Draggin' The River," a raucous duet with Miranda Lambert that'll turn a few ears for sure. The production style is familiar -- not much new there -- but the songs and performances are all pretty solid. Wonder if they'll expand this into a full-length anytime soon...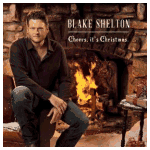 Blake Shelton "Cheers It's Christmas" (Warner Brothers, 2012)



A big, hammy, popped-up holiday set, with a slew of duets, featuring guests such as Kelly Clarkson, Miranda Lambert, Reba McEntire, the gals from Pistol Annies and Shelton's TV co-host, pop vocalist Michael Buble. And he even sings a song with his mother, Dorothy Shackleford... what a nice boy! Mildly over-the-top, but in the way fans of Christmas music revel in. Pretty solid; mostly standards, but also some newer tunes that will freshen up the holiday music repertoire.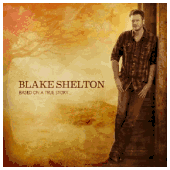 Blake Shelton "Based On A True Story..." (Warner Brothers, 2013)



(Produced by Scott Hendricks)
With his role on TV's The Voice talent show, Top 40's Blake Shelton has entered into a different category of country star, busting out of the Nashville ghetto and into TV-commerical celebrity. I'm not sure how much that has changed his music -- if at all -- but this album seems pretty typical for Shelton -- formulaic songs and slick, predictable arrangements framing his robust but modest vocals, your basic Nashville Top 40 sound. What was most striking to me was the language on the album's opening track, "The Boys 'Round Here," where he loudly proclaims how he and the good ol' boys he runs with "don't take no s---!!" which kind of took me by surprise since I'm of a generation that doesn't expect unvarnished profanities in top country albums. Also, it's the second time this week I've heard the s-word on a Top 40 country album... In a similar vibe, Shelton brags about flipping the bird on "I've Still Got A Finger," and talks tough on all the rompy-stompy dude songs. I guess vulgar is "in" in Nashville these days, with Music City going all HBO all of a sudden. I'm not a big prude or anything, but I don't think this is a good development. I think the new trend is a way for country dudes to up the ante on the macho, tough-guy songs but if this language is on an album by a super-mainstream artist, it's way more likely to be heard by little kids. Anyway, it's kinda lame, and I'd rather hear my cuss words on punk records, where it makes more sense stylistically. Balancing all the crude-dude tunes are sensitive-guys power ballads, which are mostly okay, although you really have to be part of the right demographic ("chicks") to get into these ones -- they are pitched directly at what Nashville sees as a feminine audience, and are mostly way too gooey for most guys to get into. Apparently, we only like songs about trucks and beer and "small towns" (a phrase that appears so frequently on this album that I'm willing to guess there's a drinking game involved -- toss back a shot every time you hear it) but God forbid we ever want to hear something romantic. I dunno... I'm sure the formula works, but do you really have to take it so far? Rarely has an album been so plainly sculpted with playlists and iPods in mind: one set for the girls, one for the boys, and not much in the middle.


<! includes guest performers Gwen Sebastian and the Pistol Annies >

Blake Shelton "Bringing Back The Sunshine" (Warner Brothers, 2014)


Ricky Van Shelton - see artist discography
Shenandoah - see artist discography

Ashton Shepherd "Sounds So Good" (MCA-Nashville, 2008)



(Produced by Buddy Cannon)
She's been hailed as the next big thing in neo-traditional country, and newcomer Ashton Shepard sure does deliver a fine set of steel-drenched lovin'-and-partyin', have your beer and cry in it too kinda country. It's a powerful mix of honkytonk and countrypolitan, reminiscent in many ways of the glory years of Billy Sherrill and George Jones. Comparisons to Gretchen Wilson are inevitable as well: although Shepard is a little less balls-out, AC-DC tattoo-ish about it, she still makes it a point to fight for her right to party (on songs like "I Ain't Dead Yet") but she comes off less like a biker chick and more like a smart college kid who likes to cut loose on the weekend. Never mind that a couple of songs are virtual repeats of one another ("I Ain't Dead Yet" and "Not Right Now" share almost identical themes and lyrical motifs...) What's key here is the power of Shepard's voice and the clarity of her vision. She wrote or co-wrote almost all the songs on here, and like her fellow twang-top forty teen prodigy, Taylor Swift, Shepard really seems to get -- and to love -- what is great about real deal, twangy old-school country. This is an impressive debut, and like many of this decade's crop of powerful young female country stars, I'm looking forward to seeing where she goes from here, and hope that the industry will allow her a long enough career for her to continue growing into her considerable talent. Check it out.

Ashton Shepherd "Where Country Grows" (MCA Nashville, 2011)



(Produced by Buddy Cannon)
Hmmm. Bummer. I really liked the simplicity of Shepard's first album, the whole back-to-basics, girl-next-door rural vibe. This follow-up, though, seems really self-conscious, overly stylized and bombastic. There's plenty of twang, but it's on top of bigger, slicker, less soulful modern production, and it sounds like an affectation, whereas before she seemed twangy by nature. It happens to a lot of artists: you get some success, followed by some show-biz advice, and then you lose your bearings. Of course, it might sell a bazillion copies; I'm often on the "wrong" side of this argument. But for my money, a gal who sounded potent and sincere a couple of years ago now sounds like a parody of what she once stood for. Oh, well. I'll check back in a couple of years and see what album #3 sounds like.
Jean Shepard - see artist discography
T. G. Sheppard - see artist discography
Billy Sherrill Quintet "Classical Country: Buck Owens' Famous Songs In A Drawing Room Setting" (Epic, 1966) (LP)

Billy Sherrill Singers "Top Pop Country" (Columbia, 1969) (LP)

Billy Sherrill "The Best Of Billy Sherrill" (Epic, 1974) (LP)


Instrumental versions of hit songs orchestrated by the king of the countrypolitan sound... This is about what you'd expect, though for those of you who think it would be unbearably cheesy... We-e-el-l-l-l-llll... It's actually not that bad. Not super-amazing... but also not horrendous.


<! 144 x 144 >
The Shooters "The Shooters" (Epic, 1987)


(Produced by Walt Aldridge)
A short-lived pop-country band from Alabama, the Shooters grazed the lower rungs of the Top 40 with a quick series of singles, and two albums of workmanlike country-pop, a sleek mix of harmony-rich, somewhat too-smooth material with a familiar, comfortable sound. Some songs are in a group-vocals, Shenandoah-esque style, though there are misfires like the distinctly un-country soft-rock of "Tell It To Your Teddy Bear." Personally I find the glossy production a bit sluggish and sterile, and they drift too easily into gooey mainstream '80s pop or the Dan Fogelberg/Dan Seals variety. But for many fans of '80s country, these guys might be a pleasant surprise, a now-obscure band that matched many bigger stars in their scope and talent. Bandmember Walt Aldridge had previous success as an early '80s songwriter; eventually becoming better known as a record producer, which he does here as well...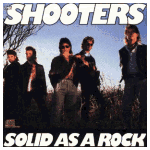 The Shooters "Solid As A Rock" (Epic, 1989)


(Produced by Walt Aldridge)
This album provided them with their biggest hit, a tune called "Borderline," which fell short of the Top Ten. After the Shooters broke up, bass player Gary Baker concentrated on songwriting, releasing an album with his musicmaking buddy Frank Myers, penning several big hits such as "I Swear," a chart-topper for John Michael Montgomery that also briefly crossed over into the Pop charts.
The Shoppe "Tryin' To Get It Straight" (Rainbow Sound, 1980) (LP)

The Shoppe "The Shoppe" (MTM, 1985) (LP)


(Produced by Fred Foster)
A fairly bland pop-country album from a Texas band that had a remarkable run as indie artists before recording this major label-ish effort. It sounds a lot like the Oak Ridge Boys or Shenandoah, with the empty, synthy, factory-produced '80s production and jovial group vocals... just with songs that aren't as memorable. The single, "Holding The Family Together," is a nice, wholesome working-class novelty tune about two parents just trying to make ends meet -- it's the highlight of the album, the only distinctive song on here. It's not a bad album, just not a lot of fun. If you like the softer side of the Oak Ridge Boys sound, you might want to give this a whirl.


<! The Shoppe "Tryin' To Get It Straight" (Rainbow Sound, 1980) (LP) B004S2BD9S The Shoppe "The Shoppe" (MTM, 1985) (LP) B0048UH6NW The Shoppe "The Shoppe" (Shoppe Records, 1986) The Shoppe "Live" (Shoppe Records, 1986) (LP) B0057PSS3E The Shoppe "Along For The Ride" (Midwest, 1998) - a BUNCH of others listed 11/2013 >

Ryan Shupe & The Rubber Band "Dream Big" (Capitol Nashville, 2005)



(Produced by Jason Deere)
Cheerful, gimmicky, lightweight and likeable pop-country material that seems destined to be quite popular. The opening track, "Banjo Boy," is a hip-hoppish novelty song that picks up where Big & Rich's "Save A Horse" left off, with a hint of Bela Fleck in there as well. The next couple of tracks, particularly "Dream Big," are kind of like a less-pretentious version of Emerson Drive-style boy-band country, and then there's dorky bluegrass-ish pop that is kind of like the later stuff by Newgrass Revival, back when they were trying to leave behind the bluegrass ghetto and make it on the charts. This doesn't really do that much for me, but I think it's really catchy, and I'll be amazed if Shupe and his crew don't do really well... They've got just the right balance of roots and yuppie pop, and none of the overblown tough-guy/sensitive stud baggage that drags so many other Nashville dudes down... Keep your eyes on these guys... They're gonna be really big. Huge, I tell you!!


<! Ryan Shupe & The Rubber Band "If I Were a Bird" (Tydal Wave, 1996) B0000457J2 B001FREAG2 Ryan Shupe & The Rubber Band "Simplify" (Tydal Wave, 1999) B000GWX32O B001O2N1KO (reissued as "Simplified") Ryan Shupe & The Rubber Band "Live" (Tydal Wave, 2001) B0009VQBBM B001FS8HEW Ryan Shupe & The Rubber Band "The Gift" (Tydal Wave, 2002) B000VI113G B001O3B46G Ryan Shupe & The Rubber Band "Hey Hey Hey" (Tydal Wave, 2003) B000O1JFBA Ryan Shupe & The Rubber Band "Dream Big" (Capitol Nashville, 2005) reissue of Hey Hey Hey(?) Ryan Shupe & The Rubber Band "Last Man Standing" (Montage Music, 2008) B0017V8Q0W B005ZR1L5Q Ryan Shupe & The Rubber Band "Brand New Shoes" (Tydal Wave, 2010) B003OFAEPO B003OZZCV0 >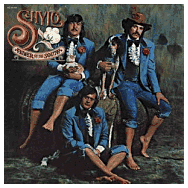 Shylo "Flower Of The South" (Columbia, 1976) (LP)


(Produced by Larry Rogers)
One of Nashville's better attempts to co-opt the smooth '70s country-rock sound, Shylo was a vehicle for Ronny Scaife, who wrote or co-wrote all the songs on here, including many with bassist Danny Hogan. Here, the band poses barefoot on the cover, wearing flashy dress jackets over rolled-up bluejeans, portraying themselves as both mainstream and rebels... The record has a few good tunes, notably "Dog Tired Of Cattin' Around" and "Whiskey Fever," although a lot of the album is kind of mediocre, if easy on the ears. As a single, "Dog Tired" scraped into the Top 100, and Scaife found greater success writing material for other artists, starting with Jerry Jaye's "Honky Tonk Women Love Redneck Men" and Johnny Paycheck's 1978 hit, "Me And The IRS," later scoring bigger Top Ten hits in the '80s and '90s. This is an okay record -- if you like early Eagles albums, this could be worth checking out.


<! Bass Ð Danny Hogan Guitar Ð Ronny Scaife Guitar [Dobro] Ð Lloyd Green Harmonica, Vibraphone Ð Charlie McCoy Steel Guitar Ð Ben Jack > <! Shylo "???????????????" (Mercury, ????) Shylo "Song Riders" (Maverick, 1984) >


---
Commercial Country Albums - More Letter "S"
---