<! MP3 10/10/10 > <! outside 10/10/10 > <! pix 00/00/00 > <! icons 10/10/10 > <! updates: 10/10/10 - MMMurphey new page > <! Possible? # Mud Acres (1) # Mulkey Abe (1) # Mullican Moon (1) # Mullins Dee (1) # Munde Alan (1) # Mundy Jim (1) # Murphey Michael Martin (1) # Murphy Chuck (1) # Murphy David Lee (1) # Murphy Jimmy (1) # Murrah Roger (1) # Murray Anne (1) # Murray Larry (1) # Murrell Red (1) # Musical Brownies (1) # Musical Millers (1) # Myers Frank (1) # Myers Frank J (1) # Myles Heather (1) # Myrick Weldon (1) >
---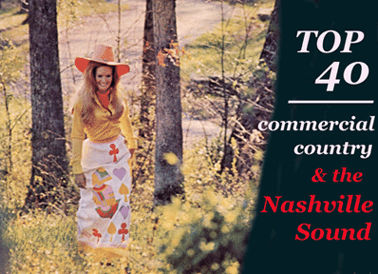 Are you a George Jones guy in a Garth Brooks world? A Loretta Lynn gal trying to understand why people still call Shania Twain a "country" artist?
Well, then this website is for you! Here's your chance to read all about Nashville pop, from the late-'50s "Nashville Sound" and the countrypolitan scene of the '70s to today's chart-toppers and pretty-boy hat acts, seen through the lens of DJ Joe Sixpack, a hick music know-it-all with a heart of gold...
Your comments and suggestions are welcome, particularly suggestions for artists or albums I might have missed. Other types of twang are reviewed elsewhere in my Hick Music Guide.
This is the sixth page covering the letter "M"
---
A | B | C | D | E | F | G | H | I | J | K | L | M | M-2 | M-3 | M-4 | M-5 | M-6 | N | O | P | Q | R | S | T | U | V | W | X, Y & Z | Comps | Other Country Styles | Hick Music Index
---
Dee Mullins "The Continuing Story" (Plantation, 1969)



(Produced by Shelby Singleton)
If you like bouncy country novelty songs, corny recitations and goofy Vietnam War-era topical songs, this one's got 'em all! The epitome of scattershot, see-what-sticks novelty-songization, this disc includes gems such as "I Am The Grass" (a first-person narrative, sung from the perspective of the lawn covering a cemetary plot); "The Continuing Story Of The Harper Halley PTA" (yes, indeed, a sequel to Jeannie C. Riley's hit, recorded for the same label); "War Baby," a semi-muddled song tying the benefits of the post-WW2 GI Bill to the patriotic efforts in Viet Nam, and "The Big Man," about a guy who was so full of himself he challenged God to prove who was stronger, with predictable results. Watch out for that lightning bolt! There are also a couple of melodramatic cheating songs about small towns and big rumors, all of it worthy of Porter Wagoner at his corniest and most over-the-top. The album's highlight might be "Beers," an endearing, nostalgic Tom T. Hall song about teenage drinking, which has the odd quality that no one suffers or is punished for enabling the underage boozing -- not the kids (who grow up okay, no car crashes or tragic DUIs) or the liquor store owners, who are praised for kindly turning a blind eye and letting the kids have their fun... Mullins, whose vocals remind me of Wynn Stewart, only recorded this one album and a few random singles. He didn't go very far, racking up a few singles in the Back Forty, but this record is certainly a classic of sorts... Country kitsch all the way!
Michael Martin Murphey - see artist discography
David Lee Murphy "Out With A Bang" (MCA, 1994)



(Produced by Tony Brown)
The debut album by this Illinois-born country rocker features an amiable, toned-down Southern rock sound, not unlike Marty Stuart's neobilly offerings, although Murphy is clearly a much better singer than Stuart. This disc includes his biggest hit, the chart-topping "Dust On The Bottle," an uptempo tune which cleverly turns the old "dust on the Bible" lyric on its head. Murphy's good-natured bad-ole-boy lyrics have a naughty little whiff of rowdiness, though the album itself is pretty restrained. Doesn't bowl me over, but it's fun enough, and more soulful than much of what Nashville has to offer.
David Lee Murphy "Gettin' Out The Good Stuff" (MCA, 1996)



This one's a keeper, a solid album from start to finish. Murphy plays things just right on both the hard-edged material and on the softer side. He fronts as an outlaw, but doesn't go overboard with it, sounding a lot like early-vintage Steve Earle. The weakest song on the album is the rock-tinged title track, but on the subtler "Born That Way," he sounds like a free spirit without seeming like a poseur... The non-outllaw songs are even better: the rueful, windswept "Breakfast In Birmingham" is a real doozy of a sad song. A very strong record, definitely worth checking out.
David Lee Murphy "We Can't All Be Angels" (MCA, 1997)



(Produced by Tony Brown)
Bouncy, cheerful, brightly produced, rock-tinged country... not bad for the commercial side of the street. Seems to take his cues from Rodney Crowell or Marty Stuart, in their more rockabilly/Texas shuffle moments. Quite pleasant and inoffensive; easy on the ears. Not bad.
David Lee Murphy "Trying To Get There" (Audium, 2004)



(Produced by David Lee Murphy & Kim Tribble)
This opens with a clattersome blast of Southern-tinged roots-rock, replete with whiffs of John Cougar Mellencamp, Bryan Adams and The Black Crowes... It's not my cup of tea -- a little too loud, cluttered, and busy-sounding, and the songs are kind of on the wordy side... But I can see the appeal. Then Murphy gets more conventional, with some slower, nostalgia-drenched, formulaic country tunes, such as the album's title track, stuff that may be more radio-friendly and accessible to the non-macho soft-country crowd. I'm still not wild about his voice, but fans will be pleased to hear him back in action again. Country name-dropping tune: "Ghost In The Jukebox" namechecks Hank, Lefty and George Jones. Too bad the song itself is so rock-oriented. Egregious, naked swipe of someone else's idea: "Mama's Last," which is pretty much just "Mama Tried" with a sloppy facelift. Whatever.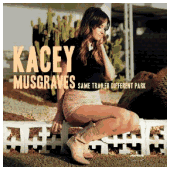 Kacey Musgraves "Same Trailer, Different Park" (In The Black, 2013)



(Produced by Kacey Musgraves, Luke Laine & Shane McAnally)
This winsome, brash Texas lassie has gotten a lot of attention for being a new Top Country bad-girl, ruffling the sensibilities of many mainstream country fans, particularly with her Top Ten single, "Merry Go Round," which is an acerbic jab at small-town life... Usually, modern-day Nashville offers a rose-colored, super-mythologized version of small-town America, where guys spend their teen years driving around the backroads in their pickups, hanging out with their buds and wooing their high-school sweethearts, but Musgraves takes a more critical, real-world approach, talking about people with sad marriages and broken dreams. It's not quite the standard formula, and some folks saw it as a direct attack on the Nashville establishment. I'm not sure I'd go that far -- maybe people are taking this stuff too seriously -- but I think it's interesting that Musgraves is being considered so mainstream and so "country" to begin with... She sounds more like a contemporary folkie to me, a topical and contemplative lyricist, roughly in the Carrie Rodriguez or Todd Snider mode, although with bigger, more ornate production. While she does turn some nice lyrical phrases, there's a precocious, high-schoolish/collegiate cleverness to her work and I have to confess that while I find the Nashville-manufactured small-town myth to be noxious, I also find her satirization of Middle America to be a little too obvious, the sort of stuff that forlorn teenagers waiting to move out of their parents' houses scribble away in notebooks or post online... I mean, Malvina Reynolds already skewered the 'burbs fifty years ago and though I still enjoy "Little Boxes" as a protest song, now that I'm all grown up I can see that the critique has its limitations; I guess I just don't like looking down on average people just for being average, especially seeing as how I am one myself. Still, Musgraves has a delightfully fresh presence, at least in the context of modern Nashville country: Music City needs some new blood and some fresh ideas, and this gal seems well poised to provide a little bit of both. Definitely worth checking out -- I'm curious to see where she goes from here.
---
Commercial Country Albums - Letter "N"
---