<! MP3 10/07/10 > <! outside 00/00/00 > <! pix 00/00/00 > <! icons 10/30/11 > <! UPDATES: 10/02/10 - I should do a Tim McGraw page, but I just don't want to 10/07/10: Ronnie McDowell, Mel McDaniel pages posted 01/29/15 - Mac McAnally needs own pages - albums listed below - need ASINs, etc > <! McD-McQ >
---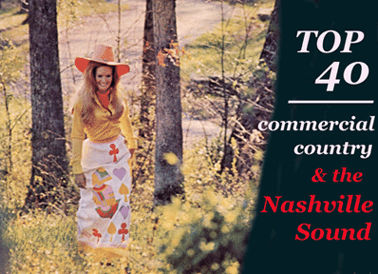 Are you a George Jones guy in a Garth Brooks world? A Loretta Lynn gal trying to understand why people still call Shania Twain a "country" artist?
Well, then this website is for you! Here's your chance to read all about Nashville pop, from the late-'50s "Nashville Sound" and the countrypolitan scene of the '70s to today's chart-toppers and pretty-boy hat acts, seen through the lens of DJ Joe Sixpack, a hick music know-it-all with a heart of gold...
Your comments and suggestions are welcome, particularly suggestions for artists or albums I might have missed. Other types of twang are reviewed elsewhere in my Hick Music Guide.
This is the third page covering the letter "M"
---
A | B | C | D | E | F | G | H | I | J | K | L | M | M-2 | M-3 | M-4 | M-5 | M-6 | N | O | P | Q | R | S | T | U | V | W | X, Y & Z | Comps | Other Country Styles | Hick Music Index
---
Mel McDaniel - see artist discography
Ronnie McDowell - see artist discography
Pake McEntire "The Rodeo Man" (O Cross, 1980) (LP)


Pake McEntire "Too Old To Grow Up Now" (RCA, 1986)


(Produced by Mark Wright)
Why, yes, that is Reba's brother, and yes, he did have several hits at the time. Near as I can figure most of these songs were released as singles first, and the LP came later, after he hit the charts. Now here's the kicker: Pake (short for "Pecos") was actually pretty good! This is nice melodic, upbeat, guitar-based country pop, with one swell steel-drenched weeper, "Heart Vs. Heart," that closes the album out. (A duet with Reba, as well? Not sure... it doesn't sound like her and there's no credit on the song, but she does sing on this disc...) Anyway, this is an enjoyable record -- even if there are only eight songs on it -- and McEntire's lighthearted, affable persona makes it clear this project was built on talent, not nepotism... In fact, I'd almost say if Pake wasn't related to Reba, he might have had a longer and much more successful career.


<! 144 x 144 >

Pake McEntire "My Whole World" (RCA, 1988) (LP)

Pake McEntire "And They Danced" (O Cross, 2003)

Pake McEntire "Your Favorites And Mine" (O Cross, 2005)

Pake McEntire "Singin' Fiddlin' Cowboy" (O Cross, 2007)







Pake McEntire "The Other Side Of Me" (2008)



<! Pake McEntire "The Rodeo Man" (1980) (LP) B006SRS7EU Pake McEntire "Too Old to Grow Up Now" (1986) (LP) B0013AG8C0 Pake McEntire "My Whole World" (RCA, 1988) (LP) B00413C032 Pake McEntire "And They Danced" (2003) Pake McEntire "Your Favorites And Mine" (2005) B0015O6A22 Pake McEntire "Singin' Fiddlin' Cowboy" (2007) B000YA47AA >


Reba McEntire - see artist discography




Parker McGee "Parker McGee" (Atlantic, 1976) (MP3)


(Produced by Kyle Lehning)
Consider this one a warning, rather than a recommendation... Although recorded in the Nashville orbit, with Music City session players such as Doyle Grisham, Kyle Lehning and Bobby Thompson sitting in, this is '70s soft-pop in the extreme, of a Dan Seals/Paul Davis variety. Airy, gooey, sappy, synthy and soft-headed -- just the kind of "lost gem" fans of 'Seventies AOR might be looking for, but if like myself you saw the country talent in the liner notes and thought it might be worth a whirl, don't bother. Very little twang here, just a couple of tracks on Side Two with some wispy pedal steel, but mostly just '70s style soft pop.





Tim McGraw - see artist discography


<! McGuffey Lane "McGuffey Lane" (Atco, 1980) B000F2C8KS B001QVQ0P6 - LP McGuffey Lane "The First Album" (Atco, 1980) McGuffey Lane "Aqua Dream" (Atco, 1980) B000F2C8KS McGuffey Lane "Let The Hard Times Roll" (Atco, 1983) B000F2C8KI McGuffey Lane "Day By Day" (Atlantic, 1984) B000F2C8KI McGuffey Lane "McGuffey Lane Christmas" (HCH, 1986) B000008SO2 McGuffey Lane "Greatest Hits Live And More" (HCH, 1995) B000008SO1 B000ZOW4X2 McGuffey Lane "Call Me Lucky" (Lick, 1998) B00000I10A B0036I3DC0 McGuffey Lane "Wood" (Lick, 2002) B000CAD7LC B0014DM2SU McGuffey Lane "10" (Lick, 2010) B003TTZTPK B0041BXJMU >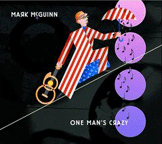 Mark McGuinn "One Man's Crazy" (Blue Flamingo, 2005)


(Produced by Mark McGuinn, Jim Foster & Don Kerce)
An odd release... This is the follow-up to McGuinn's self-titled album, an indie album that yielded an unexpected Country chart-topping single. McGuinn's clearly trying to make it as a Nashville songsmith -- this disc is packed with musical formulae and gimmicky songs. The best of these is perhaps "115 Pounds," in which the narrator's health problems are all explained by his having lost his girlfriend (the 115 pounds in question...) The thing about McGuinn's bid for country stardom is that he's such a square peg -- he's a beret-wearing hipster with a so-so voice... But you can see why it might work. I guess the best way to look at this album is as a songwriter's calling card; be interesting to see how many of these songs wind up on other people's albums someday...
McHayes "Lessons In Lonely" (Universal South, 2003) (Unreleased)


The echoes of western swing and Buck Owens-style West Coast country give these guys a bit of traditionally-oriented, alt-country street cred, but the rumbly-voiced bass-heavy love ballads are pretty drippy and Nashville. This disc is alright, though, particularly for a band who hit the contemporary country charts... it's not amazing, but there's certainly lots worse. (Note: apparently this album was shelved after a couple of singles were floated on the Country charts, so it was never really released... Oh, well.)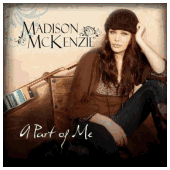 Madison McKenzie "A Part Of Me" (MadiMMusic, 2013)



(Produced by Bob Bullock)
It was inevitable that an artist as singular and as successful as Taylor Swift would breed a few imitators, and newcomer Madison McKenzie, a sweet-voiced gal from Illinois, is surely one of the top contenders in this new wave of country confessionalists. Like Swift, she pens songs that sound like a young girl's diary entries, full of half-spoken lyrics and ramblings about love, infatuation and mild recriminations, a distillation of teenage solipsism, buoyed by insistent pop-country arrangements. She also has a nice, naifish voice, the picture of plain-spoken sincerity and youthful self-assurance, sounding like Swift did on her first album, though perhaps with more of a conventional verse-chorus-verse feel. She's paired up with veteran producer Bob Bullock, an industry pro who's worked with stars such as Reba McEntire and Shania Twain, who provides McKenzie with a slick modern Nashville sound, not terribly original, but it fits in nicely with the times. I'm not sure if there's room in the charts for two Taylors, but this gal has a good voice and may find success as she finds her own individual voice. Still, if you're into the style, this could be worth checking out.
Terry McMillan "I've Got A Feeling" (Step One, 1993)


Harmonica player Terry McMillan was a key member of Eddy Raven's early '70s band, and became a popular session player for the rest of the decade... He had one low-charting single in 1982 that preceded this solo album, but this album failed to chart, as did his gospel album a few years later.
Terry McMillan "Somebody's Coming" (Giant Records, 1997)



A gospel country album...
Mac McAnally "No Problem Here" (Ariola, 1978)



The second album of songwriter/producer Mac McAnally, who started out as a session player in the Muscle Shoals roots/R&B scene and moved into the upper strata of Nashville country. This disc is a mix of gooey, late '70s Top Forty AOR and folk-ish countrypolitan ballads...


<! the single, "It's a Crazy World" hit the Pop Top 40 > <! Mac McAnally "Mac McAnally" (Ariola, 1977) Mac McAnally "No Problem Here" (Ariola, 1977) Mac McAnally "Cuttin' Corners" (RCA, 1980) Mac McAnally "Nothin' But The Truth" (Geffen, 1983) Mac McAnally "Finish Lines" (Geffen, 1988) Mac McAnally "Simple Life" (Warner Brothers, 1990) album hit #63 of country charts Mac McAnally "Live And Learn" (MCA, 1992) Mac McAnally "Knots" (MCA, 1994) Mac McAnally "Word Of Mouth" (DreamWorks, 1999) Mac McAnally "Semi-True Stories" (Mailboat, 2004) Mac McAnally "Down By The River" (Show Dog, 2009) album hit #56 of country charts Mac McAnally "Live: In Muscle Shoals" (Mailboat, 2011) >

Scott McQuaig "Scott McQuaig" (Capitol, 1990)


The lone album from this hat act hopeful... Two singles fell short of the Top 40... and I guess that was all she wrote.
Scott McQuaig "I'm Still Falling" (Self-released, 2012)


...well, not quite! Mr. McQuaig wrote to inform me he's gone back to recording, and put out this indie album, which apparently has a hefty dose of twang that may please his old fans.
---
Commercial Country Albums - More Letter "M"
---