<! COA - COZ > <! MP3 06/11/09, 06/09/10, 03/15/13 > <! outside 00/00/00 > <! pix 03/15/13 > <! icons 10/29/11 > <! UPDATES: 06/11/09 - still need to do Jessi Colter (break out) & Earl Thomas Conley 06/09/10 - added Jessi Colter, David Allan Coe. Still stalling on Earl Thomas Conley... 05/10/12 - added Mark Collie page 03/15/13 - added Earl Conley page, no bio ~~ need pages for Confederate Railroad, Rita Coolidge > <! Jason Crabb / Crabb Family Band >
---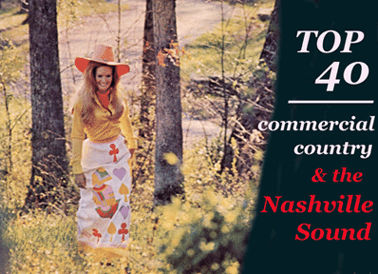 Are you a George Jones guy in a Garth Brooks world? A Loretta Lynn gal trying to understand why people still call Shania Twain a "country" artist?
Well, then this website is for you! Here's your chance to read all about Nashville pop, from the late-'50s "Nashville Sound" and the "countrypolitan" scene of the '70s to today's chart-toppers and pretty-boy hat acts, seen through the lens of DJ Joe Sixpack, a hick music know-it-all with a heart of gold...
Your comments and suggestions are welcome, particularly suggestions for artists or albums I might have missed. Other types of twang are reviewed elsewhere in my Hick Music Guide.
This is the fourth page covering the letter "C"
---
A | B | C-1 / 2 / 3 / 4 / 5 | D | E | F | G | H | I | J | K | L | M | N | O | P | Q | R | S | T | U | V | W | X, Y & Z | Comps | Other Country Styles | Hick Music Index
---
Anita Cochran "Back To You" (Warner Brothers, 1997)



(Produced by Jim Ed Norman & Anita Cochran)
A singer, songwriter and guitarist, the Michigan-born filly hit it big with a tacky power ballad, then kind of faded from sight when her other singles failed to connect. This disc opens nicely enough, with the rollicking, upbeat "I Could Love A Man Like That," but swiftly slides into formulaic soft stuff, including a daddy song, and a truly heinous duet with Steve Wariner ("What If I Said," a horrible "soul" ballad which of course was a huge hit...) The hit-the-high-note caterwauling on that song alone should be enough to chase you away, but the rest of the album is pretty overcooked as well... I like Cochran's voice, and her guitar picking is impressive (she plays lead on the whole album...) but the gooey production style is a drag. There are a couple of tunes she wrote on here that are worth mentioning: the uptempo raveup of "Girls Like Fast Cars" is kind of fun, in a gimmicky gal-power kinda way, and the acoustic "Back To You" evokes memories of Rosanne Cash. So it's not a total loss, I guess... Three "okay" songs on one's debut album ain't a bad ratio, though for the most part this album doesn't do much for me.
Anita Cochran "Anita" (Warner Brothers, 2000)






<! in APE >


Hank Cochran - see artist discography



Tammy Cochran "Tammy Cochran" (Epic, 2000)



A strong debut by a promising new artist -- someone who could offer an alterative to the prefab pop of Shania Twain and Faith Hill... The opening tracks -- "I Cry," "If You Can" and "So What" -- reveal a fairly rugged female artist capable of delivering complex material with great emotional clarity... Cochran's vocal tone is tough and rural, and while I like there to be some rough edges in my country, at first I found the contrast between her and the modern production to be a little offputting... Then she drew me in with her ability to live inside her lyrics, as well as the quality of the songwriting. She's got a lot in common with Terri Clark or Tanya Tucker, in that she's kind of gritty, but still tilts towards the mainstream. Suddenly, though the album goes off the rail with some glossy ballads, and she loses the momentum that her more rootsy delivery had built up early on, building up to the album's super-sappy centerpiece, a religiously-themed song called "Angels In Waiting," about the pain of losing loved ones too early in live... Nonetheless, this record is pretty good, at least for Y2K Nashville; definitely worth checking out, especially if you prefer the fiddle and pedal steel to the drum machine and synth.
Tammy Cochran "Life Happened" (Epic, 2002)



(Produced by Billy Joe Walker, Jr.)
A disappointment. Predictably, Cochran's follow-up album was much glossier, and packed full of pre-fab gal-power ballads. In a mirror image of her first album, the opening songs are terrible, and the harder, better numbers come into play later on. Mostly, though, this is too full of self-helpy, Oprah-esque, post-feminist, self-affirmation anthems (I Used To Be That Woman," etc.) which I guess is all very well and fine, but did every female singer in Nashville have to sing the same sort of stuff? It's so stereotyped and dreary. Still, this features a few nice real country tunes, including a version of "If You Can" (which was also on her debut), re-released as a single the second time around. Too pop for me, but still better than most.
Tammy Cochran "Where I Am" (Shanachie, 2007)


David Allan Coe - see artist discography
Kellie Coffey "When You Lie Next To Me" (BNA, 2002)



(Produced by Dan Huff)
Tearing a page or two out of the Dixie Chicks fakebook, Coffey slathers her opening track not only with tinny, treble-heavy, lushly layered, Echoplexed pop production, but also with a rolling, rhythmic banjo, and husky-then-shrill vocals that batter away at the lofty, dense lyrics. The Spanish guitars kick in on the following song, the drum machines aren't far behind, and there's arty versifying everywhere you turn. It's a bit much -- overwrought and overproduced -- and yet I still find myself looking to her as a hopeful new contender. If she could shed some of the soul-diva pretentiousness and settle into a more traditional country vibe, Coffey could be kinda fun. Probably ain't gonna happen, though; she seems like a pretty modern gal. Which I'm sure is fine for her, but kind of a drag for fans of real, old-fashioned country.
Kellie Coffey "Walk On" (Duet Records, 2007)



(Produced by Wayne Kirkpatrick)
Although she made a big splash as a critic's darling with her 2002 debut, When You Lie Next To Me, Kellie Coffey languished in the middle rungs of the Top 40, and apparently got the boot for her troubles. Like many modern Nashvillers, she's sidestepped the major labels and gone indie, and thus her new record plays directly to her fans -- in this case to folks who prefer chick-centric emotional songs about relationships, heartbreak and dreams. Given the recent rash of redneck-gal rowdiness at the top of the charts, these soul-soaked femme-ballads seem a little dated, but it's solid work throughout, and if you like the style (or were a Coffey fan to begin with) then you'll definitely dig this album. Some songs are a bit much: Trina Harmon's "I Would Die For That" deals with infertility, which is a powerful subject, but the singlemindedly depressive focus of the song's narrator (and the tinge of peevish jealousy towards her friends) makes the song difficult to latch onto. Other songs, like "I Had A Dream" and the goofy satire of modern life, "Bandwagon," are more solid and less self-pitying. Almost all the songs were co-written with producer Wayne Kirkpatrick (of the band Little Big Town) and he adds a firm if formulaic hand to the sound... If you liked the Y2K-era soul-twang sound of Sara Evans, Trisha Yearwood, et al., you'll probably dig this one, too.
Kellie Coffey "Why I'm Alive" (2009)



A 6-song EP...
Dan Colehour "Dan Colehour" (Carnival Recordings, 2007)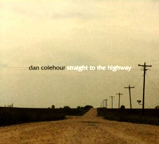 Dan Colehour "Straight To The Highway" (MCA-Nashville, 2007)



(Produced by David Grissom, Mike McCarthy & Frank Liddel)
Straight-up, roots-rockin' poppy twang, tailormade for fans of Jack Ingram, Chris Knight, Radney Foster, and old Steve Earle. And, yeah, there's a bit of John Mellencamp in there, too. Colehour's a Midwesterner who hit the Texas scene in the 1990s, moved to Nashville, and got chewed up and spat out, as many a fine musician has been before him. His first album was set to be released a few years back, but got shelved in a typical music industry merger/corporate bloodbath, and his career was put on hold until the new boss figured out what to do with him. The good news is that fans who like the whole Mellencamp/Springsteen heartland hero vibe will find a lot to cheer about here -- there's one anthemic rebel-rouser after another, and while Colehour raise the much-waved flag of the all-American, small-town everyman, he does so without the cynical commercial calculation of Top 40 acts like Toby Keith and Montgomery Gentry, et. al. This feels like a pretty sincere record, and if you're drawn to the style, you'll want to check this one out.
Mark Collie - see artist discography
Brian Collins "This Is Brian Collins" (ABC-Dot, 1973) (LP)

Brian Collins "That's The Way Love Should Be" (ABC-Dot, 1973) (LP)

Brian Collins "The ABC Collection" (ABC, 1977) (LP)

Tommy Collins - see artist discography
Jessi Colter - see artist discography
The Compton Brothers "Off The Top Of The Compton Brothers" (Dot Records, 1968) (LP)


Originally hailing from Missouri, brothers Bill, Harry and Tom Compton performed in regional shows such as the Ozark Jubilly and WWVA's Wheeling Jamboree, and came to prominence in 1965 after winning a national country talent show sponsored by Columbia Records. It was Dot Records that actually signed them, though. Their first single from 1966, "Pickin' Up The Mail," didn't make many waves, but they still generated enough momentum to record an album, although again no real hits resulted. This was their only album released as a trio: brother Tom left the band afterwards, though Bill and Harry wound up being more successful on their next outing.
The Compton Brothers "Haunted House/Charlie Brown" (Dot Records, 1968) (LP)


The late '60s still being an era when the music industry still nurtured talent, the Compton Brothers got another shot at making an record, despite the lackluster performance of their first album. This was their commercial peak, with two countrified covers of rock oldies -- "Haunted House" and "Charlie Brown" -- taking them into the Top Twenty. (Tom Compton apparently headed down to Muscle Shoals to become a studio musician, a gig he was holding down in the early '70s...) One thing worth noting is that Bill and Harry had very different, distinctive voices and didn't exactly harmonize in the classic "brother act" style... Indeed, one of the brothers -- not sure which one -- reminds me a lot of Rodney Crowell.
The Compton Brothers "Yellow River" (Dot Records, 1972) (LP)


(Produced by Henry Hurt)
This was the last Compton Brothers album, although they also recorded and released about an album's worth of singles before calling it quits in 1975. Judging from the cover, this looks like it would be the one of endless generic, watered down countrypolitan offerings, but there's actually a fair amount of twang on here, with plenty of fine country tunes. To be sure, it's slick sounding but still not nearly as bland as a lot of stuff coming out of Nashville at this time. As on their previous album, this includes some pop covers: the title track is a song by Jeff Christie that was an early '70s rock-pop hit, and they also sing a version of the Everly Brothers oldie, "Love Hurts." According to Billboard, the Comptons had brought a couple of their younger brothers into the band around this time, though it's not clear if they played with them on this album. Apparently when they quit in 1975 that was really it -- not indie albums or solo offerings as far as I can tell.


<! ...The Compton Brothers were originally an American country music trio composed of brothers Tom, Bill and Harry Compton. After their first album, Tom left the band. Meanwhile, Bill and Harry, who were both vocalists and guitarists, released two additional albums. The group won a talent contest in 1965 sponsored by Columbia Records. Between 1966 and 1975, they recorded for Dot Records, charting in the top 20 of the Hot Country Songs charts with "Haunted House" and a cover of The Coasters' "Charlie Brown". The band released three albums for Dot." according to 1972 BB plug, the band now included two (unnamed) younger brothers: BB- 01/08/72 > <! POST 1972 singles: DOA-17454 Daddy's Doin' Life / Some Of Shelly's Blues - 03-73 DOA-17477 California Blues (Blue Yodel No.4) / Direct Distance Dialing - 09-73 DOA-17511 Secret Memories / Sweet Honky-Tonk Music - 06-74 DOA-17538 Cat's In The Cradle / A Bird With Broken Wings Can't Fly - 02-75 DOA-17563 My Music / By The Time I'm Over You - 07-75 >
The Concrete Cowboy Band "The Concrete Cowboy Band" (Pickwick-Excelsior, 1981) (LP)


(Produced by Steve Vining & Ed Keeley)
You wouldn't think it to look at it, but this is quite a good album... It's an offering by the Pickwick label, of all people, gathering together a bunch of high-powered "usual suspect" superpickers such as Hal Rugg, Mark Casstevens and Buddy Spicher to work their way through a set of western swing and honkytonk oldies, punctuated by some tasty newer tunes, such as Bobby Borchers' "Texas When I Die," "Country Is The Closest Thing To Heaven (You Can Hear)" and "Thank God I'm A Country Gal" (a gender-flipped version of the John Denver hit...) as well as "Concrete Cowboys," one of two songs written by producers Ed Keeley and Steve Vining. Fronting the band are two fine female singers, Donna Hazard and Nancy Walker, who for whatever reasons were not showcased as the stars of the band (there are no photos of any of the musicians) but who bring a lot of ooomph to the recordings. The production is slick, but the music is soulful... This album only yielded one super-minor hit, way in the Back Forty (and Hazard enjoyed similar success with several singles released around the same time...) Fans of Dawn Sears and the Time Jumpers, perhaps, might really enjoy this one!

Confederate Railroad "Confederate Railroad" (Atlantic, 1992)



(Produced by Barry Beckett)
One heck of a debut disc by this rollicking, Georgian good-ole-band. They're mining a lot of the same territory as Hank Williams, Jr. -- the whole unrepentant Southern bubba schtick -- but with so much more vigor and vitality that it's hard not to be lured in by their rock-tinged neo-outlaw tunes. Singer Danny Shirley brings to mind Russell Smith of the Amazing Rhythm Aces, and the band also has a similar approach, bringing Southern rock-isms into a mainstream, hook-driven medium with admirable success. The opening track, "She Took It Like A Man," is a flawless outlaw novelty tune, and also has some of Shirley's richest, most George Jones-like vocals. Ultimately, these guys are a bit too commercial for me, but at least they have real blood 'n' whiskey coursing through their veins: there's a vitality here that you don't hear that much in modern Nashville... So more power to 'em!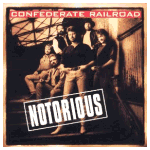 Confederate Railroad "Notorious" (Atlantic, 1994)



(Produced by Barry Beckett)
Predictably, after such a strong effort coming out the gate, Confederate Railroad followed up with this tepid, overly produced, overly safe outing, where the lead vocals and guitar seem sluggish and overly deliberate, while the harmony vocals edge towards Shenandoah-ish formula. It's just so commercialized and tame, without an authentic wild moment or clever twist to be heard. Songs like "Redneck Romeo," "Hunger Pain" and "Elvis And Andy" are just plain sad, compared to spark they showed on their first disc. Now they just sound like Travis Tritt: an ungainly graft of neutered, contrived, watered-down Southern Rock and completely predictable commercial country. Too bad. They started out so good.
Confederate Railroad "When And Where" (Atlantic, 1995)


Confederate Railroad "Keep On Rockin' (Atlantic, 1998)


Confederate Railroad "Unleashed" (Koch Audium, 2001)


Confederate Railroad "Cheap Thrills" (Shanachie, 2007)


Confederate Railroad "Greatest Hits" (Atlantic, 1996)



(Produced by Barry Beckett)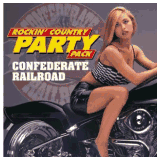 Confederate Railroad "Rockin' Country Party Pack" (Atlantic, 2000)


(Produced by Barry Beckett)
A fine best-of collection full of fun, no-brainer Southern-rock tinged country. I like these guys. They don't put on airs or pretend to be anything other than a good-natured country band. Good novelty songs, too... particularly "She Took It Like A Man," wherein a jilted Jill whomps the guy who dumped her upside the head, then, without missing a beat, heads down to the bar to drown her sorrows in a few brews. Worth checking out!


<!


John Conlee - see artist discography





Earl Thomas Conley - see artist discography





Elizabeth Cook - see artist profile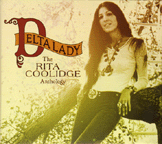 Rita Coolidge "Delta Lady: The Rita Coolidge Anthology" (Hip-O, 2004)



The silky-voiced '70s singer Rita Coolidge grew up along with the decade she made her mark in... Her early albums were soul-drenched, sub-country crossovers, influenced by the similarly eclectic efforts of her pals on the LA studio scene such as Leon Russell or Delaney & Bonnie, whose albums she had sung on before landing a contract of her own, and, of course, her hubby, Kris Kristofferson, who she often duetted with. Sort of a less-rugged Bonnie Raitt, or a sexier Maria Muldaur, by decade's end, Coolidge had really "popped" out, leaning heavily towards Maureen McGovern/Anne Murray-style slow songs and (more memorably) a disco-roots crossover sort of like Boz Scaggs (another pal of hers...) It was these disco-era recordings that really put her on the map, though she also more or less left the uncatagorizable country-soul stuff alone after that. This 2-CD set is an ultimate fan's wet dream, gathering 41 of her golden oldies from her hitmaking years on the A&M label. A little too goopy for me, but a nice document of her work.


<! Corbin Hanner Band http://en.wikipedia.org/wiki/Corbin/Hanner >

Easton Corbin "Easton Corbin" (Mercury Nashville, 2010)



(Produced by Carson Chamberlain)
A very pleasant surprise. Nashville newcomer Easton Corbin is a good-natured, easygoing drawler, straight out of the Alan Jackson playbook. Now, personally, I like Jackson's work a lot, and hearing anyone who follows his lead so closely is just fine by me. Corbin sails his way through an album's worth of first-rate material, including several songs he wrote or co-wrote, as well as several by album producer Carson Chamberlain. Its a fine set, with highlights that include the mournful "This Far From Memphis," the rollicking "Roll With It," and the ultra-Jacksonesque "A Little More Country Than That." The vocals are nice, the picking is good, the album is solid. If you like roots-oriented Nashville Top 40, you'll wanna check this guy out.
Easton Corbin "All Over The Road" (Mercury Nashville, 2012)



(Produced by Carson Chamberlain)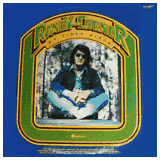 Randy Cornor "My First Album" (ABC, 1975) (LP)


(Produced by A.V. Mittelstedt)
His first and only album, apparently. Texas-based guitarist Randy Cornor was a hotshot session player who as a teen worked in Gene Watson's band, and later with Frenchie Burke and Freddy Fender. Here he tried to bust out of the local Houston scene and make it big as a solo star on the national stage, as a country crooner working in roughly the same mode as Conway Twitty or Joe Stampley... He didn't break through, but fans of '70s commercial country can still find plenty to enjoy here, including a pair of ballads written by Eddy Raven and other by Larry Gatlin that are pretty effective. The album ends with a couple of more down-home hoedown tunes -- perky version of "Rocky Top" and "Sugar Foot Rag" that let Cornor cut loose on the hot guitar licks, with some sweet fiddle licks from Frenchie Burke. There are also several truly dreadful songs where he tries to belt it out and finds stiff competition from a humongous string section that was dubbed over his tracks, and slightly drowns him out. But on balance, this album is worth checking out, provided you have a sweet tooth for bombastic '70s countrypolitan. I think after this, he stayed with Fender's band and afterwards slowly faded from the spotlight.


<! Texas-born Randy Cornor was best known as a session guitarist, and at the time this record came out he had been working in then-superstar Freddy Fender's band for several years. He also wrote and performed original material, including the lead single from this album, "Sometimes I Talk In My Sleep," which hit the Top Ten back in '76. The followups didn't do as well, though, and Cornor faded from the spotlight afterwards. >

Brad Cotter "Patient Man" (Epic, 2004)



(Produced by Steve Bogard & Rick Giles)
A former child star in the contemporary Christian/gospel scene, Brad Cotter won the "Nashville Star" TV show competition, and got a major-label deal in 2004. Although he's got a modest, rather unimpressive voice, Cotter still has a way of drawing you in... The material is perfunctory modern Nashville stuff, strictly by the numbers; some songs work, some are kinda lame. In the "plus" category are novelty songs like "High On Love" and "Rock And Roll In The Hay," which project a clean-living, nice-guy image... The music matches his tone -- loose, easygoing and unaggressive, and this works to his advantage. The baby-faced, goateed Cotter doesn't seem to have the kind of voice that can really belt it out, so taking it slow helps him a lot... he doesn't sound like he's struggling to be heard or to project, and he takes his time with these songs, and gets a lyric or two to sink in... The album charted, and one single, "I Meant To," cracked into the Top 40, but I guess that wasn't enough for Nashville -- after this, he went indie and concentrated on songwriting.
Brad Cotter "Continuity" (EP) (Adobe Road, 2007)

Brad Cotter "Right On Time" (OMG, 2009)





<! Brad Cotter also several gospel albums including 1984's (?) "Soldier For You" B003MTZ9ZW. Was in the band Silverado >

Neal Coty "Chance & Circumstance" (Mercury Nashville, 1997)

Neal Coty "Legacy" (Mercury Nashville, 2001)



(Produced by John Kelton)
Songwriter Neal Coty emerged from his indie-ish origins into something much denser, commercial and sluggish. You can really hear him straining to emote and make it work here, pushing his songs uphill while burdened with endless overwrought Nashville arrangements. The title track, "Legacy," was his sole chart entry, barely cracking into the Top 50, and I'd have to say this was a case of well-deserved obscurity. Not that Coty is "bad," per se, -- he seems well-meaning and sincere and there are dozens of soulless hacks I'd savage before harshing this guy out -- but this kind of stuff just doesn't move me. Still, if you like roots-rockin' folks like John Mellencamp, Chris Isaak or Tom Petty (who Coty covers on this album), then this album might qualify as a cult favorite for you... "This Town Ain't Big Enough" was kind of nice...
Court Yard Hounds "Court Yard Hounds" (Columbia, 2010)



(Produced by Martie Maguire, Emily Robison & Jim Scott)
A "solo" release from Dixie Chicks fiddler and guitarist, sisters Martie Maguire and Emily Robison (both nee Erwin...) This kind of picks up where their gentle, evocative acoustic tunes on recent Dixie Chicks albums left off, although if the truth be told, there seems to be something missing in this set, some sort of spark or artistic balance... This album seems kind of self-indulgent and unfocussed; deeply personal perhaps but not deeply engaging (at least not for me...) One thing that's missing are the pop-twang hooks that haul you in on the Chicks albums -- these songs seem more gooey and meandering, more in Sarah MacLachlan territory, if you know what I mean. I'm sure some fans will happy with this new incarnation, but hopefully something new with Natalie is also in the works.
Court Yard Hounds "Amelita" (Columbia, 2013)



I'm a Dixie Chicks fan from 'way back when, but I have to admit it was a hard sell getting me to give this second Court Yard Hounds album a chance, since the last one was so resolutely self-involved and uninspiring. To be charitable, this one, although still anchored in bland rock-pop formulae, does give more of a nod to their country roots, and it certainly shows more signs of life than the last record, which was essentially a flatline event, as near as I could figure. I'm still hoping that the Chicks will get over whatever's keeping them apart and also get all this adult-pop stuff out of their systems, then come back with a kickass album on a par with Home, but given the sound of these Dogs albums and Natalie Maines' own rock-oriented solo set, it seems unlikely. Oh, sure, they'll get together again, but god knows what it will sound like. In the meantime, from the look of things they've got a solid audience for this kind of stuff, so more power to 'em, I guess. Doesn't do much for me, though,

Bucky Covington "Bucky Covington" (Lyric Street, 2007)



(Produced by Mark A. Miller & Dale Oliver)
Loud, bombastic, utterly soulless, super-phony, Southern-rock flavored commercial country. American Idol finalist Bucky Covington is a singularly artless singer, but that hardly matters, since the merciless barrage of electric guitars is the real point of this record: it's all about the formula, and about not giving listeners a chance to breathe the whole time the record is playing. The production is very dense and tightly crafted, so that no matter where your ear roams, it gets filled with something studio-y, but even the wall-of-sound approach does little to mask the clunkiness and phoniness of these lyrics: small town kids getting in trouble with the law, nostalgia for an old-time America, a guy who marries his high school sweetheart even after she's paralyzed by an auto accident: give us a break. Folks who like Montgomery Gentry, Billy Ray Cyrus and Van Zandt can probably get into this; I find it all to be a bit much. I wish there was even an ounce of sincere sentiment on here, but there isn't. Do yourself a big, big favor and skip this one.
Bucky Covington "Live From Rockingham" (EP) (Lyric Street, 2009)

Bucky Covington "Reality Country" (Lyric Street, 2010)





<! 3-CD set?? only 9 songs >

Bucky Covington "Good Guys" (Entertainment One, 2012)


Cowboy Troy "Hick-Hop Hysteria" (Bull Rush, 2001)

Cowboy Troy "Beginner's Luck" (2002)


Cowboy Troy "Loco Motive" (Warner Brothers, 2005)



(Produced by John Rich, Big Kenny & Paul Worley)
Yes, this country-rap "hick hop" album is a genre buster, and it was also a big chart hit... What it is not, though, is any good. Troy is a protege of the Big & Rich production duo, and shares much in common with them. In particular there's the kranging, crunchy, metal-ish guitar chords, which are compressed into discreet, inoffensive pop nuggets, the thumping, mechanical drums, a few obligatory country touches (steel guitar, a bit of fiddle), and above all the relentless pop hooks, which are augmented on the tracks that Big & Rich guest on with gleeful, in-your-face novelty vocals. B&R are clever producers -- loud, brash, shameless and quite successful at what they set out to do. The trouble is, though, that this is an incredibly vapid record, and an artistic failure on every level -- the songs are empty, hook-laden novelties, tedious musical goofs with lyrics that are about nothing; the production is sterile and contrived, and Troy Coleman is, without question, one of the most untalented rappers ever to enter a recording studio. Even allowing for his trying to "hick" up his delivery, he just isn't very good, either as a lyricist or as a rapper. He's got no flow. I understand why people get into this -- the contemporary country fan base is changing, and the artists and fans alike are a younger crowd who are as used to listening to commerical rap music as they are to the latest Tim McGraw or Shania Twain albums. So it's natural that a there's an urge to see the two styles cross over -- the trend may be lamentable from the perspective of those of us who still like real country music, but it is understandable. What's a shame, though, is that the powers-that-be see fit to offer these fans such palpably weak material. Troy may have fans now, but unless somebody gives him a massive transfusion of depth and talent, he's doomed to be this era's version of Cletus Maggard. Shame on all the DJs, program directors and journalists who have jumped on Troy's lame-ass bandwagon and pretended to like this utter crap. You know it's wrong, right?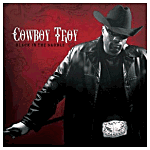 Cowboy Troy "Black In The Saddle" (Warner Nashville, 2007)



(Produced by John Rich & Cowboy Troy)
What, him again? Oh, please. Clearly, CT is spoiling for a fight, as heard on this album's "How Can You Hate Me?" But really, there are country fans and then there are the folks who like what the Big & Rich "music mafia" has done with the genre. And if you're old-school like me, it isn't really worth the time to dissect everything that's wrong about this sound... again. It's just not that funny, or that much fun to listen to.
Cowboy Troy "Demolition Mission: Studio Blue Sessions" (Double XXposure, 2009)



Dude, it's over. Give it a rest.
---
Commercial Country Albums - More Letter "C"
---