<! MP3 06/07/09, 06/04/10, 03/10/13 > <! outside 08/03/10 - BB, PF > <! pix 00/00/00 > <! icons 10/29/11 > <! UPDATES: 06/07/09 - break off Clint Black 06/04/10 - found Randy Boone/Vern Gosdin plagiarizer, sent e-mail warning about copyright 08/01/10: need to finish Don Bowman; finished Clint Black discography, added some pix 10/05/11: added Tony Booth page 03/10/13 - reviewed Boy Howdy, added Bowersox, new pix >
---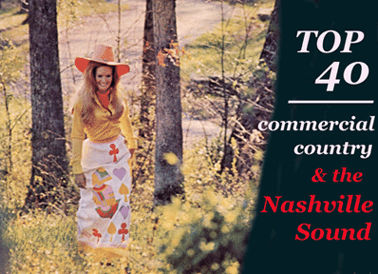 Are you a George Jones guy in a Garth Brooks world? A Loretta Lynn gal trying to understand why people still call Shania Twain a "country" artist?
Well, then this website is for you! Here's your chance to read all about Nashville pop, from the late-'50s "Nashville Sound" and the "countrypolitan" scene of the '70s to today's chart-toppers and pretty-boy hat acts, seen through the lens of DJ Joe Sixpack, a hick music know-it-all with a heart of gold...
Your comments and suggestions are welcome, particularly suggestions for artists or albums I might have missed. Other types of twang are reviewed elsewhere in my Hick Music Guide.
This is the third page covering the letter "B"
---
A | B-1 / 2 / 3 / 4 / 5 | C | D | E | F | G | H | I | J | K | L | M | N | O | P | Q | R | S | T | U | V | W | X, Y & Z | Comps | Other Country Styles | Hick Music Index
---
Clint Black - see artist discography

Blackhawk "Blackhawk" (Arista, 1994)



The debut album by this inoffensive, easy-on-the-ears, soft-rockin,' harmony-singin' trio. Doesn't really float my boat, but I can see the appeal -- it's '70s soft rock brought into a country context. Although it must be admitted that lead singer Henry Paul has an, um, distinctive voice, it may get on your nerves after listening all the way through, there's still something appealing and down-to-earth about these guys. The first half of this album peppered the Top Ten with hits when this came out; the other five songs -- none of which have made it onto a best-of package -- are all of an equal calibre... If you're a fan of the band, this album is worth tracking down for the non-hit tunes...
Blackhawk "Strong Enough" (Arista, 1996)


(Produced by Mark Bright)



<! 06/09, 06/10: no MP3 >

Blackhawk "Love & Gravity" (Arista, 1997)


(Produced by Mark Bright)
Their third album was kind of a downer. Soft, sappy, mopey romantic material performed at a sluggish pace, with mellow soft-rock arrangements. It's well-crafted, I guess, but pretty unexciting.

Blackhawk "The Sky's The Limit" (Arista, 1998)



(Produced by Mark Bright & Tim DuBois)
This disc has a little more life to it, and more likeable material. It's still too deliberate and overly controlled, with the understated sensitive-guy lead vocals and three-part harmony behind him, but some of the songs'll catch your attention if you give it a chance... "There You Have It" had a good hook and a catchy chorus, and other than the over-cooked harmonies, "Nobody Knows What To Say" is a pretty nice song about the aftermath of a broken romance... It's not a great record or anything, but it has its moments. At least they seem to have recovered from the slump they were in the year before.
Blackhawk "Spirit Dancer" (Sony, 2002)


Blackhawk "Greatest Hits" (Arista, 2000)


Blackhawk "Greatest Hits - Live" (Fuel 2000, 2008) <! label? >


Jeanne Black "A Little Bit Lonely" (Capitol, 1961) (LP)


Mostly known as a one-hit wonder, in 1960 Jeanne Black sang "He'll Have To Stay," an answer song based on the Jim Reeves classic, He'll Have To Go." That song hit the Top Ten, and is included here on her lone solo album, although lightning didn't strike twice and Ms. Black faded from sight with amazing finality. Alas.


<! Joe Allison producer? he wrote the answer song Arrangements by Blly Liebert >
Black Tie "When the Night Falls" (Bench Records, 1990)


This trio of heavy-hitters included singer Billy Swan, Randy Meisner of the Eagles (and Poco), and Jimmy Griffin, of the Remingtons. This album includes their sole chart entry, a cover of the old Buddy Holly tune, "Learning The Game," which crept up to the middle of the Top 100...
Blake & Brian "Blake & Brian" (Curb, 1997)



(Produced by Chuck Howard)
The duo of Blake Weldon and Brian Gowan were a made-in-the-studio concoction that had moderate success as performers (one song in the middle of the Top 100) but some durability as songwriters: Gowan later pitched several songs to newcomer Rodney Atkins, and also released a few solo albums a few years later. This is pretty generic stuff, swinging between '70s-style soft-pop/country rock and uptempo numbers that are perky but still pretty unchallenging. I think for me the lone standout track would be the Dwight Yoakum-flavored "Shut Up Heart," which is kind of funny and fun. Blake & Brian released a couple of singles after this album came out; maybe in the future Curb will include them in a "best-of" edition...


<! aka "Another Perfect Day" (?) > <! Arthur Blanch Australian country artist - Jewel Blanch's dad... Arthur Blanch "Blanch Family Classics" (Axis) Arthur Blanch "Sampling From The Early Sessions: 1952-1962" (xxxxxxxxxx) Arthur Blanch "Life's Been Good To Me" (One Stop, 2005) B000ACZX3C Arthur Blanch "What Really Matters" (Tamworth, 200?) Arthur Blanch "How Can I Thank You" (Tamworth, 2010) B003E11OXE <! Arthur needs no introduction. He is Australia's Rolls Royce of country singers. 2002 was Arthur Blanch's 50th anniversary year in his career as a recording artist. Four years in a row, Arthur won Australian Golden Guitar awards at Tamworth, two for Male Vocalist of the Year, two for Album of the Year. The television special based on his first Golden Guitar winning album "The Lady And The Cowboy" was telecast in Australia and America, and he is still celebrating chart successes, including 5 top ten singles during the last couple of years. Arthur was recently inducted into the Country Music Roll of Renown. Life's Been Good To Me is Arthur's fabulous album produced by Rod McCormack http://www.arthurblanch.com >

Jewel Blanch "I Can Love You" (CBS, 1982) (LP)


An award winning album (in Australia) from actress/singer Jewel Blanch, the daughter of Aussie troubadour Arthur Blanch... She had a couple of songs that cracked into the American charts a few years earlier, but information about her career is pretty hard to track down. Anyone got any info?


<! 03/13: still no pix > <! MISTY MORGAN & JACK BLANCHARD > <! The Blue Boys - Jim Reeves band The Blue Boys "We Remember Jim" (RCA, 1965) (LP) B000TNQCQO The Blue Boys "The Sound Of Jim Reeves" (RCA, 1966) (LP) B003XOPXX4 The Blue Boys "The Blue Boys In Person" (RCA, 1966) (LP) B003XOU3ZC The Blue Boys "Hit After Hit" (RCA, 1967) (LP) B003XOPXRK The Blue Boys "The Blue Boys" (Rice, 1971) >
Blue County "Blue County" (Curb, 2004)



(Produced by Dann Huff & Doug Johnson)
A couple of weatherbeaten, Redford-ish blondes, Aaron Benward and Scott Reeves craft an oddly off-kilter style of commercial country, with long, rambling lyrics drenched in nostalgia and deliberately rustic motifs... lots of songs about mischieveous little boys growing up in simpler times, etc... The singing style is a bit strained, but somehow it works out alright -- I'm not wild about this album, but I did find it consistently listenable. Okay, so here's the dirt on these two: Benward is a Christian pop singer with several albums under his belt -- Reeves was a soap opera actor (on Days Of Our Lives for over ten years!) So, obviously, they are open to charges of being country poseurs, but overall I'd have to say this ain't bad... Producer Dan Huff crafts a fine, lightly Southern-rockish feel to the albums, and though it seems they repeat themselves thematically and musically, it works. Funny, though, how a born-again Christian rocker would record a raunchy country song like "Good Little Girls" (the single, which wasn't actually the best song on here), but hey, who am I to argue with the artists?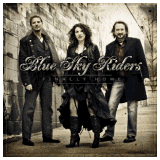 Blue Sky Riders "Finally Home" (3Dream Records, 2013)



(Produced by Peter Asher & Blue Sky Riders)
A country-oriented outing from none other than '70s AOR superstar Kenny Loggins, working with Nashville songwriter Gary Burr, in a trio rounded out by singer Georgia Middleman, who's sung backup for several old (1980s) country stars. It's basically soft-pop comfort food: if you're a fan of classic '70s pop (and Loggins in particular) this album is a real treat. Loggins still has a supple voice and pretty much sounds like he did back in the day, and with Middleman in the mix there's also a strong echo of Fleetwood Mac (or, for a more modern reference, of Sugarland and/or Lady Antebellum...) I'd peg this as more of an adult-pop album than as a "country" record, although Loggins did have a lot of success as a crossover songwriter in the '70s countrypolitan scene, and when he adds some twang, it sounds good. This band might not light the Country charts on fire, but I think they'll definitely find a lot of fans.


<! The creative spark that eventually evolved into Blue Sky Riders was struck when two veteran singer/songwriters worked on their first song together. When Kenny Loggins, one of the premiere voices in modern popular music, joined forces with Gary Burr, one of Nashville's most accomplished writers, on the well-received 2008 release "How About Now," they felt they sounded like brothers when they sang together. Loggins, looking for a creative step forward in his musical career, decided on the-spot to form a band but wanted to add a third, female voice. Burr, who has been named Songwriter of the Year by ASCAP, Billboard and NSAI and has worked with artists such as Juice Newton, Conway Twitty and Wynonna Judd, suggested singer/songwriter Georgia Middleman, who has worked with Keith Urban, Faith Hill and Martina McBride among others. Blue Sky Riders was born. All three veterans sing lead amid three-part harmonies, which makes Blue Sky Riders unique. >

Liz Boardo "Liz Boardo" (Roell, 2006)



I'm not sure, but I think this CD is a reissue... It doesn't include either of Boardo's (minor) hits from 1987, but it definitely has an '80s feel. Anyone know for sure?


<! 1 Feels Like Love 2 Miserable Lonesome Blues 3 You Make Me Feel So Good 4 First Time I Saw You 5 I've Always Been Forgiving 6 I Forgot to Remember 7 You're Making It Easy 8 Help Yourself to My Heart 9 Don't Drop Me I'm Fragile 10 Bye Bye Love 11 Take Good Care of My Baby >


Suzy Bogguss - see artist discography




James Bonamy "What I Live To Do" (Epic, 1996)



The debut album by this Florida-born pretty-boy, a hat act dude who sounds good on the fast numbers (such as the album's openers, "She's Got A Mind Of Her Own"), and pretty darn callow on slower songs like "All I Do Is Love Her" and "I Don't Think I Will." This disc's a mixed bag -- I thought I was really gonna get into it when I heard the first few tunes, but it quickly started to seem less and less exciting or original. Really, he's just a so-so singer, but he does have some surprising flourishes of pure, dumb fun.
James Bonamy "Roots And Wings" (Epic, 1997)

Bobby Bond "On The Country Side" (Time Records, 1964) (LP)

Bobby Bond "...Sings Hits Made Famous By Roger Miller And Other Country Songs" (Somerset, 1965) (LP)


I have to confess, I have a strange fascination with the "sound-alike" artists who recorded entire albums of knockoff imitations of popular hits for shady labels such as Crown, Spin-O-Rama, Somerset and others. Bobby Bond was one of these sound-alike artists, who did, um "tribute" records to Roger Miller and Jim Reeves, but who also scored a minor hit with a 1972 cover of Jim Croce's "You Don't Mess Around With Jim." The sound-alike albums are a real historical curio: often they were packaged in such a way to make you think that the original artist and the real versions were included on the album, and there was an obvious attempt to bilk folks out of their hard-earned cash. Someday I'd love to research them (although I suspect someone already has...) Anyway, here are Mr. Bond's contributions to the genre...
Bobby Bond/Earl Cupit "A Country Boy Looks Down That Lonesome Road" (Somerset, 1966)


A split LP with Cupit singing Side One, and Bond on the flip. All the songs are covers of popular country and folk-country songs of the era, including songs by Bobby Bare, George Hamilton IV, etc.


<! aka "Movin' On"? >

Bobby Bond "I Remember Jim Reeves" (Somerset, 1966) (LP)





<! Bobby Bond - Jim Croce cover tune on Hickory, 1972 - single only, I think - Bobby Bond "...Sings The Roger Miller Songbook" (Somerset, 1965) (LP) B002ZV5WA0 (though not the real title?) >


Johnny Bond - see artist discography



Debby Boone "The Best Of Debby Boone" (Curb, 1990)



Another one of the Curb label's refreshingly straightforward best-of sets... This compact, ten-song collection includes Boone's biggest hits from the late 1970s, when she was both a huge MOR pop star, and a semi-legitimate country singer. All the albums these songs came from appear to be out-of-print, so this is probably the best way to hear them. Keep in mind that her biggest hit, "You Light Up My Life," is perhaps the single most heinous pop song of the 1970s. After this era, Boone devoted herself almost entirely to recording Christian pop. Oh, and FIY, she's Pat (see below) Boone's daughter... and Red Foley's granddaughter, too! What a family!
Debby Boone "You Light Up My Life" (Curb-Warner, 1977) (LP)

Debby Boone "Midstream" (Curb-Warner, 1978) (LP)

Debby Boone "Debby Boone" (Curb-Warner, 1979)

Debby Boone "Love Has No Reason" (Curb-Warner, 1980) (LP)

Debby Boone "Savin' It Up" (Curb-Warner, 1980) (LP)







Larry Boone "Larry Boone" (Eeee Records, 1981) (LP)
(Produced by Paul Sacco)
Years before Larry Boone cracked his way into the Nashville scene and became a successful chart artist, he cut this album of all-original material with producer Paul Sacco playing about half the instruments. There's no fiddle or pedal steel or mandolin or banjo on here, but there's still some twang, and that's all that counts, really, isn't it?


<! - #LB-100 - no ASIN 06/18/15 >

Larry Boone "Larry Boone" (Mercury, 1988) <! (?) >

Larry Boone "Swingin' Doors, Sawdust Floors" (Mercury, 1989)

Larry Boone "Down That River Road" (Mercury, 1990)

Larry Boone "One Way To Go" (Columbia, 1991)

Larry Boone "Get In Line" (Columbia, 1993)





<! Larry Boone some chart success, but also a notable Top Country songwriter Larry Boone "Larry Boone" (Eeeee, 1981) - early indie release? (on PF) >
Pat Boone "Texas Woman" (Hitsville, 1976)


I met Pat Boone once - shook his hand at a music conference where he was promoting his rather gimmicky heavy-metal "comeback" album. It was a strange moment, a little creepy actually, yet I found him oddly charismatic and earnest. Well, anyway, enough about me. That heavy metal gig wasn't the first time Boone dabbled in genres other than soft pop... Here, for example, is Boone's main foray into the country field, an album that included a minor Top Forty hit ("Texas Woman") and a handful of other tunes that charted somewhere in the Back Forty. It ain't the rootsiest, most rootin' tootin' honky-tonk record you'll ever hear, but it's an interesting slice of '70s countrypolitan...


<! Texas Woman; Throw It Away; Indiana Girl; It's Gone; Country Days And Country Nights; Oklahoma Sunshine; Don't Want To Fall Away From You; Won't Be Home Tonight; Young Girl; Lovelight Comes A Shining >
Randy Boone "Ramblin' Randy" (Decca, 1965) (LP)


Actor Randy Boone (Pat's cousin...), who was billed as "the singing star" of the 'Sixties TV western, The Virginian, made a couple of albums ala Gale Garnett, Lorne Greene and Ricky Nelson... This set of countrified faux folksongs has its charms, though it didn't make a dent in the charts. My main interest in this album came when I noticed that the Gosdin Brothers, Rex and Vern, accompanied Boone on over half the tracks... They add some ooompf and bounce, as well as contibuting a couple of original tunes -- the zippy "It's All Right" and "Oh Me, Oh My." Boone hardly had what you could call a great voice, and his solo acoustic folk tunes are pretty silly, but the full-band material with the Gosdins certainly has its moments.
Randy Boone & Roberta Shore "The Singing Stars Of The Virginian" (Decca) (LP)





<! http://en.wikipedia.org/wiki/Randy_Boone >


Tony Booth - see artist discography



Bobby Borchers "Bobby Borchers" (Playboy, 1977) (LP)


(Produced by Eddie Kilroy)
An outstanding album of sad, sad cheating songs and raw, erotic ballads. This record is very reflective of the '70s swingers scene, but where many Nashvillers of the era approached the newfound sexual openness of the era in kind of a leering, naughty-little-boy kind of way, songwriter Bobby Borchers crafted an impressive set of emotionally dense songs, focussed on the repercussions of impulsive love and the shifting balances of power in adult relationships. Every track on here is worthwhile, with standouts including "Cheap Perfume And Candlelights," "Lunchtime Lovers," and the scathing "Someone's With Your Wife Tonight, Mister." As complex as the lyrics themselves is the shifting point of view from song to song: some that revel in cheating and sexuality, others that explore the downsides, some repentant, others resigned, with glimmers of joy amid the seediness and sadness that runs throughout. Borchers is also a convincing stylist, with strong traces of Waylon Jennings and Merle Haggard, buoyed by sleek, sympathetic backing, notably the pedal steel of Russ Hicks. An excellent '70s country album... Highly recommended!
Bobby Borchers "Denim And Rhinestones" (Playboy, 1978) (LP)





<! Bobby Borchers "They Don't Make Em Like That Anymore" (Playboy, xxxxxx) single? B003UJ56R0 Prolific songwriter, often working with Mack Vickery >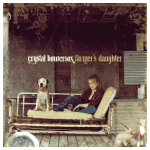 Crystal Bowersox "Farmer's Daughter" (Sony-Jive/19 Recordings, 2010)



(Produced by David Bendeth)
Normally I'm not that big on bashing former American Idol contestants just because they were American Idol contestants... I mean, Carrie Underwood's alright, and I think she was on there once, right? Anyway, the reason I don't like this album (and I'm apparently in the minority) is because the arrangements are uneven and awkward, and Bowersox's voice doesn't really wow me. It's kind of a clunky mix of folkish "adult pop" and brash Nashville Top 40... and was pitched as a rock record (where it did pretty well.) I dunno, I mean I get that the photgenic, twenty-something Bowersox has some of same the youth appeal as Taylor Swift, but she strikes me as a lesser light. But I can see the appeal, and I am curious to see where she goes from here...
Crystal Bowersox "Once Upon A Time..." (EP) (Self-released, 2012)



Released on the heels of her Idol success, this 5-song EP is in more of a singer-songwriter-y mode, and very demo-tapey... Also not as country as her major-label stuff; more of a folkie feel, somewhere between, oh, Lucy Kaplansky and Taylor Swift. Doesn't really resonate with me.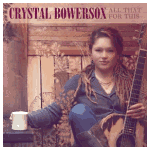 Crystal Bowersox "All That For This" (Shanachie, 2013)



(Produced by Steve Berlin)
American Idol runner-up Crystal Bowersox has dabbled in twang, but I'm not sure I'd really call this rock-soul outing a "country" record. Still, a tune like "Till The Whiskey's Gone" could make it in the charts... Meanwhile, folks who are into mainstream-y genre-busters like Shelby Lynne might want to give this a whirl. There's a pretty similar soul-tinged, rootsy vibe.

Margie Bowes "Margie Bowes Sings" (Decca, 1966) (LP)


She was not a great singer, it's true, but Margie Bowes had a welcome roughness to her (in comparison to some of the other country gals of the time...) She was a minor player in the early '60s, marrying Doyle Wilburn in '61 and cutting a few singles here and there, as well as several excellent duets with George Jones. This was her first big break, a full-length LP for Decca. The label obviously pressured her into singing as much like Loretta Lynn as possible, and she does a fine job of it, particularly on songs that have a good backbeat... On ballads she was a little shakier, and while she doesn't necessarily display much individuality on here, this is still a nice record, particularly for anyone looking into the history of women in country music. Worth checking out.


<! 130 x 130 >

Margie Bowes "Today's Country Sound" (Decca, 1968) (LP)


A fun album if you can track it down. Sure, the musicians are mostly phoning it in, but there's still some spunky material and a few good novelty songs. There's also an odd, interesting assortment of little-known songwriters, including up-and-comers like John Hartford and Tom T. Hall (whose "Mrs. Cooper's Tea Party" is an album highlight, as well as one by Willie Nelson. She also recorded a couple of tunes by gals like Lola Jean Dillon ("Lonesome Woman") and Betty Robinson ("Baby's Back Again") And check this out: she recorded "D-I-V-O-R-C-E" a right around the same time Tammy Wynette did; wonder who won that chart battle?


<! Gatherin' Dust, Remembering, Baby's Back Again, You Ought To Hear Me Cry, Break My Mind, Why Do You Do Me Like You Do, Broken Hearted Too, Lonesome Woman, Mrs Cooper's Tea Party, D-i-v-o-r-c-e, Billy Christian > <! 130 x 130 >

Roger Bowling "Then I'll Stop Loving You" (NSD, 1984)
Between 1970-82, Roger Bowling released seventeen singles prior to this album... And, as far as I can tell, none of that material (which is where all his chart action was) has ever been collected onto an album.


<! 03/13: only 45rpm ASINs >


Don Bowman - see artist discography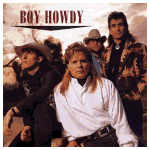 Boy Howdy "Welcome To Howdywood" (Curb, 1992)



(Produced by Chris Farren)
Welcome to Mulletsville, is more like it... But despite their '90s fashion faux pas, these guys had a relatively rootsy sound, at least for Nashville of that era... Sort of in the Marty Stuart/Marty Brown neck of the woods, though more bland and generic than either of those pop-country troubadours. Their uptempo material was best; the slower stuff is pretty bad, mostly because lead singer Jeffrey Steele was, um, pretty limited. Anyway, this is inoffensive, though not very remarkable. Maybe the most noteworthy track is their country cover of the Kinks oldie, "You Really Got Me," which is a novelty song, but not a very good one. Oh, well.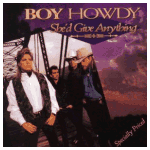 Boy Howdy "She'd Give Anything" (EP) (Curb, 1994)



(Produced by Chris Farren)
This transitional EP unveiled the title track single, a tightly crafted romantic ballad which turned out to be their biggest hit (#4 on the charts) while reprising a hit from their earlier album. You can hear the difference in the production is much cleaner and more direct, and the musicianship more measured. Not an immortal classic, but decent '90s Nashville stuff.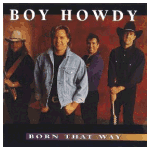 Boy Howdy "Born That Way" (Curb, 1995)



(Produced by Chris Farren)
They toughened up a bit and started to sound a little more Hank Jr., less ballad-y and more romping, and the switch helps a lot. Also, the production is much stronger and more focussed than on their debut, with better arrangements and more emphasis on group-vocals sound, putting them within throwing distance of bigger bands such as Blackhawk or Lonestar. Better material, too: for a novelty number, I'd pick "Plan B" and for a romantic ballad, try "She Can Love You." They still have a soft spot for rock covers, and they still don't get it right: their version of Stephen Stills' "Love The One You're With" has the same breakneck pace as their Kinks cover, and the same lack of appeal. The rest of this record is decent, though -- worth a spin in early '90s "young country" is your thing.
---
Commercial Country Albums - More Letter "B"
---