<! MP3 12/20/10 - still need to do Hank Williams ASINs > <! update 00/00/00 > <! outside 00/00/00 > <! pix 00/00/00 > <! icons 12/20/10 > <! GARY WILLIAMS Miracle Man Rare Private Country Folk Gospel Time LP - private press The Waddingtons "The Future's Not What It Used To Be" Lillimae Whitaker & The Dixie Gospel-Aires "Hymn Time" (GSP/Rome Records, 19--?) (LP) (Produced by Marvin Jones) - #GSP-1164 - 1970s-? no date - recorded at Rome Records, in Columbus, Ohio - two songs credited to Lillimae: "He Is Mine" and "Things Aren't The Same Anymore" - a couple of Bill Monroe songs, a version of Willie Nelson's "Family Bible" - band includes Charlie Whitaker (mandolin, guitar and bass vocals), Rick Whitaker (bass), Danny Milhon (dobro), Wayne Lewis (rhythm guitar, lead vocals), Noah Hollon (banjo, tenor vocals) Bob Willis "It's Not All Roses" (Crusade Records) (LP) (Produced by Ray Harris) - #LPS-184-01 - no ASIN 12/30/16 - Flora, Illinois label - Bob Willis from Chandler, Indiana - musicians include Bill Casolari on piano, keyboards and lead guitar- no pedal steel or other "country" instruments, basic guitars, drums, piano combo - all originals by Willis, including "Everybody's Got To Be A Nobody," "I'd Rather Die For Jesus (Than Live For The Devil)," and "America Bless God" - no date, though technical stereo-compatibility not on bc says the disc can be played on "any record player manuactured since 1962" so maybe 1963-ish(?) The Waters Family "Covered By The Blood" (Cam Enterprises, 197--?) (LP) (Producer not listed) - #ST-989 A very-private (and fairly negligible) family-band gospel set recorded by the Waters Family of Ardmore, Oklahoma. The dad, Don Waters, was an Ardmore police officer who took up an evangelical mission starting in 1972. This album was recorded at the Cam Enterprises studio sin Oklahoma -- there are some country touches on here, aided by steel guitarist Jerry Hall, though the prominence given to their daughter Donnell makes this album fairly rough going -- she looks to have been about ten or eleven when this album was released and very much has a "little girl" voice, cutesy but a little painful to listen to. Don Wyrtzen "Happiness Is The Lord" (Singcord Corporation, 1972) (LP) B00GEXT0OE (Produced by Don Wyrtzen-?) The "tinge of country/western flavor" mentioned in the cheery liner notes is perhaps a bit more aspirational than inspirational: this is a fairly bland, non-twangy set of white Christian music, composed by three writers attached to the Zondervan Publishing House -- John Helder, John W. Peterson, and Don Wyrtzen. Wyrtzen was the son of evangelical preacher Jack Wyrtzen, and at the time of this recording was a "youth editor" for Zondervan -- he went on to become a prominent Christian music composer. This record's chirpy female vocals and generally sluggish pacing are offset by some jazzy, playful piano playing that seems a bit influenced by Charlie Rich, probably by Wyrtzen himself. Overall, though, this disc was fairly disappointing, from a twangfan's perspective. >
---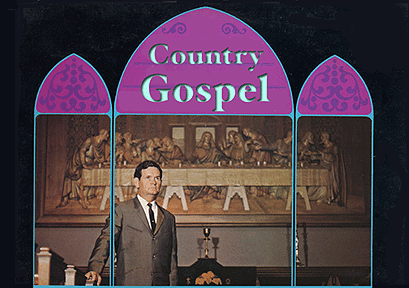 The gospel spirit fills the history of country music... For many country and bluegrass fans, the constant Jesus-isms can be a real turn-off, yet, like many kinds of religious music, it can bring out amazing, powerful performances and an emotional conviction that is rarely matched in secular pop culture. I'm hardly a preacher man, but there is some of this stuff I love, and having had the opportunity to hear a lot of country gospel over the years, I decided to take the chance to share some of my thoughts and impressions of the genre with y'all... Ready? Here we go!
---
COUNTRY GOSPEL: A | B | C | D | E | F | G | H | I | J | K | L | M | N | O | P | Q | R | S | T | U, V &W | X, Y & Z | Comps
---
Gospel MP3s | Holiday Music | Other Country Styles
---

Donna Ulisse "Holy Waters" (Hadley Music Group, 2010)



(Produced by Keith Sewell)
A top-flight set of bluegrass gospel, all the more impressive because, other than a nice Stanley Brothers cover, these are all original songs written or co-written by Ms. Ulisse herself. There's a hint of slower, more Southern Gospel-style songwriting, but for the most part this is strong, upbeat bluegrass material, with tight backing from elite pickers such as Rob Ickes, Andy Leftwich, Scott Vestal and guitarist-producer Keith Sewell. Once apon a time, Ulisse was a Nashville country singer reaching for the Top 40 brass ring; after a decade or so out of the music business, she's come back to it from an indie angle, born again in more ways than one. If you like country gospel and bluegrass, you'll definitely want to check this out.
Leroy Van Dyke "Just A Closer Walk With Thee" (Kapp, 1969) (LP)

Leroy Van Dyke "Gospel Greats" (Plantation, 1977)

Rhonda Vincent & The Sally Mountain Show "Bound For Gloryland" (Rebel, 1991)








The Waddington Family "The Future's Not What It Used To Be" (Ripcord Records, 197--?) (LP)
(Produced by Blaine Allen, Gene Breeden & Tim Waddington)
This family band from Aderdeen, Idaho formed their own ministry and went to the Ripcord studios in Vancouver Washington to record a couple of albums. This album features backing by Ripcord's Blaine Allen and Gene Breeden, along with the rest of their studio crew -- they provide solid country backing, albiet with a smooth, southern gospel-ish tone. Tim Waddington is the group's main vocalist, and he has sort of a corny, 700 Club-style white gospel baritone... a little too schmaltzy for me, and not enough twang, but it's nice to fill in another blank spot in the Ripcord story.


<! - #1065 - no date on LP - no ASIN 12/07/16 - though there are a couple of albums on other labels >

The Waddington Family "...With Country Gospel" (Family Records, 1978) (LP)





<! - also recorded at Ripcord - #FR-1016 >

Porter Wagoner & The Blackwood Brothers "Grand Old Gospel" (RCA, 1965)


Although the CD artwork isn't as classy as the original LP, the music is the same -- great stuff from a true believer! Porter Wagoner often sprinkled spiritual songs through his regular records, but his all-gospel albums are their own special thing... This is Wagoner's first album cut with the venerable Blackwood Brothers vocal group, and definitely worth checking out!
Porter Wagoner With The Blackwood Brothers "More Grand Old Gospel" (RCA, 1967)


Nice... if ya go for the whole Jesus thing. Sometimes Porter's hillbilly charm gets lost amid the solid, barbershopping style of these pioneering Southern Gospel idols, but he generally manages to make his presence known -- a corny recitation here, a tasty pedal steel there -- and the Blackwoods do grow on you after a while. Of course, we'll just have to leave aside the fact that there are five of them pictured on the cover alongside Porter, and the group is supposed to be a quartet... Other than that, this is a mighty fine country gospel album.
Porter Wagoner With The Blackwood Brothers "In Gospel Country" (RCA, 1969) *

Porter Wagoner "When I Sing For Him" (Murray Hill, 1982) (LP)

Billy Walker "How Big Is God?" (Monument, 1969) (LP)

Billy Walker "Soap And Water" (Tall Texan, 1980) (LP)

Billy Walker "How Great Thou Art" (Tall Texan, 1981)





<! PF says tracks unknown, Amazon gives this... Track Listing: 1. I'll Fly Away; 2. How Big Is God; 3. Just A Closer Walk With Thee; 4. How Great Thou Art; 5. This Ole House; 6. In The Garden; 7. Do Lord; 8. An Evening Prayer; 9. Whispering Hope; 10. Wings Of A Dove; 11. Where No One Stands Alone; 12. Almost Home >

Billy Walker "Precious Memories" (Tall Texan, 1987)

Billy Walker "Let My Faith Begin To Move" (Tall Texan, 1992)







Billy Walker "Larger Than Life" (Tall Texan, 1995)



<! 12/10: cassette only >

Billy Walker "Back On The Mountain Again" (Tall Texan, 1999)

Billy Walker "15 Gospel Super Hits" (Gusto, 1992)


A selection of tracks from his Tall Texan recordings...
Charlie Walker "He Is My Everything" (Epic, 1969) (LP)

Clay Walker "A Few Questions" (RCA-Nashville, 2003)


(Produced by James Ritchey & Clay Walker)
I wasn't wild about the musical end of this album -- Walker and his production are both a bit thin -- but the lyrical content is quite striking. Although Walker only wrote a couple of the songs, this album has a very personal feel, and a sense of cohesion and depth that is all too rare in contemporary pop and country. It opens with the title track, which is one of those lofty efforts that I call "issue songs," a subgenre I don't generally care much for, as it seems opportunistic and contrived. However, on this track (which was also the album's lead single), Walker may surprise a few folks with his sincere questioning of our world's injustice and imbalances, not merely deploring when "bad things happening to good people," but also questioning the privelege and affluence he enjoys as a modern American. Even more surprising is that the album actually continues along in the same vein, for song after song. Walker returns to the issue of American materialism and spiritual drift on songs such as "Everybody Needs Love," the potentially controversial "Jesus Was A Country Boy" (where he sings, "I bet he never had a million dollars/or wore a lot of fancy clothes...") and, most effectively, on "This Is What Matters," where Walker encourages the world to turn off the cell phones and fax lines, and kick back with nature, family and friends for awhile. The album is dedicated, not surprisingly, to "the Good Lord," but Walker eschews the self-serving "told you so" smugness that many self-styled Christians drape themselves in, and actually seems to be searching for both answers and for a personal philosophy that will allow him to live life as a good, whole human being, one who is engaged with other people and with the world around him... He's not parading his religion, he's actually exploring his spiritual values, and it's an interesting effort, made all the more thought provoking for the highly commercial context. This isn't the greatest Nashville-style country I've ever heard, but it is a substantive, earnest album, notable amid an ocean of crass, cynical, individualistic self-involvement. Good for Clay!
Doc Watson "On Praying Ground" (Sugar Hill, 1990)

Gene Watson "Jesus Is All I Need" (Step One, 1997)

Gene Watson "The Gospel Side Of Gene Watson" (Compendia, 2004)

Kitty Wells "Dust On The Bible" (Decca, 1959) (LP)

Kitty Wells "Singing On Sunday" (Decca, 1962)

Kitty Wells "Gospel Sing" (Decca, 1965) (LP)

Kitty Wells & Johnnie Wright "Heartwarming Gospel Songs" (Decca, 1972) (LP)

Kitty Wells "Dust On The Bible" (King, 2009)


Dottie West "Sacred Ballads" (RCA Victor, 1967) (LP)

Buck White & The Whites - see artist discography
Jack White & The Carter Sisters "Southern Songbook" (Silverwolf, 2002)



Not to be confused with the guy from the rock band White Stripes, this Jack White is a fella of modest voice who has an obvious love of traditional country, and an appreciation for country gospel. This album was apparently the last project that the Carter Sisters worked on... Their role is pretty marginal, if the truth be told; other than one solo vocal towards the end, this is mostly just some chorus harmonies, and little else. White sort of reminds me of Hank Snow a bit, but only just a little; overall this is a pretty lackluster, low-budget indie release.
The White Sisters "Stepping On The Clouds" (Ripcord/Charter Records, 197--?) (LP)
(Produced by Ellis Miller)
The White Sisters -- Barbara, Janice and Jayne -- were a gospel trio from Yuba City, California and were members of the Pastor First Baptist Church in nearby Biggs. They made the trek up to Washington state to record at Gene Breeden's Ripcord Studios, singing strictly gospel material, with a couple of songs written by Janice White, "Never Has A Man" and "Troubles Will Soon Be Over." Although I'm not sure how country this album is overall, they also included a version of Larry Gatlin's "It Must Have Rained In Heaven."


<! - #SLP-1050 - no ASIN 07/30/16 >
The White Sisters "Happy Meeting" (Ripcord/Charter Records, 197--?) (LP)
(Produced by Gene Breeden & Blaine Allen)
This album includes two songs, "Smile" and "Happy Meeting," both written by Janice White and published by Ripcord.


<! - #SLP-1054 - no ASIN 07/30/16 >

Jerry & Judie Whitener "Putting It All Together" (J & J Records, 197--?) (LP)
This husband-wife duo from from Rochelle, Illinois traveled widely as evangelical preachers, also recording a bunch of records -- unruly, surprisingly twangy stuff with a pronounced hillbilly feel, reminiscent of Wilma Lee & Stoney Cooper. This album looks to me like it was an early-1970s offering -- they refer in the liner notes to fans who liked their older records, and say they made this album as a way to recapture the feel of those earlier recordings, so I think this may have been the first of a string of LPs they self-released in the 'Seventies, with a couple of others listed below. They really harkened back to an earlier era, with an assertive rhythm section and steel guitar propelling them through jubilee and hymnal material -- definitely not a snoozy, organ-led church music set here! I'd love to have more information about them, if anyone out there can help...


<! - no ASIN 08/17/16 - #6105N3 >

Jerry & Judie Whitener "Life Is Worth Living" (J & J Records, 19--?) (LP)



<! - no ASIN 08/17/16 >

Jerry & Judie Whitener "That Same Road" (J & J Records, 1975) (LP)



<! - no ASIN 08/17/16 - date per message board, below: "...One song is pretty fast and aggressive and comes off more like rock-a-billy than country/gospel. The leads on that track are awesome. Shockingly enough it's a Rambo family classic, "On The Sunny Banks.". I never thought anyone could make that shit sound great, but the Whitener's def pulled it off. I hoped to get more copies but the couple was already fairly old when they recorded it in '75 and unfortunately they have probably passed on. It was recorded in some half horse town in rural Illinois. I've had a saved search for it ever since and it's yet to come up. It's called Jerry & Judie Whitener "That Same Road" http://danwhitenermusic.com/mark-dan-whitener/ - are bluegrassers Dan and Mark Whitener related?? - one of their songs is: "L. F. Whitener Medley: Just a Closer Walk With Thee/Nameless Tune/Bonaparte's Retreat/Over In Glory Land/Soldier's Joy/Just a Little While To Stay Here" - L. F. Whitener from Missouri(?) son Donald born in 1927 - couldn't find email for Dan W. to ask him - a younger man also named Jerry Whitener interviewed on YT video as part of his pastorship - a relative? https://www.youtube.com/watch?v=qowcwD5CnvA - Pastor Jerry Whitener retired, but alive in Rochelle as of October, 2015 http://rochellenews-leader.com/v2_news_articles.php?heading=0&story_id=15109&page=76 - family roots in Arkansas? (brother?) "Chic was born February 5, 1945 in Batesville, Arkansas, the son of Arthur B. and Nadean (Pankey) Whitener... He is survived by his wife, Linda; brother, Jerry (Judy) Whitener; two sisters: Sylvia (Mark) Whitener and Cindy (Ted) Jones..." - this guy apparently played piano in his church group: http://www.keithmanley.com/me/About_Me.html >

Slim Whitman "I'll Walk With God" (Imperial, 1960) (LP)

Slim Whitman "God's Hand In Mine" (Imperial, 1966) (LP)

Slim Whitman "How Great Thou Art" (K-Tel, 1993)

The Wilburn Brothers "Songs Of Inspiration" (Varese Sarabande, 2011)

The Wilburn Brothers "Livin' In God's Country" (Decca, 1960)

The Wilburn Brothers "Take Up Thy Cross" (Decca, 1964)

Marijohn Wilkin - Marijohn Wilkinsee artist profile
Gary Williams "The Gospel Singer" (Gospel Time Records, 1975) (LP)


A charmingly clunky and utterly sincere gospel album by Spokane, Washington's surprisingly prolific Gary Williams, who kicked off his career in the late 1950s as a secular honkytonk singer but got religion sometime in the mid-'60s and stuck to Jesus ever since. I love this album because of its combination of plainspoken, guileless, true-believer fundamentalism, which is perfectly complimented by his musical rough edges. Every song lyric is all, "Jesus, Jesus, Jesus..." until he gets to "The Devil," where we go over to the Dark Side for a while. If you like your country gospel plain and simple, Gary Williams is your man!


<! - #GRT-1004 http://countrydiscography.blogspot.com/2012/08/gary-williams.html > <! ALSO: Gary Williams "10 Year Anniversary Album" (Gospel Times Records) #GTR 1002 >

Hank Williams "Luke The Drifter" (MGM, 1953)





Hank Williams "I Saw The Light" (MGM, 1953)





Hank Williams "Waiting For The Light To Shine" (MGM, 1960)





Hank Williams "Home In Heaven" (MGM, 1975)





Hank Williams, Jr. "Sunday Morning" (MGM, 1969) (LP)




Jeanette Williams Band "Get In The Boat" (Bell Buckle, 2003)



A nice, heartfelt bluegrass gospel album. May be too Jesus-y for more secular-minded 'grass fans, but there are several nice slow numbers that stand out, particularly "When The Harvest Has Come" and "Come Morning," which both have an old-fashioned brush arbor feel to them.
Paul Williams & The Victory Trio "Old Ways & Old Paths" (Rebel, 1999)



Another fine, fine bluegrass gospel offering by this soulful old-timer. I think what I like best about this album is ho understated it is: the picking isn't flashy, and the harmonies are just as sweet as they need to be, not a bit more. Williams and his band really know how to deliver their message and then just get out of the way. If you like the picking on the old Bluegrass Album Band records, this'll be a real treat as well.
Paul Williams & Cliff Waldron "Higher Ground" (Rebel, 2001)



Like Williams, bluegrass revivalist Cliff Waldron abandoned the secular stage after he got religion, and later came back to the music, although as a way to spread the holy word. This is a nice pairing, with a somewhat delicate brush-arbor feel to it. Williams tends to goose things up a bit with his band, and it does feel like he's holding back a bit here... Still, if you like truegrass gospel, this is another fine album from the Williams camp. Worth checking out.
Paul Williams & The Victory Trio "Hard Working Pilgrim" (Rebel, 2001)



Gospel picker Paul Williams consistently blows my mind with pretty much every album he puts out. Sure, maybe the Jesus stuff isn't for everyone, but nobody has better, higher, twangier vocal harmonies than Williams and his pals, and the picking is always first rate as well, particularly his mandolin work. As always, this record rocks from start to finish... If you want some sweet sounding, authentic bluegrass, then this album should fit the bill. Recommended!
Paul Williams & The Victory Trio "I'll Meet You In Gloryland" (Rebel, 2002)



Another fine bluegrass gospel album by this veteran picker... This isn't the most electrifying of his albums, but it's still rock-solid truegrass. Why his band is called the Victory Trio when there are at least four of them is outside of my range of expertise, though. You'll have to ask Williams that one yourself...
Paul Williams & The Victory Trio "The Real Christmas Story" (Rebel, 2002)

Paul Williams & The Victory Trio "Living On The Hallelujah Side" (Rebel, 2003)



I'd have to say that this album has less to offer the secular bluegrass fan than other Williams efforts -- somehow the religious message seems more forceful and the music less of a balance than on his earlier albums. These guys are still a class act, with swell harmonies and sweet picking, but I think this disc may be more for true believers. I also have to take exception to Paul Humphrey's patriotic anthem, "Liberty And Justice For All," which posits that "strong faith in God" is one of the things our country was founded on, and that anyone who doesn't share William's faith is a traitor who should leave the country. Actually, my mom was an American historian, who specialized in the separation of Church and State, and I can tell you without fear of contradiction that freedom from religious persecution -- including freedom from State-sponsored religion -- was a key part of the founding of the U.S. of A, not the other way around. Characterizing those who "won't uphold God's values" (whatever that means) as "freedom thieves" and "God haters" is corrosive, ill-reasoned, unfair, and deeply, deeply offensive. Yeah, sure, the song is clever and catchy, but it's also destructive and divisive, and the exact opposite of the "love thy neighbor" message in the song's first verse. I like Williams's music and respect both his beliefs and his band, but I truly think he should be ashamed for recording such an arrogant and hate-filled tune. Oh, well. We all make mistakes.
Paul Williams & The Victory Trio "I'll Be No Stranger There" (Rebel, 2004)


Paul Williams & The Victory Trio "When The Morning Comes" (Rebel, 2005)


Paul Williams & The Victory Trio "Where No One Stands Alone" (Rebel, 2007)


Paul Williams & The Victory Trio "What A Journey" (Rebel, 2008)


Mac Wiseman "Mac Wiseman Sings Gospel, Vol. 1" (Music Mill, 2001)


Mac Wiseman "Mac Wiseman Sings Gospel, Vol. 2" (Music Mill, 2001)


Tammy Wynette "Inspiration" (Epic, 1969) (LP)

Tammy Wynette & George Jones "We Love To Sing About Jesus" (Epic, 1972)


Tammy Wynette "Inspirational Favorites" (Ranwood, 1998)


This disc reissues all eleven tracks from the orignal Inspiration album, along with a bonus song, "Precious Memories."
---

More Country Gospel -- Letters "X," "Y" & "Z"


---



Hick Music Index



---

<! cd = 11/21/03 >